This is the digital era and we are all connected in this space, making the world smaller than it is. We get to see the other side of people living their lives and get updated on the evolution of political as well as scientific changes happening around us.
It is not easy to be a free thinking woman in a patriarchal society. If we have to step out of the house, it means being prepared for potential molesters, stalkers, harassers and moral policing because such behaviour is constantly normalised. For example, through phrases like "boys will be boys", "you can't beat nature", "why did you provoke him" among others. Women face such instances everywhere, from homes to public spaces.
How, then, do you think they'd be spared in the cyber space?
I am currently using, Facebook, Instagram, Twitter, Google+, Tumblr and WordPress. Since my work is mostly online, it is literally impossible for me to stay off the internet, but then, I have had my share of experiences. All thanks to the ever growing cyber violence against women, from perverts to menninists posting abusive messages, I have come across them all. Thankfully, all of these social media pages have a "block" button that will reduce the impact but then it still makes women vulnerable to cyber violence and 'blocking' then isn't always the most viable solution to the problem. I have come across the following observations;
Victim blaming and shaming is still prominent, legitimising cyber violence.
Just like rape culture promotes the confidence of the rapists (watch Mukesh Singh's interview in BBC's 'India's Daughter') this had been the fuel that has been adding fire in the minds of cyber criminals.
Before joining Facebook, I was repeatedly asked by my parents not to upload my pictures as they will be misused by young men to make morphed images of me. Thanks to this culture, even then, I will be blamed and victimised! To make their points even more legit, screenshots and newspaper cut outs which spoke of women committing suicide and attacked in cyber space were shared with me with a final warning "at your own risk." This post which requests "sisters and "girls" not to post photos on facebook went viral.
"Kahte hain.
Is ladki ka naam sushmita ha,
Isne fb me apna photo upload kiya tha,
Kisi ladke ne iska photo sev karke
google me iska profile dalke call girl
ka list me dal diya
ye ladki ache parivar ki thi aur bahut decent ladki thi…
Us ladke ne puri city me pehela diya
ke yeh call girl hai,
Jab yah baat ladki aur iske parivar
ko pata chala to is ladki ke sath pure
parivar ne suicide kar liya… ye hai face book ki duniya
(ab batao friends kya iske liye
raasta hai? Iske bad bhi nahi
sudarenge…
Its my humble request to my All
sisters and girls pls don't upload Ur photos on Facebook…"
(It's said that this girl's name is Shushmita, she had uploaded her pic on Facebook, some guy saved her pic and made a Google profile out of it, she was of a good family and was very decent, the guy had spread the word around that she was a call girl, when the girl and the family came to know, she did and her family did suicide. Now you tell friends what could be done? Still people are not understanding, its my humble request to all sisters and girls, please don't upload your photos on Facebook!)
This is exactly where the problem lies. Why are we constantly putting all the reponsiblity on women, when their private images and videos are being put up online without their consent. That is a crime under IPC! And, we all know about all that talk about "good family" and "decent women". What are even these things? And who defines it? And everyone who falls out of society's definitions of "good" and "decent" deserve to be harassed, right?
Not to mention, men are let off for everything they do but for women, even a social media presence is made into such a big deal! "For how long are we going to live in fear? Just like stepping out at night alone?"
You can talk about political issues and gender SENSITIVE cases but "feminism" can trigger troll attacks.
When I was on Twitter, I used to indulge in discussions related to violence against women and how cultural discrimination escalates the effect of the crimes. People used to participate in these discussions but things changed dramatically when I mentioned "feminist" in my bio. A lot of accounts started leaving abusive tweets and DMs attacking my intentions as I am "one of them" who falsely accuse men to extort money, something that never came across my mind before that. A troll account named Jim Lombard messaged me this, while I spoke about marital rape.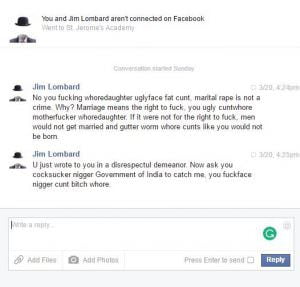 This is a common occurence. This photo of a woman's campaign against dowry system which was misused by MRAs across social media and became a subject of widespread scrutiny.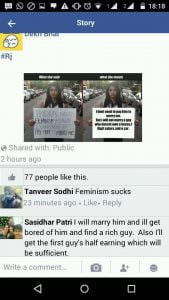 Most trolls have fake names and some accounts are handled by more than one person
The striking fact, however, is that most of these accounts have names, and profile pictures, and most of them are operated by more than one person. An MRA page named "Incredible India" once left a series of tweets against me, when I spoke about street harassment, and the tone and sound of the tweets varied from each other. So, if you are arguing with trolls, in most cases you are arguing with more than one individuals. More people participate as they use hashtags and tags. The lesson I learnt the hard way is that there is no point in arguing with them as they have nothing to lose and cyber police does not spend a lot of time investigating unless things go completely out of hand.
Most of these trolls are convinced that it is their freedom of speech
For example, I follow a page named Vagabomb, a very active troll once left a harsh comment "This woman deserves to be raped with an iron rod" under a story and it was exposed by the page admin. Menninists jumped in to defend him by saying that it is his freedom of speech. The argument that misogynist comments and gendered abuses are a part of a person's freedom to talk is highly problematic, contributing shamelessly to the rape culture.
Also read: Online Abuse And The Misappropriated Tool of "Free Speech"
#DigitalHifazat campaign will be an eye opener for all, as women and minorities face this form of violence that is not taken as seriously on the assumption that no physical harm has been done. But that is far from the truth. As per Feminism in India's research, adverse effects of online violence include depression, insomnia and ultimately, in some cases, suicide.