Posted by Tehreem Fatima
Vrindavan is often called the City of Widows. The birthplace of Lord Krishna, the city that is rife with cultural and religious significance houses almost 6,000 widows, who have travelled here either after being cast out by their families, or those who come as a religious pilgrimage after being left alone in the world.
Widows are deeply stigmatized – to the point where even casting eyes upon a widow is considered unlucky. They are usually seen wearing white saris, as they are not allowed to display any colour on their bodies, as colour is seen as a symbol of youth and virility. Widows are cast out from public life, and do not participate in any festivals or celebrations.
However, the organization Sulabh International, led by Dr Bindshwar Pathak, has been trying to change that. Working for the welfare of widows in Vrindavan and also Varanasi, Sulabh International has organized Holi celebrations for the widows of Vrindavan for the last two years. This year, they arranged for more than 1500 kgs of gulaal (powder) and flower petals for the grand celebration.
The narrow lanes of Vrindavan became much more cheerful on Thursday, as thousands of widows smeared colours and gulaal on each other – a beautiful sight of subversion of the oppressive stigma surrounding widowhood.
Holi celebrations start early almost a week before in Vrindavan, the birthplace of Lord Krishna. On Thursday, a huge gathering of widows came to celebrate the festival in Gopi Nath Temple. They came wearing their traditional white saris, and left in colourful saris streaked with yellow, red, pink and purple.
The festival started with flowers, which is called Phoolon-wali Holi (Holi of Flowers). The widows sang bhajans and danced like the Radhas to Lord Krishna. After the Flower Holi came the colours. The streets were filled with coloured powder as the women daubed them joyously on each other.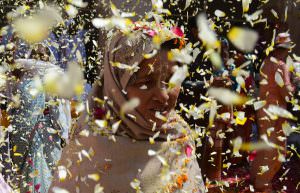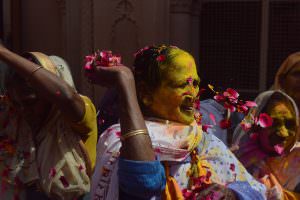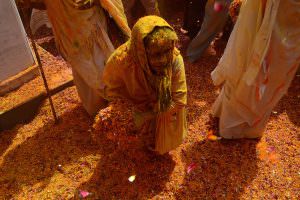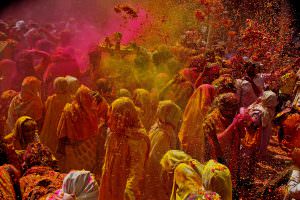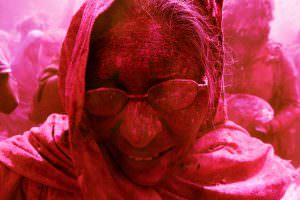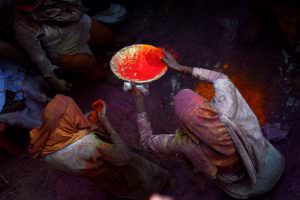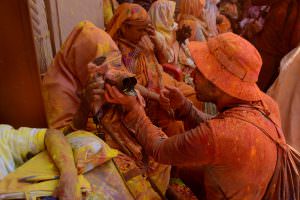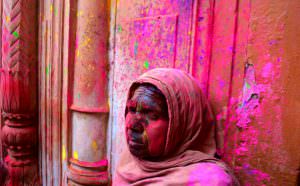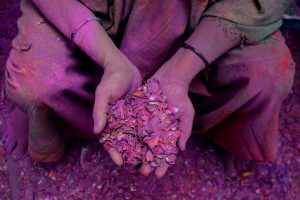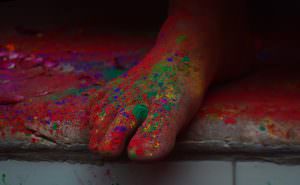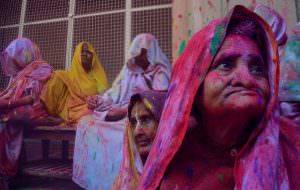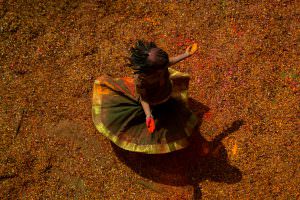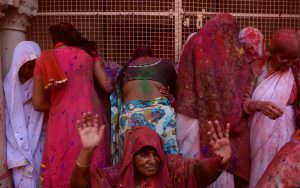 ---
Tehreem Fatima is Delhi-based freelance photojournalist. She completed a postgraduate diploma in Still Photography and Visual Communication From AJK MCRC, Jamia Milia Islamia. You can follow her on Twitter and Instagram.