May 1st saw a riveting discussion take place on queer and trans rights and the kinds of violence that the queer community faces above and beyond the minutiae of Section 377. Feminism in India and Gaylaxy Magazine co-hosted a panel discussion.
Section 377 remains like a sword hanging on the LGBT community and remains the source of many police harassment and blackmail, but is that the only violence faced by the queer community? Much of the fight for queer rights in India has centred around Section 377, but is this law the only source of violence in their lives?
Queer people face violence not just in the hands of police, but much of it happens in family, friends, at workplace. From trying to "correct" the sexual or gender identity of their children through shock therapies, to the constant harassment at workplace or schools or colleges, homo/bi/trans/inter phobia goes beyond just Section 377.
Removal of 377 can be the first step, but not the only step at preventing this violence. On the occasion of International Day Against Homophobia, Biphobia and Transphobia (IDAHOBiT), we discussed the kinds of violence faced by queer people, and what steps we can take to prevent it.
We spoke about access to resources like housing and healthcare, the divisions within the queer community itself, and the complicated nature of the law surrounding issues like property and succession for queer people.
Here's a short video featuring snippets from the panel discussion, and photographs from the event.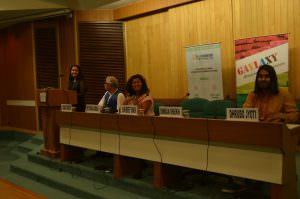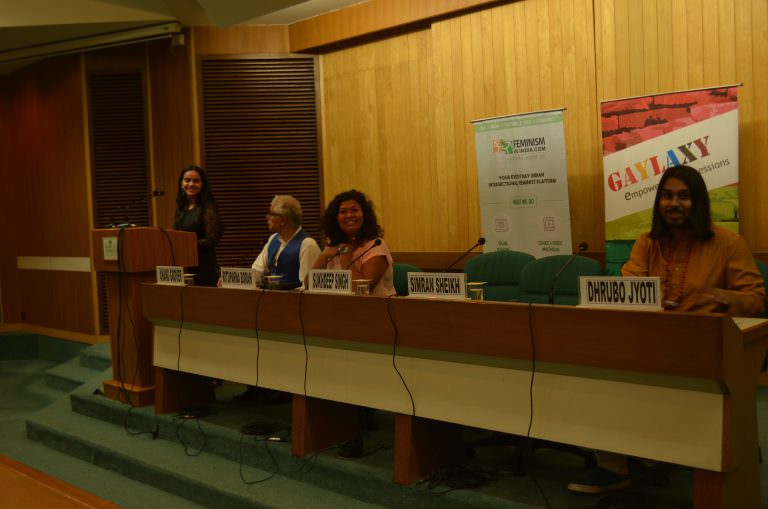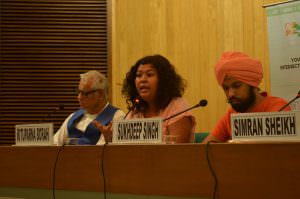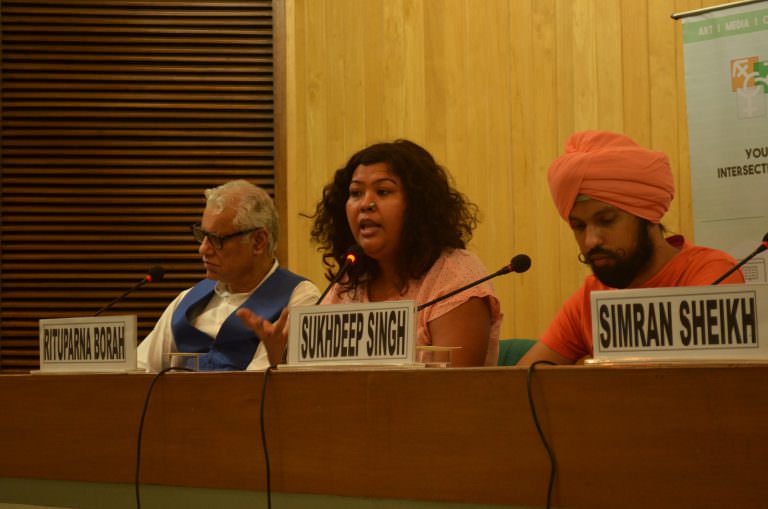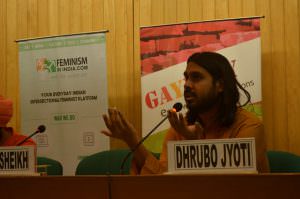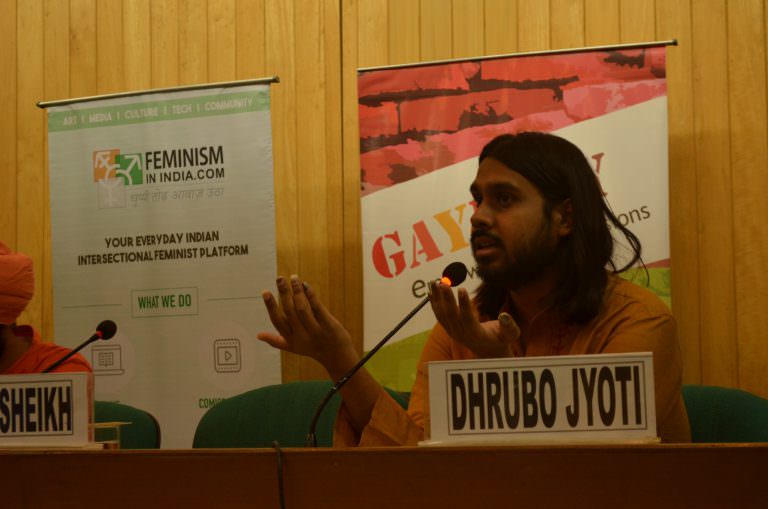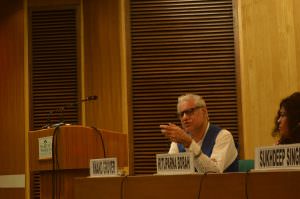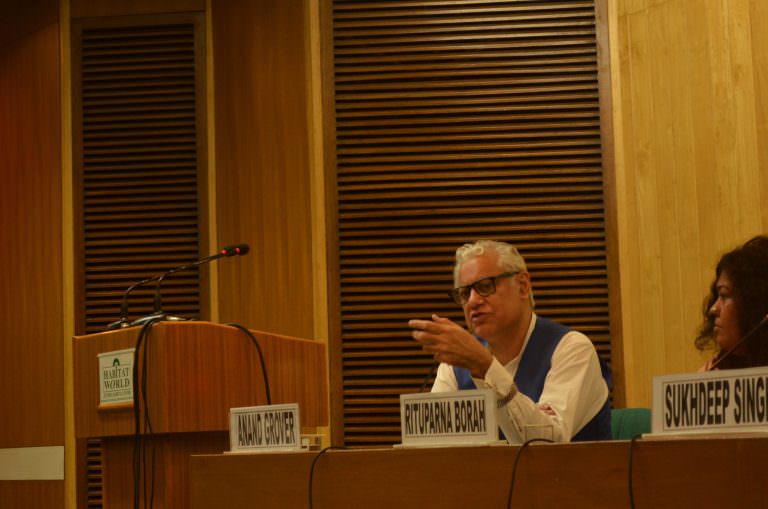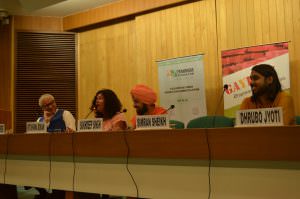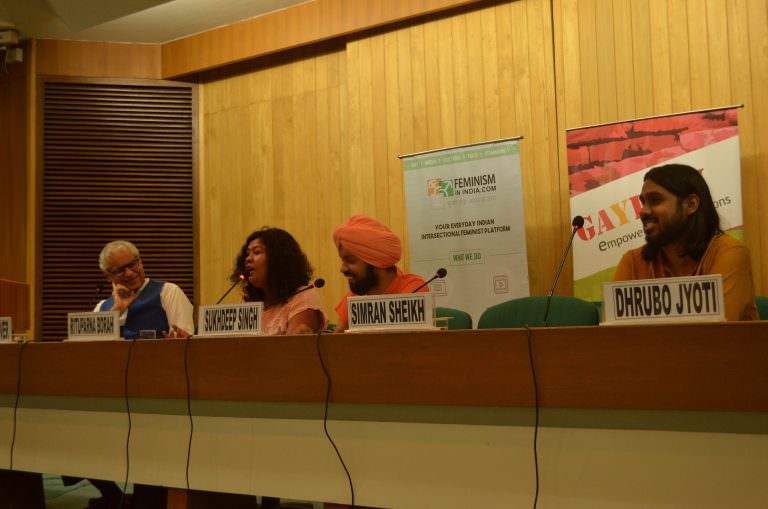 A brief note about our panellists:
Dhrubo Jyoti is a queer activist and Delhi-based journalist. They work on questions of politics and society.
Anand Grover is a Senior Advocate practicing in the Supreme Court of India and the Director of the Lawyers Collective, which conceived of the challenge to S377 argued in the Delhi HC and the Supreme Court of India as well as the NASLSA case.
Rituparna Borah is the co-founder of Nazariya – A Queer Feminist Resource Group. She is a queer feminist activist and has been part of the women's movement and the queer movement for more than a decade.
Simran Sheikh is a transgender activist and senior programme officer in Sexuality Gender and Rights with HIV/AIDS Alliance India. She unfortunately could not attend the panel due to an accident.
Some Tweets On The Event Using #Beyond377
And #Beyond377 has begun. Sukhdeep, the moderator & founder of @GaylaxyMagazine asks what are the kinds of violence that LGBTQ+ ppl face. pic.twitter.com/9VnJjynAxQ

— Feminism in India (@FeminismInIndia) May 1, 2017
.@rituparnaborah, who runs #Nazariya which works w LBT ppl on invisibility of #transmen & difficulty to use bathrooms of choice. #Beyond377 pic.twitter.com/dwefo7xJaQ

— Feminism in India (@FeminismInIndia) May 1, 2017
Focus on #LGBT is on violence but access/possibility to pleasure and desire is virtually never addressed in discussions. #Beyond377

— Nitin Sood (@nnsood) May 1, 2017
.@rituparnaborah: Can we start using the language of #pleasure instead of the language of #violence to talk abt LGBTQ? #Beyond377

— Feminism in India (@FeminismInIndia) May 1, 2017
One form of violence that #LGBT face is rejection; within community we discriminated against fat people, Dalits, disabled, etc #Beyond377

— Nitin Sood (@nnsood) May 1, 2017
Important conversation about LGBTQ community navigating daily life & pleasures #Beyond377@FeminismInIndia @GaylaxyMagazine@japna_p

— Swarnima (@SwarnsB) May 1, 2017
.@rituparnaborah wonders why & how Congress (read Tharoor) is now so supportive of #queerrights. They opposed in Delhi HC. #beyond377 pic.twitter.com/LxWj13Gpvu

— Japleen Pasricha (@japna_p) May 1, 2017
When we imagine gay person we tend to think of able-bodied attractive man working in officers, not rickshaw walas. #Beyond377

— Nitin Sood (@nnsood) May 1, 2017
@rituparnaborah highlights the laws meant for transgenders in India at #Beyond377 #QueerRights @FeminismInIndia @sahoo_anwesh @CelinaJaitly

— Gaylaxy (@GaylaxyMagazine) May 1, 2017
Panel discussion on going beyond India's anti-queer law section 377 leading up to #IDAHOT #IDAHOBIT. #beyond377 #Delhi pic.twitter.com/eXmnOrCyAt

— Bi Collective Delhi (@bi_delhi) May 1, 2017
Landlords are very intrusive that make life for queer and trans people especially difficult, there's no safety even at home. #Beyond377

— Nitin Sood (@nnsood) May 1, 2017
Sex education in schools important which is not being discussed much, majority r unaware about their body sexuaooty etc #Beyond377

— krushik av (@KrishKrushik) May 1, 2017
Attended the #Beyond377 mind blowing talk with an awesome panel at Indian Habitat Centre!

— Ipsa James (@Ipsa_James) May 1, 2017
A huge thank you to everyone that came to our discussion on #queerrights #Beyond377 last night, & to the panellists for being so brilliant! pic.twitter.com/YxBfOJMYyU

— Feminism in India (@FeminismInIndia) May 2, 2017
It was a wonderful discussion yesterday and we look forward to hosting more events like #Beyond377 with @FeminismInIndia https://t.co/qoMVHy0NFn

— Gaylaxy (@GaylaxyMagazine) May 2, 2017