Meet India's 'pink-saree crusaders', the rod wielding vigilantes that strike fear into the hearts of potential abusers through the power of unity and sisterhood – The Gulabi Gang. For the last thirteen years, Sampatpal Devi and her gang have been relentlessly pursuing one vision. To protect the powerless from abuse, and fight corruption to ensure the basic rights of the poor in rural areas and discourage traditions like child-marriages.

This spirit is embodied in its mission statement, which reads, "Support and train women to enhance their basic skills to become economically secure and develop (sic) confidence to protect themselves from abuse through sustainable livelihood options."

A Little Background
The unofficial headquarters of the Gang is at Badausa in Banda district, Uttar Pradesh. UP is notorious for instances of sexual violence against women. The latest available NCRB data from 2017 places UP fourth in being unsafe for women. There were 3025 reported cases of rape in 2017 and, 15898 cases of kidnapping and 2473 reported cases of dowry deaths in 2016. Female illiteracy is at 47% and evils like infanticide, child marriages and domestic violence are rampant. Further, caste-based oppression and violence against Dalits also abound in this region.

History
The group traces its origins to a day, in 2006, when Sampat Pal Devi saw a man beating his wife. Her pleas for him to stop ended with her being abused as well. The very next day she returned with a lathi and five other women and gave the rogue a sound thrashing. The news spread, and soon women started approaching Sampat Pal Devi requesting similar interventions.
The movement now boasts of a network of 400,000 women (as of 2014). All dressed in pink sarees and all wielding a stick – across 11 districts of Uttar Pradesh.
In time, with increasing members, she decided that the sisterhood needed a uniform and a name. Thus, the pink sari was chosen, as a symbol of femininity and the understated strength of sisterhood. A colour that sears bright against the dull brown of UP's villages.
Also read: V Is For Vigilantism: The Gulabi Gang As A Counterpublic
Work
In the last 13 years, Gulabi Gang has been fighting all forms of violence against women. They've prevented child marriages, arranged love-marriages, and ensured delivery of basic rights for the poorest of the poor. They also encourage and oversee community activities that bring together women. The gang has also actively protested against multiple instances of injustice and malpractice by authorities.
Primarily a group for women, by women, the Gulabi Gang also permits men (like Jai Prakash Shivhari) to join in solidarity.
In recent years, the group has also started offering services like cost-effective solutions for weddings in the community. The services include tailoring bridal trousseau, catering for guests, flower arrangements, henna and make-up services. This also offers the members forms of employment.
After all, what cannot be endured must be cured!
The movement has enabled the rise of a few women-led cottage industries and self-help groups. For instance, Prema Rambahori, a Dalit woman, set up a leaf-plate making business in Bangalipura community of Badausa village, with the help of Sampat Pal. Adjacent towns and communities source these environment-friendly plates for weddings and various other functions. The work has expanded, and currently, Prema employs 500 women of the community, each earning up to 150 rupees per day.
Flowers And Flames
The first known instance of the group using force as a weapon to "protect the powerless" was in 2007. A Dalit woman was raped by a man of a higher caste and the rapist was left scot-free. The villagers and relatives protested to no avail and many of them were put into prison for doing so. The Gulabi Gang took action, charged into the police station and attempted to free the villagers who were put into prison for protesting. They also demanded that a case be made against the rapist. When the policeman refused, they resorted to violence and physically attacked him, forcing him to do his duty.

Finally, if physical violence was of no use, then they would resort to publicly shaming the offender.

Despite becoming popular for its violent approach to much of its activism, it also uses non-violent tactics such as marches and occupations. In 2011, the gang helped Sheelu Nishad, a 17-year-old girl who had been gang-raped gain justice. Nishad was arrested after arriving at the police station to file a report. The rapists, who also included an MLA, had arrived at the police station first and requested her arrest. The Gulabi Gang, approached by the victim's father, organised two mass demonstrations in front of the police station and the legislator's house till justice was served.
Nishad consequently mobilised 20,000 angry women across Bundelkhand, forming her own 'Nagin Gang' as a parallel outfit to Sampath Pal's Gulabi Gang.
Power Is A Shade Of Pink
Pal says, "Yes, we fight rapists with lathis [sticks]. If we find the culprit, we thrash him black and blue so he dare not attempt to do wrong to any girl or a woman again."
Suman Singh, a later commander of the gang, says that when "a woman seeks the membership of Gulabi Gang, it is because she has suffered injustice, has been oppressed and does not see any other recourse. All our women can stand up to the men and if need be, seek retribution through lathis."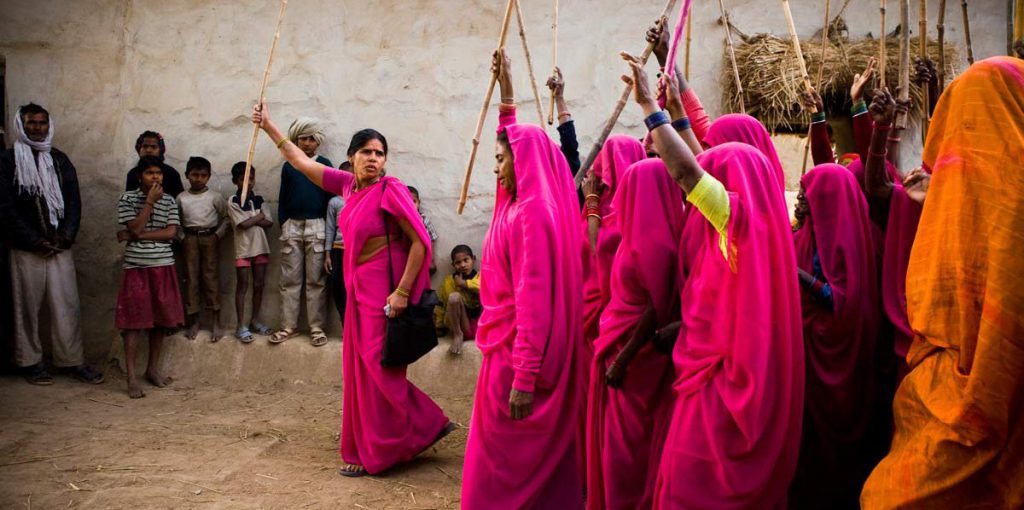 To this day, the sight of the women in flaming pink generates a sense of fear and trepidation in the minds of rapists, abusers and wrong-doers, and a sense of power, dignity and independence in the women.
Also read: The Women Warriors of the Chittagong Armoury Raid | #IndianWomenInHistory
References
---
Featured Illustration: Ritika Banerjee for Feminism in India