Stories in vernacular have always had a special place for book lovers. While English remains the lingua franca for most people, regional languages and their literature are not only an important source for a variety of literary styles but they also act as significant reflectors of the plurality of cultures. Lamps in a Whirlpool is one such Tamil book, which has captured many feminist hearts.
Suzhalil Mithakkum Deepangal (சுழலில் மிதக்கும் தீபங்கள்) which translates to Lamps in a Whirlpool, which was first published in 1987, was written by Rajam Krishnan. The book is a lucid portrayal of different kinds of patriarchal oppression within the family. The intimate portrait of the housewife Girija would resonate well with (most, if not all) women 'homemakers' of 2019.
Rajam Krishnan (1925-2014)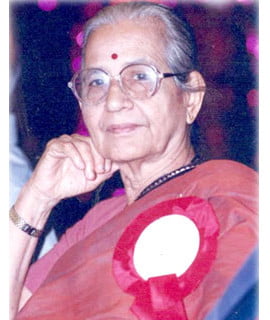 The author, Rajam Krishna's feminist treatment of this story about a housewife's self-respect is especially impressive for its lucid language. The writer details the housework from cooking, folding, ironing to packing and the incessant chores behind the "taken for granted" spick and span house. Rajam Krishnan examines the golden cage of patriarchy that binds women within the house. The reference to jewels, clothes, material wealth, in exchange for life-long servitude is the crux she wishes women would come forward and break. By the end of this work, Girija transformed, pines for her daughter's freedom from this cycle of patriarchy. This reflects the author's hopes for a real transformation of values within society.
Lamps in a Whirlpool is a lucid portrayal of different kinds of patriarchal oppression within the family.
The author, Rajam Krishnan, serves as the voice representing the positive choices that women need to imbibe. Her characters have long served as extensions towards breaking woman stereotypes. Notably, she was an autodidact who intensely researched stories and characters that she wished to pen. Society shaped her stories, characters and her passion for equality is evident in her characters.
Girija's Story
The protagonist Girija, an educated woman is defined by her roles within the household. As a dutiful daughter-in-law, an obedient wife and a tireless mother of three, Girija is described by her routine in an orthodox Brahmin household. In spite of her education and work as an inspiring teacher, the story reveals Girija to be reduced to being a household appliance, on a perennial auto-work mode. The novel follows her monotonous housework that gets criticised and belittled at every stance by her mother-in-law.
Also read: Book Review: Waiting By Nighat Gandhi
While the mother-in-law represents the strict moral code women follow to achieve salvation, two other characters, namely, Ratna and Roja mami, represent the changing face of womanhood in urban India.
Though set in the 1980s, the universality of the novel lies in the way it portrays the ritualistic existence of women in the upper caste community and their suffering after marriage. The hypocrisy in the value system that raises a girl, educates her, and even let her work (earn towards wedding expenses) within the strict moral policing of society has not changed much. The middle class mores that dictate urban Indian households, have not really vanished but simply evolved. While earlier, women studied more 'basic' courses, nowadays, engineer brides have become pre-requisites for marriage proposals.
Rajam Krishnan was deeply anguished by gender inequality, other injustices in the society, and this reflected in Lamps In A Whirlpool and many of her other works
In the novel, the strict conservative values, (urban) caste and gender discriminations are portrayed in a nonchalant way. The unquestionable authority of caste privilege pervades the life of Girija. It only with the introduction of Ratna, that this privilege (caste and class) is even questioned.
Girija is often berated saying that she should be thankful for her present life. Married to a well-settled, employed man, blessed with a son, her mother-in-law, keeps this using the same arguments to void Girija's self-expression. Frustrated with double standards of her mother-in-law's piety and the silent treatment she receives for her harmless slights, a simmering discontent starts within her. Following this the callous behaviour of her husband unravels her and she submits to her personal whims after almost two decades of marriage.
During the course of her four-day trip to Haridwar, more characters, represent the different facets of the elderly. The elderly wife, Gowriammal, as well as the hermit widow, help Girija to navigate choices for her future. The different women in the novel examine the different milieus, generations that were existing in a changing country as a whole. The voice of Ratna is the most vocal about self-expression and dignity. On the other end of the spectrum, Roja mami represents the high-handed privilege that narrows the definition of empowerment. While Girija's quest for self-identity does end on a promising note, the novel weaves the long fight ahead for Girija effectively. It ends with Girija, aware of her privilege, as well as her challenges.
Also read: Book Review: Widows Of Vidarbha – Making Of Shadows By Kota Neelima
Works spanning different genres from novels, plays to short stories, Rajam Krishnan stories often dealt with a myriad of characters usually absent in modern Tamil literature. Rajam Krishnan was deeply anguished by gender inequality, other injustices in the society, and this reflected in Lamps In A Whirlpool and many of her other works.
---