Editor's Note: This month, that is November 2019, FII's #MoodOfTheMonth is Regional Indian Cinema, where we invite various articles on various regional films (Tamil, Bengali, Oriya, Punjabi, Telugu cinema etc.) from across the country which have had some impact on you or on the society, in either positive or negative, or in both ways. If you'd like to share your story, email us at pragya@feminisminindia.com.
---
There are some Telugu movies which have managed to etch themselves into my head with their moments of progressive stance or a second of power that is shocking and revolutionary. These movies are made by men, about men, 'for everyone' but mostly men. In this all-male world, some movies have managed to offer a moment or more in their cinematic universe to women. To everyone who knows Telugu cinema only from Set Max dubbed movies, these movies will offer a more wholesome introduction to patriarchy, sexism and the resistance.
1. Subhalagnam (1994)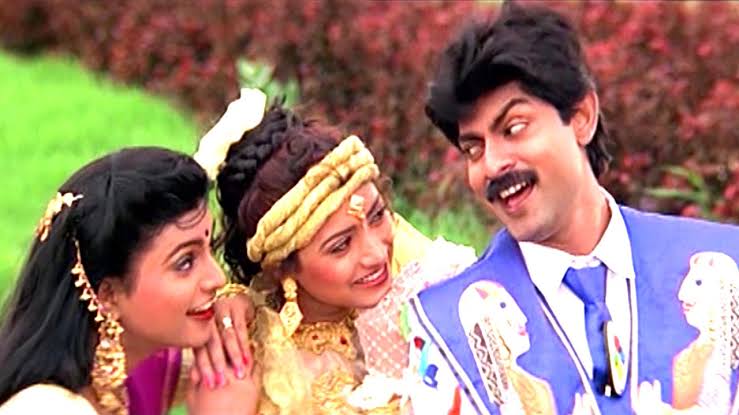 A movie about a women Radha, played by Aamani, who marries an engineer for material things and a city life but the husband says he wants to make an honest living without taking bribes and therefore they'll only have a modest lifestyle. She spends most of their marriage craving these things and asking for them. Radha meets Latha, played by Roja, in love with her husband and ends up selling her husband for a lot of money. The movie demonises Radha for wanting a bungalow, a car and a refrigerator. Spelling it out that women are the reason for a man's corruption; the whole Adam and Eve (sadly no Steve here) crap.
I still wish the movie ended with Radha getting the money and buying a bungalow, a car and a refrigerator. However, she still did have some money left, so she put it all on the mattress next to her where her husband usually slept, while her kids slept on the other side. She got rid of a husband she wasn't fond of, got everything she loved and that's a great fairy tale ending. But patriarchy didn't let that slide. The makers were trying to retain "family values" and thus Latha, is the one to impart morals of marriage and the importance of a husband before leaving them to go back where she came from (abroad via an escalator)
2. Narashima (1999)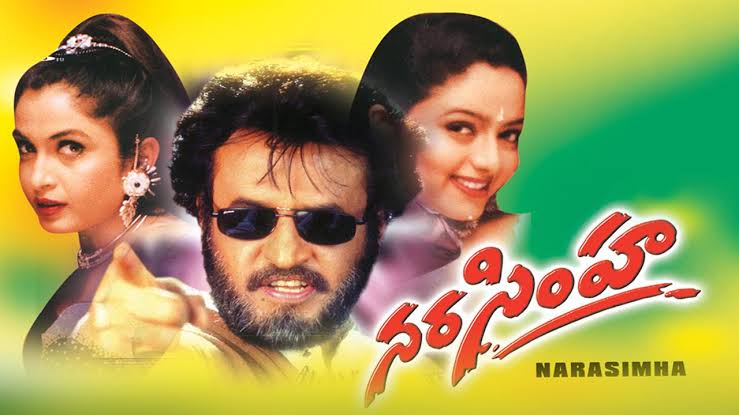 Rajnikanth, Soundarya and Ramya Krishnan play the lead characters who are introduced when a snake crosses all their paths. One of them saves it, one orders for it to be killed, and another pleads for its life. The film was made in Tamil, but when dubbed into Telugu it still managed to create a wave just as powerful. The movie needs a long-form piece exploring the layered caste, class, mythological, brahminical, and cultural dimensions (not that it hasn't already been said and done). There hasn't been a more powerful or strong villain cast against Rajnikanth after Ramya Krishnan, says Sowmya Rajendran, and I agree.
There hasn't been a more iconic character or villain or antagonist like Neelabari in Telugu cinema. Numerous efforts have been made to recreate this role, and some cast Ramya Krishnan too but still, nothing was able to hit the mark Nilambari made. Watch this film for one of the most powerful women ever in Telugu cinema history. You'll have goosebumps watching her flirt and threaten Rajnikanth in the same breath.
3. Arundhati (2009)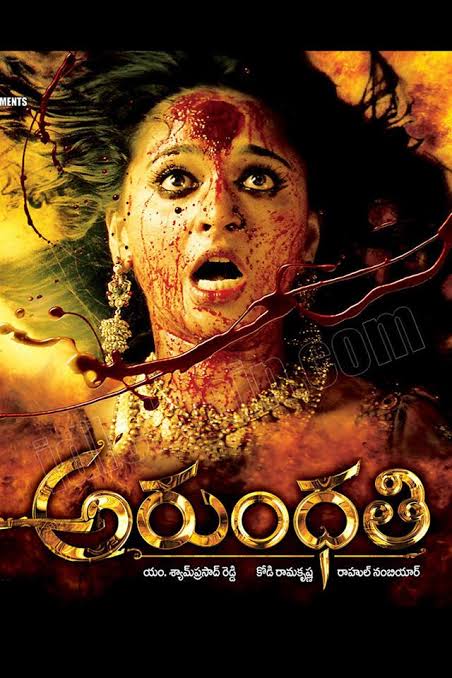 This movie kick-started the epic fantasy saga genre again in Telugu. Arundhati was made on a budget of 13-16 crores and collected 55-60 crores at the box office. Anushka Shetty, the protagonist of the film, was synonymous to fantasy, supernatural and even devotional movies, post the success of the film. Arundhati is the story of a reincarnated queen, troubled by a sorcerer Pashupathi, who is out to rape and kill her.
She had already devised a plan to save herself in the reincarnation. Women and men help her on this journey to kill Pashupati. The queen, Jejamma incapacitates Pashupathi in a killing dance that she learnt from the dance teacher Pashupathi had raped and murdered. Arundhati has been rumoured to get a sequel, and there are conversations of a Hindi remake. Rather than wasting time and money on remaking Arjun Reddy, RX 100 and Dear Comrade, it could be well spent on remaking movies like Arundhati.
4. Size Zero (2015)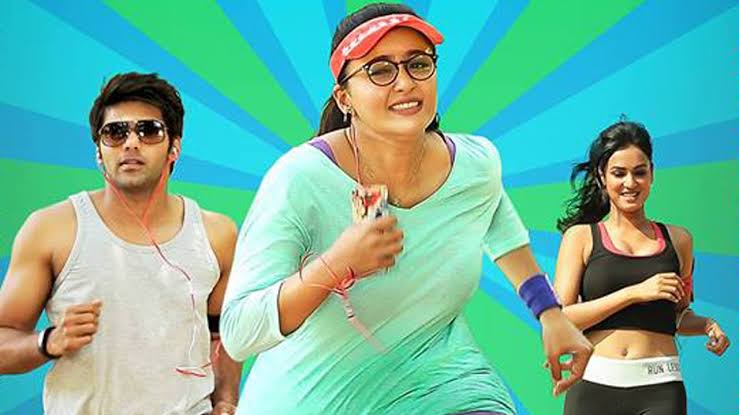 Soundarya aka Sweety, played by Anushka Shetty, says "I'm beautiful the way I am" whenever she's fat shamed. After a many "Pelli choopulu" (where potential grooms come for free samosa and chai and in exchange offer trauma) she meets Arya but rejects him because he's not interested in getting married. He's a fitness freak who jogs every day while she sits in the park ogling at him and eating jalebis with her grandfather.
Her character is neither round nor flat. When her character seems like the old troupe of fat, overeating women, you see her lusting after Arya and loving her body the way it is. Her problems with her mother, her joining a slimming centre to change her body and the jealousy that she felt when Arya was with another woman, were all complex but never adequately addressed. She tells Arya, "I'm tired of being 'just' friends, I want more too." These complicated moments are resolved in such a flat fashion, it is just as disappointing as the false promise of jalebi when you go jogging in the morning to a park.
5. Pelli Choopulu (2016)
This movie was remade in Hindi as Mitron, and it was done so badly! You have to watch the original to make up for it being so bad. Your only redemption if you've watched it in Hindi is to watch it in Telugu. This National Award-winning Telugu movie is an honest telling of parents who are tired of their lazy son. They want to get him married off. These men are often looking for an easy way out, that is finding a rich man and get married to his only daughter. The interesting part of such a portrayal was the fact that unlike most movies, where the woman is portrayed as a "gold-digger", in this case, the narrative was reversed.
An allegedly true story or based on one, is about a man who accidentally meets a girl at a Pelli Choopulu. She wants to prove to her father that she's an independent adult capable of making her own decisions and life choices. At no point is Prasanth, played by Vijay (Deverakonda) glamorised to be more than a lazy, cis-het, privileged man. He steps up finally after repeated insults from almost everyone in his life. Honestly, the standard for men is so low, that when he rose up to the occasion, it was good enough (and that's the truth)!
Also read: Radha Ravi's Comments Show The Misogyny Of Tamil Film Industry
6. Oh! Baby (2019)
This is the only movie on this list, written and directed by a woman, Nandini Reddy. Oh! Baby is a rom-com about Baby alias Savithri who turns into a 25-year-old again (freaky Friday vibes, without the body-swapping). 60-year-old Baby isn't a nice mother-in-law but a good mother who loves her Raja beta and her grandson while constantly undermining her daughter-in-law. The director is trying to establish so many characters, complicated relationships, justifying Baby's actions without making excuses for her bad personality.
Baby making up for being a shitty mother-in-law without any real consequences or action makes it hard for us to believe the story. The struggle to not take sides with the daughter or mother-in-law increases the confusion and dilutes the resolution they arrive at. Oh! Baby drops a lot of complicated relationships or resolves them so quickly that it does not do justice to the time spent on establishing them.
Baby also attempts at re-discovering her sexuality in a monologue which evaporates after that and it is never spoken about again. Baby and Chanti's friendship is never equated to a familial relationship or brother-sister feelings. When Chanti, played by Rajendra Prasad, initiates a romantic angle, Baby ends it before he could finish his sentence. If I am going to be old and crappy, might as well do it like Baby and with a friend like Chanti.
Also read: Naachiyaar And What It Means For Female Representation In Tamil Cinema
These movies won't change your life. A revolution probably won't be triggered. As the chronological order of the films would suggest, women are getting better roles, more screen time and movies are getting better. So watching movies that offer this potential is an investment and support to make more movies in this direction. Don't have to scream from your roof, just watch the films and tweet what was so great or not great about it.

---
Featured Image Source: Times Of India