Editor's Note: FII is excited to announce its collaboration with independent journalist Poorvi Gupta who will, through multiple interviews, give us an insight into the lives of Indian women MPs and their journey in politics, particularly during the #pandemic.
---
Prayagraj MP, Rita Bahuguna Joshi, worked as a professor in the University of Allahabad for over a decade before she stepped into politics only at the age of 46. Now almost two-and-a-half-decades later, as she turned 70, she finally became an MP in her third attempt. Joshi has been a Congress member all her political life but she switched gears in 2016 as she joined BJP and won the Lok Sabha election in 2019. 
Despite coming from a family of illustrious political stalwarts and freedom fighter parents, Joshi tells us that she had to make her political identity on her own and that her father discouraged her from joining politics. This and much more, in this freewheeling conversation with the BJP MP.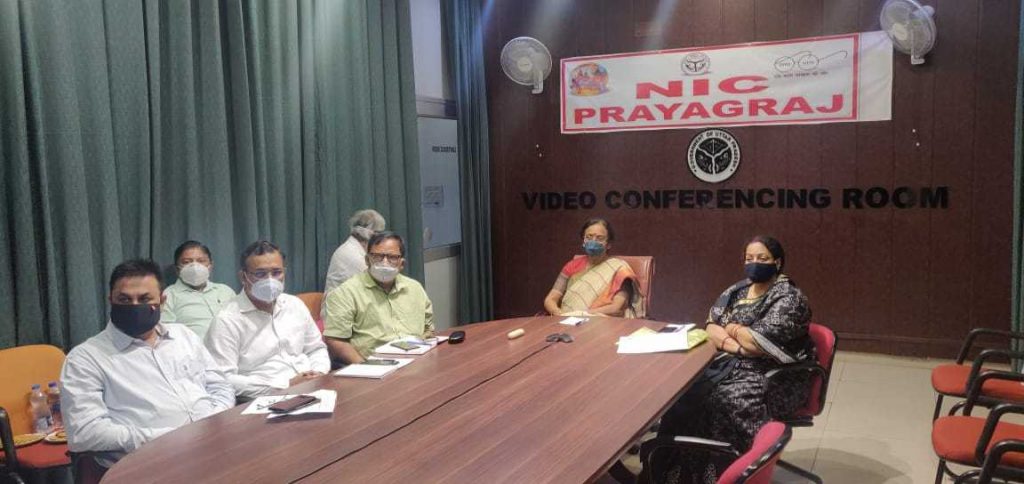 How has it been being an MP in the last one year since you have been part of politics for such a long time and have contested Lok Sabha elections twice unsuccessfully in the past while winning for the first time in 2019?
Rita Bahuguna Joshi: I am quite used to this life because both my parents were Members of Parliament and for several decades, our family has been into social service and political life. It didn't come to me as a very different story. In the past, I have been the mayor of my city, Prayagraj (1995–2000) and I was an MLA for two terms (2012-2019) from Lucknow cantonment so I knew how to cope with it. I used to manage my father's constituency also.
But every assignment is a challenge and this time COVID-19 has posed as a huge challenge to every public servant. It comes with a lot of psychological stress and financial stress on the people. Additionally, we had to do a lot of work to pep up the morale of the people and to keep our workers engaged in serving the constituency. We had to devise a new system with web meetings and communicating with people only through online mediums. We thank the prime minister who pushed us all into this medium five years back, otherwise we would have struggled a lot.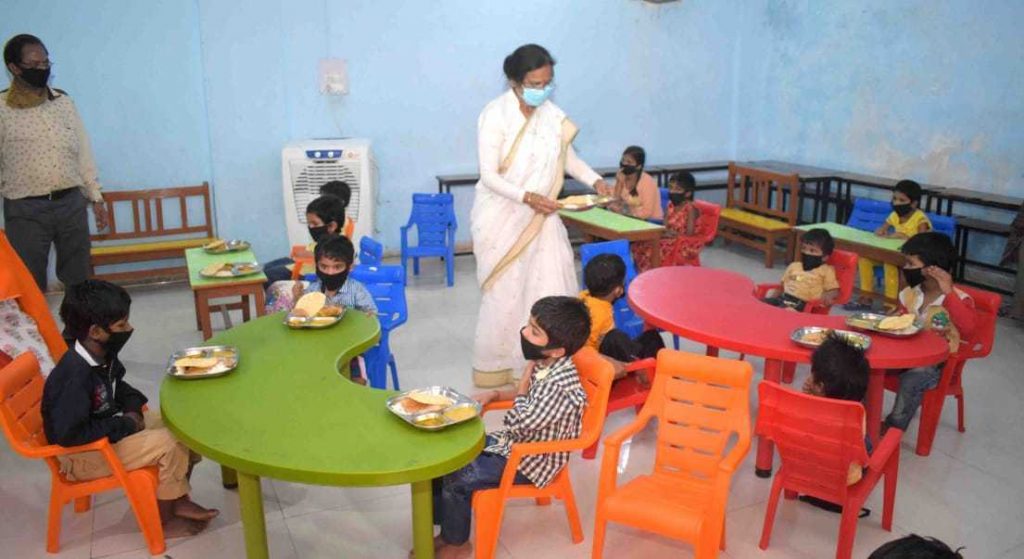 This is the first time that you are in power in your constituency as an MP so in that capacity, what are the changes you have brought in your constituency and the initiatives launched by you?
Rita Bahuguna Joshi: We don't need any new initiatives on our behalf. We are taking forward and ensuring that the initiatives taken by the central government are implemented properly. These include the Pradhan Mantri Garib Kalyan Yojana, electricity connections, toilets, LPG gas and other social sector reforms. This itself is stupendous work because my constituency is very big geographically. But at least two lakh people have been benefited in all schemes. So the initial period, we have just been committed to extending these benefits to the public.
The UP government has also come up with a lot of beneficiary programs so we were streamlining those as well in under a year that we got before the Coronavirus hit us. I am very glad that the roads and the transport system were improved a lot by the government. The roads and the highways in my constituency were dutifully repaired or constructed during this period. The railways have done a stupendous job as we got the Railway Overhead Bridges (ROB)—five in my constituency at a go. The state government has rolled out so much for the people that we would have done wonders if the COVID-19 situation hadn't spread.
My biggest challenge is to revive the industrial belt here because 95% of all the industries in UP are in Prayagraj. Starting from Lal Bahadur Shastri to H.N Bahuguna (her late father), every regime has worked towards developing the industrial sector in the district. My father picked it up in a very big way and he brought in several industries to set up plants in Prayagraj. His idea was to create an industrial belt like Bokaro in Prayagraj because there were several big companies here, but due to mismanagement after his tenure, all the progress made was doomed. Majority of the industries were in the public sector and with the opening of the markets in 1991, we couldn't compete with it.
Over the past few months, I met Rajnath Singh and Nitin Gadkari and others to set up the defence industrial corridor which has covered the entire Bundelkhand area from Kanpur up to Lucknow. We have large land banks in Prayagraj, and I am hoping to get it opened for the defence industrial corridor.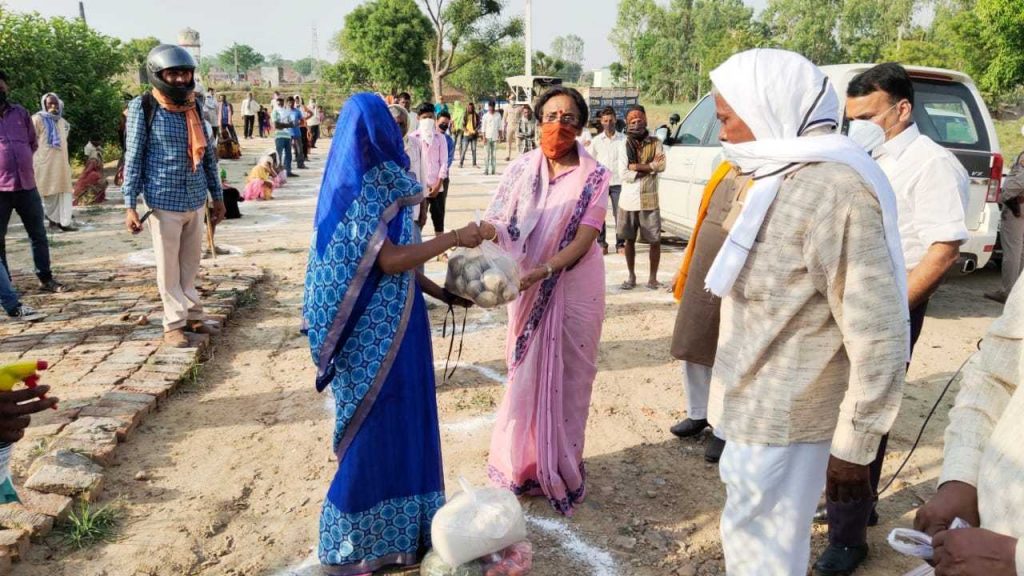 Apart from the industrial progress, what are some of the changes in gender-sensitive areas like crimes against women and upliftment of women are you trying to bring forth?
Rita Bahuguna Joshi: Since I have become an MP, I have been meeting groups of women who are working towards uplifting women from economically down-trodden areas of the constituency. Today, women are involved in professions beyond the stitching and other women-oriented activities. They are also involved in organic farming, manufacturing shoes etc. I just had a meeting with the Ajeevika Mission people and we are organizing these groups and the government is giving every active group Rs 1,50,000 to help them invest in strong financially viable units.
Secondly, Prayagraj is the only district in this state which has successfully set up pink community toilets in villages making them open-defecation free. We have a target of building 1000 more pink community toilets. A substantial part of that has come to my constituency, and I just had a review meeting where we discussed launching it very soon and opening them for women. After being set up, these units will be handed over to the most active Self Help Groups (SHGs) who will charge a small amount from women for using the service.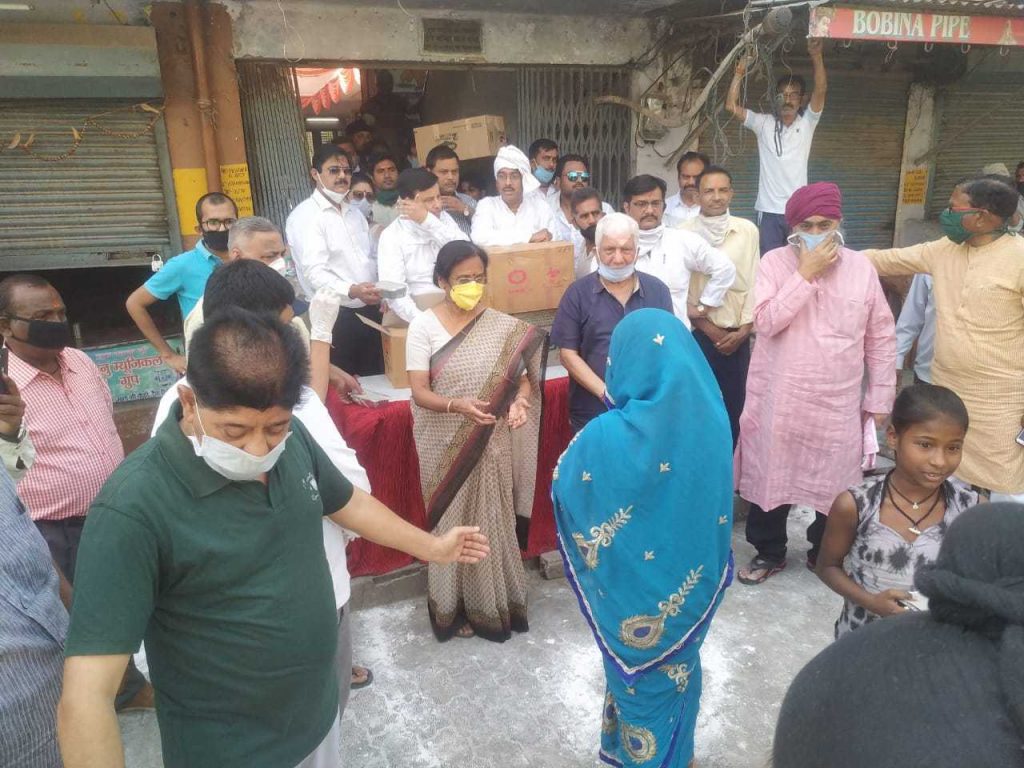 Your parents have been involved in politics all through their lives holding the most crucial positions in power, at what age did you aspire to join politics?
Rita Bahuguna Joshi: We are three siblings but my father never allowed us to become a member of any political party. He used to say that we are middle-class people so we need to find our footing in the profession we choose.
I am glad that my mother groomed us so well that I became a professor at the University of Allahabad and taught for 30 years. The first time I aspired for a political role was in 1995 when I was 46 years old. The 73rd and 74th Constitutional Amendment Act had come in for the local panchayat bodies and it allowed provisions for the reservation of seats at all the three levels in favour of women.
When I graduated from my post-graduate course, my mother told me that I should work for women through the NGOs, and not by entering politics. She was the first female president of Zila panchayat in Allahabad and I became the first lady mayor of Allahabad so we created history together. I was also the UN advisor for local governance for about seven years after which I received the United Nations Award of Excellence for being among the "Most Distinguished Women Mayor in South Asia". All of these things made me very popular with the women and the youth. So when the first direct election for the role of mayor happened, I was the natural choice of the people and I was an independent candidate.
If you are socially active, then politics is very easy and my father had died by then and my mother had retired from politics. My work in the women's movement and my parent's good work collectively came in handy. My opponents were very distinguished people and had a lot of resources working for them but still, I won by 40,000 votes.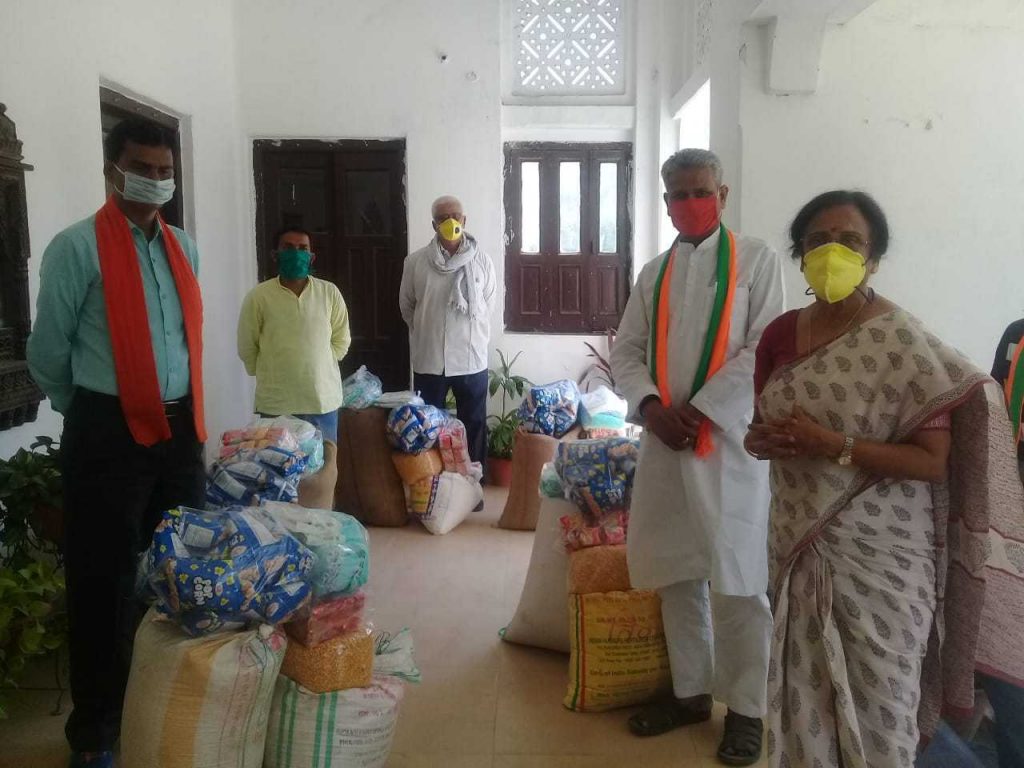 How is your constituency tackling with the COVID-19 pandemic?
Rita Bahuguna Joshi: Prayagraj has done much better than all the other cities in UP and we have had the least number of deaths which is only 6-7 people. My worry for my constituency is that we have seen three phases until now. In the first phase, there was fear of the unknown and the Prime Minister's appeal went into the hearts of the people. Everybody followed the advice of the PM and there was a lot of social distancing maintained.
The problem started to arise in the second phase as the migrant workers started to return to their native towns and over 50,000 workers came back to my constituency. Here I would appreciate them that they registered themselves and those who did not register, their villages took charge of them. The village administrations are providing quarantine facilities and meals to the migrant returnees and didn't let them enter their villages before completing the 14-day quarantine.
Now we are in the third phase when the unlock has started and we can see that the people are tired of the disease now and have started to take it lightly. They are not maintaining social-distancing and aren't even covering their faces with masks. Now I am afraid, as it is spreading very fast. What we are doing is that we are avoiding to meet people and sending out a message that things are not back to normal just yet. We are working virtually, over the phones.
(We conducted this interview on 4 July until then, Prayagraj had about 365 positive cases of coronavirus but as of July 31 when we drafted this interview, the total number of positive cases were recorded at 2240 cases and 50 people have died due to COVID-19)
There has been a rise in domestic violence against women across the world, have you seen a spurt of such cases in your constituency and how are you dealing with the rise?
Rita Bahuguna Joshi: My constituency is 80% rural, and rural women don't usually come out with such complaints easily. I would say that the biggest fight by the COVID-19 is fought by the women whether they are the ASHA workers or SHGs because they are going door-to-door working for people and so they are the watch persons in the villages. But I think, if there would have been an increase in the cases then things would have trickled down to us, but it has been reported in greater numbers in Prayagraj.
Also read: Amravati's Independent MP, Navneet Rana On Politics, Misogyny And COVID-19
How does a typical day look like in the times of coronavirus in the life of an MP?
Rita Bahuguna Joshi: The major change, as opposed to our normal lives, was that our meetings with people came down drastically and phone calls increased manifolds. In the beginning, I was receiving 200-300 calls a day which I was struggling to manage but the most distressing calls were coming from our migrant workers in other states.
I am very satisfied that I opened up my helpline and control room to help people out in all the ways possible. We had people from my constituency calling us right from Goa, Maharashtra, Chennai to Gujarat, Karnataka and even Jammu and Kashmir whom we helped as best as we could and continue to do so. Until now, we have reached out to at least 6,000 people outside of Prayagraj. We MPs are all connected on the PM Portal which brings in active help whenever we require.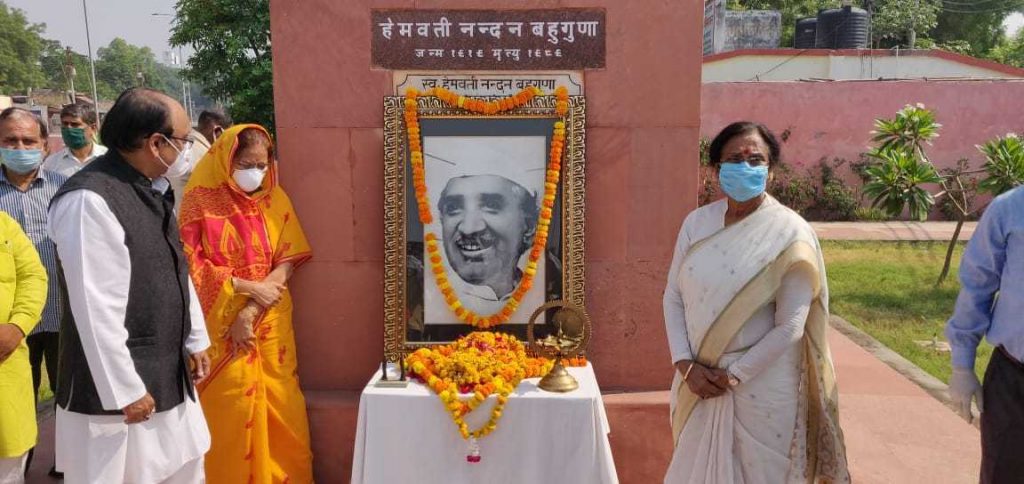 Do you think the ongoing political discourse of communalism is having an impact in your constituency? Please talk us through it.
Rita Bahuguna Joshi: What's happening is that the food distribution system was formed and as you know the most backward population, which highly comprises of the Muslim community and the other minorities, are the best beneficiaries of the COVID-19 schemes because of the poverty level they live under. So regarding the distribution of basic amenities, monetary help, there was no discrimination at all. In fact what we have seen is that since it is a pandemic, everybody is looking after their neighbours and people didn't give any preference to any caste or community. COVID-19 united everybody.
But yeah there was a lot of tension when the corona warriors were being attacked and that sent out a very bad mood amongst the people. That was the only time I saw that there was anger against a community.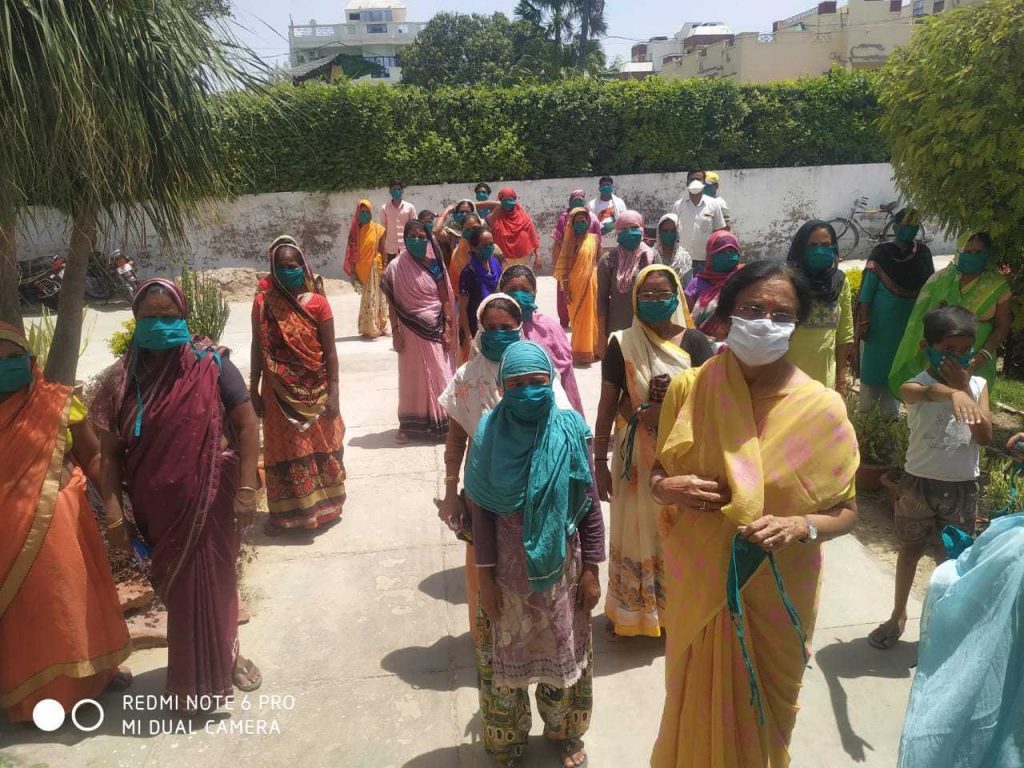 Who were the people who were attacking the healthcare workers?
Rita Bahuguna Joshi: After the Tablighi religious conference happened, in places like Moradabad, Amroha and other places where we heard that in Muslim localities, healthcare workers were attacked and that created some tension. But then it subsided gradually as coronavirus started to spread strongly.
How has the experience of being a female MP been for you? We're asking this in the context of women being a minority in the parliament and politics being a highly misogynistic workplace.
Rita Bahuguna Joshi: Women of this millennium and especially this decade aren't as weak as they used to be back in the day in the 1950s. I have seen several decades right from the conservative phase then came the phase of the struggle when women were going through a kind of emancipation, then I saw the empowerment phase. Today's women are empowered.
As far as politics stands, I will agree that we are still a misogynist society and we are still dominated by men. Women still have to prove themselves a lot more than men to be considered worthy for the job. Having been a teacher for 33 years in the university and then being a mayor of the city, I was still not accepted as the best. The best will always be a man.
Also read: Basirhat MP Nusrat Jahan Rejects 'Feminism' Says, "Equality is not Feminism"
We need to develop women's confidence and self-respect. I think now women are finding their space and we have come a long way.
---