The Justice Denied: Sexual Violence and Intersectional Discrimination, Barriers to Accessing Justice for Dalit Women and Girls in Haryana report by Swabhiman Society and Equality Now analyses the specific barriers to accessing justice faced by Dalit survivors of sexual violence in Haryana. For the 16 Days of Activism, FII partnered with Swabhiman Society and Equality Now to take a broader look at the report, some survivor narratives and its many crucial recommendations.
The report has found, that in Haryana:
Sexual violence is used by dominant castes to oppress Dalit women and girls.
There's a culture of "violence, silence and impunity".
The rate of violence against Dalit women is very high.
Obtaining convictions is difficult.
Community plays a role in impeding access to justice.
There's a lack of support services for survivors.
Survivors are subjected to intrusive medical examinations.
Many barriers exist to accessing justice.
Dalit women and girls are specifically targetted by dominant caste men.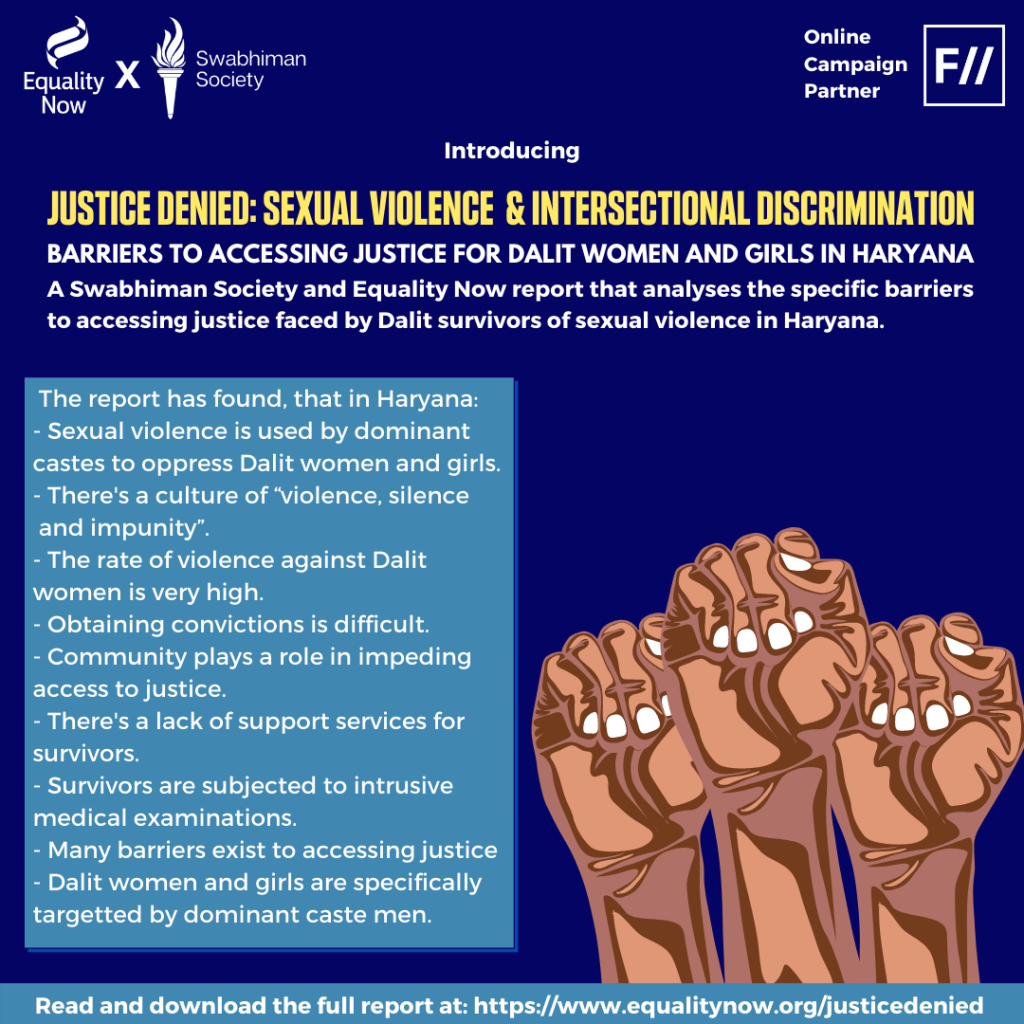 1. Almost 10 Dalit Women are Raped Everyday In India
Sexual violence against Dalit women and girls is extremely prevalent in India. Survivors are systemically silenced through threats by dominant caste people, community pressure, police inaction etc. In Haryana's deeply-rooted caste-based and patriarchal society, survivors face even more barriers to accessing justice.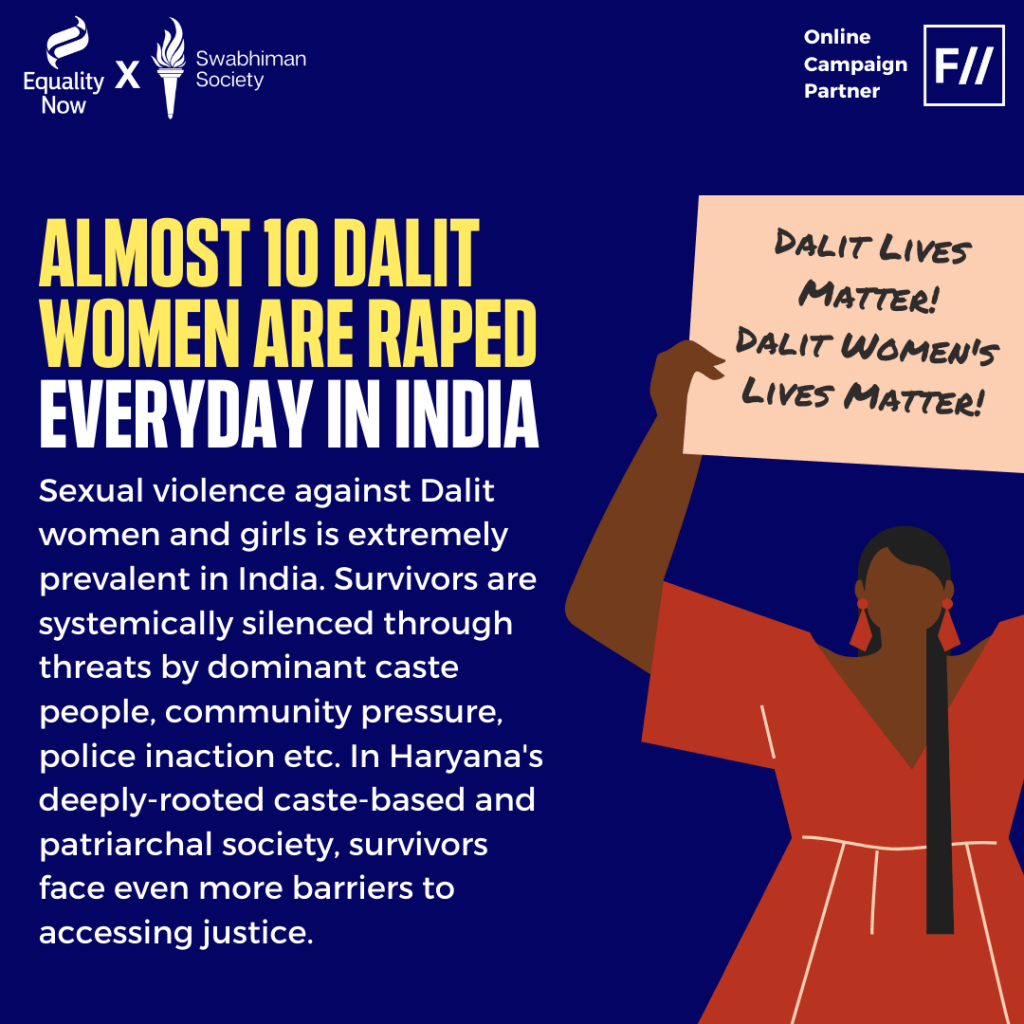 2. Dalit Survivors of Sexual Violence Face Many Barriers in Accessing Justice
Swabhiman Society worked directly with Dalit survivors of sexual violence in Haryana and found that survivors face many barriers in accessing the criminal justice system. Key findings based on 40 cases of rape against Dalit women and girls highlight these barriers that survivors face.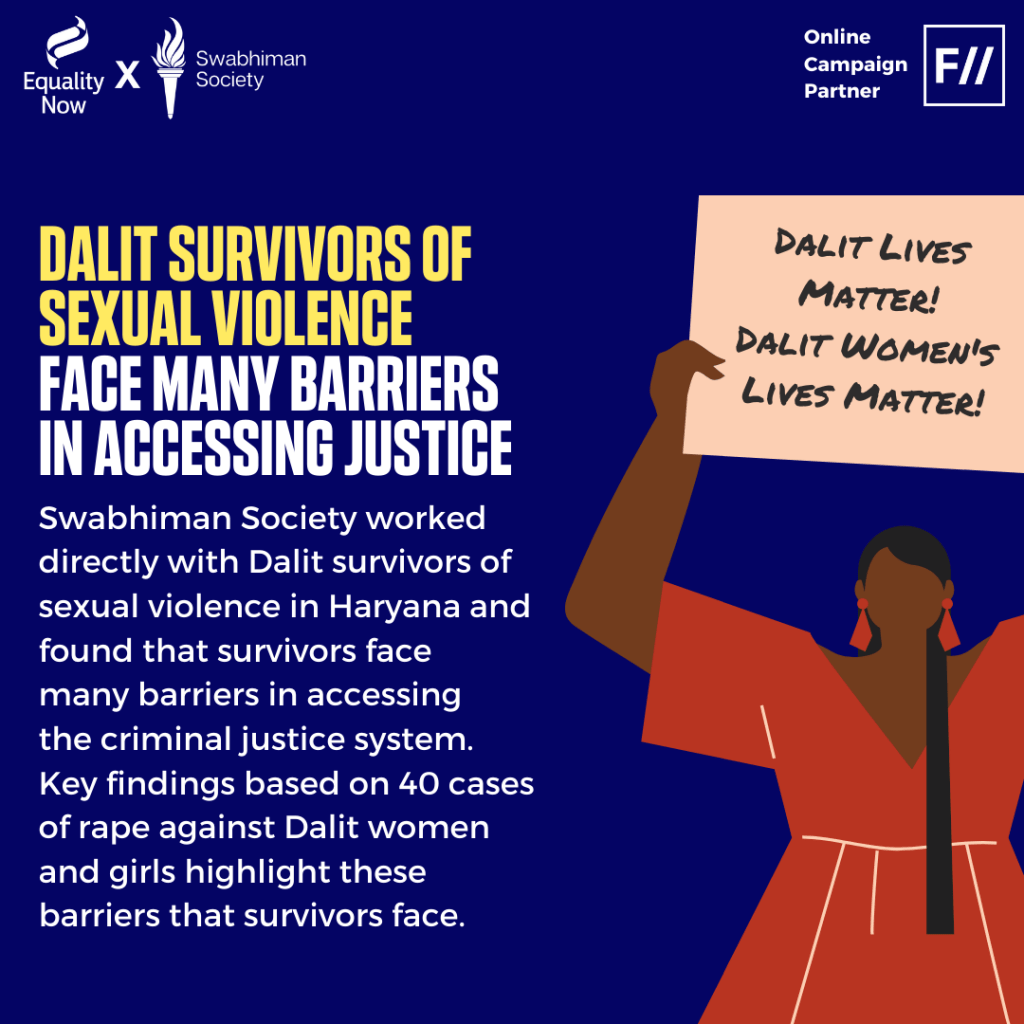 3. The Story of Pallavi, A Survivor
Pallavi, a Dalit survivor of sexual violence, was 16-year-old when dominant caste men gang-raped her. When the case went to court, only four of the gang were convicted and although they were sentenced to life imprisonment, they were awarded parole. They're now back in jail, but four of the men charged with rape were acquitted, alongside two others who were on trial for harbouring the accused.
Pallavi is now studying law and her fight for justice continues. She is working with Swabhiman Society and is helping other Dalit women and girls who have experienced sexual violence and abuse to get the support and legal protection they deserve.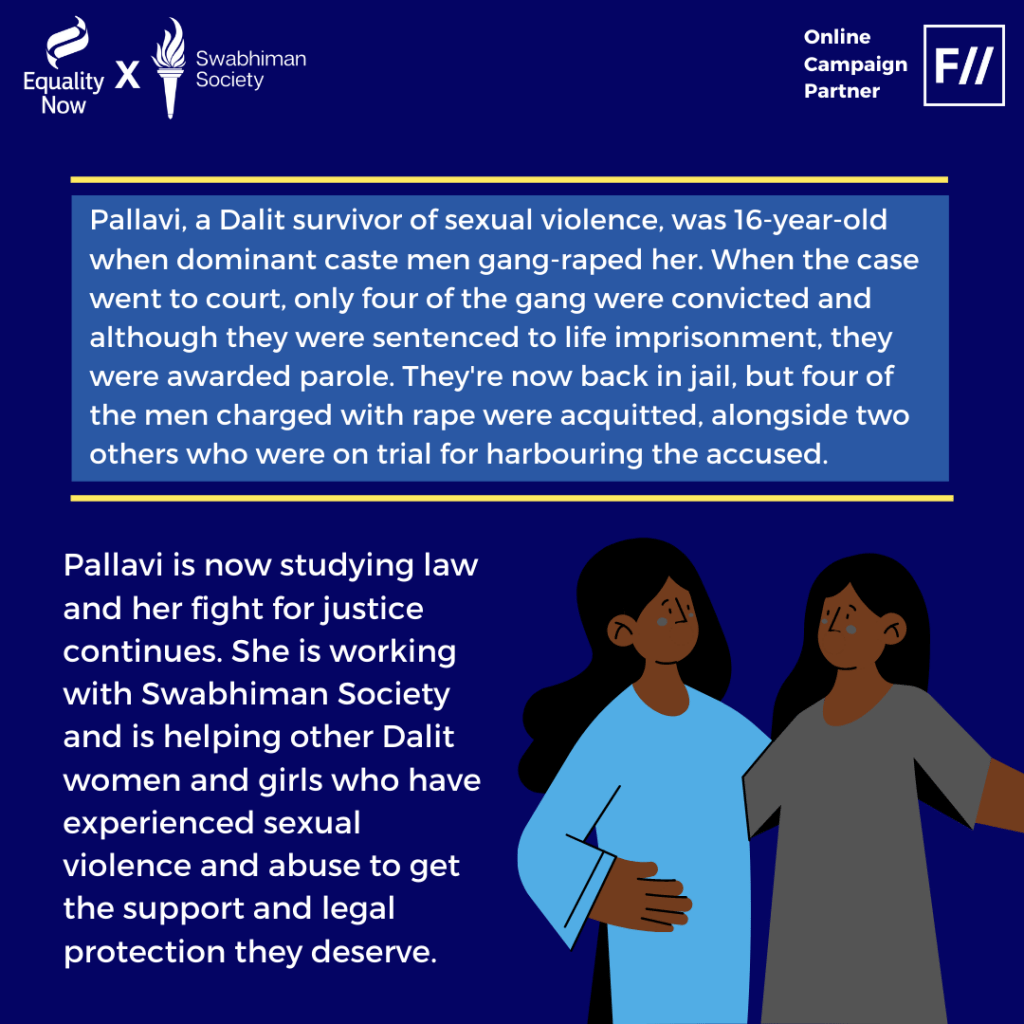 4. The Story of Savitri, A Survivor
Savitri, a labourer, was gang-raped by a dominant caste money-lender Aman and some of his aides, when her husband Parshu was unable to make a payment on time. The police initially refused to register an FIR. Community pressure and harassment from the khap panchayat led to the couple being forced to leave the village.
Savitri and Parshu were only allowed to return to their home after they agreed to compromise the case. As the couple no longer felt able to testify, this meant that no further legal action was taken and the case was closed by the court.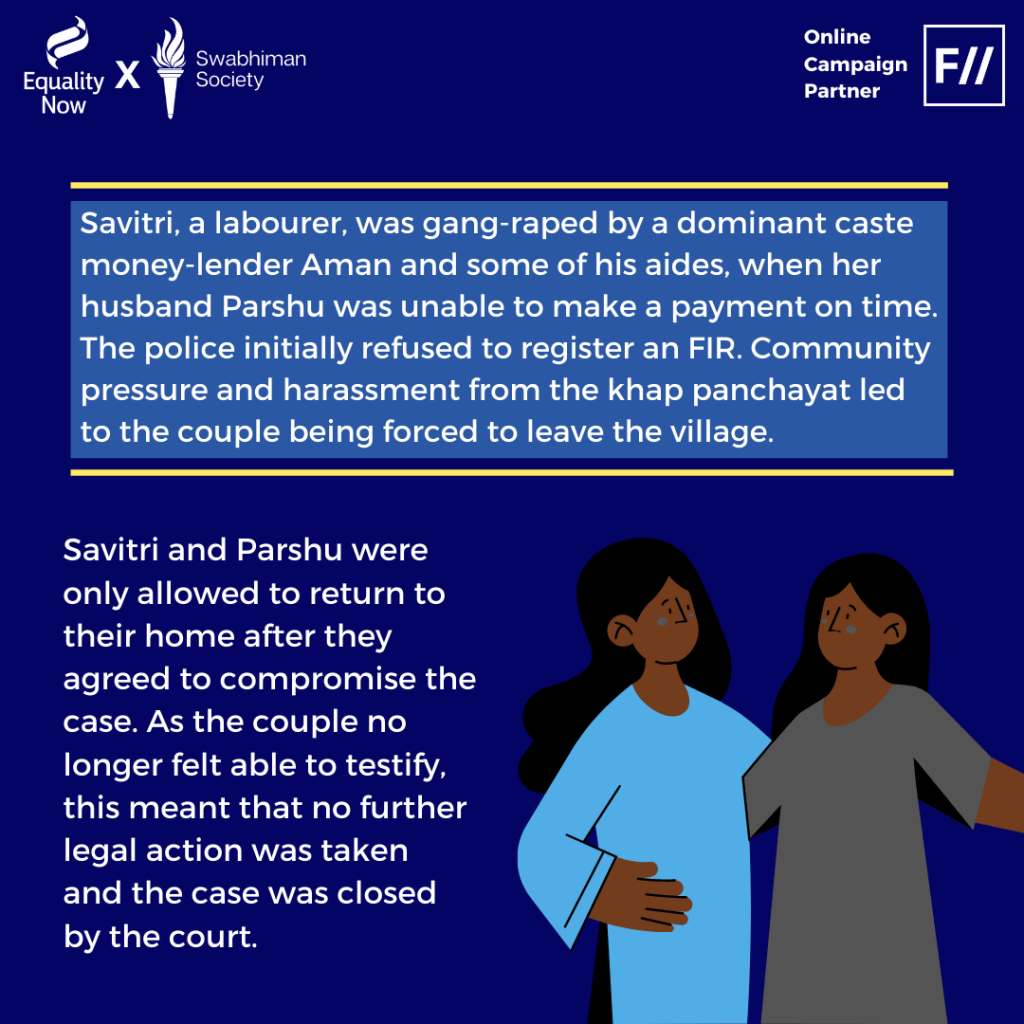 5. Community Pressure and Stigma is Probably the Biggest Obstacle to Justice for Dalit Survivors of Sexual Violence
Dalit survivors of sexual violence often face threats of retaliation and violence by the dominant caste perpetrators. Almost 60% of survivors were forced to compromise. Khap panchayats (unofficial village councils) were also found to have intervened in at least 80% of the cases.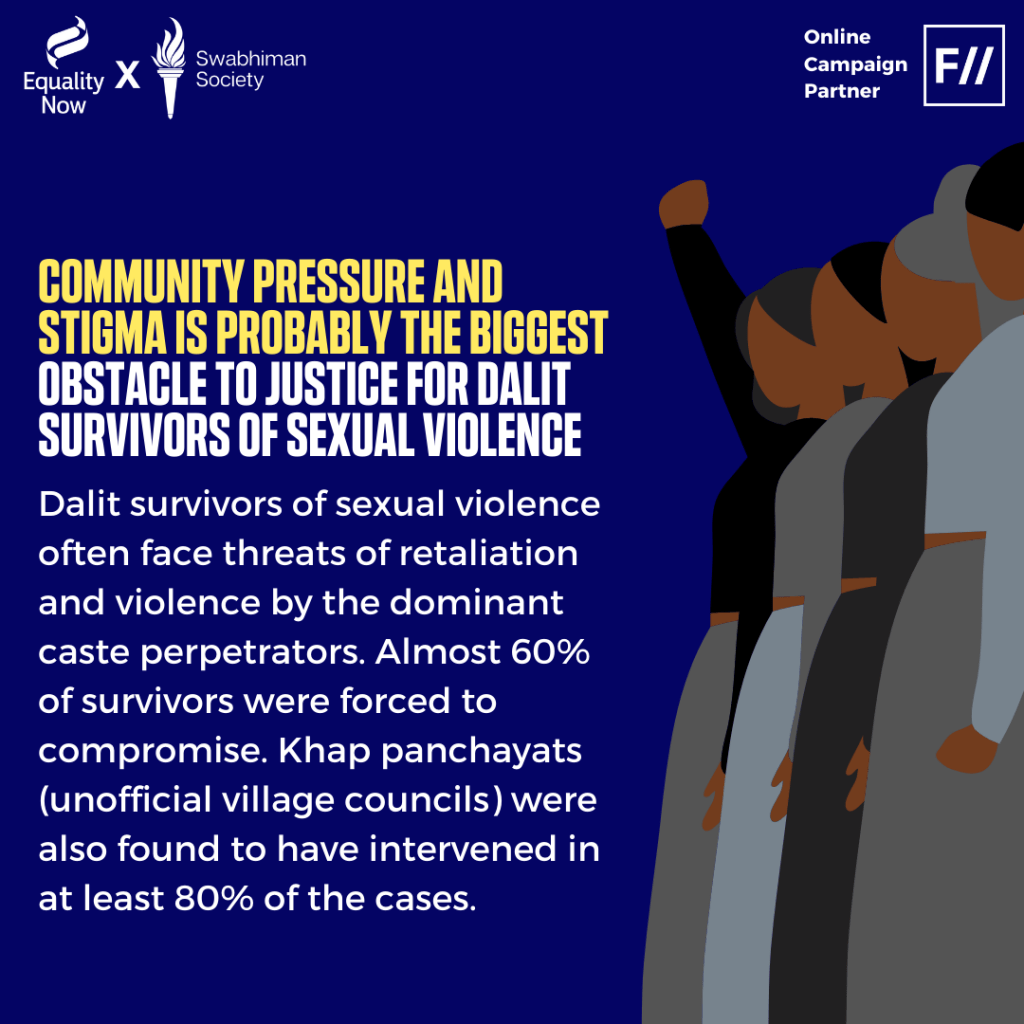 6. Dalit Survivors of Sexual Violence Have to Face Police Inaction, Victim-Blaming and Caste Discrimination
The police either refuse to file an FIR, deny survivors their rights, or are reluctant to file cases of sexual violence against Dalit survivors under the SC & ST (PoA) Act. Due to sexist and casteist attitudes, the police also victim-blames and uses abusive language and casteist slurs against the survivors.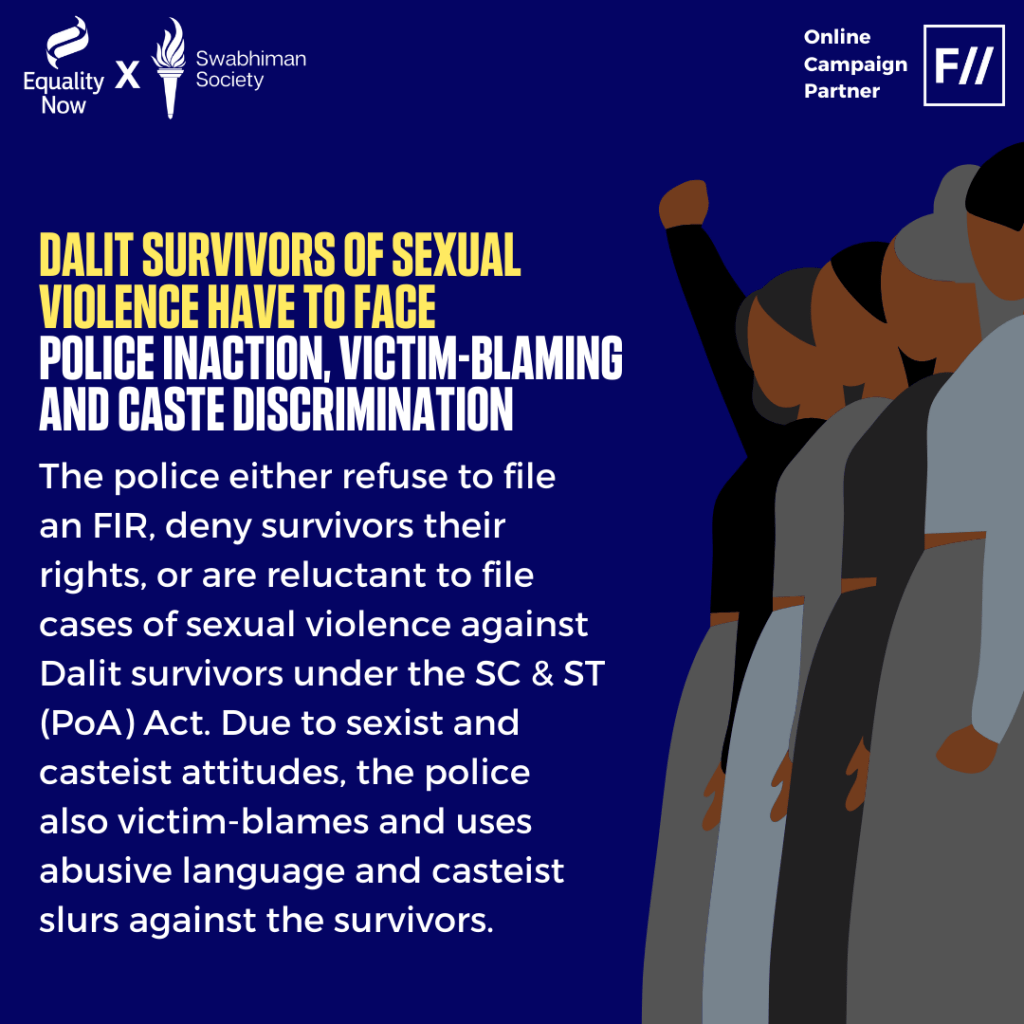 Also read: Video: Manisha Mashaal Speaks On Caste-based Sexual Violence In Haryana
7. Survivors are Still Subjected to the "Two-Finger Test"
The guidelines issued by the Ministry of Health and Family Welfare on medico-legal care of survivors of sexual violence are poorly implemented in hospitals in Haryana. Proper procedures are not followed and survivors are subjected to caste-based discrimination, corrupt staff, and the traumatic "two-finger test".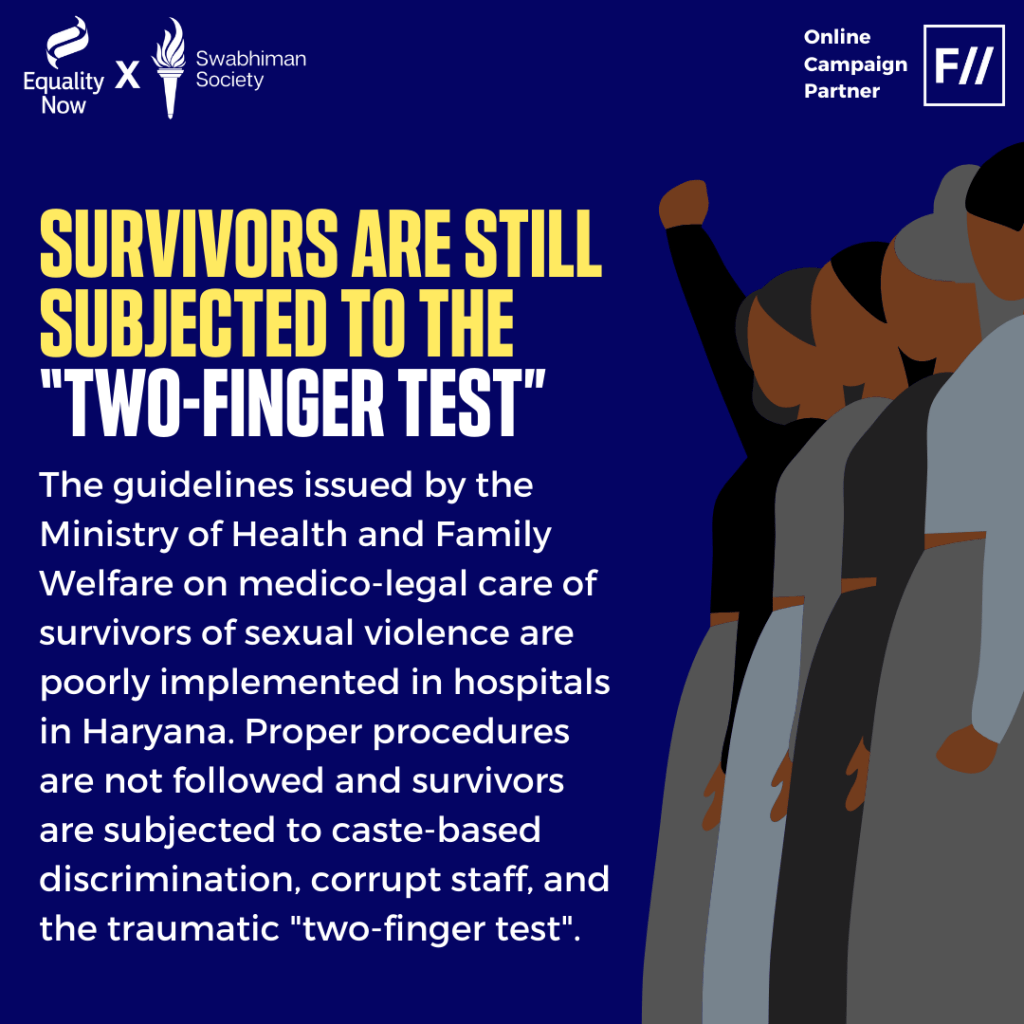 8. The Judicial Process is Unfair to Dalit Survivors of Sexual Violence
Not only is it extremely difficult to obtain convictions in cases of sexual violence against Dalit women and girls, survivors also face many issues during the trial process. They are not advised of their rights, denied access to an advocate of their choice, subjected to offensive cross-examination, or face delays in trials.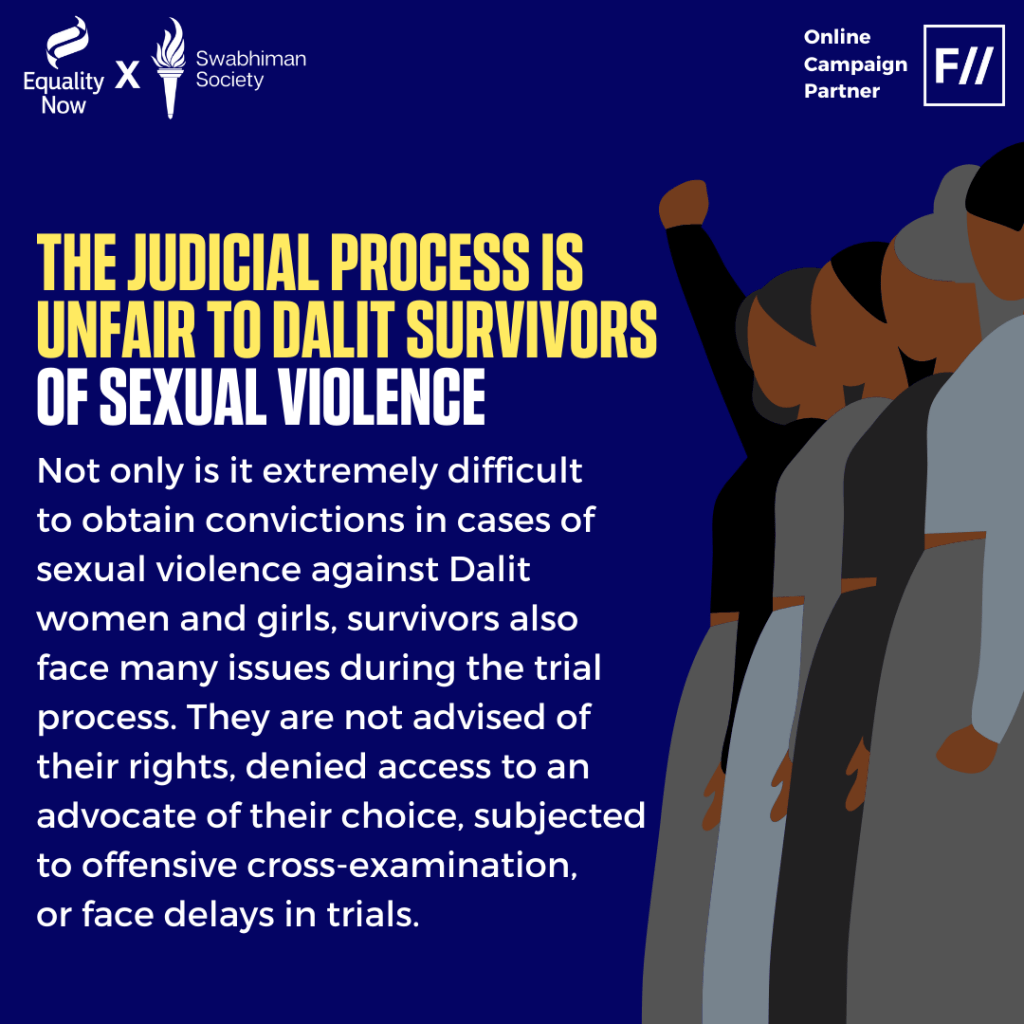 9. There is a Lack of Support Services for Survivors of Caste-Based Sexual Violence
Dalit women and girl survivors of caste-based sexual violence find it extremely hard to access support services such as victim compensation, psycho-social care, and police protection. This is largely due to inaccessibility of services, caste-based discrimination etc.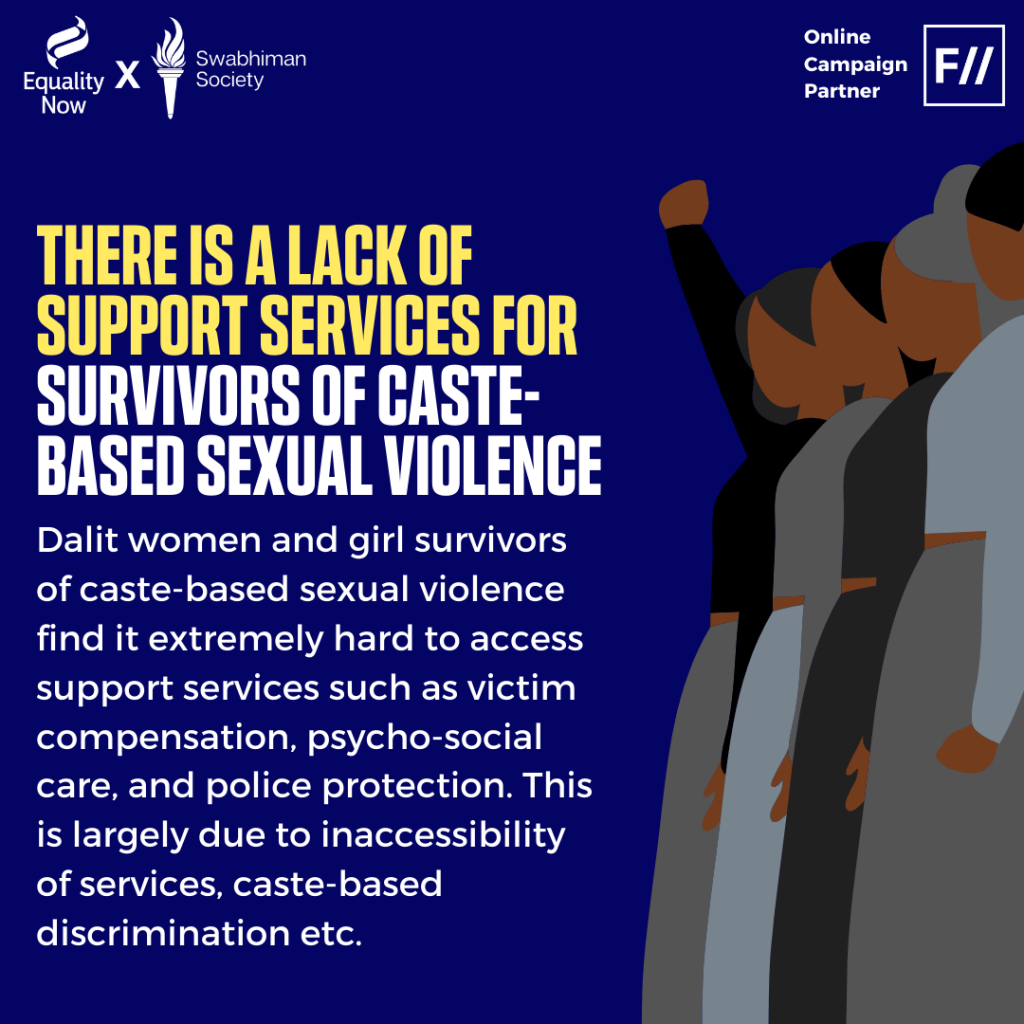 10. The Impunity for Perpetrators of Caste-Based Sexual Violence Needs to be Addressed
The State must send a clear message of zero tolerance for sexual violence and accompanying violence meant to silence or intimidate survivors or their families, irrespective of the class, caste or community that the accused persons or the survivors belong to.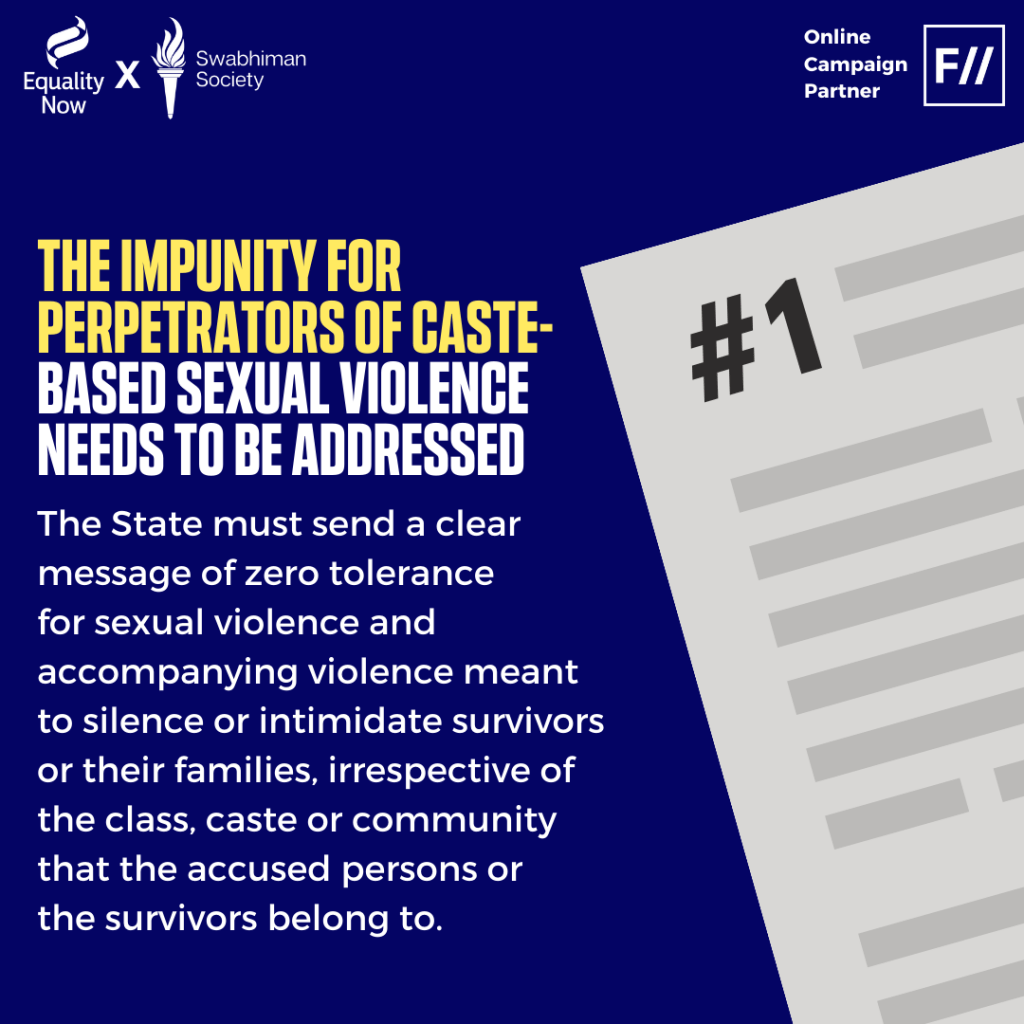 11. Support Services to Survivors and Their Families Must be Provided
The Haryana State government needs to strengthen support systems for survivors and their families, including providing access to counselling and psycho-social support services, access to improved shelters for women and girls, and rehabilitation programmes etc.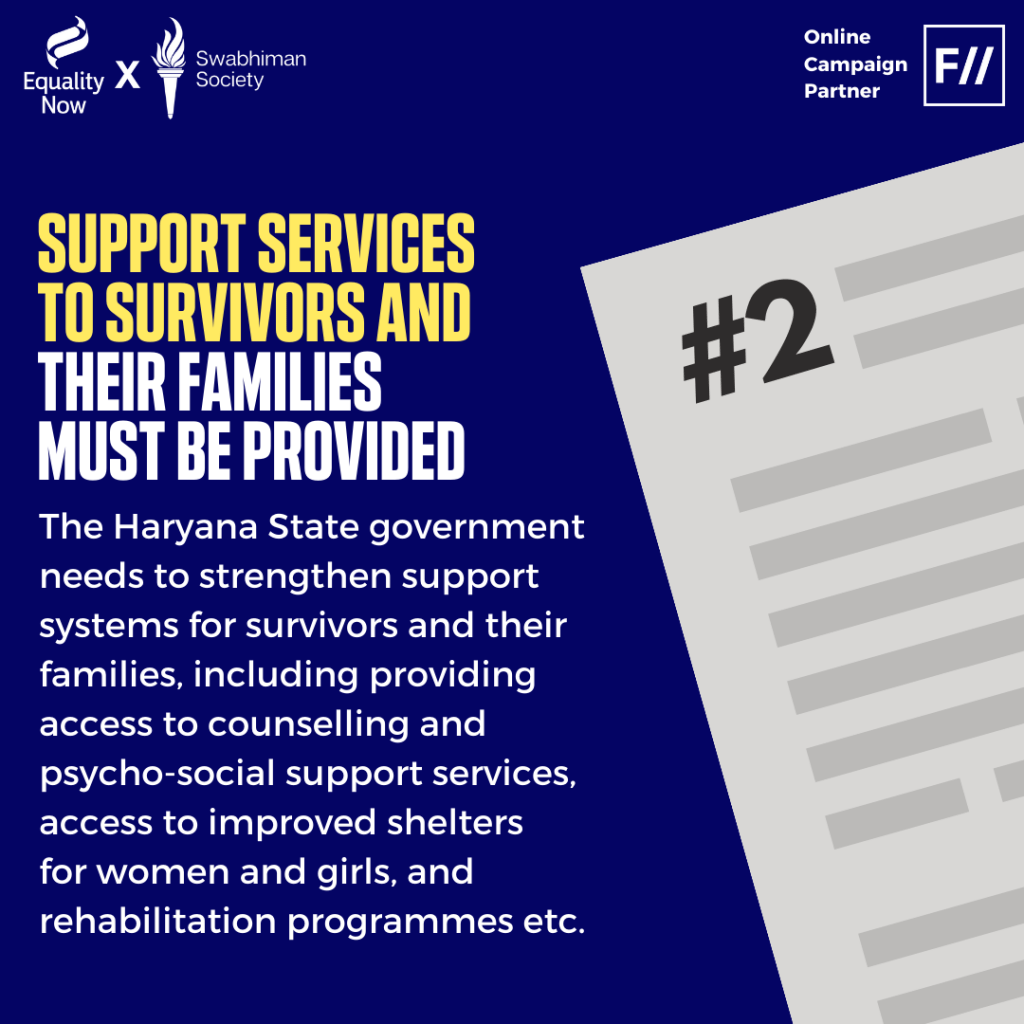 12. The SC & ST (PoA) Act Must be Effectively Implemented
The state government needs to establish special police stations and Exclusive Special Courts for investigation and trial of offences under the SC & ST (PoA) Act. The government should also conduct a review by the Haryana State Commission of Scheduled Castes to study the implementation of Act.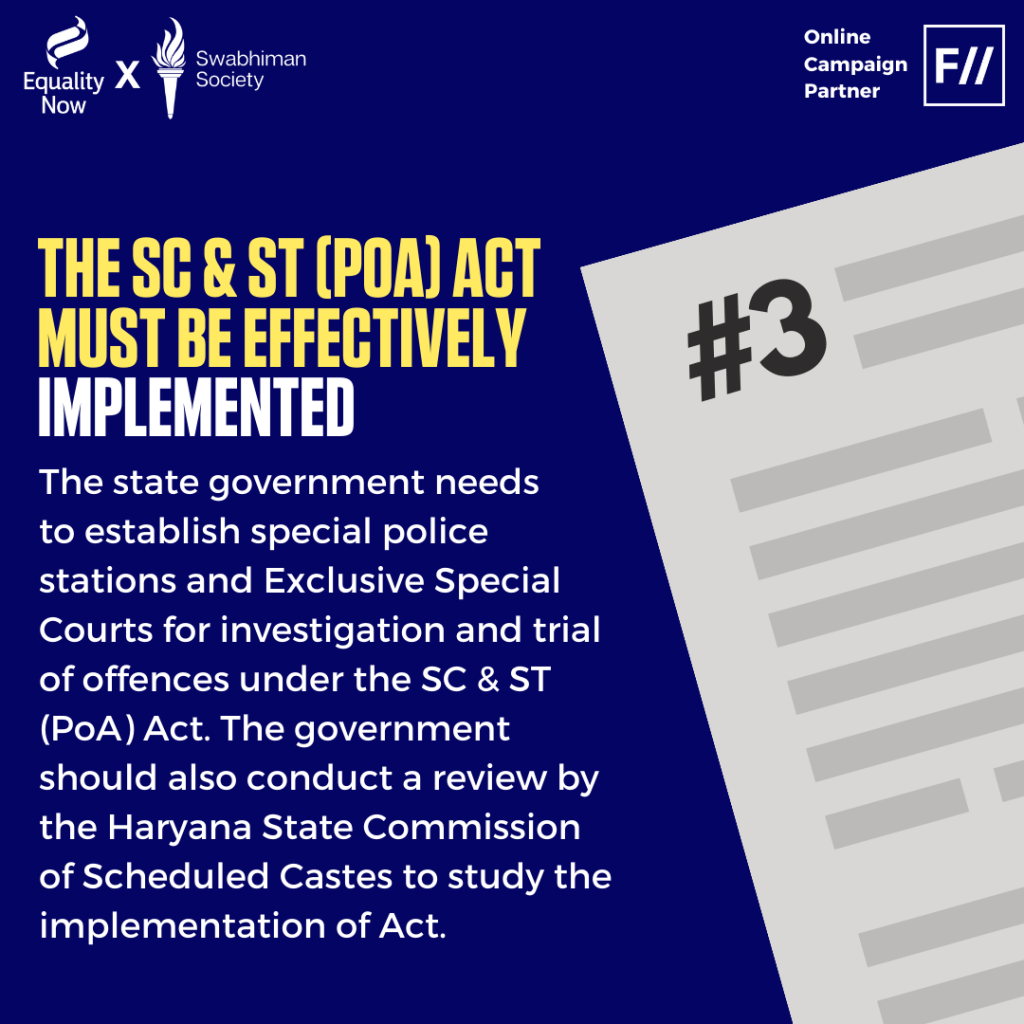 13. Resources Towards Sexual Violence Prevention and Response Programmes Need to be Increased
The state government should utilise the entire allocation of resources to Haryana under the Nirbhaya Fund, and ensure that sufficient funds are allocated for the payment of victim compensation in accordance with the law and the orders of the Supreme Court.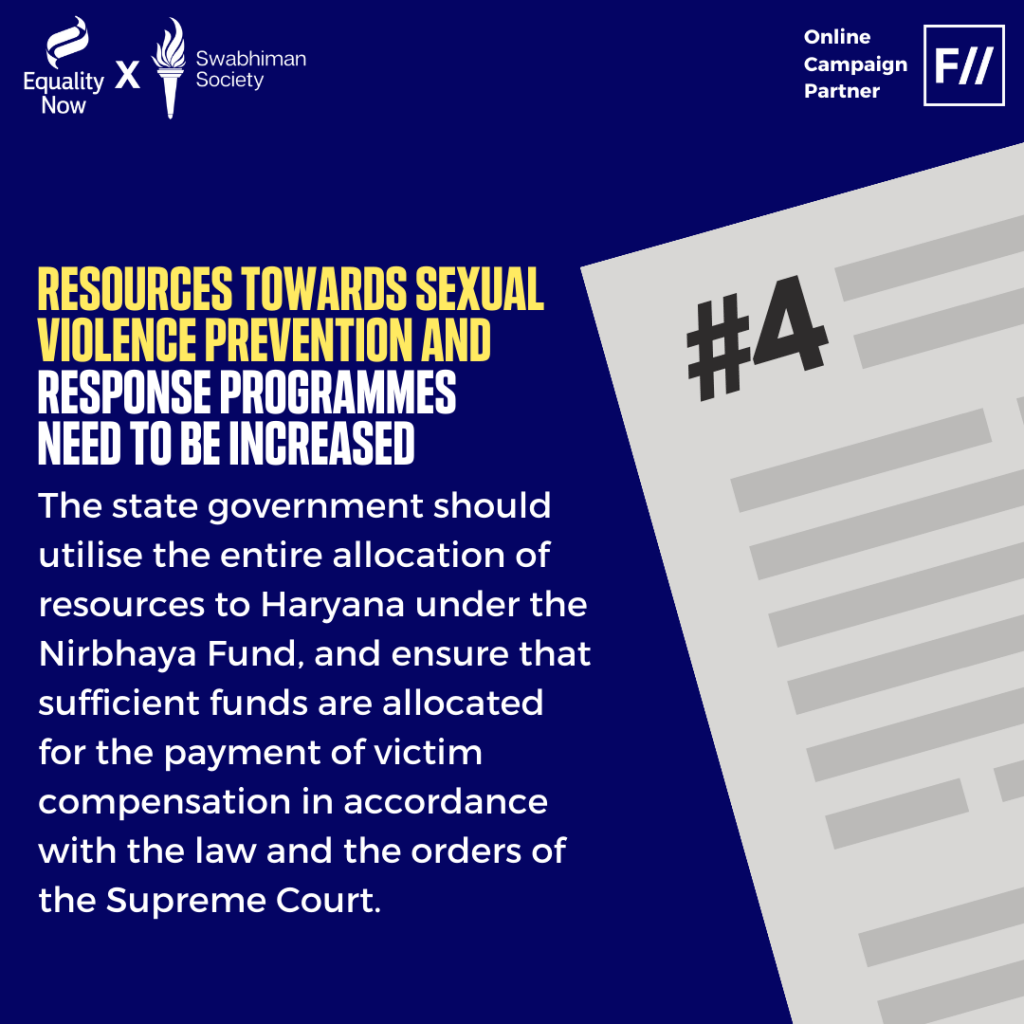 14. Quasi-Judicial Bodies Such as Khap Panchyats Need to be Banned
The Haryana ​government should urgently ban quasi-judicial bodies such as khap panchayats. It should ensure that this ban is enforced by taking action against panchayat members who threaten, pressure or force survivors or their families into a 'compromise'.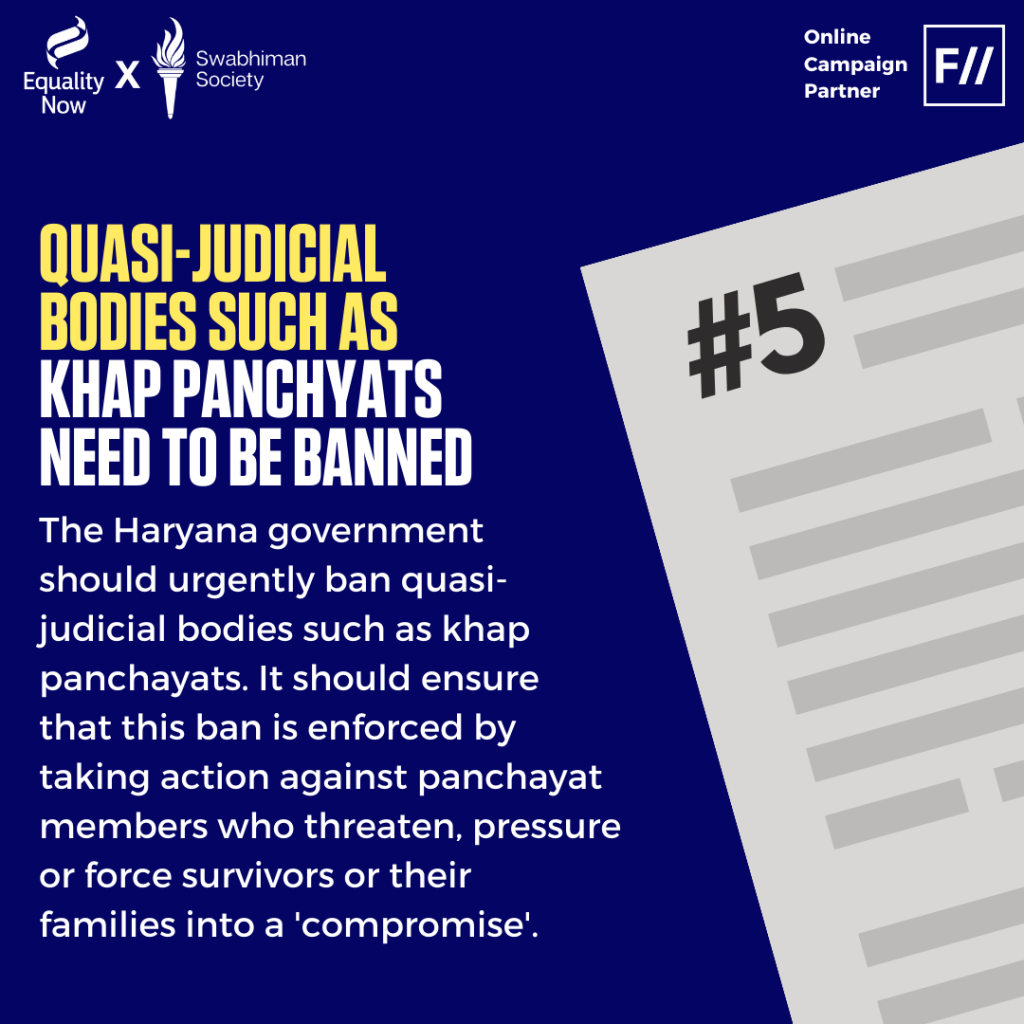 Also read: Dalit Women Will Get Justice Only If Casteist Judicial System Is Uprooted
15. The Time for Action is Now!
Dalit survivors of sexual violence not only face many barriers in accessing justice, but are specifically targeted by dominant caste men who can rely on a prevalent culture of impunity. This impunity must be addressed and prevention and response to sexual violence cases drastically improved in order to end this cycle of violence.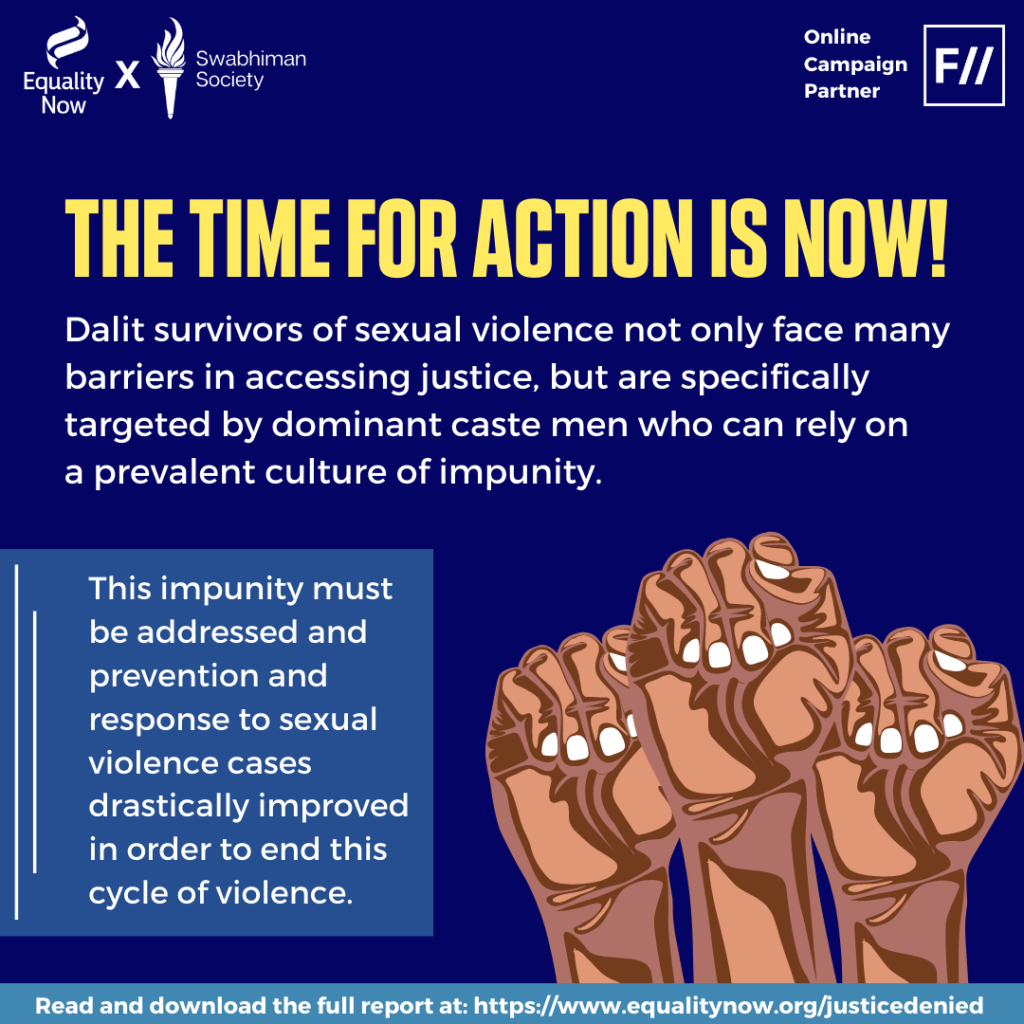 Read and download the full report by Equality Now and Swabhiman Society here. Call on the Haryana Government to take action to end caste-based sexual violence here.
---
Swabhiman Society is an organisation led by and comprised of young Dalit women, created with the goal of uniting and organising Dalit women in Haryana to end caste based oppression at the grassroots level. Equality Now is an international human rights organisation that works to protect and promote the rights of all women and girls around the world.