Umrao Jaan is a 1981 film by Muzaffar Ali and is based on the life of a courtesan, named Umrao Jaan, whose character is played by Rekha in the film. The film is an adaptation of an Urdu novel Umrao Jaan Ada by Mirza Hadi Ruswa, published in 1899.
In Umrao Jaan, Amiran's father gives testimony against a man in the court because of which the person gets jailed for twelve years. When the person comes out of jail, they insist on taking revenge on Amiran's father. As a result, they abduct Amiran and sell her in a brothel in Lucknow.
The person doesn't appear in the film after selling Amiran, which symbolises their satisfaction after taking revenge on Amiran's father. Revenge is a masculine concept based on the idea of setting scores. An incompetent person would be said to have feminine traits if not competing with the same enthusiasm and courage.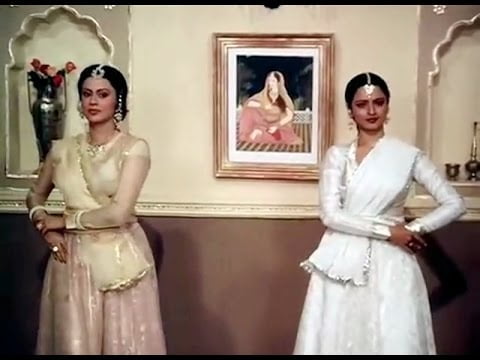 In addition to this, aggression and vengeance are considered to be masculine traits. Just like how Rama and Lakshmana in Ramayana first involve violence against Surpanakha and then against Ravana, Sultan Sahab kills the person who insults Umrao Jaan at the brothel. Rama and Lakshmana defend Sita's honour, and Sultan Sahib defends Umrao Jaan's honour.
Men's obsession with saving women's honour is ingrained in Indian society. The 2018 Sanjay Leela Bhansali film, Padmaavat also glorifies the idea of women as commodities to be fought over. Allaudin Khilji and Raja Ratan Singh fight over Rani Padmavati, which eventually leads to the death of Raja Ratan Singh. Whether it be the cinema of the 1980s or the current period, patriarchal double standards are celebrated by many mainstream playwrights and artists.
Objectification of women's bodies
The objectification of women's bodies or equating women's worth with their bodies is another issue in Umrao Jaan. A family rejects the protagonist, Amiran, aka Umrao Jaan Ada, because of her dark skin tone compared to her friend, Ram Dei. The woman who takes Ram Dei home says of Amiran, "surat to iski bhi theek hai, bas rang sawla hai," (Her appearance is also fine, only her skin is too dark).
She is sold at the brothel for one hundred and fifty rupees, and the women discuss whether the deal is expensive or cheap. Umrao Jaan falls in love with Sultan Sahab, who compares her body parts with objects, like her lips with rose petals and her neck with surahi (an Indian clay pot for storing water), among others.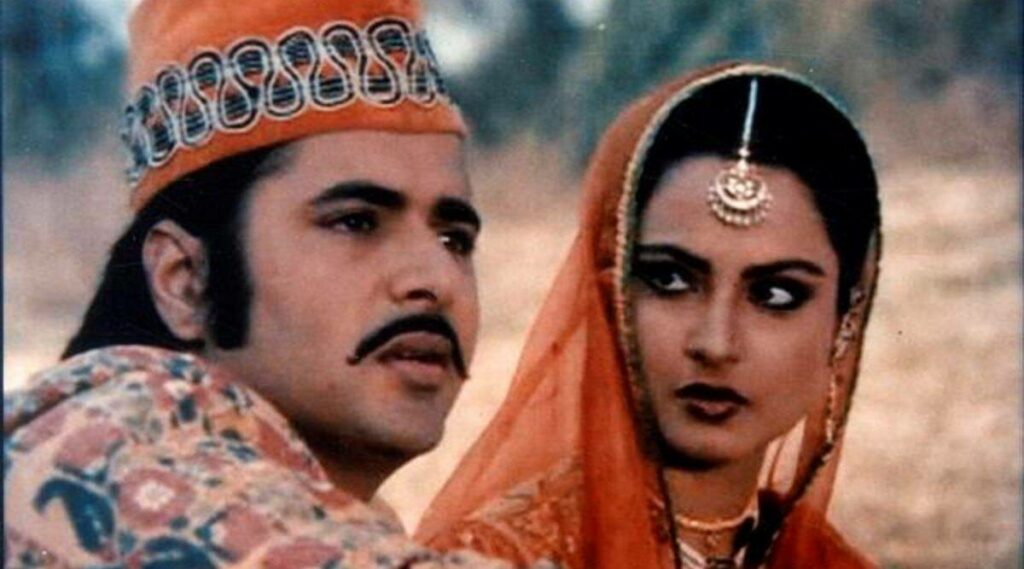 Objectification theory (Fredrickson & Roberts, 1997) provides a framework for understanding the experience of being female in a sociocultural context that sexually objectifies the female body. The theory helps one know the oppression women face under patriarchy. The treatment of Umrao Jaan as an object to be valued for use by men comes across in the film. She is presented as a physical object to cater to male sexual desire.
Similarly, in the film, Padmaavat, Rani Padmavati is reduced to her beauty becoming the subject of consideration. The priest talks endlessly of Rani Padmavati's beauty to Alauddin Khilji. The anecdotes of women's beauty are spread through word of mouth, increasing the desires of other men. For instance, Umrao Jaan's beauty is defined in the following manner-
"Umrao Jaan ki tareef karna,
Jaise Suraj ko chiragh dikhana."
"Appreciating Umrao Jaan's beauty is like showing the lamp to the sun."
Muzaffar Ali subtly refers to the internalisation of self-objectification that happens in the case of courtesans. The courtesans in the film, Umrao Jaan, spend a great deal of time on their beauty and appearance as if they evaluate themselves on this basis. Furthermore, the disparity between women's appearance and experience is great. While performing at Sultan Sahab and Ram Dei's house, Umrao Jaan is devastated from within, but this doesn't reflect on her.
Umrao Jaan and the idea of marriage
The film Umrao Jaan begins with a girl getting ready for marriage. The adolescent girl is decorated from top to bottom for her engagement. In the background, the following song is being sung-
"kahe ko biyahe videsh,
Are lakhiya babul mohe,"
"Why are you marrying me so far,
Look after me, Oh father!"
In the song, the girl repeatedly questions her father about her being married so far. She doesn't want to leave her father's place and move elsewhere. The song refers to the plight of women concerning marriage. Rassundari Devi's autobiography, Amar Jiban brings forth the difficult life of child brides.
Rassundari Devi cried for days after getting married at a young age and had to do a lot of work and bear children. She couldn't continue her education and had to do it secretly when she started self-educating.
The access to education for women was low during those times, and there was a prevalent notion that if a woman got educated, it would be a bad omen. Though Amiran doesn't get married in the film, child marriage, a common practice during the late nineteenth century, is shown in the film.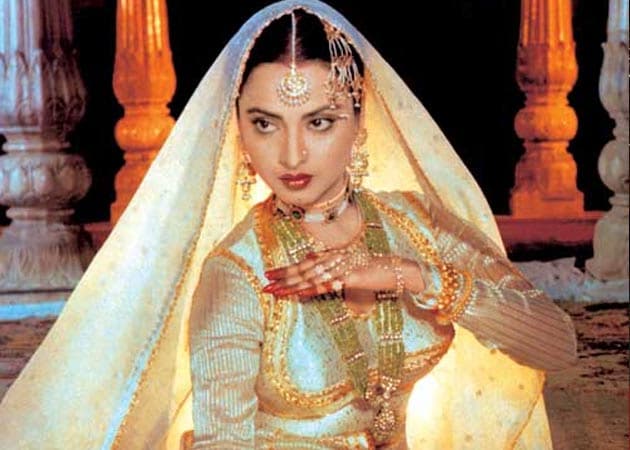 Amiran looks happy while getting decorated for her engagement but whether she understands the institution of marriage is a pertinent question. When her father goes to work, she asks him to bring a doll for her. This refers to her childlike innocence when she is pushed into a marriage that demands commitment and taking up responsibilities. 
Bibi Khanum talks about the condition of women in marriage. She says of them that their condition is also not appreciated. On the other hand, courtesans enjoy greater mobility than married women. They are not forced into the purdah system and interact with men and women from all social, cultural and religious backgrounds. In the late nineteenth century, women's education was not common; however, courtesans were educated and involved in the arts and literature like Umrao Jaan and Bismillah.
Shifting identities in Umrao Jaan
What does a name tell us? Does it discuss a person's gender, nationality, religion, caste, class and other social standings? Are names representative of people's identities?
When Amiran enters the brothel in Lucknow, the head Bibi Khanum changes her name to Umrao. The word Amiran comes from the Urdu root word ameer meaning rich. Amiran's father was a security person at a rich person's home. The setting in the film refers to Amiran belonging to the lower-middle class, which is ironic because she is named someone rich. On the other hand, Umrao means noble, referring to the relations Umrao Jaan has with men from the highest social class.
Similarly, Jaan means someone who is loved. Umrao Jaan is a courtesan whose appearance and performance are loved by men from the highest social class. When Umrao Jaan starts doing poetry, she adds 'ada' to her name, according to the novel Umrao Jaan Ada. Ada means grace. When Umrao Jaan starts performing on ghazals written by her, it adds more elegance and magnificence to her performance.
Changing names also refer to the courtesans, prostitutes and sex workers leaving their identities and past lives behind after entering their professions. This is not true for other occupations. The profession of courtesans, prostitutes, and sex workers not being given equal treatment and respect is another issue that the film tries to raise.
By the film's end, when Umrao Jaan visits Faizabad, her home town, she is disowned by her younger brother. She becomes inappropriate to be a part of the family, irrespective of the fact that she was forced into the profession and didn't choose it. Her brother says, "tum Amiran nahi Umrao Jaan ho, humne socha tum gayi aur wahi behtar hota," (You are Umrao Jaan, not Amiran, you should have died instead of being a prostitute).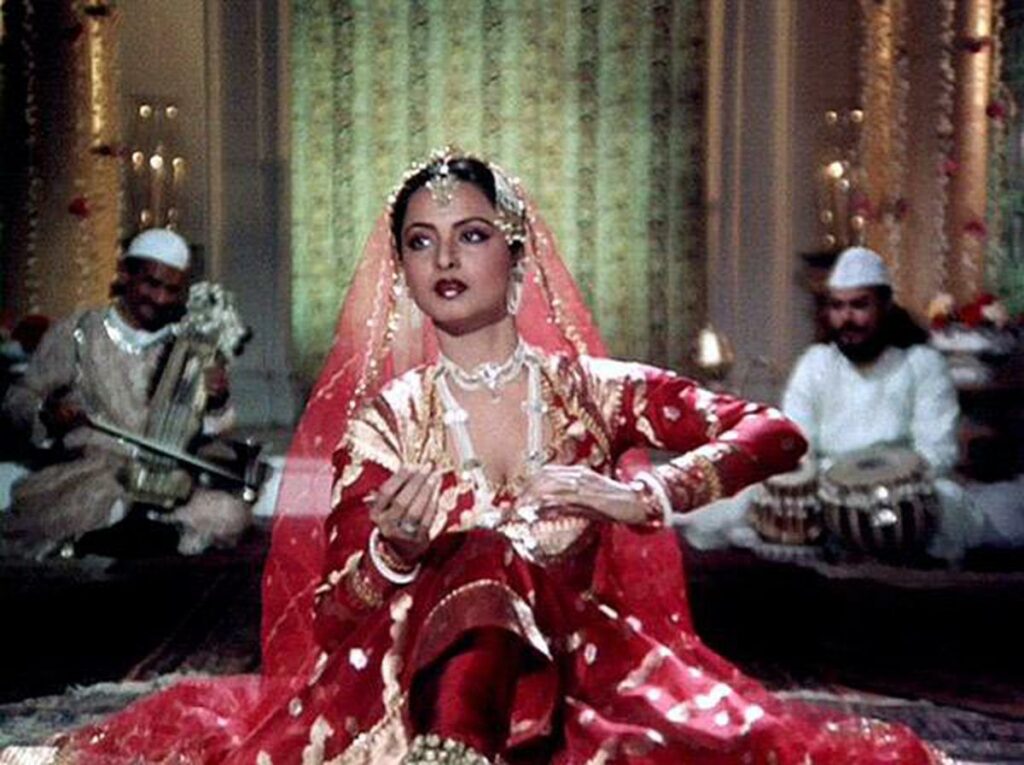 The institution of the family gives identities to people but takes back those identities when one doesn't fall into the normal standards set by society. This holds true for prostitutes and sex workers, trans persons and non-binary people. Death, alienation and escape are better than claiming to be a part of the family.
The difference between kotha and kothi is stark. Kotha is a place where the sexual involvement of men and women takes place without any formal commitment. In contrast, kothi involves family life and the sexual involvement of men and women under marriage. Thus, the acceptance of a woman from kotha in kothi is impossible, as with Umrao Jaan. The kotha provides a respectable identity, while the kothis deems one as a bazaru aurat or a woman who belongs to the streets and can be used for sexual pleasure for anybody. 
In the novel, Sunlight on a Broken Column (1961) by Attia Hosain, the protagonist, Laila, returns to her ancestral home at the novel's end. The homecoming happens after her alienation from the family and her rejection of the family's sympathy after her husband's death.
Similarly, after being rejected by her family, Umrao Jaan returns to the brothel in Lucknow, where she grew as an individual, learnt the arts and found belongingness. The film ends with Umrao Jaan looking at her reflection in the mirror. Muzaffar Ali tries to focus on the beauty of one's soul irrespective of what society perceives them to be.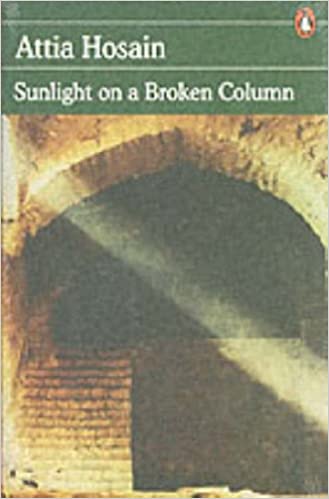 Other than this, women being caged is another idea that comes up in the climax of the film. Umrao Jaan, in the film Umrao jaan and Laila, in the novel Sunlight on a Broken Column, return to the places that were oppressive to them at a point in time. Their fidelity to the place can also be viewed in terms of these women realising the oppressive nature of the institution of family, marriage and other social norms.
---