NASA's 1977 space project the Voyager 1 had an Indian connection. Onboard the spacecraft, there was a gold-plated copper disc containing a selection of musical compositions ranging from Beethoven to Mozart. The album, which happens to be the first man-made object to enter Interstellar space, known as "The Sounds of Earth," featured an Indian voice too – the voice of the renowned Hindustani classical vocalist 'Surashree,' Kesarbai Kerkar.
In the world of classical music, where patriarchal norms and male dominance have historically held sway, Kesarbai Kerkar emerged as a formidable force and an emblem of artistic brilliance.
Kesarbai's life before musical training
Kesarbai Kerkar was born in Keri, a small village in Goa on July 13, 1892, in a family of modest means. Coming from a traditional family where musical performance was the source of livelihood, naturally, she began her studies of music at a very early age. Before long, her innate talent was recognised by her family and she was sent to Ramkrishna Bua Vaze for her first lessons in classical music.
After a few years, the family moved to Bombay in 1908 and there she began her period of training with sitar maestro Ustad Barkatullah Khan. But it lasted only for five years as Khan was invited to Patiala and thus her training came to an abrupt end. However, it was the Jaipur gharana and its maestro, Ustad Alladiya Khan, that captivated Kesarbai the most. Her apprenticeship with him commenced in 1912 in Bombay (now Mumbai). Unfortunately, her training abruptly concluded in under eight months due to the teacher's poor health and his retirement to Kolhapur.
A new beginning
In 1918, Kesarbai sang raga Miya ki Malhar which was taught by Ustad Barkatullah Khan. However, being so dissatisfied with Kesarbai's performance one of the city's famous patrons and connoisseurs Seth Vithaldas Dwarkadas publicly rebuked her. The young musician was profoundly wounded by this, and she resolved that should she ever pursue a career in music, it would only be under the mentorship of Alladiya Khan. 
However, persuading Alladiya Khan was not an easy task. Kesarbai sought assistance from Vithaldas Dwarkadas. He sent a fabricated telegram, claiming illness and expressing his desire for the Ustad to visit him in Bombay. On his arrival, Alladiya Khan was furious and imposed stringent conditions before accepting her as his pupil.
This initiated a new beginning and was the precursor of her forthcoming triumph. Kesarbai continued to take talim(teaching) from him for a full 27 years, right till his death in 1946.
The artist and her unique idiosyncrasies
Kesarbai was a phenomenal vocalist with an extraordinary voice manifesting a substantial three-octave range. This unique ability allowed her to traverse from the highest pitch to the depths of lower notes, a feat seldom observed in female vocalists.
In her performances, she demonstrated quite a confrontational demeanour. If anything irked her, she would abruptly halt the recital. She exhibited an aversion to photographs in between her concerts and never entertained banal questions posed by journalists.
During the peak of her career in the 1940s and 1950s, Kesarbai refused to record her music for posterity. Her decision to abstain from commercial recording was rooted in her scepticism regarding modern recording technology and her commitment to preserving the purity and authenticity of classical music. She believed that the recording technology of her time would fail to capture the musical intricacies of the artist and such faulty documentation would derogate the depth and essence of an artist's performance.
Thus, Kesarbai chose to focus on live performances and immersed herself in the endeavour of maintaining the purity of music rather than the preservation of it. Her dedication to the conversation of the art form, even at the expense of commercial success earned her immense respect among the patrons of Indian classical music.
Kesarbai's triumphs
Of the many performances, a momentous incident was a recital she gave at the residence of Rabindranath Tagore in Calcutta in 1938. Tagore was so profoundly touched by her performance that he personally penned a letter expressing the impact her beautiful melodies had on him.
He described her music as "an artistic phenomenon of exquisite perfection." He said, "The magic of her voice with the mystery of its varied modulations has repeatedly proved its true significance – not in any pedantic display of technical subtleties that are mechanically accurate, but in the revelation of music only possible for a born genius. Let me offer my thanks and my blessings to Kesarbai for allowing me this evening a precious opportunity of experience." 
In January 1969, she received the esteemed title of Padma Bhushan from the President of India for her remarkable contribution to the field of Indian classical music. Back in 1953, the Sangeet Natak Akademi also honored her with the prestigious President's Award.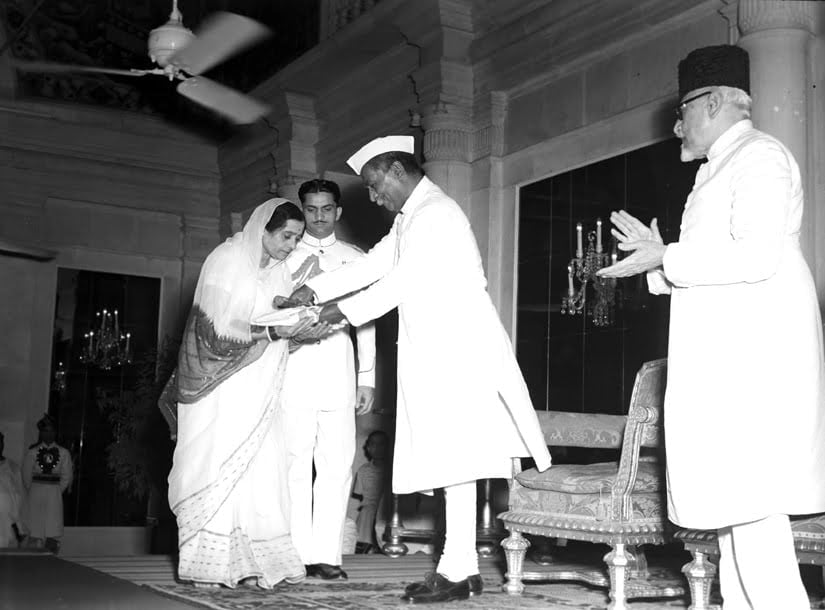 However, the most cherished praise to her was the title of "Surashree" bestowed upon her by Rabindranath Tagore in 1938, which translates to "Goddess of Melody." This title not only acknowledged her mastery of classical music but also symbolised her as a guardian of India's rich musical heritage. Lovers of music all over India referred to Kerkar as "the yogini of music," for her devotion and dedication towards classical music and she will be forever remembered like this.
Being a meticulous and sensitive artist, she refused to compromise with the subtleties and intricacies of her craft. Thus, she voluntarily retired from stage performances when she noticed her voice declining in old age and chose to fade away from public memory well before her final breath at the age of 87, in 1977. In the facet of Indian classical music, Kesarbai Kerkar's name shines as a beacon of artistry, dedication and resilience.
---