In the moonlit alleys of Kashmir, a clandestine exchange occurs while the world sleeps. Dowry is exchanged under the veil of darkness, away from the prying eyes of society. The secrecy surrounding these exchanges leaves many wondering about the true purpose of marriage in a society that prides itself on rich cultural values. The practice of midnight dowry rituals raises questions about why such customs are still prevalent in the 21st century.
Nazreen, a young bride from Baramulla, shared her experience. 'The night before my wedding, I watched my family silently pile gold and some electronic machines like a fridge, washing machine, and television into an automobile. It felt like a transaction rather than a celebration of love and commitment. I couldn't help but wonder if these dowry rituals perpetuate the idea that a woman's worth is determined by material possessions. It felt like a secret mission, something we had to do to keep the peace. But deep down, I knew this wasn't how it was supposed to be.'
Nazreen continues, her voice quivering, 'My father had to sell our land to meet their demands. And even after that, it still wasn't enough. They kept asking for more as if my worth could only be measured by the amount of dowry they received. It was disheartening to see my family's hard-earned assets being reduced to mere bargaining chips in this transaction.' Nazreen's eyes welled up with tears as she recounted the painful experience, highlighting the urgent need to challenge and change these harmful societal norms. 'I was always under scrutiny. It's as if I were just an addition to their family's wealth.'
One of the most heart breaking aspects of this tradition is the pressure it places on the bride's family. Late marriages often serve as a catalyst for higher dowry demands. The financial burden can become overwhelming for families, leading to increased stress and even debt. Additionally, the focus on dowry often overshadows the importance of the bride's personal qualities and compatibility in marriage, perpetuating a shallow and materialistic mind-set.
'Hailing from a middle-class family with a single sister, the exorbitant dowry demands made during her wedding have left us utterly shattered. We stand as three brothers who have personally experienced the trials of this tradition and, as a result, are steadfastly committed to never imposing such a burden on another family. We refuse to let another family endure the same anguish." said Nazreen's brother to FII.
He also added that 'dowry, as a practice, has never been undervalued; it has fathomed immense support from people across regions. People celebrate and practice dowry with great excitement, and in the process, the underprivileged class suffers the most. During our sister's wedding, my parents died a million deaths before they married their daughters. They remain in fear till the boy's family arrives and asks for a dowry.'
This experience sheds light on the insidious manipulation that many women face and serves as a stark reminder that dowry-related pressures persist in society, even when concealed beneath the guise of modernity and progress

Zahida
'Recently married at the age of 34, I found myself entangled in a late marriage due to my parents' relentless search for a government employee as a suitable match. It's disheartening that the gentleman in question didn't overtly demand a dowry, but rather, the demand emerged insidiously after our Nikah. During our phone conversations, he cunningly insinuated that we were constructing a new home for our future together. He suggested that, after the ruksati, I should furnish our new abode with brand-new items, implying that old possessions weren't suitable for our fresh beginning. This experience sheds light on the insidious manipulation that many women face and serves as a stark reminder that dowry-related pressures persist in society, even when concealed beneath the guise of modernity and progress.' said Zahida to FII.
Her personal encounter with insidious manipulation highlights the enduring presence of dowry-related pressures in society, a stark reminder that progress and modernity do not always eradicate such harmful practices. This experience serves as a cautionary tale for women who may unknowingly fall victim to these subtle forms of coercion.
'On the night prior to the mehndi ceremony, my husband caught me off guard with a sudden demand, 'Send all the dowry items today.' Perplexed, I inquired, 'Why today?' He explained, 'People might gossip if the items arrive along with you on the wedding day. Send them ahead of the ruksati so we can make it seem like we brought them ourselves.' My husband was fully aware that demanding a dowry was ethically wrong, despite his education. Nonetheless, he skilfully conveyed his request indirectly. In response, my parents discreetly packed all the necessary items for a new household into a prearranged vehicle and dispatched it that very night, all in an effort to avoid arousing suspicion regarding the true nature of the situation' says Zahida.
A survey Youth in India conducted by the Ministry of Statistics and Programme Implementation let slip the fact that Jammu and Kashmir has exceeded the usual age of marriages. 29.1 % of its youth were unmarried. According to the survey, the state-turned-union territory has the highest percentage of unmarried youth as compared to other states of India. In Kashmir, the demand for dowry items by the groom's family has prevented many families from getting their daughters married. This issue has led to a rise in the number of unmarried youth in Jammu and Kashmir, as families struggle to meet the dowry demands. Additionally, the survey highlighted that this trend is not only prevalent in rural areas but also in urban regions of the state.
Sana, another bride, confided in us, 'I had dreams, but I was told that if I delayed marriage for too long, I would become a burden on my family. So, I accepted the dowry exchange, even though it felt like my dreams were being sold.'
'When the Baraat arrived, they had already demanded that, during the arrival of the Baraat, we must adorn their son with gold. We presented him with a golden badge, chain, watch, and rings. According to their beliefs, this was an act of respect, for failing to welcome the groom in this manner would have sparked unwarranted gossip,' said Sana to FII.
She also added, 'In modern times, people no longer explicitly demand dowry. Instead, I found myself bringing a substantial amount of clothes and gold for their family as a new bride. It was considered my responsibility to offer gifts to their family, even though they no longer referred to it as dowry but rather as 'gifts'.' Sana explained that this shift in terminology was a way for families to maintain the tradition of exchanging gifts while distancing themselves from the negative connotations associated with dowry. However, she couldn't help but feel that the underlying expectation and pressure to provide these gifts still remained, perpetuating the unequal power dynamics within marriages.
Recently, a survey was conducted by Falahul Muslimeen, a nonprofit organisation, which revealed that nearly 50,000 women in Kashmir have crossed the normal age limit for marriage.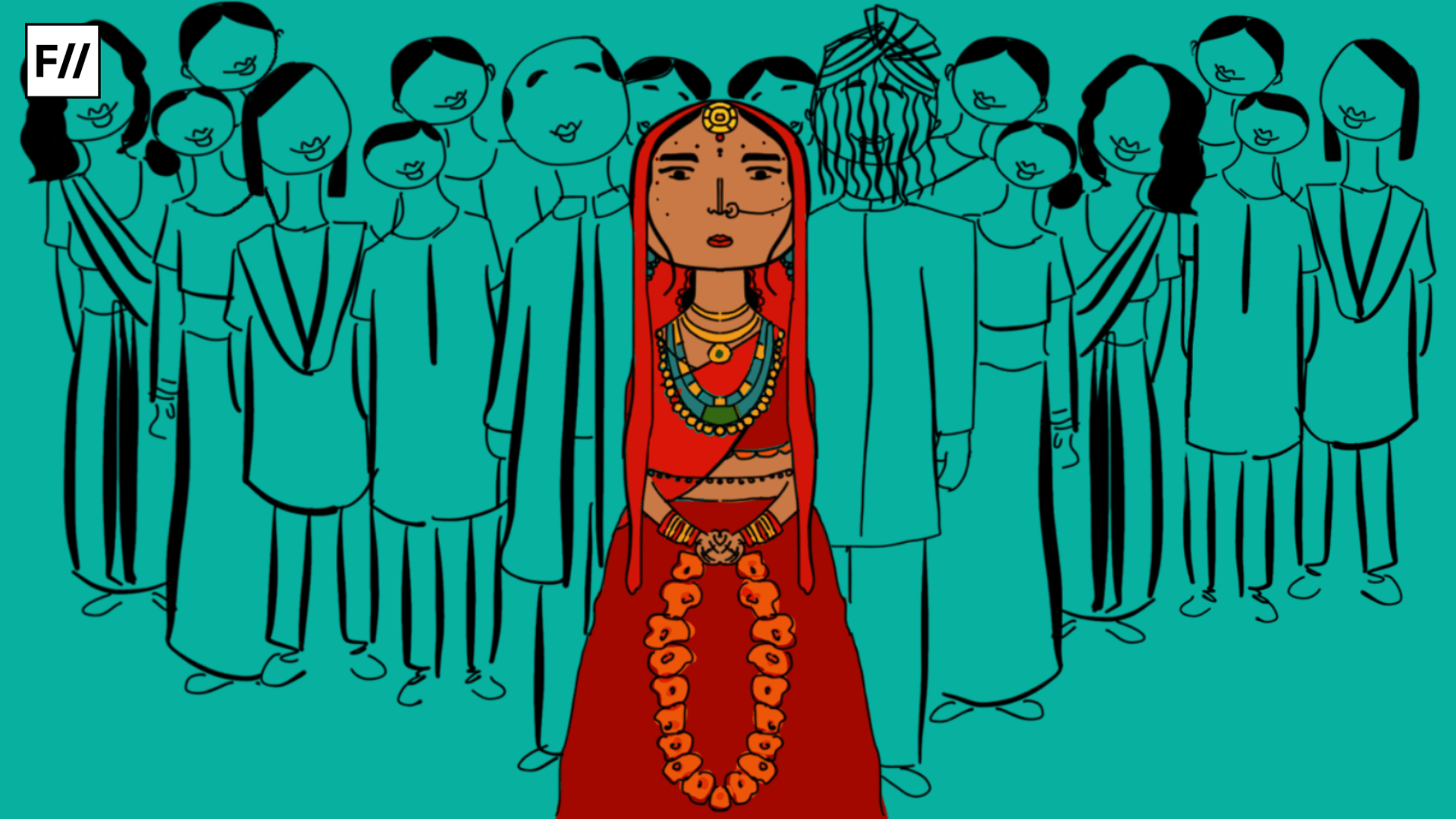 In their survey, they shed light on the adverse impact of customs linked to marriage, particularly the persisting practice of dowry. The exchange and presentation of gifts, ranging from precious golden jewelry, copperware, and elaborate garments to the grand feasts known as wazwan and the lavish spreads at wedding ceremonies, among numerous other traditions, have burdened the sacred institution of marriage. These customs often overwhelm parents with limited resources, making it exceedingly challenging for them to manage the financial responsibilities associated with one or more daughters' weddings.
When asked about this practice, sociologist Dr. Manzoor Hussain said, 'The situation in the Union Territory of Jammu and Kashmir is no better, with dowry-related deaths and harassment reported at intervals. The dowry menace has left many girls unable to find suitable marriages. The dowry system is a grave injustice to women, denying them equal status in society. To eliminate this system, we must educate our daughters, empower them with careers, instill independence, ensure gender equality, and discourage the practice of giving or taking dowry. Strict action should be taken against those demanding dowry, and parents should teach their sons from childhood not to seek dowry from their wives. The government should enact stringent anti-dowry laws with severe penalties for violators, and educational institutions should host conferences and seminars to raise awareness about the perils of the dowry system.'
---