The Prohibition of Employment as Manual Scavengers and Their Rehabilitation Act, 2013, prohibits the practice of manually scavenging meaning collecting human excreta from septic tanks or sewage systems. However, there are still many places in the country where the practice continues. Because of its inefficiency, the 1993 Act was abolished, and its provisions were replaced by the 2013 Prohibition of Employment as Manual Scavengers and Their Rehabilitation Act.
The definition of a manual scavenger was broadened to encompass pits, railway tracks, septic tanks, open drains, and sanitary latrines under Section 2(g) of the aforementioned Act. Under the Act, an individual must be regularly employed or engaged on a contract basis. Additionally, those who clean excreta with the use of "devices and protective gear," are not classified as "manual scavengers."
Since 1993, 1,035 workers have lost their lives in India while performing dangerous septic tank and sewage cleaning tasks.
Continuing manual scavenging practices and genesis of SRMS
India has a long history of reprehensible customs, many of which persist despite legal restrictions. One such custom is manual scavenging, which continues to take lives annually after being outlawed in 1993. Even worse Dalit persons (scheduled castes) who work only in this degrading profession are the targets of distinctive social, political, and societal exclusion. In addition to being a social issue, manual scavenging is a real-life illustration of how authoritarian India's caste structure is.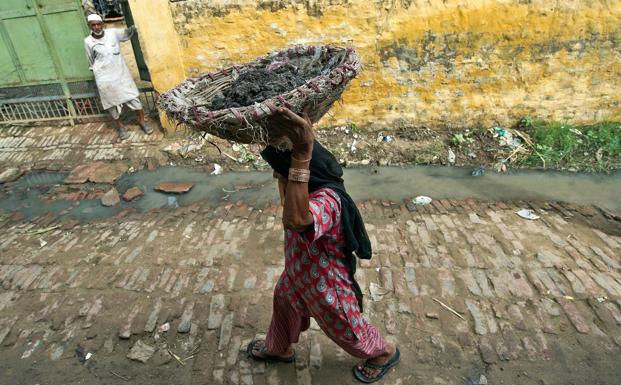 Earlier in september while cleaning a sewage chamber at the staff quarters of the Ordnance Clothing Factory in Avadi, Tamil Nadu, two Dalit men asphyxiated to death. While such episodes are recurring, the denial is purposeful and intentional. It is a symptom of the casteist Brahminical framework of Indian society. It is an indisputable truth that Dalit persons make up the majority of the men, women, and children who engage in manual scavenging.
A portion of the population designated by their caste is forced to perform manual scavenging; nevertheless, the word "caste" is not included in the legislation that has been put into place thus far. It is therefore unable to deal with the underlying cause of society's decay and cannot be expected to provide an intervention. In truth, though, ignoring the issue cannot render it fade entirely.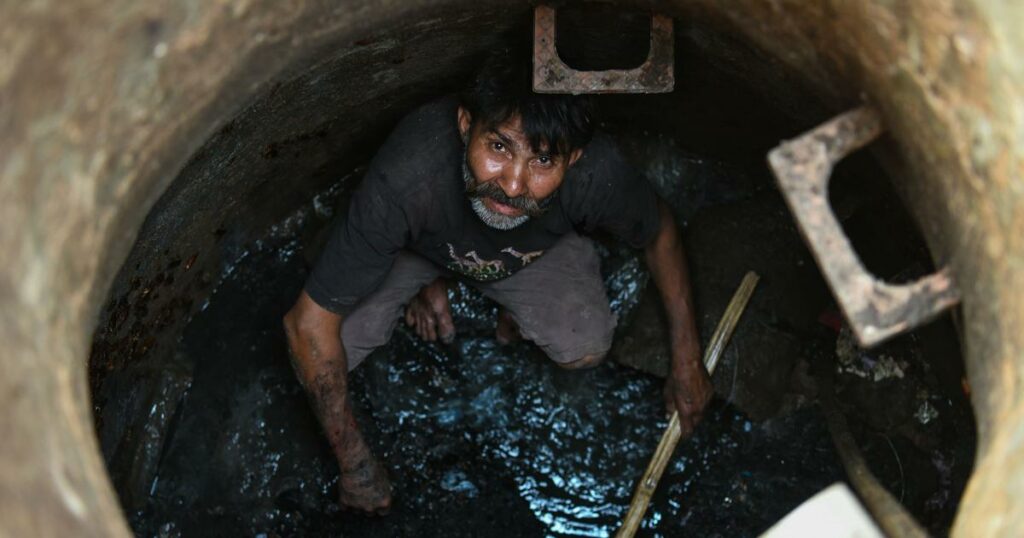 To address the issue, the Self-Employment Scheme for Rehabilitation of Manual Scavengers (SRMS) was created, which aimed to identify all manual scavengers in the country and provide them with ways to either adopt safer practices or find alternate sources of income.
However, since 2019, there has been a noticeable decrease in the budgetary allocation for it. The government had budgeted Rs 110 crore for the programme in the Union Budget for 2019–20, however, the revised estimate was just Rs 99.93 crore. The reduced estimate for the 2020–21 budget was Rs 30 crore, down from the original projection of Rs 110 crore. The government had budgeted Rs 100 crore for 2021–2022, yet, the updated estimate was Rs 43.31 crore.
Budget allocation, utilisation and trends
According to the Supreme Court's ruling in Civil Writ Petition No. 583 of 2003, which was issued on March 27, 2014, state governments are required to compensate the families of people who have passed away while cleaning septic tanks and sewers starting in 1993 with a sum of Rs. 10 lahks apiece. Such compensation payments have been guaranteed by the Department of Social Justice and the National Commission for Safai Karamcharis.
An allocation of Rs. 70.00 crore has been made for the Self Employment Scheme for Rehabilitation of Manual Scavengers (SRMS) for the current fiscal year 2022–2023. Nevertheless, as of now, the National Safai Karamcharis Finance and Development Corporation (NSKFDC) has not received any funding for 2022–2023.
Aside from budgetary issues, other administrative and design challenges also affect how the scheme is implemented. For example, the loan application procedure requires a lot of paperwork, and the intended beneficiaries may not always have access to the necessary documents. The programme has limited outreach since there is a lack of knowledge about it among recipients and inside the government structure. The quantity of One-Time Cash Assistance (OTCA) has to be raised since it is insufficient to meet the demands of manual scavengers in terms of employment.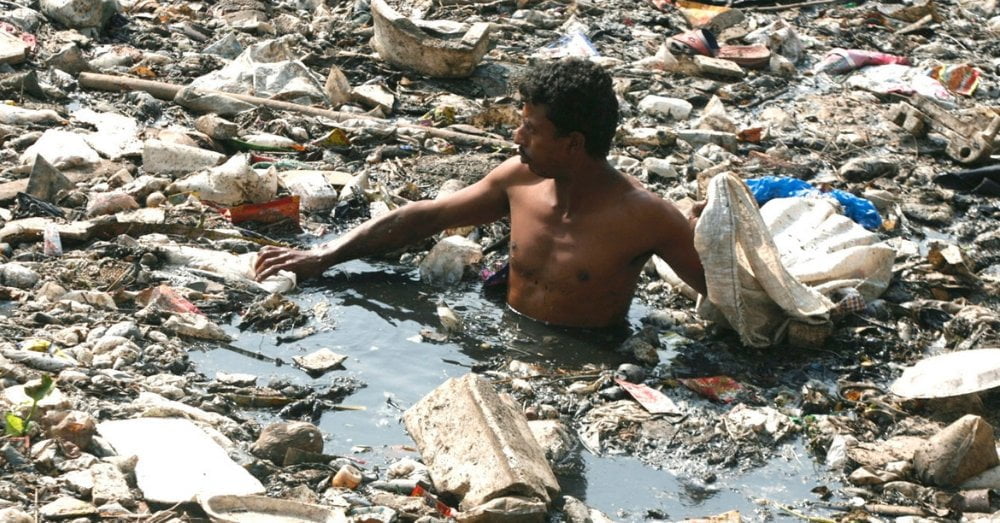 The program's budget utilisation rate increased to over 60 per cent in 2018–19 and 2019–20, despite a low 12.9 per cent in 2017–18. Additionally, the scheme's allotment was picked up in 2020–2021 before being clubbed. It is impossible to estimate how much is given to the families of manual scavengers under the Pre-Matric Scholarship Scheme for SCs and Others without disaggregated data. This not only reduces responsibility but also shows a lack of commitment and priorities towards this group.
Remarkably, there has been a 50 per cent decrease in the budget allocation for NSKFDC, which is responsible for implementing numerous additional loan and non-credit-based initiatives for the welfare of manual scavengers and 'Safai Karamcharis.' Before December 2021, the ministry had provided funds to NSKFDC totalling Rs 192.16 crore, according to the MSJE's response in the Rajya Sabha.
NSKFDC has used Rs 211.84 crore throughout the same period (including funds from prior years' unspent balances). This implies that NSKFDC has not experienced underutilisation recently. Nevertheless, the fiscal year allocation for 2022–2023 has been dropped in half. Collectively, the SRMS and NSKFDC budgets account for 0.7 per cent of the MSJE budget, which is allocated a total of Rs 13,135 crore for 2022–2023 (BE).
An examination of the SRMS and NSKFDC's budgetary resources reveals their inability to rehabilitate and empower manual scavengers. Following the nationwide study on manual scavengers in 2018, the scheme's resource allocation and usage increased gradually from 2017–18 to 2019–20; however, in 2020–21, the scheme's use significantly decreased. Since then, the allocation has decreased as well; a 30 per cent decrease was shown in the budget for 2022–2023. Because there is no publicly available information or data, it is difficult to follow the scheme implementation under the NSKFDC in terms of monitoring and assessment.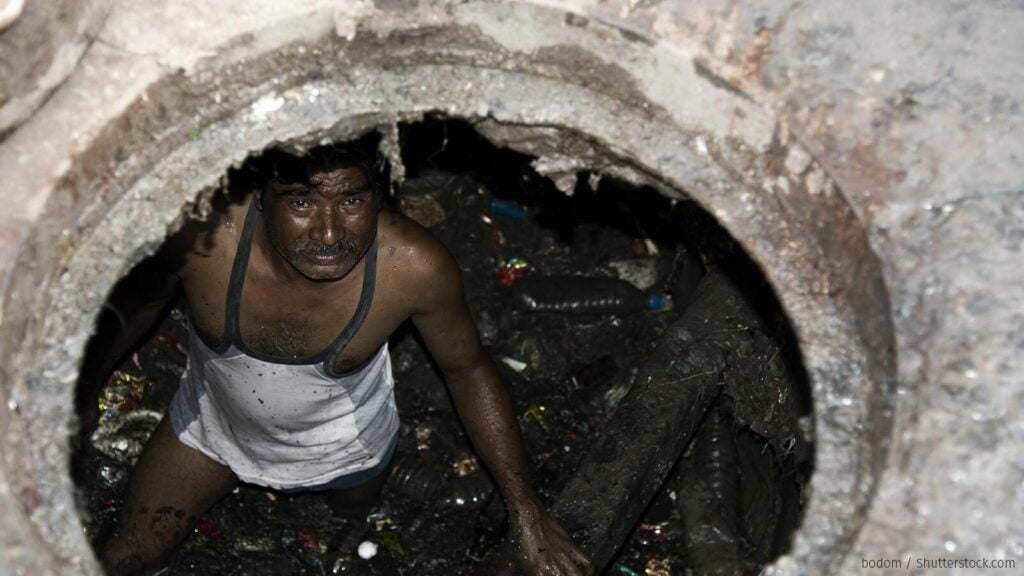 The Union Budget is the sole place where the budget allocation and usage of the SRMS fund, which goes through the NSKFDC, are disclosed. As with the Mahatma Gandhi National Rural Employment Guarantee Scheme (MGNREGS) or Swachh Bharat Mission (SBM), the scheme budget is not reported at the state level in the Detailed Demand for Grants (DDGs) or SCSP, nor through any separate Management Information System (MIS). This makes state-level budget analysis challenging.
Government's neglect of the issue
While the MSJE maintains that there are no reports of persons now engaged in manual scavenging, it has also revealed in the Lok Sabha the deaths of 340 people working in sewage and septic tank cleaning in the five years preceding December 2020. Deploying individuals to clean septic tanks and sewers—whether they are referred to as sanitation workers or manual scavengers—violates the PEMSR Act of 2013, which forbids the hazardous cleaning of septic tanks and sewers.
The government's meek attempts were ineffectual because they neglected the issue of human exploitation—that is, they denied the fundamental moral, ethical, and human rights considerations.
Indian Union Finance Minister Nirmala Sitharaman, who is well-known for making bold claims, declared in her budget address that "all cities and towns will be enabled for a 100 per cent transition of sewers and septic tanks from manhole to machine-hole mode." Nothing has changed in spirit despite these flimsy guarantees, and there's very little hope that things will improve given recent Supreme Court decisions.
Governments continue to be among the biggest violators, even in light of the Supreme Court's directive for the union and state governments to convene and debate ways to stop manual scavenging.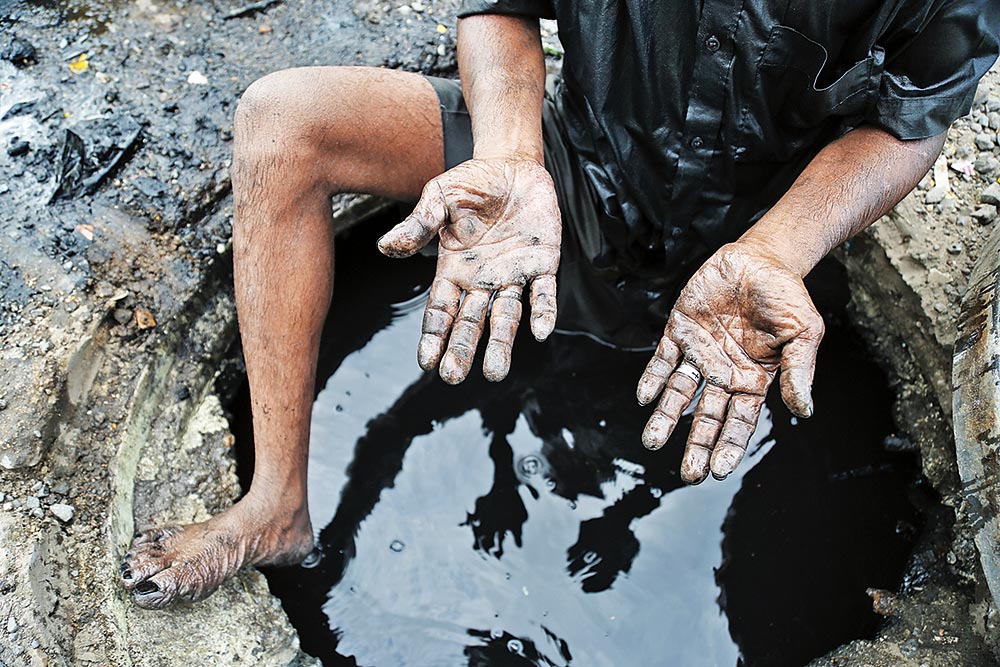 One element impeding the aforementioned tiny likelihood is the current government's disregard (even denial) of caste disparities as a pertinent criterion to guide its actions. By introducing kin compensation, the current administration preserves face, but it takes no action to protect the socioeconomic interests of individuals who are marginalised in society and integrate them into the financial system. To prevent those who have fled manual scavenging from having to return to the practice—whether as a result of prejudice or for other reasons—it is imperative that they have simple access to financial incentives.
As Dr. B.R. Ambedkar stated all those years ago, the fundamental element of manual scavenging is a brutal rejection of human rights. Whether the killings are the consequence of deliberate actions or a systemic disrespect for human life, the most marginalised Dalits' deaths from manual scavenging are considered hate crimes. The core of this crime is caste, and the visible decreasing budget allocation in SRMS is a concerning state, especially for sufferers. 
---