On October 15, India woke up to a positive news of a Ranchi father celebrating his daughter leaving her toxic marriage along with a baraat, dancing in the streets and firecrackers.
Prem Gupta, from Jharkhand posted a 10 minute long video that day on Facebook, with a caption: 'When your daughter is married and if spouse and family goes wrong or do wrong, you should bring your daughter back home with respect and respect because daughters are so precious.'
According to the reports, Sakshi Gupta, daughter of Prem Gupta was married to a man named Sachin Kumar on April 28, 2022. Ranchi-based Kumar works as an assistant engineer at Jharkhand Electricity Distribution Company. Gupta alleged that Kumar and his parents began to harass Sakshi soon after the wedding. Sachin Kumar would abuse her and throw her out of their marital home. After about a year of marriage, Sakshi realised that he had already been married twice and kept the fact a secret from her. After a few futile attempts trying to save the relationship, she chose to leave the relationship for which her father welcomed the decision prioritising his daughter's happiness.
In India, divorce is considered as a taboo, which is seen as the end of the world for many families. But gestures like these are a reminder for society to rethink the set norms.
Why is divorce still a controversial topic in our society?
According to data from the Global Index, which analyses worldwide statistics, India tops in "saving" marriages with an extremely low divorce rate of just 1 percent.
In the same country, 29.3% of all married women aged 18–49 years have experienced spousal violence at least once, according to the National Family Health Survey (NFHS-4). The incidence rate of physical violence during pregnancy was 3.1% among women aged 18–29 years, and 1.5% experienced sexual violence by age 18, says the National Family Health Survey-5.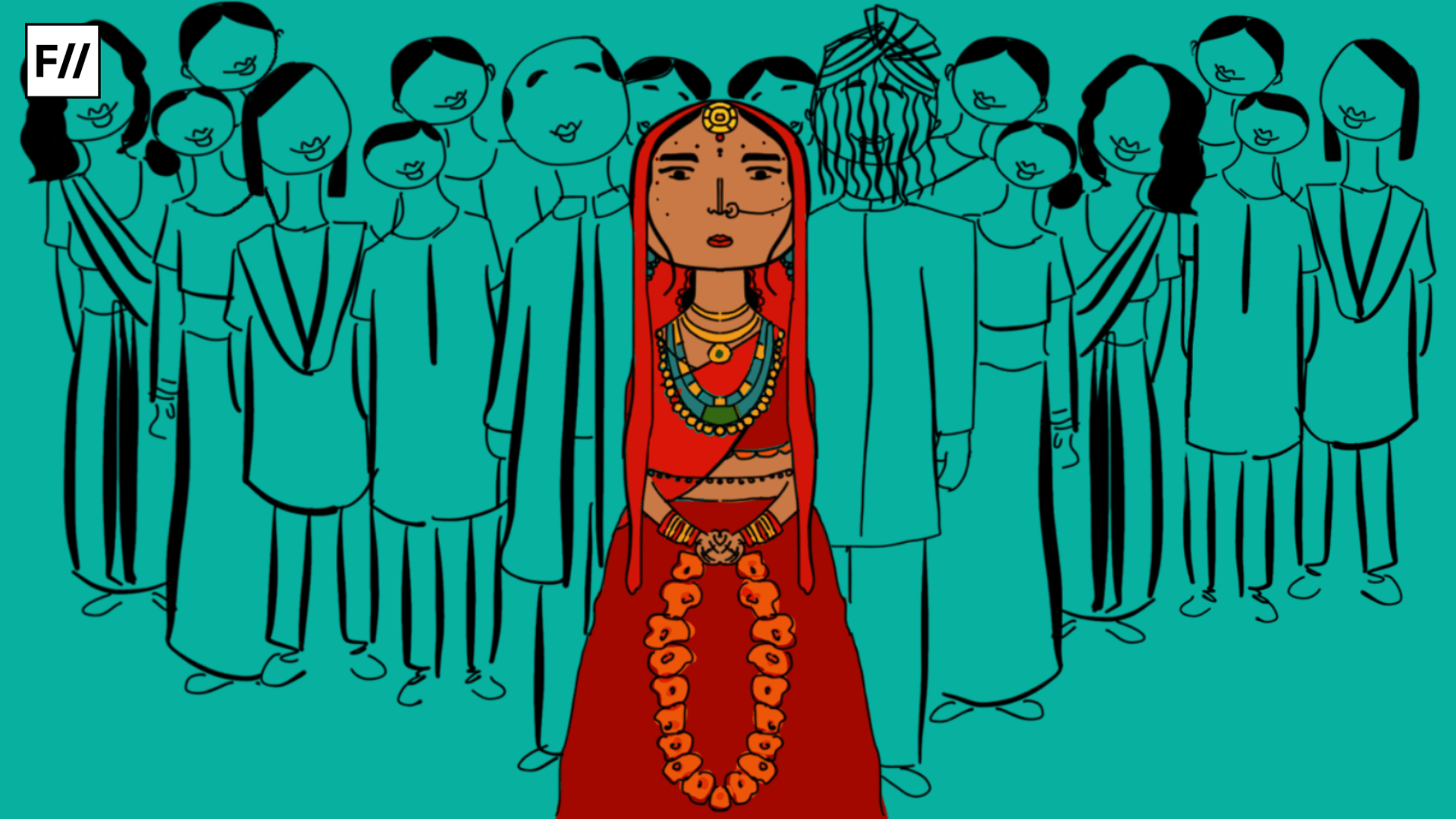 The conservative views of our country thinks that a divorced women is self-centred or selfish in her life because the existing patriarchal system forbids women from leading independent lives. Choosing to exit a marriage is rarely seen favourably in our culture.
One of the major reasons why divorce is considered as a stigma in the society are children. No matter how abusive the parents' relationship are, society advices them to not give up on their marriage for the right upbringing of their children. Of course, an absence of a parent plays a vital role in any child's life, but what we miss here is the trauma the children must go through growing up watching their parents set an example of what a relationship should not look like. Rather than teaching the children to settle for a relationship for the sake of the society, teaching them to value oneself and the importance of respect is something we collectively needs to rewrite in the name of the tradition.
Many parents find it hard to fight against the societal norms for their children's happiness. They adhere to the patriarchal norm of seeing a divorced daughter as a "threat to the society" making it hard for a woman to choose her life over others or make any decision guilt-free. According to a report, not only are married women tormented, humiliated, assaulted, driven towards suicide, and ill-treated on a daily basis, but hundreds are even burned to death because their parents are unable to pay dowry demands. Fearing the society and with a conditioned mindset, many parents consider getting their daughter married off is their ultimate aim of life. But what happens after that is unfortunately not everyone's concern.
It is miserable that we need to ask ourselves: what makes such parents believe that a dead daughter is better than a divorced daughter?
One might then wonder how it is even possible for a woman to make the choice of leaving an unhealthy relationship despite all of the challenges in a culture where marriage is viewed as a woman's ultimate goal? How are they expected to adapt as they are considered as "wife material" and nothing more? And because women are indoctrinated to "adjust and accept" no matter what, they continue to remain in violent marriages.
Love only cannot makes relationships work
Relationships are built on many factors including respect, trust, understanding, love, commitment, patience, open communication and so on. To make a relationship work, the lack of any of these elements can create a huge difference. Even a highly ambitious, career-oriented woman in the society tends to fall into the loop of abusive relationships. Social stigma can be the leading reason why people often overlook the toxicity in a relationship in the name of love because society conditions them to misunderstand "abuse" as "care" at times. The cultural conditioning in society that we need to address is a reason why many educated, accomplished women are stuck in miserable relationships.
It is true that what we nurture as a society is what we get in return for which we collectively need to learn, unlearn and let the society do the same, everyday, for a world where divorce, being a single parent or being single is never a shameful thing.
Why marriage is not the only happy ending and divorce is not a "failure"
Since the conventional notion perceives married woman as their husbands' "responsibility", after a divorce, she is left to fend for herself without the support of others. It is also unclear to some if she would remarry and everybody gets interested in her marital status all of a sudden until the ex-husband has been replaced with another man. In the end, society concludes that her life is ruined.
Looking at the entertainment industry in India, whenever a celebrity couples gets separated, netizens slam the woman more, making assumptions regarding the reason behind the divorce. This stigma around divorce even turns into cyber-attacks at times.
In the recent years, when couples from the film industry are presumed to be "power couples" for many, the termination of any of these celebrity relationships seems like a public affair where after the divorce, all they go through is humiliation. Especially, the woman in the relationship is blamed for the break-up. Celebrities including Samantha Ruth Prabhu, Aishwarya Rajinikanth and Amala Paul were the conversation points for netizens after their divorce announcements. The internet was engaged in creating a fuss and making assumptions regarding their personal lives. For the same reason, many do not allow themselves to leave the relationship or talk about the end of their relationship for fear of the public scrutiny and criticism that tags along.
Marriage need not entail a lifelong relationship. Ending a problematic relationship is always the preferable choice of action. Whether one is a public figure or not, personal choices and life decisions are one's own. Getting out of a toxic relationship can take a toll on anyone's mental health for which they need a support system that understands their predicament. In order to power through hard times like these, society, especially a close-knit circle of family and friends needs to be empathetic and supportive. Having said that, it is high time that we normalise divorce and stop blaming women invariably. Women who have the courage to leave a terrible marriage must be appreciated and not shamed.
---