Vasu Primlani is an Indian stand-up comedian and international environmentalist. Openly gay, Vasu wears her her political views well on her sleeve. She was part of One Billion Rising, an annual event that happens in Delhi every February, a global call to end violence against women. Vasu was also part of Delhi Queer Pride and produced satire videos on rape and sexual violence in India.
With a Master's degree in Geography, Urban Planing and Law from UCLA, Vasu teaches sustainability at the Xavier's Institute of Management, Bhubneswar. She also teaches rock climbing, is a triathlete and a ballerina. She has produced, headlined in, and performed in hundreds of corporate and comedy club shows across the world, including in New York, San Francisco, Mumbai and Delhi.
We caught Vasu candid on how it feels to be a lean, green and queer comedian in India who proudly calls herself a feminist comic.
Can you talk about your journey into comedy? I'm curious about how you went from being a sustainability professional and professor to a comedian.
I ran an award-winning non-profit in the United States for thirteen years. I spoke to a dear friend of mine who is a major comedian in the United States, Vidur Kapur, and started my comedy career in San Francisco.
I also provide somatic therapy to people who have been through trauma.If you look at it, it's all the same thing: healing. Comedy is like healing, if not more, than any medicine in the world.
How difficult was it for you to move from what Indians call a "respectable job" to comedy?
Thing is, the only people I care about are my parents. And they respect whatever I do. Even if I work with sex workers or drug addicts, my parents would respect my work because they raised me with their values of honour and respect.
Every Indian in my life thinks what I do is fabulous.
Do you identify as a feminist comic?
For sure. Although I think men should be the biggest feminists.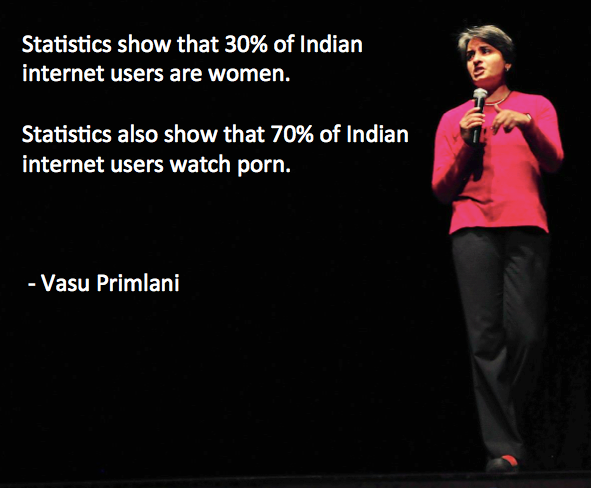 Is there is bias against female comics in India?
Yes. Besides my looking serious, when I get on stage, people think: what could she possibly say that's funny?
A dear friend said he was reluctant to come to my show because he thought I'd be talking about women's issues, and he wouldn't be able to relate. He has trouble enough understanding his wife.
After the show he said: I had no IDEA women could be so funny! He said it was 4 am and he was still giggling every time he rolled over in bed.
Can you talk more about that first stand-up performance?
I had prepared my three minutes. And like a few other shows after, I felt like I was going to throw up. The show was an open mic in San Francisco. It went really well. I spoke about my parents. It was the hardest three minutes of my life.
Do you openly talk about your sexual orientation on stage, how do people react?
Yes. People are awed. Some guys think I'm joking. Others say 'what a waste!'. One woman came up and said now I wish I were gay, if being gay is so cool!
Is stage humour in India sexist? How do you deal with it?
It can be. Especially around amateur comedians. We ignore it. They won't get very far with that kind of attitude. Sometimes I cut them to pieces for their attitudes.
Do people still ask you about marriage and kids?
No. It was funny though, in San Francisco during one show an audience member was late and didn't catch the 'I'm gay' bit. He kept asking me if I had a boyfriend and how attractive I am, and everyone in the audience was trying to keep him from speaking. Dude! Dude! Don't!! They made cutting gestures with their hands and necks. Don't dude, she's gay! It was hilarious.
Who are some of your comic and/or artistic influences?
Charles Chaplin. And the local San Francisco community. Some great comics are: Loren Kraut, Candy Churilla, Kevin Munroe. Indian comedians are nothing short of brilliant.
Disclaimer: All images have been used with Vasu Primlani's permission. 
To know more of Vasu's work and contact her, check out her website.