Bengali idiom 'Jole Koomir, Dangay Bagh' (crocodile in water tiger on land) meaning danger on both sides served as an inspiration for the name of the popular web comic series, Crocodile in Water Tiger on Land. Launched in 2010 and combining biting satire with everyday political and societal happenings, CWTL is a strong new critical voice in Indian comics. Posted every Monday, the series has developed a following and the comics have now been compiled into a book by the same name.
The author duo chooses to be anonymous. The series features a variety of caricaturish characters, who contemplate on day-to-day life of the society. Their efforts to keep up with current political happenings and coping mechanisms lead to hilarious yet serious conclusions. These characters include a grumpy old man, a corporate honcho, a ponytailed guy living under the shadows of his mother, and the authors themselves.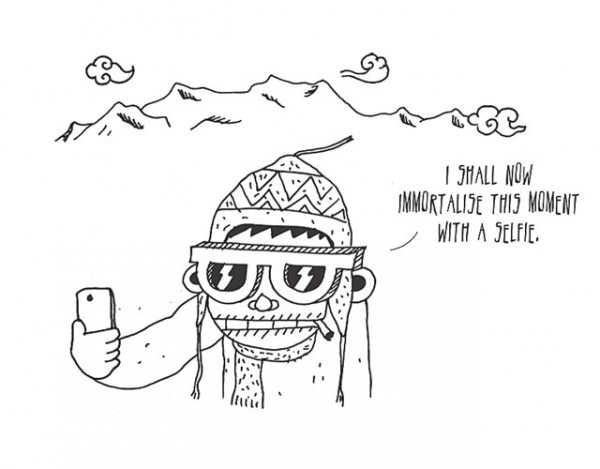 Who are you? Why anonymity?

We are a writer-illustrator team based in Calcutta. We decided to be anonymous because we wanted our work to be judged on its own merit, and not on the basis of who we were, our gender, which university we went to, how we spoke, what we looked like, what we tweeted and so on.
How did crocodile in water tiger on land began?

We have always been fans of comics and we have always talked about creating a series of our own. We couldn't agree on a storyline, so we decided to start anyway, with satirical commentary on all that was going on around us. CWTL started in September 2010, and there has been an episode out every Monday since.
How did you come up with the name? I'm sure you have to answer that a lot.

Indeed. It's from an old Bengali saying which is similar to being stuck between a rock and a hard place. There is a crocodile lurking in the water, a tiger stalking you on land, so there's nowhere to run, nowhere to hide.
Do you mind walking us through the process of making a webcomic every week?

We go through the news through the week, and over the weekend, choose a topic. We discuss a visual treatment, script it out and then draw. Sometimes it happens quickly, sometimes not.
Apart from the two main protagonists, who are the other characters? How do they fit in?

Tiger and crocodile are not characters. Tiger and crocodile are the unsavoury choices we are all stuck between. We have a whole bunch of characters, who are nameless archetypes. They represent different sections of our society, all of whom tend to be a bit hypocritical, deluding themselves about their lives and choices. We also use abstract objects to tell our stories. Like a TV set stands in as a representative of big media.
Do you also take requests from users' feedback? Any hate speech there?

Generally no. But a reader may sometimes point us to a subject, and we will look it up and see if something can be done with it. But that doesn't happen very often.
We have been trolled occasionally but nothing too extreme.
"Monday mornings are the best time of the week for insults." Does satire come naturally to you?

No. It's not easy to be funny when it comes to the stuff we make cartoons about. But that's a satirist's burden.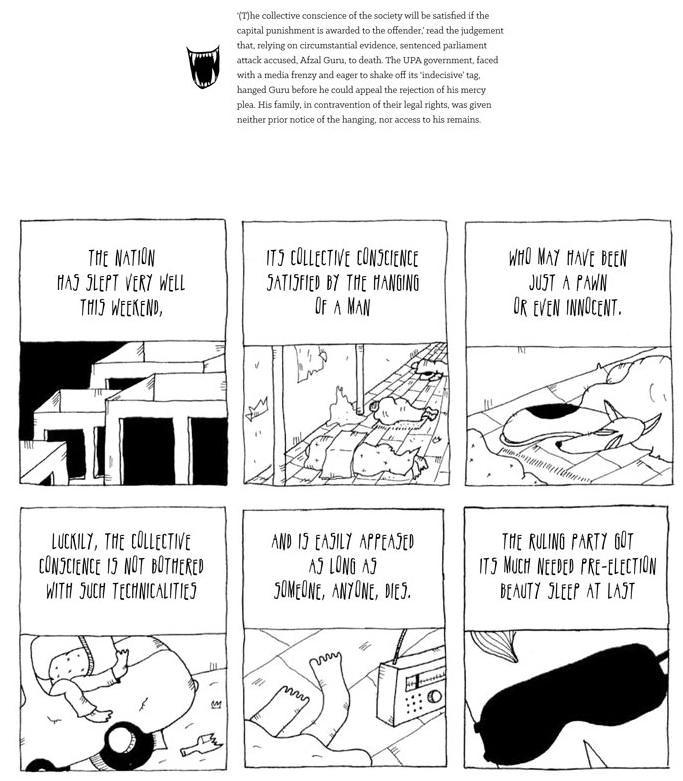 Do you think in the current political time where freedom of speech is being curbed, such creative initiatives are more than required?

You can't take freedom of speech for granted in any country no matter how free. Governments and corporates will always push and try to shrink that space, and citizens have to push back. The degree of freedom a society enjoys is a result of constant negotiation. You could say that in our very small way, we are a part of that retaliatory push.
Moving over to the book, how did that happen?

One of our friends put us through to Ajitha, our commissioning editor. It turned out that she was familiar with our work. Things just followed from there. We are very lucky to have found her. She understands our work, humours us, and also gives us that little push when we need it.
What are the future plans for CWTL?

We don't believe in planning too far ahead. So unless something drastic happens, more of the same. CWTL will continue to be free-to-read on the web. We'd also like to do some fiction work when we have a good idea and the time.
All images courtesy: Crocodile in Water Tiger on Land
Check out CWTL's work on their website here and follow them on Facebook and Twitter.