In the wee hours of July 11, 2004, 32-year-old Thangjam Manorama was picked up in the night from her home in Laiphorak Maring in Manipur by members of the 17th Assam Rifles unit (the Indian Army). The next day, she was found lying naked and dead near her house. Her body was punctured with bullet wounds and badly mutilated.
According to the army narrative, Manorama had been picked up as she was a member of the separatist group People's Liberation Army (PLA) and was responsible for several bomb blasts, including one that killed several army officers. It is alleged that Manorama had been a PLA militant since 1995, and was an expert on improvised explosive devices (IEDs). The army said they had set up a check post near Manorama's house and received information confirming that she was home on the night of 10th July. Troops cordoned off the area around her house and she was arrested and taken into custody at 3 AM, with an official arrest memo.
"This version was consistently disputed by Manorama's family. They claimed that seven or eight Assam Rifles personnel, some in civilian clothes, first arrived a little after midnight, around the time the army claims a preliminary checkpost had been set up to confirm Manorama's presence at home," writes Anubha Bhosle in Mother Where's My Country. 
"One of the men gagged her [Manorama] with his hand and dragged her out of the house to one side of the courtyard. When the brothers and mother tried to stop the men they were pushed and beaten up and told to stay inside the house. For the next several minutes, the brothers, through partly opened doors and windows, saw their sister being slapped, pulled by the hair and thrown to the ground in the tube-lit courtyard. Later a man from the arresting party, who was not in uniform, knelt by Manorama. He inserted a kitchen knife under her phanek (sarong). Her mouth gagged, her hands tied behind her back, Manorama struggled as her phanek was pulled down from her waist to her knees, exposing her thighs. The long blouse she was wearing was pulled up and unbuttoned. Through all this, the men kept asking her about the presence of arms."
Following this, Manorama was taken into custody at about 3 AM. Manorama's body was found around two hours later. The army said that she had tried to flee and they had fired a warning shot and then fired at her legs, causing her death. There was a deep cut on her right thigh, possibly caused by a knife. Her genitals had sixteen bullet wounds; her legs had none. An autopsy also revealed traces of semen, confirming that she had been raped.
Following Manorama's murder, demands to repeal the Armed Forces (Special Powers) Act (AFSPA) ensued with renewed anger. Manipur has been demarcated as a 'disturbed area' by the Central Government, with the Armed Forces Special Powers Act (AFSPA) being applicable to it since 1980. Under the AFSPA, the Indian Army is empowered to shoot to kill unarmed civilians, make arrests and search houses without prior permission. The Act provides immunity from law for these acts to army personnel, making them unaccountable for any human rights abuses committed by them, including sexual violence and rape. Manipur is under constant militarised surveillance and control of the Indian Army.
On 15th July 2004, twelve Imas (mothers) flung their clothes off outside the Kangla fort to protest the rape and murder of Manorama. The Kangla Fort is historically significant as the seat of Manipur's governance. The Assam Rifles are currently stationed there; many are of the opinion that the army now governs Manipur. "No one is sure who was the first to disrobe. But they had come prepared, leaving behind their petticoats, blouses and fear. They hardly exchanged a glance, they didn't wince or hide. No one spoke. But in a few moments the air was ringing with slogans, like a chant. [Indian Army] Rape us, kill us! Rape us, kill us!" writes Anubha Bhonsle, in Mother Where's My Country.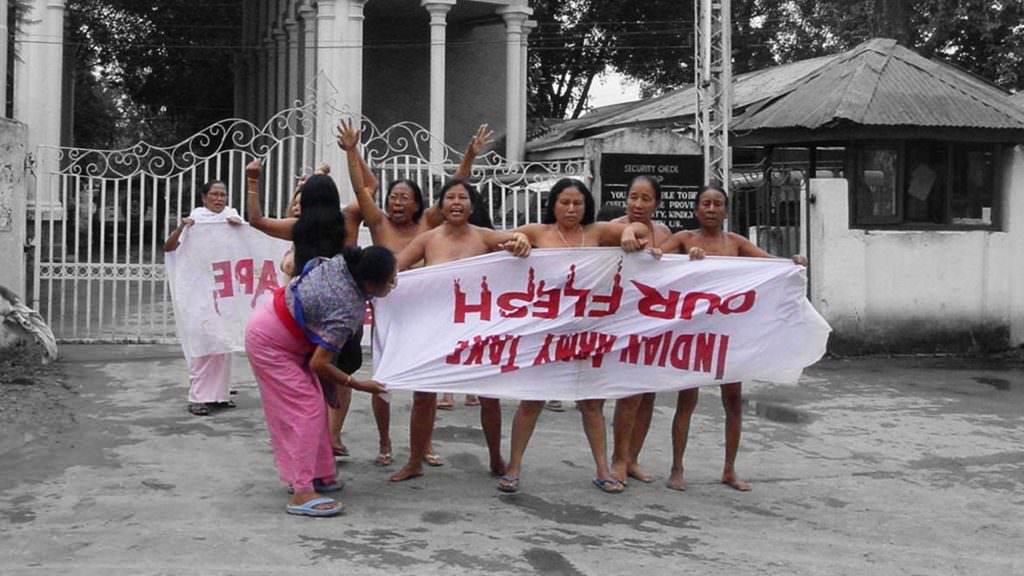 In a tremendous show of strength, several Imas screamed at the army while breaking down. The screaming didn't stop even after they were arrested by the police. They had been fasting from early morning and continued to do so despite their physical and emotional exhaustion, in the lock up. The twelve Imas stayed in jail for three months before all charges were dropped against them.
The Manipur government instituted a Commission of Inquiry to look into Manorama's death. The commission was headed by a retired judge, Chungkham Upendra Singh. The Assam Rifles refused to send anyone to provide statements or testify before the commission regarding what had transpired the night Manorama died, saying that all the people involved had been transferred. It said it was conducting its own inquiry into the matter as a result of which the police or other civilian forces could not be involved.
Eventually, after much avoidance, the Assam Rifles filed a writ petition before the Guwahati High Court challenging the setting up of the commission. It said that as per Section 6 of the AFSPA, no legal inquiry could be instituted against a member of the armed forces where AFSPA was in force without prior permission from the central government, which the Manipur government did not have. The Court held that while the commission could continue its inquiry, none of its findings could ever be made public. It also permitted the army personnel to appear in-camera (not open to the public or media) before the commission.
Ultimately, the Guwahati High Court ruled that the Manipur government had no authority to institute this inquiry commission. It directed the report prepared by the commission to be sent to the central government to take further action. In 2014, following several appeals, the Supreme Court received the report as part of a larger case on custodial violence. Upendra Singh had written that Manorama had, in fact, been brutally raped and murdered. Currently, the Supreme Court has asked for testimony of custodial violence and torture in Manipur, in a PIL filed recently on how death from custodial torture amounts to extrajudicial killing.
Women were traditionally considered the spoils of war and claimed by conquerors as their property, along with artefacts and jewels. Sexual violence in conflict situations has nothing to do with the act of sex itself. When the Indian Army rapes, it is a 'systematic military practice,' used to terrorize and intimidate communities into submission. Manorama's genitalia had sixteen bullet wounds. This was no mistake. It was brutal, and meant to be so.
Women are viewed as carriers of a community's culture, and therefore, its honour. As a result, the rape of a woman is construed in terms of her dignity and honour, instead of as injury caused to her body and the violation of her right to deny consent to a sexual activity. In Kashmir, which is also a 'disturbed area' under AFSPA, not even a single prosecution has taken place in any of the reported cases of rape by the armed forces. Historically, women's bodies have been sites upon which battles between men have been fought. But we must remember Manorama for the pain she undoubtedly went through in the hours before she died. We must remember her through the Imas that fought for her, and through the bodies of women who are killed every day by men to send messages to other men.
More reading