Most people are aware of the contemporary female directors that exist in the country as they have gotten recognition, acclaim and fame but few know about Fatma Begum – actress, scriptwriter and director – who created a path for many others in the film industry to follow at a time where male domination in every sphere was prevalent. Being arguably the first in the field she set opened the way for other women to venture into the film industry.
Fatma Begum, the first female director of Indian cinema, was born to a Muslim family in India in 1892.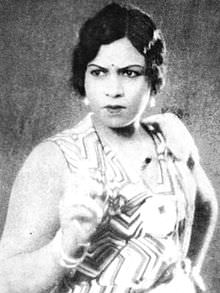 She was also invested in acting, screen-writing, and production. She was trained in Theatre and initially used to stage Urdu plays, following which she began working in films in 1922. She started her journey as a director with the silent film Veer Abhimanyu (1922). In a short span of time she had directed the following films: Bulbul-ae-Paristan (1926), Goddess of Love (1927), Heer Ranjha (1928), Chandrawali (1928), Shakuntala (1929), Milan Dinar (1929), Kanaktara (1929) and Goddess of Luck (1929).
Bulbul-ae-Paristan was the most famous film directed by her. It was set in 'Paristan' (Fairyland) had a big budget and included special effects using technology.
Fatma worked with filmmakers like Ardeshir Irani and Nanubhai Desai. After this, she created her own production company – Fatma Films, later changed to Victoria Fatma Films – and was the first Indian woman to do so.
When Fatma joined the film industry, only men were part of it. Even female roles were played by men. Thus, Fatma's determination to break into this male-dominated sphere marked her as a trailblazer.
As an actor, she starred in many films including Veer Abhimanyu (1922), Sita Sardaba (1924), Prithvi Vallabh (1924), Kala Naag (1924), Gul-ae Bakawali (1924) and Mumbai ni Mohani (1925). She also contributed to writing scripts and wrote the script for Bulbul-ae-Paristan (1926). A few of her films featured her daughters, Sultana and Shehzadi. She used trick photography for special effects in films and included fantasy in her films.
Rumour has it that Fatma Begum was married to Nawab Sidi Ibrahim Muhammad Yakut Khan III, the last ruler of the Sachin State. However, no evidence exists to reaffirm this as the Nawab did not acknowledge Fatma Begum or their daughters. No undisputed images of her exist today.
Having a 16-year-long film career, her Last film was Duniya Kya Kahegi after which she retired voluntarily. Her daughters, Zubeida, Sultana and Shehzadi carried on her groundbreaking legacy as they too were actors in silent films. Zubeida went on to become the first Indian actress to star in the first talking film, Alam Ara (1931).
Fatma Begum died in 1983, at the ripe old age of ninety-one, leaving behind a pioneering approach to the film industry.
References: