On 27th July 2017, around 300 women came together at Mandi House to ask for their share of decision-making in the parliament. The monsoon session of the Parliament will take place soon, and the main demand was to present and pass the Women's Reservation Bill. They said, "Bring the Bill in Lok Sabha, discuss and put it to vote; we'd like to know who'd vote against it." They marched from Mandi House to Parliament Street, where a public meeting was held.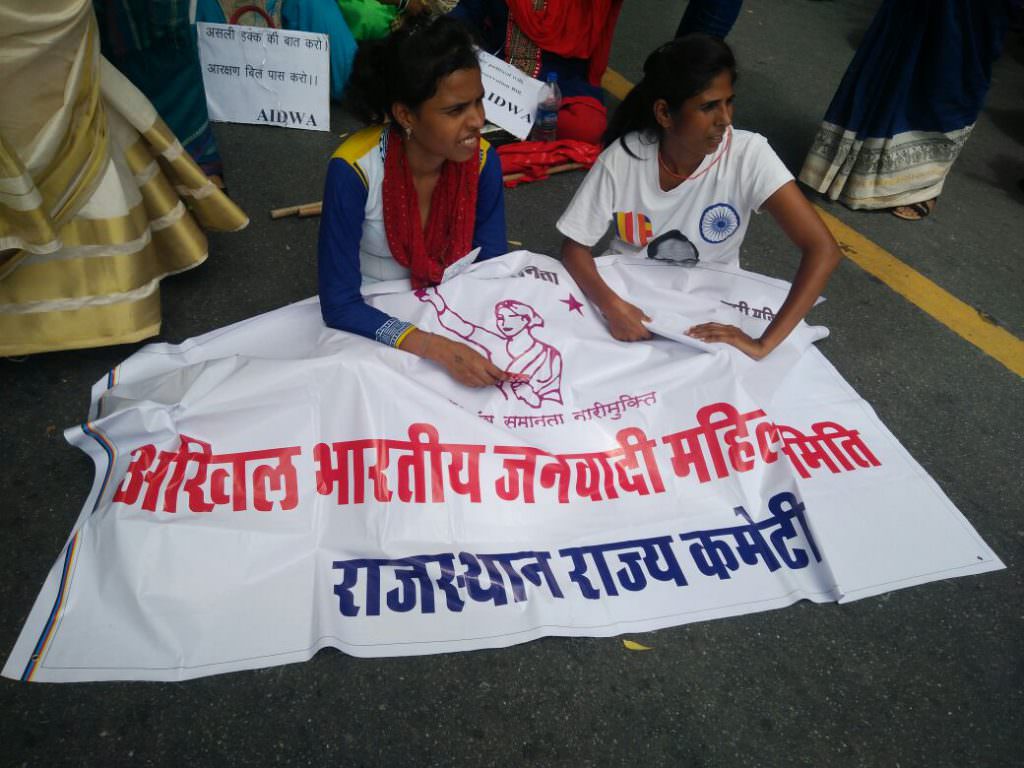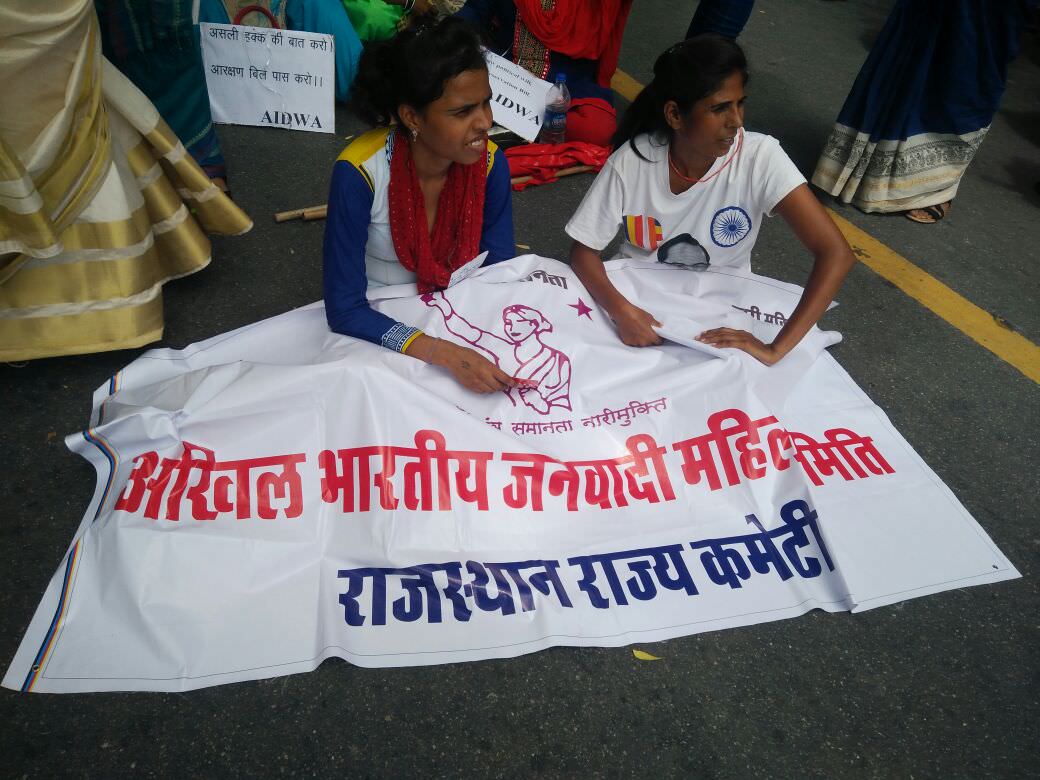 The Women's Reservation Bill which proposes 33% reservation for women in the Lower House of the Parliament is one of the longest pending legislation of the state. It was introduced by the H D Deve Gowda Government in 1996. After many years of strong opposition by several parties, the bill finally made it through Rajya Sabha where it was passed in 2010. But since then, Lok Sabha has been deliberately delaying its passage, with the previous government claiming lack of consensus, while the current Modi government is maintaining silence on the issue despite making it one of the key points in their manifesto during the election campaign of 2014.
Sau mein taintis leke rahenge
Sau mein tantis haq se lenge
Sau mein tantis cheen ke lenge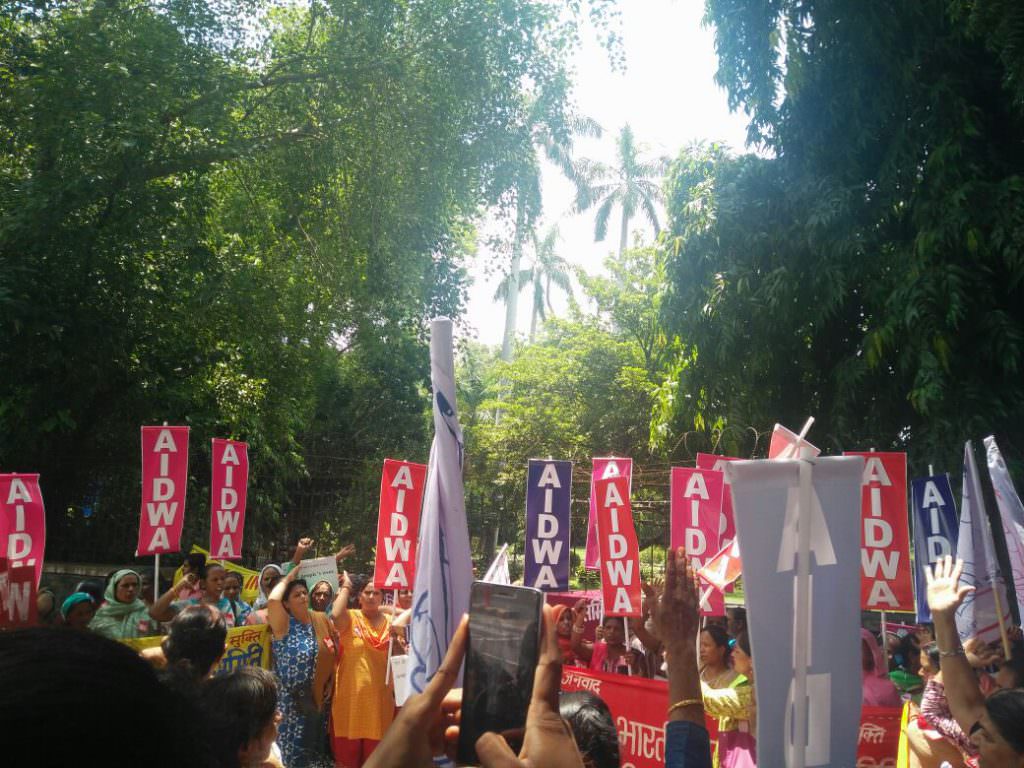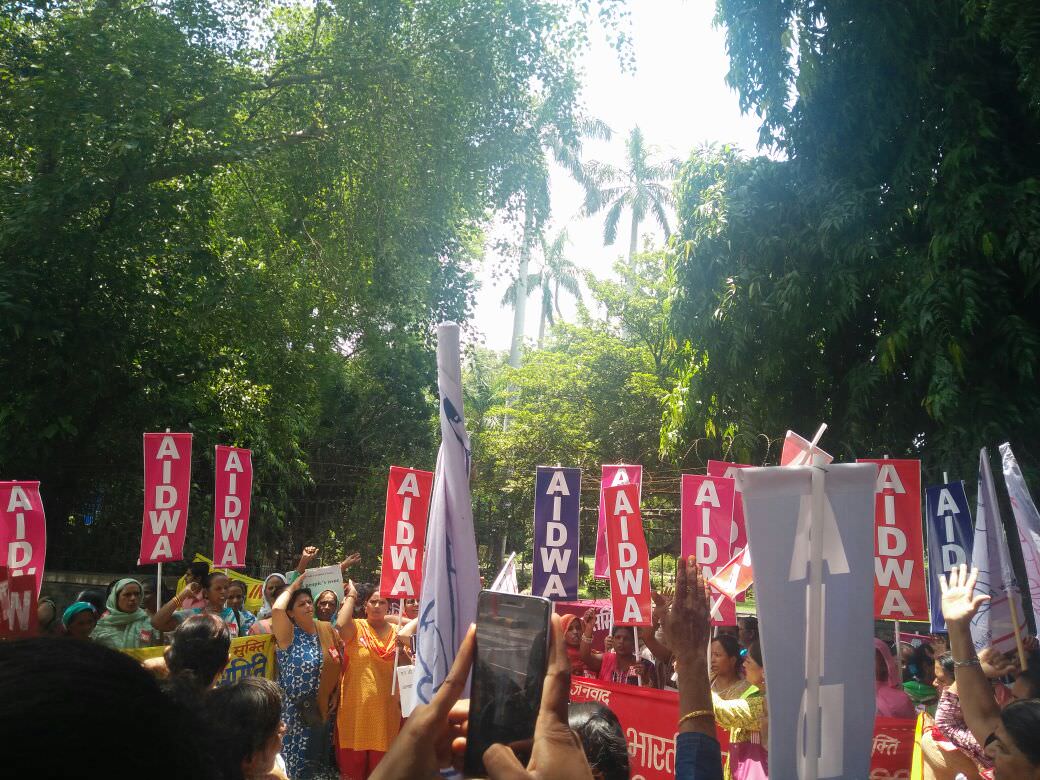 Activist Maimoona Mollah, one of the organisers of the programme said, "The need for this demonstration at this point of time is absolutely necessary, since the current government is deliberately not passing the bill despite having a majority in the Lok Sabha. The truth is that the ruling party has a rigid patriarchal mindset, since their mentors are outspokenly anti-women."
Pittrasatta se halla bol
Gungi-behri sarkar se halla bol
Women collected from major organisations like All India Democratic Women's Association and CPI-M, along with several NGOs working towards the upliftment of poor and rural women. The organisations had brought with them huge and colourful banners containing their name, slogans, and other symbols of resistance. Solidarity could be sensed among them despite coming from different backgrounds. Even though many participants were detained by the police and were not allowed to reach the venue, the number of women who believed in the issue was awe-inspiring.
Panchayat mein aaye hain, Sansad mein bhi aayenge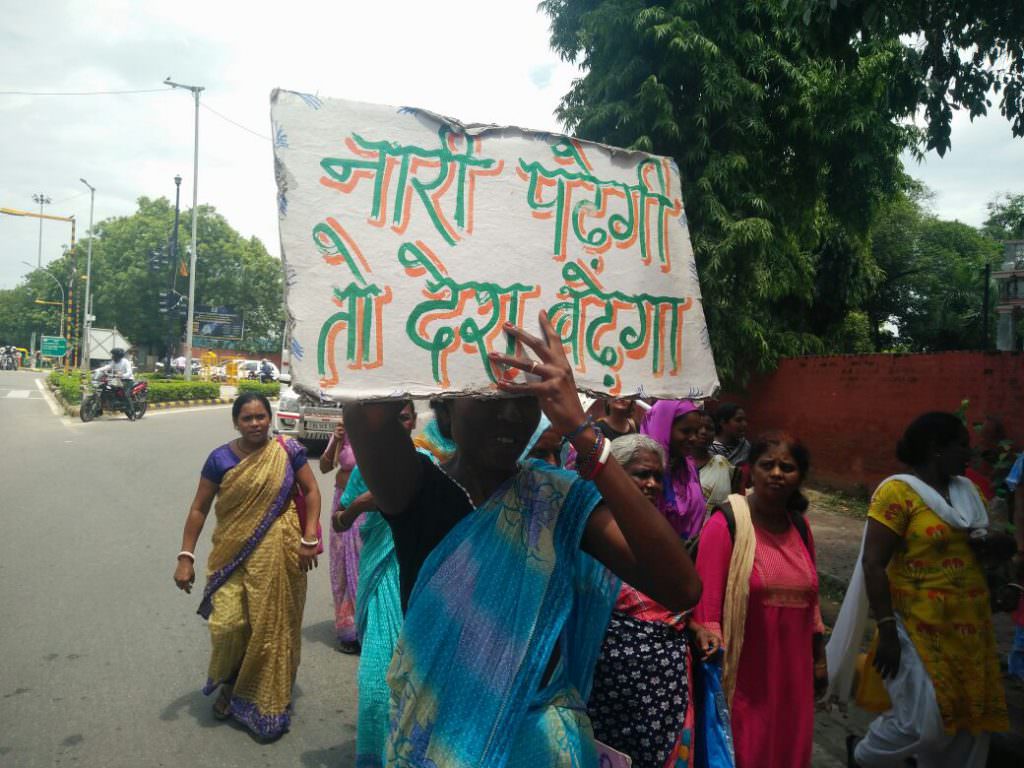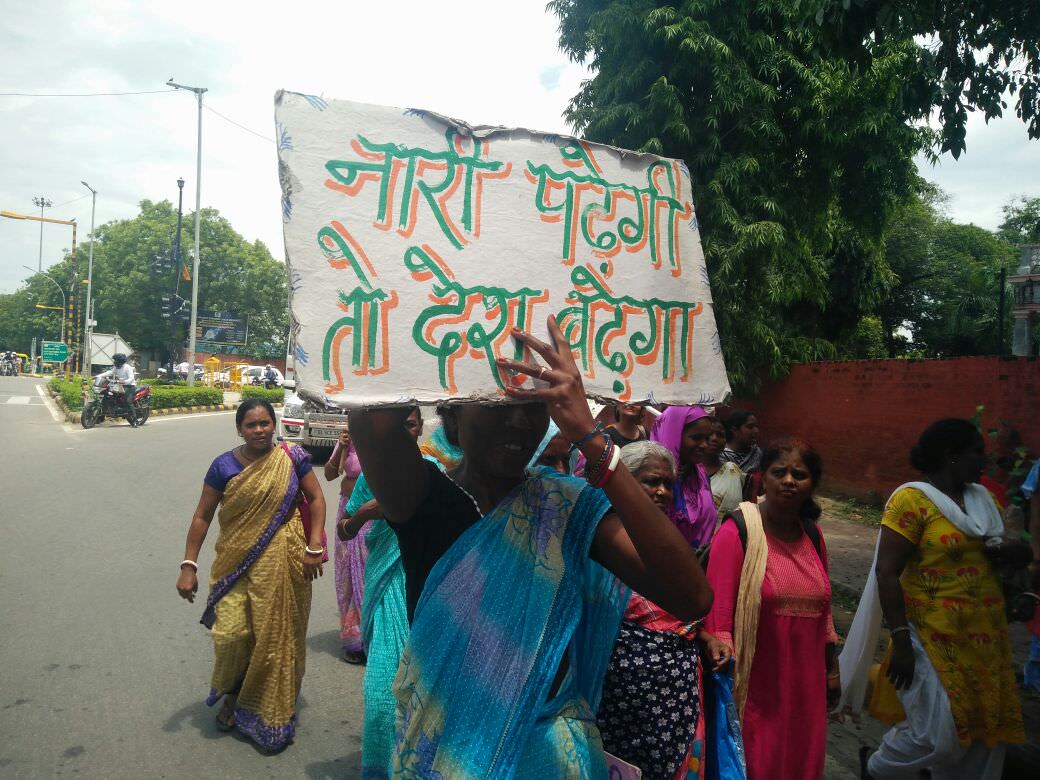 A striking feature of the protest was the overwhelming presence of rural women. Since many of these organisations have their units based in rural areas, women dressed in traditional clothes of all ages could be seen holding banners and shouting slogans. This demonstration wasn't particularly limited to the elite upper class citizens, which many protests turn out to be.
The march started from Barakhamba Road with a tempo bearing the main banner and a loudspeaker. A unique act by the partakers was forming two lines, which maintained the formation throughout the march, till they halted at Parliament street right besides Jantar Mantar. Their discipline was commendable.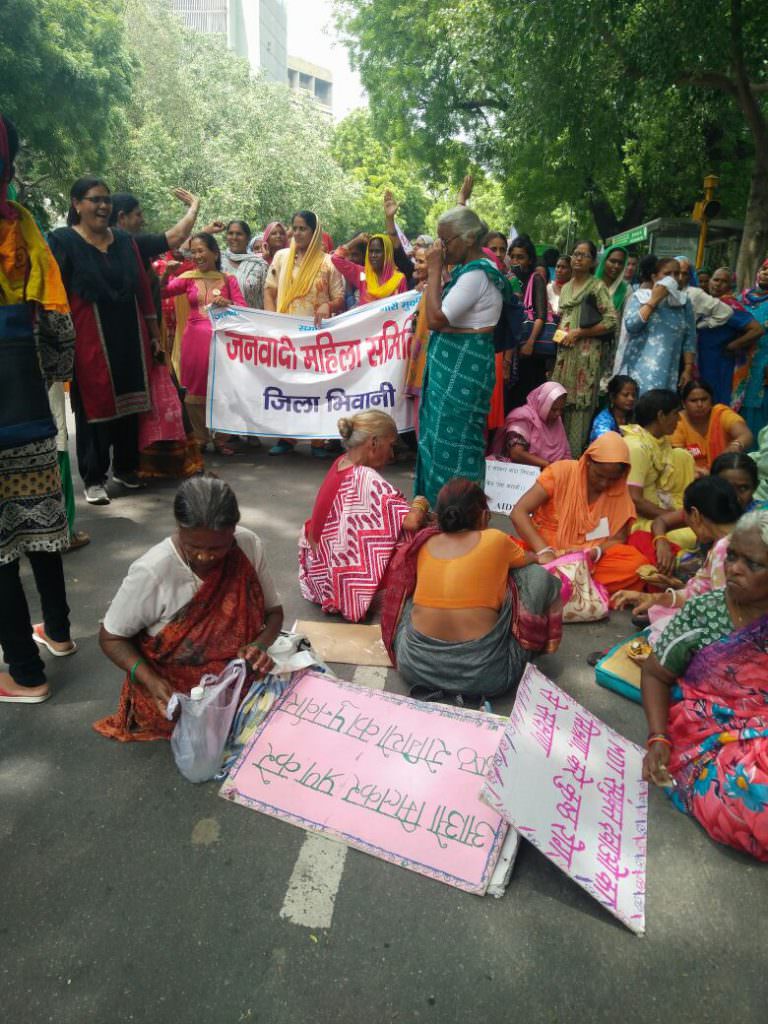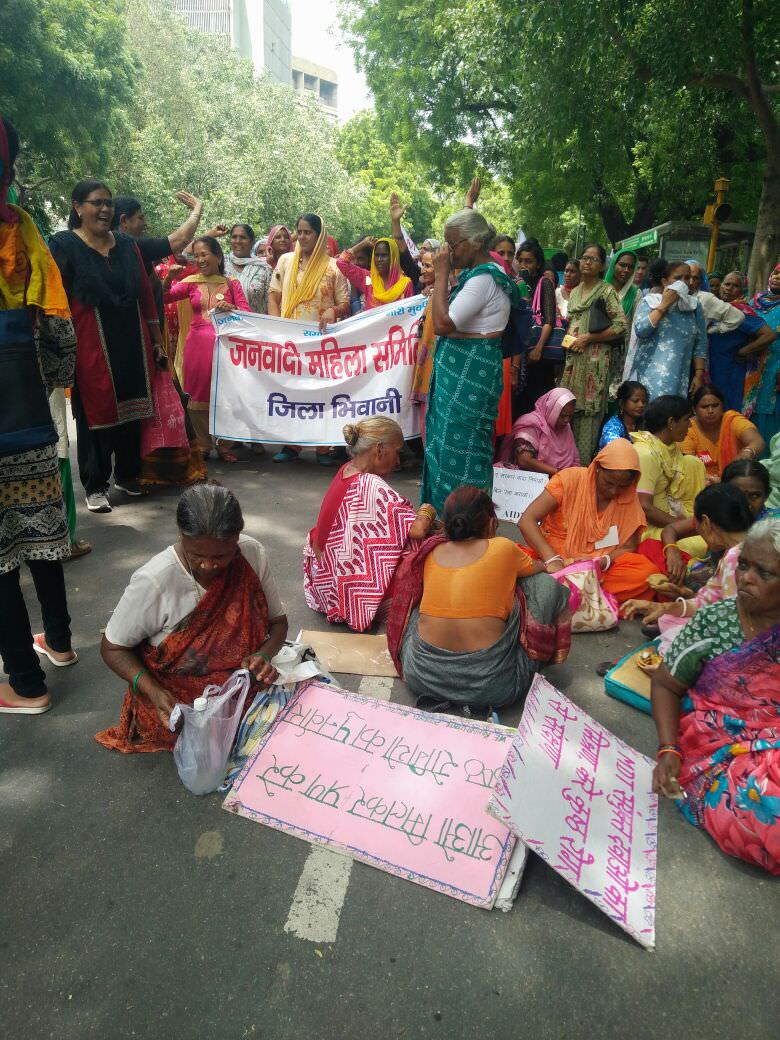 One could hear creative slogans challenging the system and demanding to pass the reservation bill. The slogans, "100 me 33 leke rahenge", "aam sahmati ka bahana nahin chalega", "panchayat me aaye hain, ab sansad me bhi aayenge" rent the air. Contrary to popular belief, the loudness of women's sloganeering and cheers were no less than any other demonstration. The enthusiasm did not die out for a second, with many women coming out of the crowd and taking their turns to shout slogans on the mic.
Besides demanding to pass the bill, other issues were also on people's mind. An aged woman participating in the march told us, "Since the past 4 years, builders have been troubling us to vacate our homes. They want to destroy our jhuggis (slum houses). Seven generations have lived in that house, our work, our art, everything is based there. How can we leave it? We are here to voice our problems, and make it reach Modi's ears. Please put this on the internet."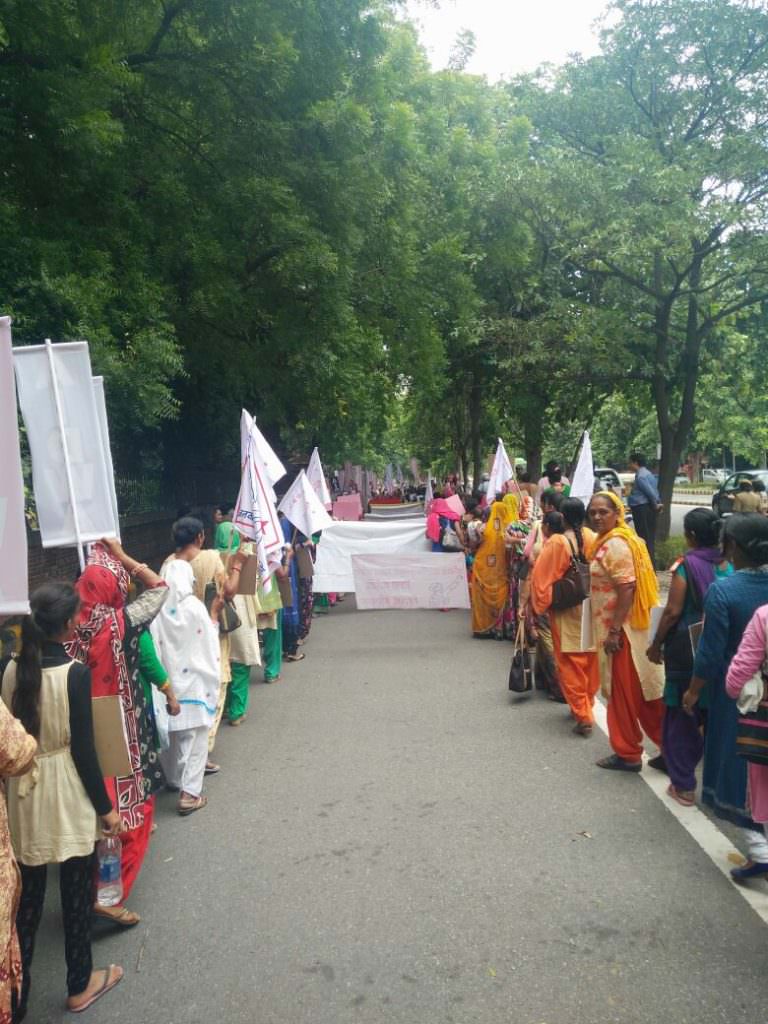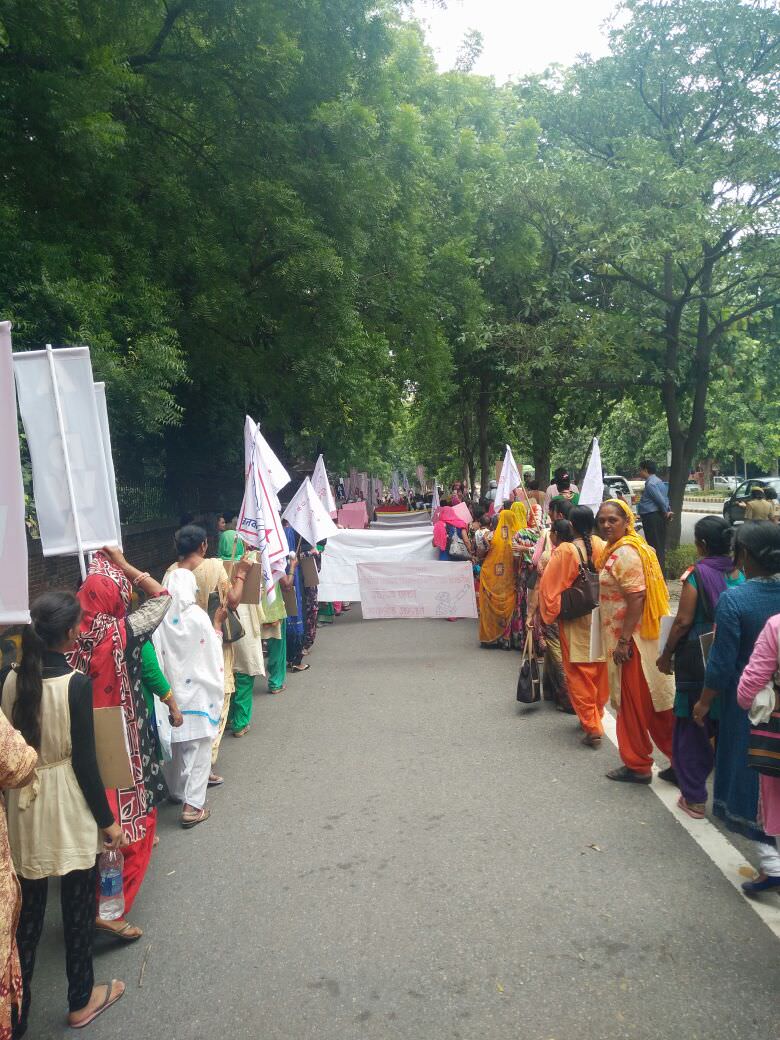 Aadhi abaadi maange poori bhaagedaari
Once we reached Parliament Street everyone was asked to sit, after which the leaders of different organisations addressed the people. They expressed their concerns about the issue. A memorandum is also sent to the Hon'ble Speaker​, Lok Sabha in this regard.
A leader of a women's organisation spoke, "It's not a women's issue; it's a society issue. Progressive women have been struggling to make laws women-friendly, which have been constantly obstructed by patriarchal elements. All progressive people should stand up in solidarity and enter the government. We don't want regressive women like Uma Bharti to represent us. We want women who have been oppressed, women who are hardworking to speak up for us, not for RSS."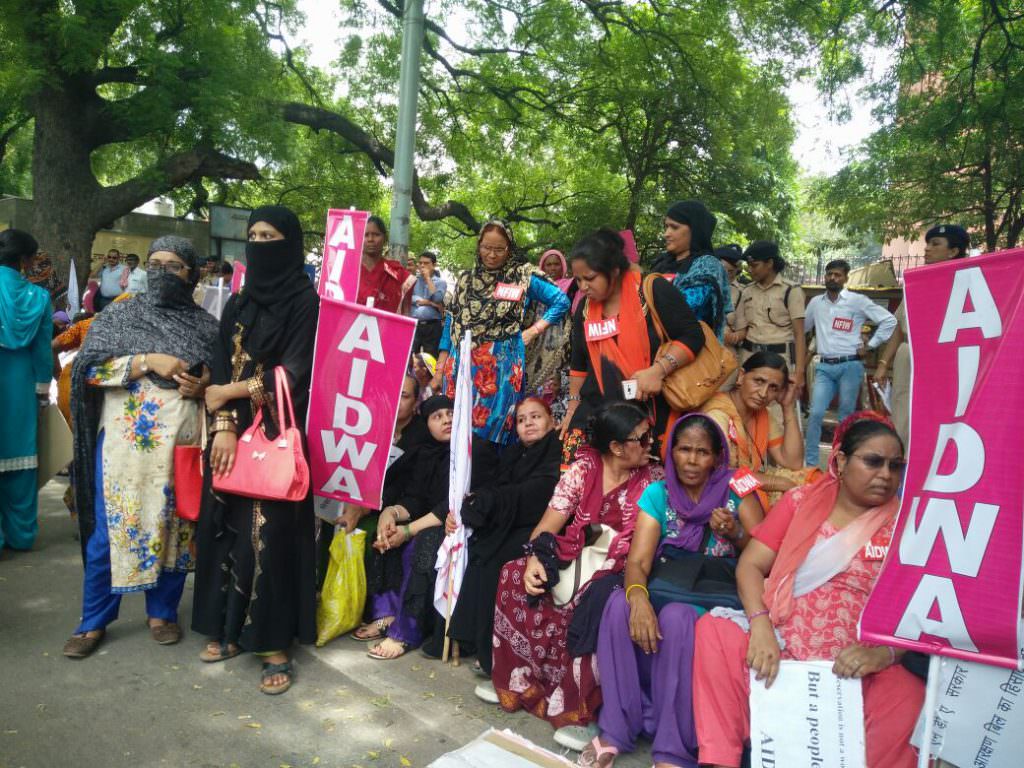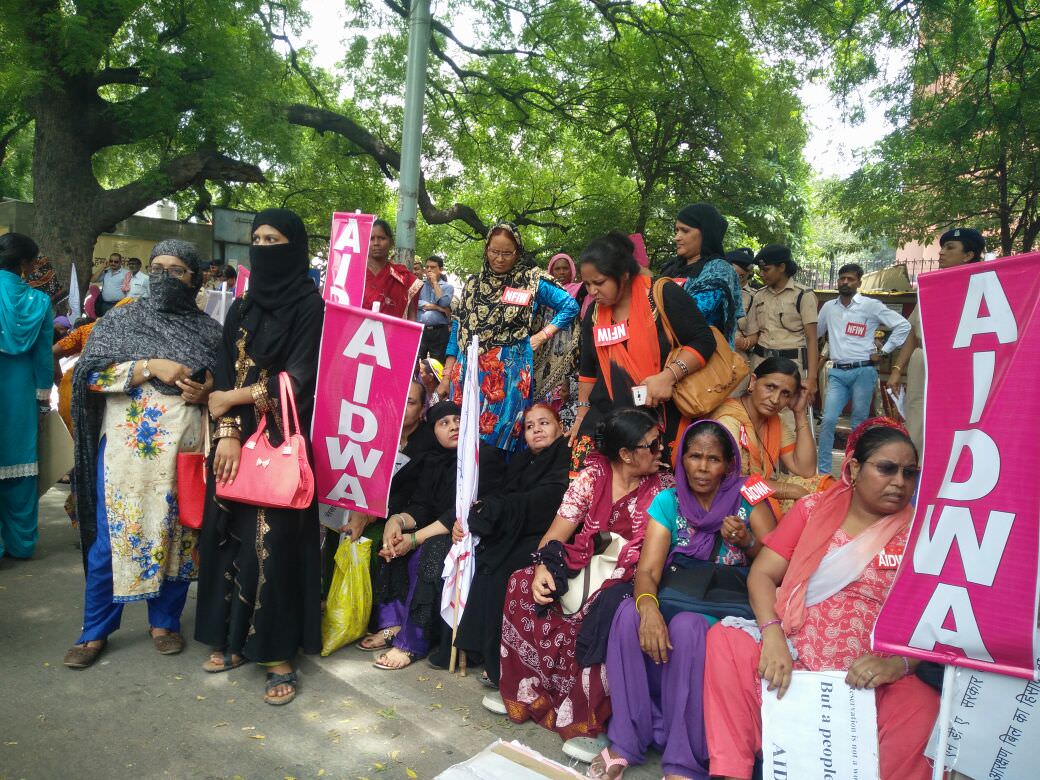 Other than organisation leaders, many young girls were also spotted at the forefront of the march. As the future of the country, this issue was quite important for them. A group of Gender Studies' students told us, "We are young, and we want proper representation to grow. The struggle will not be a short one, and we are ready to face barriers."
The intervals in speeches were filled by sloganeering, which did not stop till the end of the programme.
Mahila-virodhi sarkar Murdabad
Political personalities were also present to show their solidarity. Members from the CPI-M were there, including Brinda Karat and MLA Sudha Sundararam. Both of them gave swaying speeches, energizing the crowd.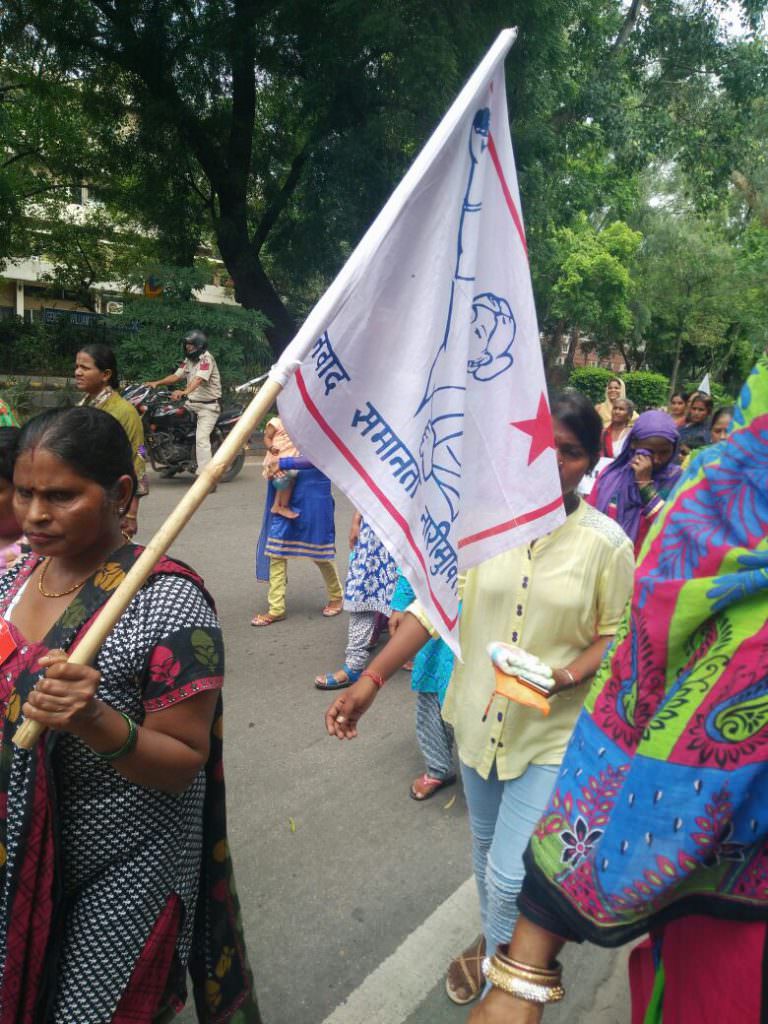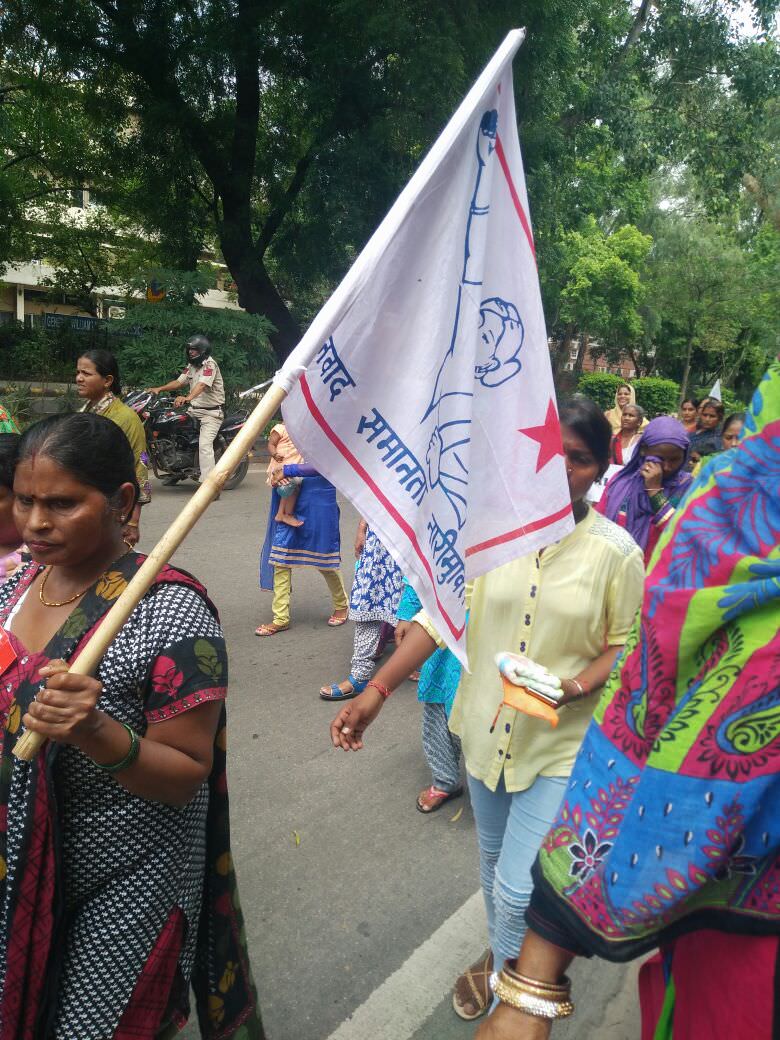 Comrade Brinda provided people with a statistical measure of women's representation. As of now, women occupy just 66 seats in the 543 member Lok Sabha, which is a mere 12%. If the 33% bill had been passed, the number would have been much higher. Without the reservation, the number remains one-ninth of the total strength, which is highly unfair.
The issue of Women's Reservation Bill has been in cold storage for far too long. In a patriarchal system where women are constantly discouraged to pursue a path which gives them power, their adequate participation in decision-making is only possible through special provisions which ensure representation of half the population. It would not only shift the focus of the government toward taking women's issues seriously, but also make our state more woman-friendly and democratic in true sense.
Also read: Will Women Politicians Ever Stop Being Judged On Their Appearances?
---
All pictures by Mitsu Sahay for FII.