"Aamar mukti aaloy aaloy, ei aakashe…"
(My freedom lies in this sky, this light)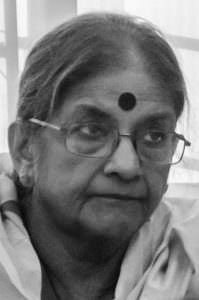 This song, an uncommon one, was sung by Jasodhara Bagchi in a protest held against the incarceration of Dr. Binayak Sen. It resonates with the freedom that Jasodhara Bagchi embodied in her spirits and ideology. Born in 1937 and continuing her journey of resistance against social hierarchies till her death in January, 2015, Jasodhara di, as she was fondly known, has left a legacy of challenging the status quo of many social inequalities until there is a better version, a better story.
Education and contribution to academics
Bagchi completed her bachelor's in English honours from Presidency College, Kolkata, her second bachelor's from Somerville College, Oxford University, and went onto pursue her PhD on Walter Pater and late 19th century English literature at New Hall, Cambridge. A pioneer of women's studies movement in India, Bagchi, in 1988, formed the School of Women's Studies in Jadavpur University, Kolkata, in the growth of which she spent her time till her retirement from the university.
She joined, in 1963, as a professor of English Literature in Jadavpur; a space where she effectively merged academic research, activism, with her passion towards women's studies which she relentlessly pursued till 1997, when she retired, and even after that as an Emeritus professor. Ms. Bagchi directed her research in Jadavpur on Bengali literature and 19th century English, with her focus on written works by women. She also undertook research on the reception of positivism in Bengal, concept of motherhood, and partition of India.
In her famous essay, Freedom is an Idiom of Loss, she writes about "The deep scar on the mind and body of Sonar Bangla, the youthful golden Bengal, the honey-tongued mother whose sons weep if there is a flicker of sadness on her face", which the partition of Bengal during India's independence struggle caused. The partition from which possibilities of recovery seemed distant, which unheard the realities of women in Bengal.
Some of her books are as follows.
Literature, Society, and Ideology in the Victorian Era (edited volume), (1992)
Indian Women: Myth and Reality (edited volume), (1995)
Loved and Unloved: The Girl Child in the Family (with Jaba Guha and Piyali Sengupta)(1997)
Gem-like Flame: Walter Pater and the 19th Century Paradigm of Modernity (1997)
Thinking Social Science in India: Essays in Honour of Alice Thorner (co-edited with Krishna Raj and Sujata Patel)(2002)
The Trauma and the Triumph: Gender and Partition in Eastern India, 2 volumes (co-edited with Subhoranjan Dasgupta) (vol. 1 in 2003, vol. 2 in 2009)
The Changing Status of Women in West Bengal 1970–2000: The Challenges Ahead (edited volume), (2005)
Interrogating Motherhood (2016)
Engagement with activism
Bagchi was known for her leftist ideology and her undying commitment to the mobilisation of women's movement in the country, in line of which she established the feminist organization, Sanchetna, in the city of Kolkata, thereby, helping in amplifying the countless voices of women raised for their rights and dignity. She was also appointed as the Chairperson of the West Bengal State Commission for Women on which she lent her insights from 2001 to 2008.
Before her death in 2015, Ms. Bagchi was seen in full support of students in the Hok Kolorob movement (meaning, 'let there be polyphony'), which protested against the molestation of a female student in the university. She was vocal in her criticism of the university Vice Chancellor, Abhijit Chakrabarti, and the management who charged a frivolous and anti-student approach in handling the protest. She was a member of Emeritus Professors team to debate on the appointment of a more "able" Vice Chancellor for Jadavpur University.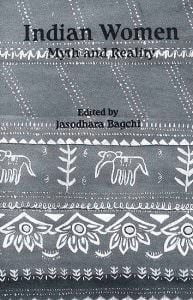 Her vision of feminism was translated well into her many works which were influenced by her leftist ideology. Her book, Indian Women: Myth and Reality (1989), is a go-to text for researchers and readers alike for its essential insights on the issues faced by Indian women. It was with her persistent help that initiated the publication of Bengali Women Writers Reprint Series, a monograph line aimed at publishing works by/of women to reflect the many unrecorded facets of their lives and their unique struggles and pursuits.
One is reminded of her battle against hierarchical structures of power through her book, "Parijayee Nari O Manabadhikar" (Migrating Women and Human Rights), whose initial launch at the Kolkata Book Fair was shunned because of its "politically controversial" nature. Although the book was launched later in a small book gathering, this instance screams of the pull between right and left ideology and the methodology employed by one set of people to silence anyone who'd shake them from their chairs of dominance.
Legacy
In her tribute to Jasodhara Bagchi, Sarmistha Dutta Gupta, reminisces the way she could absorb music from various traditions she learned about, during childhood, and the encouraging person that she was in navigating through prospects of giving recognition to creativity in many of its forms.
"If one goes through the list of women she chose to honour on International Women's Day every year as the Chairperson of the West Bengal Women's Commission, one would realize her respect for talent and worth irrespective of political affiliations", writes Sarmishtha.
Sarmishtha also remembers Bagchi's firm steps in persuading the organizers of the Science Congress held in Jadavpur University in 1980s, to conduct a session on "Women and Science" at a time when such a topic was rarely discussed or envisioned. Bagchi's affection for people saw light in her ability to bring together her friends and acquaintances to work for a common goal at several steps of her life.
Like the doors of her women's studies classroom were always open in Jadavpur University, which became a symbol of her students and herself challenging institutional structures while being within them, Jasodhara Bagchi's life and works are like a classroom of the struggle that should invent newer revolutions that sing narratives of equality and inclusivity. The roar of which remains even if they are silenced.
Leaving you with a video of Ms. Bagchi's life documented in pictures
Also Read: Remembering The Red Feminist: Anuradha Ghandy | #IndianWomenInHistory