In collaboration with S M Sehgal Foundation, the FII team consisting of Founder-Director Japleen Pasricha and Content Editor Mahika Banerji conducted a gender sensitisation workshop in the village of Ghaghas, in Mewat, Haryana. After a long, picturesque drive through the mustard fields of Haryana, we were received by the workshop participants who are employees at S M Sehgal Foundation, most of whom work at the grassroots level in Mewat.
Today, the FII team is in #Haryana to conduct a workshop on #genderroles #genderstereotypes & #womenatwork for @sehgalfdn for their field team in #Mewat. pic.twitter.com/bnyLK8JCJb

— Feminism in India (@FeminismInIndia) December 19, 2017
The workshop covered a vast array of themes such as women in the workplace, gender dynamics in the family, gender roles, gender stereotypes, privilege, masculinities and sexual harassment at the workplace. As opposed to a lecture-based format, the entire structure of the workshop was framed in the form of physical exercises and discussions, with participants interjecting with examples of gender dynamics from their own lives.
The workshop began with a brief jumping exercise to shake off the last vestiges of sleep. Participants were then asked to introduce themselves along with a skill they are proficient at, for the sake of positive affirmation. The participants were then divided into pairs, where they had to talk to each other on their opinions on single and married women working outside the home. Following which, they would have to present their partner's opinions to the room at large. A common pattern to be noted here was the overwhelming priority given to women's education as well as the opinions of the husband and in-laws.
We then asked the participants to step outside for an exercise on privilege. They were placed in one large line and asked questions such as: Do you fear public transport? Have you ever been told what to wear? Have you had trouble getting a job? etc. The questions resulted in many back and forths, culminating in a discussion on male privilege, multi-dimensional oppression and intersectionality.
After traipsing back inside, we distributed sticky notes around the room and asked people to note down stereotypes that they have heard based on toxic masculinity. Which were placed on a whiteboard for people to collectively examine. Some of the interesting ones that stood out were based on how men don't cry, men should not participate in kathak, men should not play with dolls and the 2 classics of poisonous masculinity: mard ko dard nahi hota (the masculine man feels no pain) and joru ka gulam (tied to wife's apron strings).
After a break of delicious food, we resumed with an exercise by dividing participants into 4 groups, where group members were asked to collectively reflect and draw an image of what they perceived to be the workplace. We were pleasantly surprised to see just how creative the participants got with this task. We saw the embodiments of people's thoughts on the workplace, ranging from farmland to office spaces.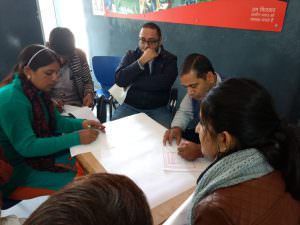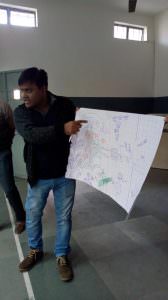 We wrapped up the workshop after asking people to discuss their New Year resolutions, most of which were social-justice based, while holding a balloon. Needless to say, we got quite a few laughs out of this particular exercise. We concluded with a round of feedback from workshop participants.
We are grateful to the S M Sehgal Foundation for providing us with this opportunity. Due to constantly being located in urbane platforms, this was a learning experience for the FII team as well. We are also very grateful to the enthusiastic workshop participants who made this day extremely enjoyable for us.
Also read: Meet 3 Pathbreakers In Community Based Rural Development