Sitara Devi was a Kathak pioneer who first introduced the classic art form in mainstream Bollywood. Her performances across the globe contributed to turning Kathak into a respectable dance form and brought it global recognition.
She drew from themes, poetry and choreography collected by her father and also took inspiration from the environment around her. "By training, I am just a 'kathakar' [storyteller] of Krishna—Leela [tales of Krishna]," the danseuse used to say. Kathak, derived from the Vedic Sanskrit word 'katha' (story), is a narrative form of dance drama which originated in Krishna temples and scaled its pinnacle of glory in Muslim courts.
Early Life
Sitara Devi was born in Kolkata on 8th November 1920. She was born on Dhanteras and was, therefore, named Dhanalakshami at her birth. Her family roots were from Banaras in Uttar Pradesh, where her father Sukhadev Maharaj was a Vaishanavite scholar of Sanskrit. He earned his livelihood by teaching and performing Kathak.
Her mother was Matsya Kumari who was related to the royal family of Nepal. Together they had three daughters Alaknanda, Tara and Dhanno; and two sons Chaube and Pande. Sitara Devi's father endured public shaming by colony members for teaching his daughters to dance, as the norm during the period dictated that dancing was to be practised only by sex workers.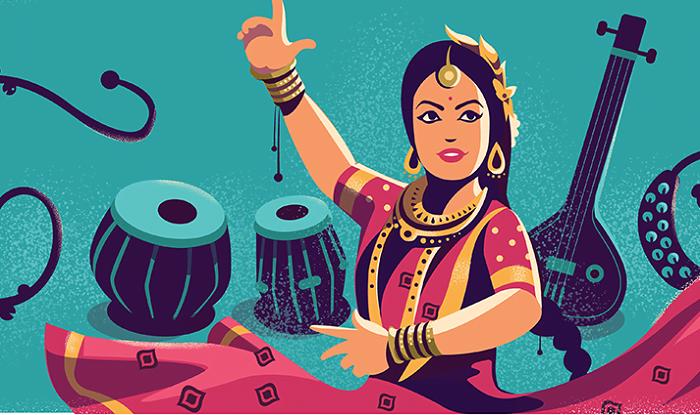 However, Maharaj did not get discouraged by the public shaming and shifted to another residence in Varanasi. There, he opened his own school for teaching dance to children including his own children. Even sex-workers sent their children to learn from Maharaj.
Sitara Devi had learned a great deal by observing her elder sisters practice their dance. While she was studying at Kamachhagarh High School, she performed a dance sequence in a drama based on the mythological story of Savitri and Satyavan. She got the part by performing an impromptu dance performance in front of her teachers.
Her teachers were so impressed that she was also given the added responsibility of teaching the choreography to her co-performers. A local newspaper named the Aaj covered the dance drama. Reading praises for his daughter, her father re-christened her as Sitara, and the responsibility of her dance lessons was entrusted to the charge of her elder sister, Tara.
Sitara Devi's Bollywood career
She started giving solo performances when she was ten years old and the family shifted to Bombay around the time she was eleven years old. Sitara Devi performed in Atiya Begum Palace in Mumbai where the audience included Rabindranath Tagore, Sarojini Naidu and Sir Cowasji Jehangir.
Impressed with her performance, Tagore called her 'Nritya Samragini' (Empress of Dance) and expressed his wish to award her a shawl and a gift of Rs. 50 as a token of his appreciation. Sitara Devi refused these materialist tokens and asked for his blessings instead.
Also Read: In Conversation With Dr Meeta Pandit: Face Of The Gwalior Gharana
When she was a twelve-year-old girl, Sitara Devi was recruited by Niranjan Sharma, a filmmaker and a dance director, and she gave dance sequences in several Hindi movies like Nagina 1, Roti, Vatan, Anjali and Mother India. However, she stopped accepting movie offers in the sixties, as she believed that it was affecting her dance
Sitara Devi married director K Asif of Mughal—e—Azam fame. Later, she married Pratap Barot, with whom she had a son, the famous music composer Ranjit Barot.
The legacy of Sitara Devi
Sitara Devi's father was accredited as being the source of the Banaras Gharana. Maharaj took inspiration from the Ramlila and set the kathas (stories) as dance. Based on the Brij Vilas, he created kavits (rhythmic poems now an intrinsic part of the Kathak repertoire). He added rhythmic syllables including tabla bols (beats) to the lyrics and set them to mudras (hand gestures).
Taking this spirit forward, Sitara Devi's own research and experiments on concepts such as tandava and lasya, detailed mimetic presentation and musical compositions, have enriched the art of Kathak. Her performances at international venues such as the Royal Albert Hall, London and Carnegie Hall, New York brought the dance form global recognition.
Though her forte was Kathak, she also studied Bharatnatyam and other Indian folk dances along with Russian ballet. She trained Bollywood stars such as Madhubala, Rekha, Mala Sinha and Kajol.
She was honoured with the Legends of India Lifetime Achievement Award 2011 for her contribution to the classical dance genre, spanning over six decades. Sitara Devi was also the proud recipient of Sangeet Natak Akademi Award (1969) and the Padma Shree (1973).
She famously refused to accept the Padma Bhushan award, declaring, "It is an insult, not an honour". A report from the Press Trust of India quoted her stating, "Is this government not aware of my contribution to Kathak? I will not accept any award less than Bharat Ratna."
In an interview with The Hindu in 2009, she expressed disappointment with the contemporary batch of Kathak dancers as they lacked dedication to the art form. She also pointed to a dim future for Kathak by stating, "Kathak is in decline. If I am no more, and if tomorrow, God forbid, Birju Maharaj is no more, it will be the end of Kathak. The End — like they say in the films."
Sitara Devi died on 25 November 2014, at Jaslok Hospital in Mumbai. Recently, Google honoured her 97th Birthday by creating a doodle of Sitara Devi for their Indian users.
Also Read: Binodini Dasi: Trailblazer In Bengali Theatre | #IndianWomenInHistory
---