The Finance Ministry recently released the budget for the financial year 2018-2019. One approach to understanding whether a budget is gender-sensitive is to examine the allocations under different categories and particularly those where women, sexual minorities and children have a higher likelihood of being affected.
In this budget there are Ministries and Departments, for instance, the Ministry of Women and Child Welfare where 100% of the allocations will be utilized for women and children (they are often clubbed together), and some like the Ministry of Health and Family Welfare where at least 30% of the allocation will affect women directly. So, what's the verdict?
The Good, But?
There are some clear priorities that the government has laid down. Nutrition, women's helpline and attempts to support employed women as well as girls from minority religions have received significant support when compared to the previous year.
The National Nutritional Mission received a whopping 432% increase within the Ministry of Health and Family Welfare.
Most of these are ostensibly well-intentioned. If implemented properly may tackle some of the key issues in India including anaemia among women and adolescent girls and the steady attrition of women from the labour market, particularly after marriage, leading to very low rates of female employment in the country. However, even within what could be a gender-sensitive budget there are some contradictions.
The National Nutritional Mission received a whopping 432% increase within the Ministry of Health and Family Welfare – the largest increase in absolute terms of 1189.35 crores. This is followed by a 188% increase in Women's Helpline with an allocation of 28.8 crores and a 144% increase for the AYUSH ministry. However, the latter needs to be qualified since most of the funds have been allocated to the Central Council for Research in Ayurvedic Sciences while the allocation for its Unani counterpart has remained virtually unchanged.
There has been a 100% increase for Working Women's Hostel, a 98% increase for National Creche Scheme and the Ministry of Minority Affairs has received a 90% increase in allocation. Of the latter, there are three new allocations – Multi-Sectoral Development Programme and specifically for minority girls – Nai Manzil and Upgrading Skills and Training in Traditional Arts/Crafts for Development. It remains yet to be seen how these funds will be utilized for girls from minority religions, at a time when many minority groups live in the shadow of fear from cow vigilantism and other attacks.
NACO budget cut could hit services for sexual minorities, adolescents, sex workers and injecting drug users, and medicines for people living with HIV.
The Department of Police has received a 72% increase in allocation. However, most of it is given to the Nirbhaya fund – a massive 76% increase from 11.20 crores to 19.75 crores, allocated to a scheme that has not been audited properly. More recently, the Supreme Court directed states and UTs to clarify how money is being disbursed through the Nirbhaya fund.
Also Read: It's Been 4 Years – What Has The Nirbhaya Fund Done So Far?
It is worth noting that for schemes that really matter for female policewomen such as provision for creches, women's restrooms, etc., the allocations have either reduced or remained the same, except for the women-specific programmes for Assam Rifles where the outlay has increased from a mere 0.11 crore (revised estimates in 2017, 2018) to 0.72 crore, an increase of 555%, for which the reasons are unclear. It seems highly improbable that Assam Rifles will recruit more women this year than they did in previous years to be able to spend this money rationally.
While the budgets of Ministry of Women and Child Development have been increased by 5.54%, most of this has gone towards the Maternity Benefit Programme with the very little left for any of the other programs as the table below indicates.
It is also worth noting that the Central Government has directed the states to disburse all money for domestic violence shelters (Swadhar Grehs) through government organizations, a service that was earlier being provided by non-profits. This has obvious consequences for women's well-being and safety since the quality of many government-run shelters are poor.
Significantly the outlays for Central Social Welfare Board, the National Commission for Women, the Scheme for Adolescent Girls, the Maternity Benefit Programme, One stop Centre and other scheme funded from Nirbhaya fund have all had their budgets slashed in 2018-19 to the tune of 6% to 90%, the latter for the Rashtriya Mahila Kosh. The Rashtriya Mahila Kosh was started in 1993 to meet the credit needs of poor and women without assets. It is unclear if the beneficiaries of this scheme will be covered under any other existing or new schemes. In any case, the allocation from a meagre 1 crore is down to a measly 10 lakh rupees!
Money allocated for LPG Connections for poor households have increased this year by 42%, which is likely to help with the problem of time scarcity and clean fuel for women in rural areas. A few new schemes have been introduced including money earmarked for Mahila Police Volunteer Program, money for Women and Child Welfare in the Atomic Energy Program and a scheme for women on public road transport. Given the ambiguous titles of these allocations, it is not entirely clear what the impacts of these schemes are expected to be.
Also Read: Analysis Of The 2017 Budget From The Disability Lens
Higher education witnessed a marginal decline of 0.10% in its share; however, it is to be noted that the bulk of the expenditure is earmarked for the IITs and the UGC, which may not directly impact poor and vulnerable women.
The Bad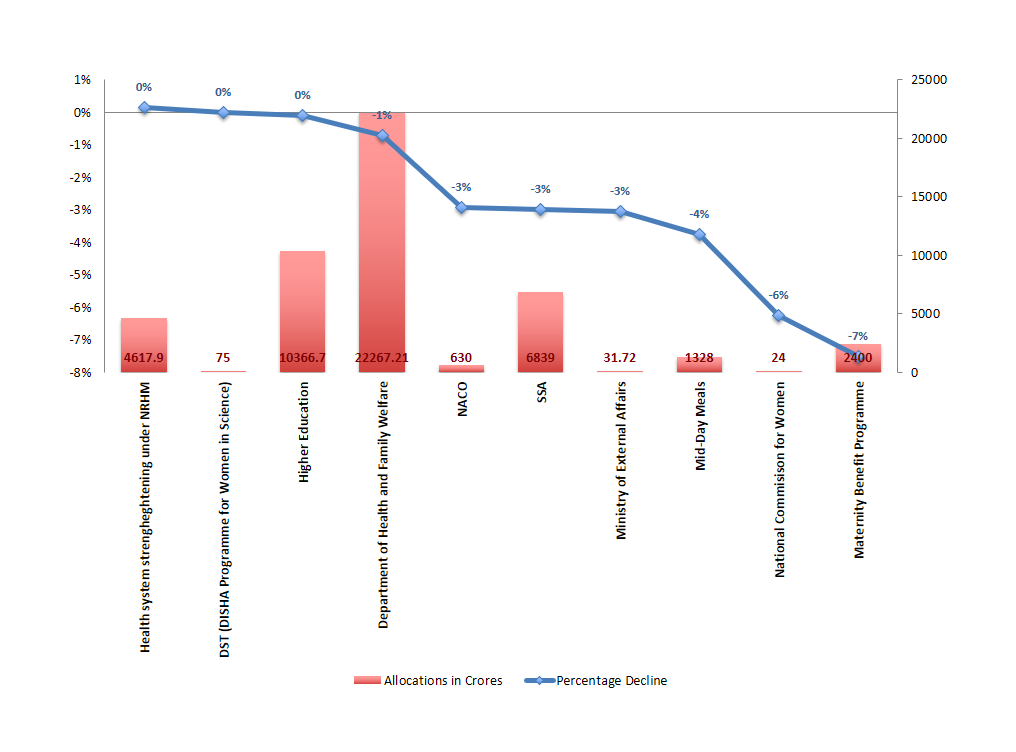 The Ministry for External Affairs (MEA) had marginal increases or decreases in its outlay. Significantly, the scheme for providing legal and financial assistance to deserted Indian women by their spouses had their funding cut from an already 0.40 to a negligible 0.01 crore, a 98% decline at a time when the MEA receives a call every 8 hours from a woman facing domestic violence abroad.
The Maternity Benefit Programme, which is meant to provide financial assistance during maternity leave was cut by 7% – the underlying reasons for this reduction are unclear, unless the government estimates that the number of women in the public sector who may have children in the upcoming year is also expected to decline by the same figure.
A cut in the budget of the National AIDS Control Organization (NACO) is likely to hit both preventive services for sexual minorities, adolescents, sex workers and injecting drug users, as well as medicines for people living with HIV. This is particularly worrying given that NACO had its budget cut between 2014-2016 from 1700 crores to 1300 crores. The current allocation of 630 crores thus halves the budget of NACO in less than 4 years despite the fact that there are an estimated 2 lakh people living with HIV/AIDS in India.
The Ugly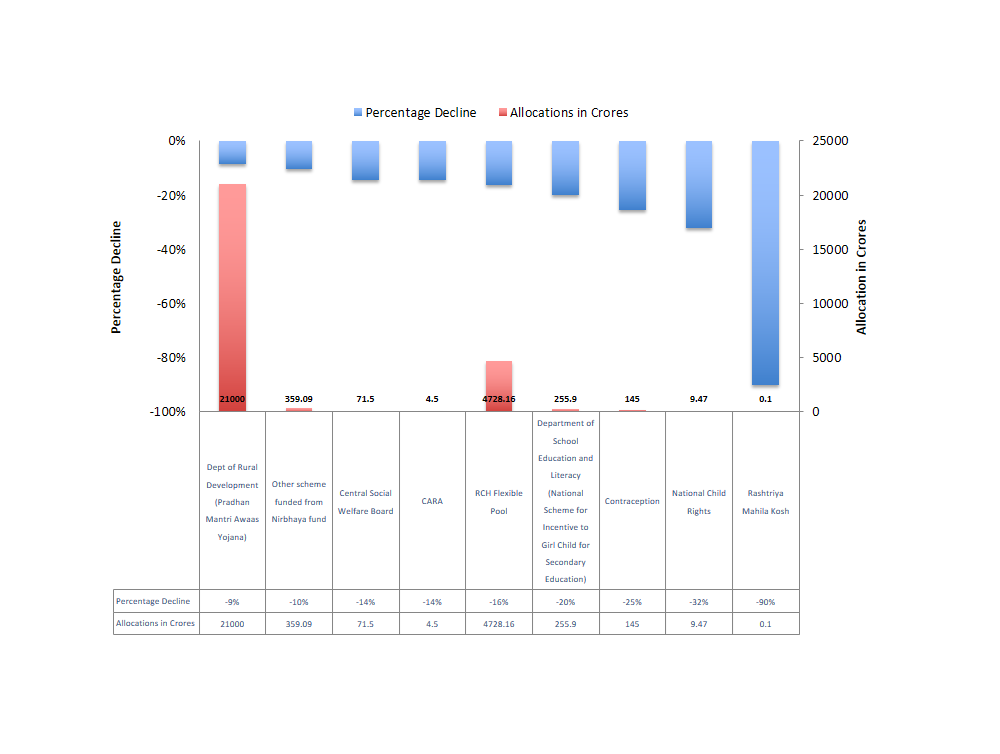 Most of the budget in the Department of Health and Family Welfare is allocated to infrastructure and health systems strengthening, not bad in and of itself, but it appears to have come at the cost of both the Reproductive and Child Health (RCH) flexible pool budget as well as the contraception budget – two programs, that have a direct impact on women and their reproductive and sexual health. This is especially concerning because the age at marriage for women in India is increasing and more and more women are likely to need contraception to prevent unwanted pregnancies before marriage as well as to time their first child after marriage.
Most of the budget in the Department of Health and Family Welfare appears to have come at the cost of the Reproductive and Child Health budget.
This move reinforces successive government's continued push towards sterilization as the primary means of limiting the numbers of children in a family. While the current government cannot be blamed for India's National Family Planning policy, decreases in RCH services and contraceptive provisions do not bode well if we want to encourage more couples to space children and not adopt invasive procedures like female sterilization, to limit family size.
Also reducing funding for contraception means that the incidence of abortions, which are already very high in India with 1 crore abortions each year, and many of them unsafe will rise further if women do not have access to contraceptive services. For structural, systemic and historical reasons, methods such as male sterilization and condoms, though the latter has been increasing among select groups, are often not chosen, especially by married women.
The Maternity Benefit Programme, which is meant to provide financial assistance during maternity leave was cut by 7%.
The budget for National Commission for Protection of Child Rights (NCPCR) was cut by a savage 32%, allocating a measly 9.47 crores for 39% of India's population of which a considerable 29% are in the 0-5 years. This is especially puzzling given that one of the stated aims of the NCPCR is to investigate instances of physical and psychological abuse of children, during a time when we are witness to increasing cruelty and violence against children.
And Miles To Go Before We Sleep
There is a long way we need to go in terms of reducing gender disparities in India. The Global Gender Gap report showed India's dismal performance on several indicators and especially on health and survival. We can only hope that the National Nutritional Mission helps reduce some of these gaps.
The budget for National Commission for Protection of Child Rights was cut by a savage 32%.
But going by the experience of the Beti Bachao Beti Padhao Yojana which benefits 100 gender critical districts, and has received 30 lakh fraudulent applications in 2017 alone, allocating money on its own is insufficient to guarantee results.
Despite this, the government has increased its budget by 51% this year. For a scheme that received 186 crores in 2017, it has managed to directly reach just 1.48 lakh people according to a government report of a mere 48 pages printed on Bubble Gum pink paper!
One hopes that the 71% increase in gender budgeting as well as research around it, and gender-sensitive monitoring persuades us to believe that the government is willing to be monitored on whether it is walking the talk, with regard to creating a less gender inequitable India.
Also Read: Where Do Women Figure In The Indian Economy?
---
Featured Image Credit: The Indian Express