Posted by Devyani Chhetri and Ankita Adak
When the Women's Development Cell (WDC) of Lady Shri Ram College for Women (LSR) sat down for a discussion at Tarang 2018, LSR's Annual Cultural Festival, there was a unanimous agreement on approaching the event with a framework that worked with humour. The Cell has worked extensively with a vision to extend feminist thought and encourage gender sensitisation.
There exists a historical tradition within popular culture where flashy item songs, 'bro-code-locker room' jokes and plot lines that seem to miss the point are idolised. A side-eye glance at Mr Bachchan's saviour figure who pointedly spoke for women who had been sexually harassed in the movie Pink after stalking them just like the men who harassed them. The organisers conceived the two events, 'That's What She Said' and 'In Hysterics' to engage with humour and challenge and subvert a patriarchal culture which dismissively objectifies and silences voices.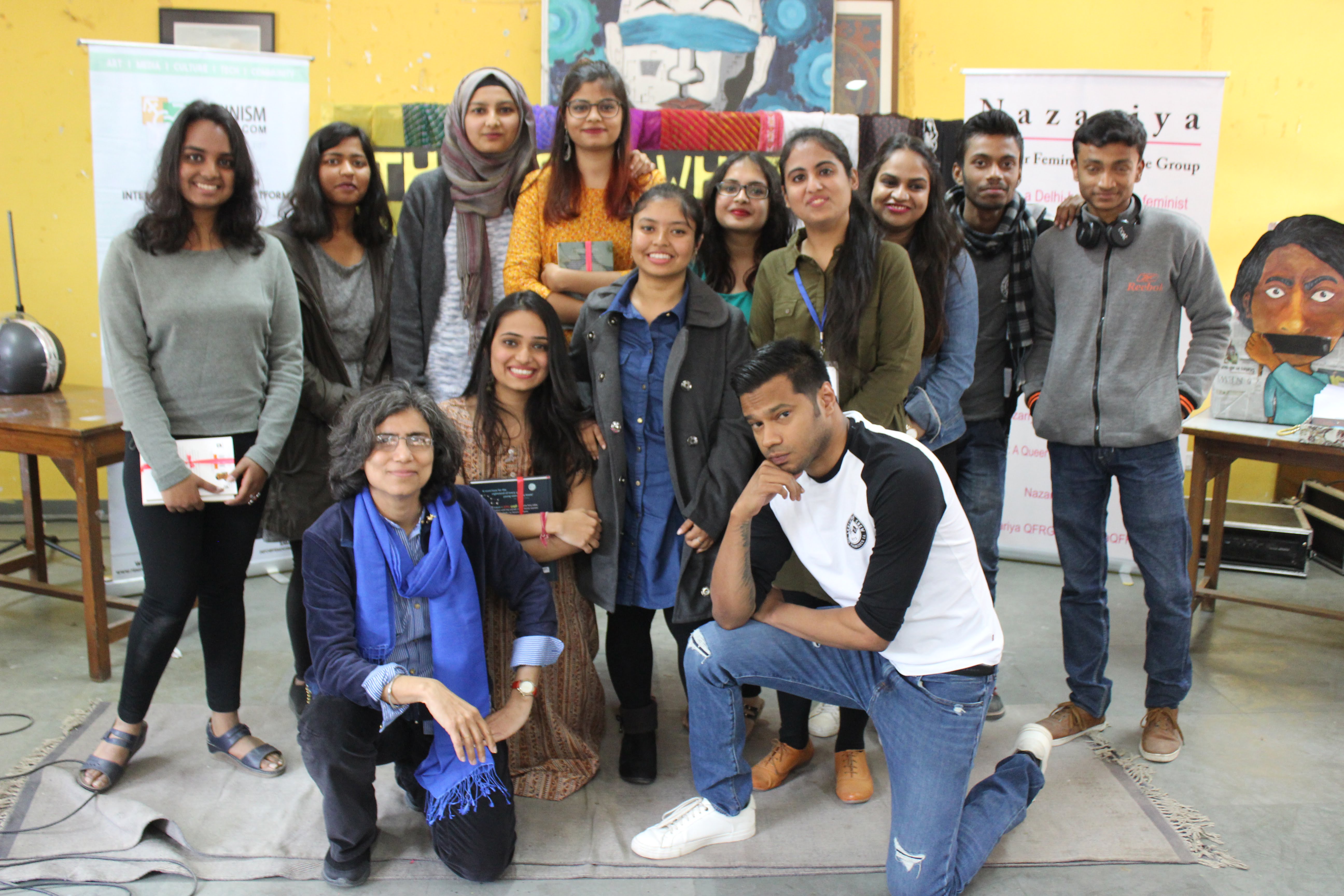 The WDC kickstarted its first event called 'That's What She Said'. The event was judged by Dr Anjali Bhatia, a revered professor of Sociology in LSR and Daniel Fernandes, a favourite of many for his popular social commentaries on issues that plague Indian society. 'That's What She Said', a satiric spin on the millennial catchphrase of many sexual jokes – was conceptualised to ask, 'What would she say?' and 'What does she want to say?' to parody and talk about events as well as practices which are patriarchal in nature.
Every performative act follows a balance of placing the punchline under the banner of perfect timing. When delivered at the right time, words cut deep. "Meri pyaari bitiya kehkar mujhe paas bulaaya, mujhe godh mein bethaya, mujhe seene se lagaya… mera seena dabaya", performed Priya with her voice breaking towards the end.
She bagged the first position for hard-hitting slam poetry which destabilised the common perception that women cannot distinguish between what is right and what is wrong for themselves. Inducing the tone of mockery under the garb of self-effacing humour, Priya had rendered an important message as she said, "Woh kya hain na, main aurat hoon… zara jaldi behak jaati hun".
Naina, a performer from Dyal Singh College who came second, performed a piece titled 'Inches'. Inch by inch, Naina charted the journey of growing up on a measurement tape. "Four feet four inches tall, all dressed up and happy she was. She often enjoyed when her relatives paid her a visit especially her uncle who lured her with chocolates and his sweet gentle touch. Five feet one inch tall, she realised that the sweet gentle touch of her uncle…wasn't the sweet gentle touch of an uncle." A deafening silence implied the success of what she had just narrated.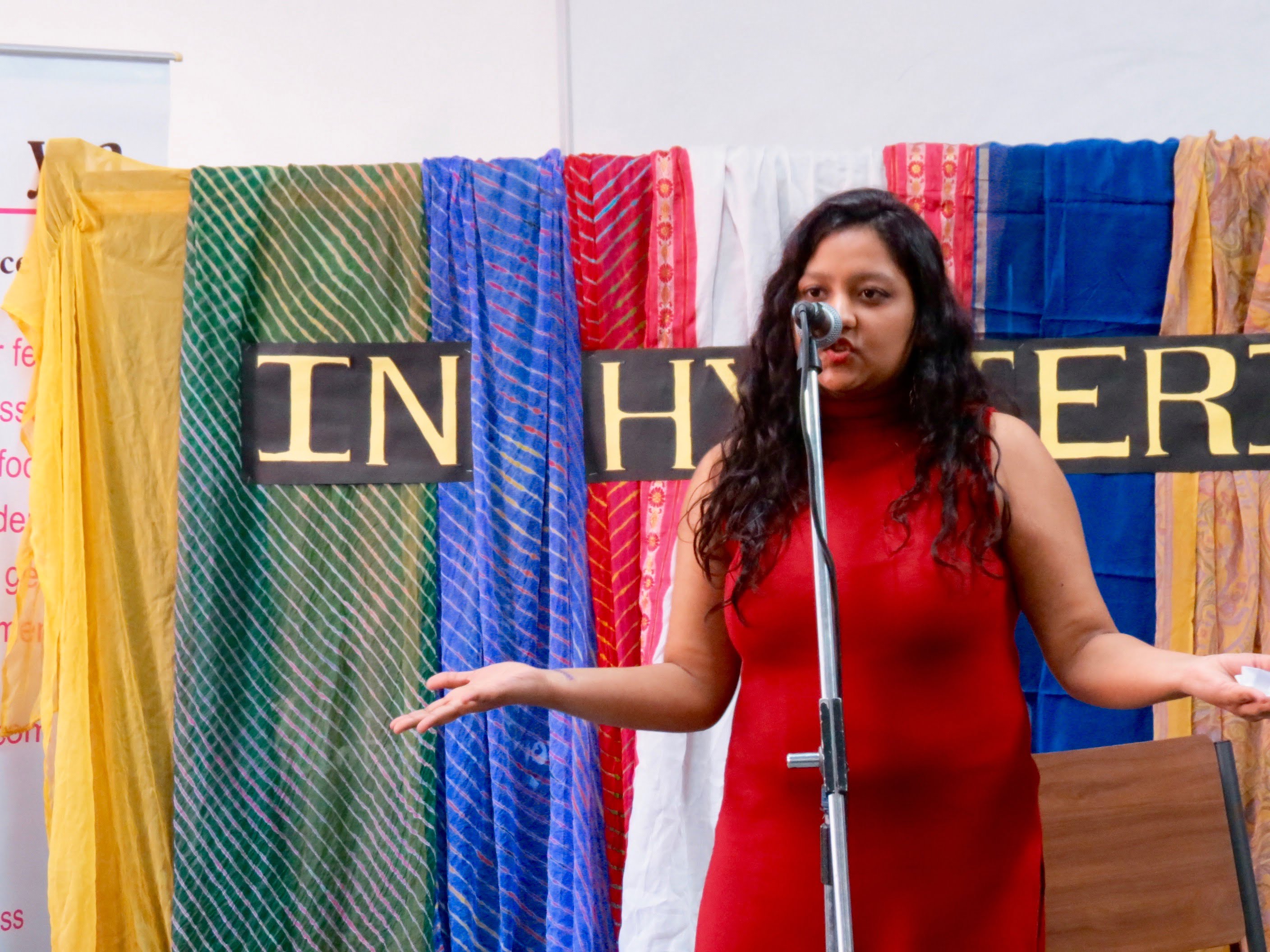 From performing an open letter analysing fairy tales where Stockholm Syndrome is veiled behind the rosy curtain of Beauty loving a Beast; to critiquing the way advertisements reinforce the concept of family in problematic ways, the audience was a receptive force of encouraging clicks, hoots and claps. "Kaise jawaab de paoge tum mere narivadi sawaalon ka? Tum toh meri tulna Germany ke nazis se karate ho?" asked Sarika in her slam performance, as she took the common accusation of being a 'feminazi' into hand.
Taking this forward, Nimisha, who bagged the third position, had the audience in splits as she spoke about the figure of the 'Angry Feminist' and explicitly listed out all the reasons – from matters of consent to common beliefs which claim that "feminists ko humour samajh nahi aata". As she revisited the utility of fair and lovely creams, she raised the redundancy of the concept of fairness by asking a pertinent question "Par bhai ek baat batao, fairness creams for vagina ka kya logic hai?"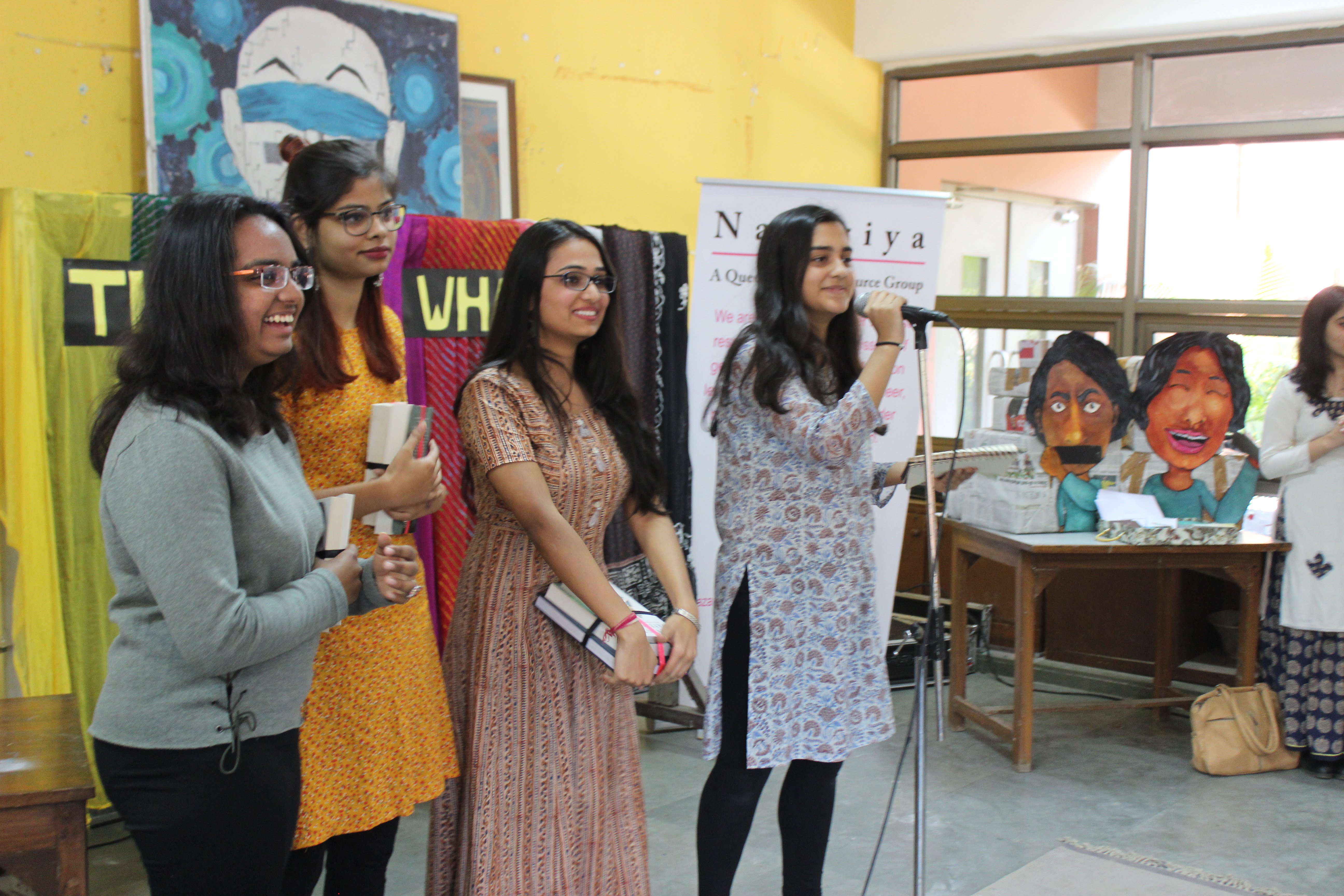 As the first day came to a close, Dr Anjali Bhatia praised the winning moment of every piece in acknowledging the unsaid and saying what needs to be said. Following which, the second judge, Daniel Fernandes who was initially a little wary of what the content was going to be like announced what he saw as a hopeful future. However, he was quick to also add, "My only regret is that there aren't enough men here".
In what was a continuation of the point raised by Fernandes, the second day had WDC organising its second event, In Hysterics, a solo feminist stand-up event which saw more male participants than female. Over the past few years, the stand-up comedy industry has boomed exponentially in India. However, there has always been a dearth of feminist issues and women stand-up comics in the comedy circuit of India.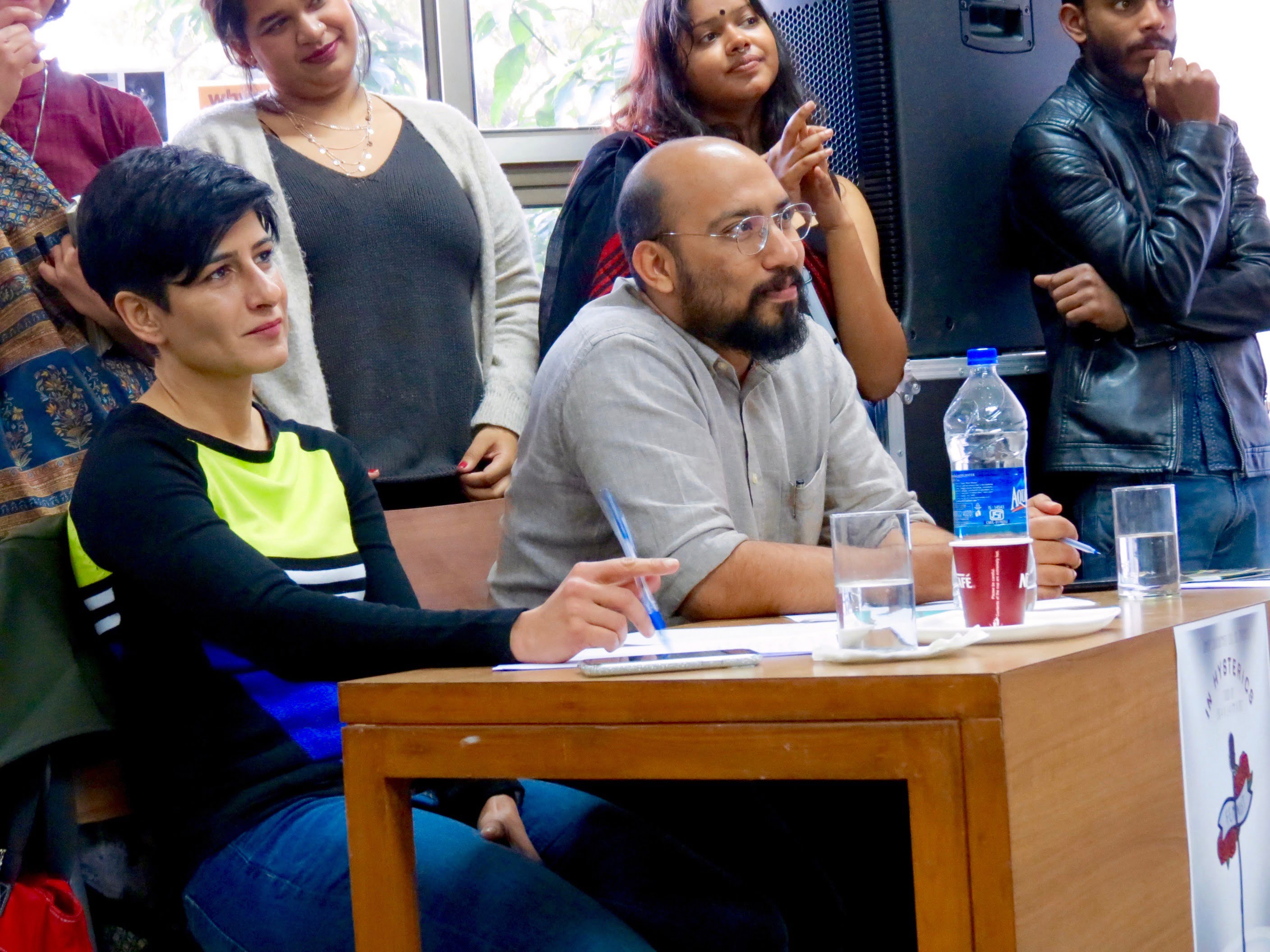 In an attempt to bring feminist issues under wider the ambit of stand-up comedy, 'In Hysterics' encouraged participants to create feminist humour. The judges for the competition were Mr Jonathan Koshy Varghese, a faculty member of the Department of English, LSR and Ms Neeti Palta, a renowned Indian stand-up comic and screenwriter. It was open to all genders and participants were free to interpret the topic in any manner they liked under the broad compass of feminism.
The motive behind the event was to subvert the stereotype that "women are not funny" while challenging the notion of hysteria which has been historically associated with "uncontrollable emotions" in women. It was once considered to be a mental health disorder and was widely used as a tool to regulate female sexuality. All the three women who performed during the event destabilized this sanction with their own unique brand of humour.
Sejal, the winner of the competition, used the size of her red heels as a metaphor for phallic widths and said that "men think too highly of themselves". Vipasha, who finished in the third place, had the audience laughing when she said that she would make a roti for a man, but not a sandwich because why follow the American standards of sexism when we had our own Indian ones. She finished this off by stating how Indian women are socialised and trained to make rotis since their childhood in every household.
While Sejal and Vipasha mostly focused on gendered stereotypes and sexual humour, Tabasum, the third female performer, talked about self-esteem issues in conjunction with her experience of dealing with an anxiety disorder. Her take on mental health in the form of dark comedy was hugely appreciated by Neeti Palta. In a way, she brought down the idea of female hysteria by talking about how she grappled with an actual mental disorder. As such, just by the virtue of their performance, all these women proved that women can indeed be funny.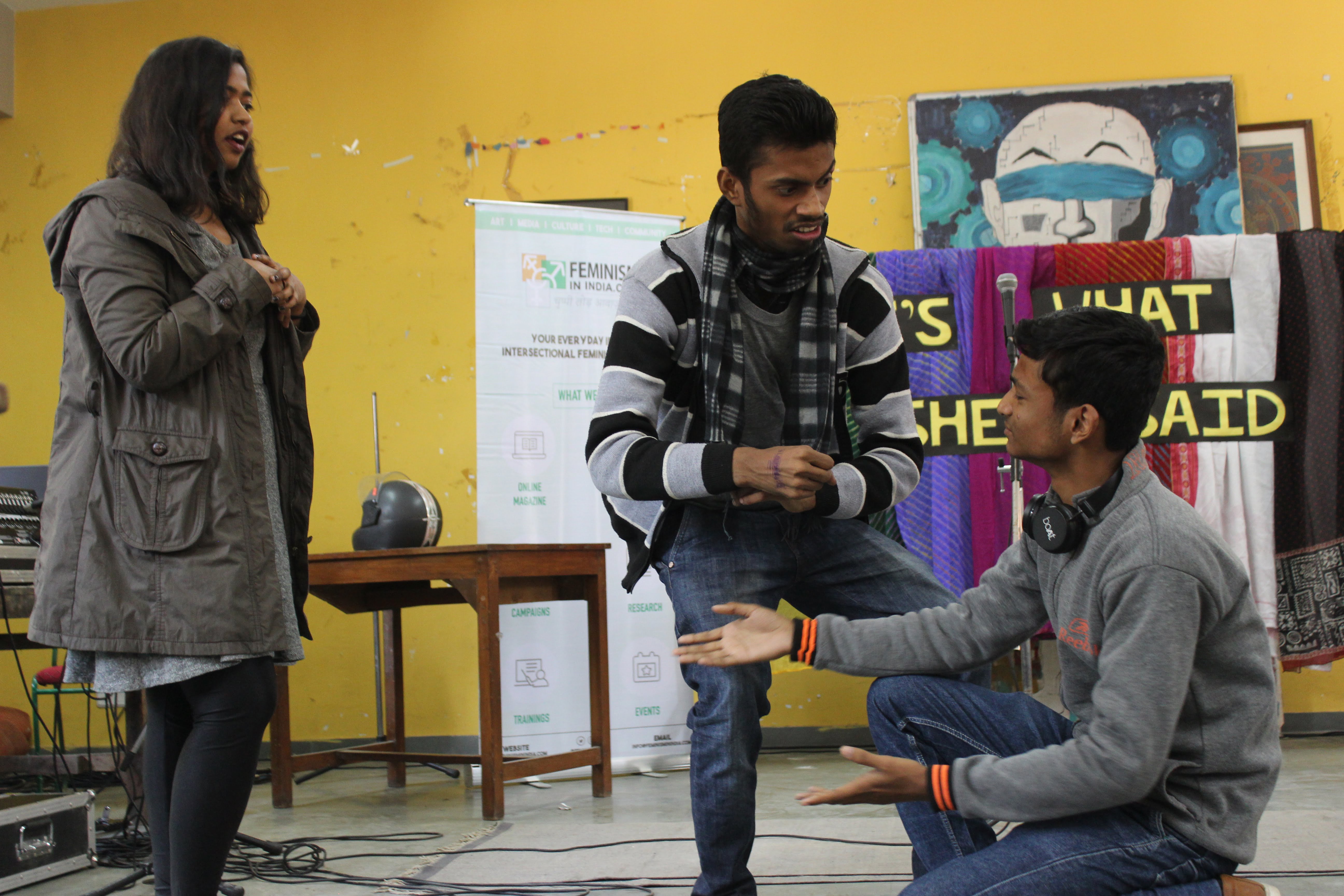 But what about the funny men? To be fair, it was interesting to see men engage with the concept of feminism. Shivam, a performer said that he was so feminist that even his raashi was kanya. Akash, the runner-up, became a favourite for many when he joked about slut-shaming. He said that he found it unfair that while a woman was labelled a "slut" for sleeping around with a lot of men, he was called "gay" for doing the same. Bringing in the concept of gender fluidity, another participant joked how there were sixty-four genders, two sexes and he identified as a "non-binary, pansexual, fidget spinner".
However, there were a few who questioned feminism by invoking the existence of the ladies compartment in Delhi Metros and on being 'bro-zoned' by women. These were also moments of disconnect between the performers and the audience that was followed by bouts of lulls and derision by some hecklers in the audience. In those moments, the gaps in the outreach of feminism and how it is perceived became more and more apparent.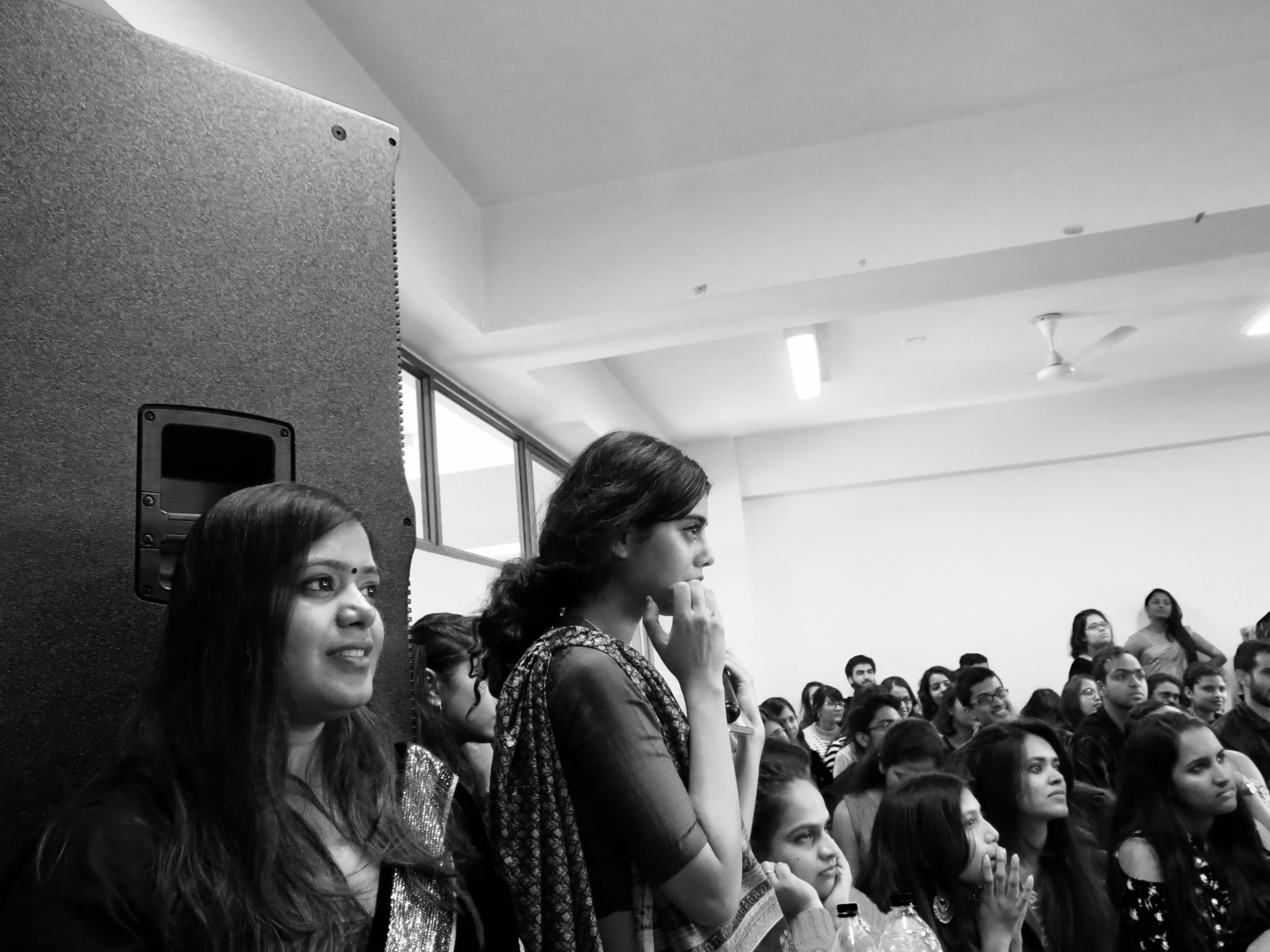 In the feedback session, Palta's professional experience showed as she gave the contestants tips on how they could improve on their content and engage more deeply with the audience. Jonathan Koshy Varghese kept it short with a witty and sardonic one-liner: "Most of you did well, some of you did what you did".
In the end, amidst moments of laughter and uncomfortable silences, both events showed that there is great need, now more than ever, for creative performances to engage and find newer avenues to interrogate the evolving concept of feminism. Humour as one sees has proven to be a good site of encouraging the kind of debate feminism deserves when it comes to its evolution in India.
Also Read: College Fests Are A Breeding Ground For Sexual Harassment | #MakeMyCampusSafe
---
Image Credits: Suramya Srivastava and Aditi Majumdar