Posted by Debopriya Roy
The 'City of Joy' unveiled its impatient face when a young couple was reportedly harassed (even beaten up) by co-passengers for hugging or rather, for being too close in a crowded metro compartment in Kolkata last Monday. A mob of middle-aged people dragged the couple off the Metro at Dum Dum station and they were beaten up until some other co-passengers helped them escape. A gamut of insulting remarks, "Why are you not going to a pub in Park Street? … Have a bed if you want to do these" followed the couple for hugging in public, said an eyewitness.

The ensuing protests
This incident shocked people since Kolkata is not a city used to much moral policing. Protests erupted with the slogans Hok Alingan (let there be hugging) and #Freehugs at Dum Dum and Tollygunge metro stations and also inside the metro coaches. Many influential feminists like Taslima Nasreen and Kavita Krishnan criticised the incident as well.
#KolkataMetro #MoralPolicing
It's true. Crowds on Indian trains stations feign blindness when a woman is molested or killed, or a Junaid lynched. But if they see a couple in love, they're morally outraged and become a lynch mob. pic.twitter.com/o2RxhmMREP

— Kavita Krishnan (@kavita_krishnan) May 2, 2018
Kolkata government and the metro's stand
In response, Kolkata metro came up with a Facebook post stating that they are not up for any kind of moral policing and that the incident was being investigated. Though it clears its stand against moral policing, it fails to take any legal action against the culprits. The Metro general stated that there is not enough CCTV footage to reach a concrete conclusion.
No official statement from the state government has been made so far. Finally, public protest demanding justice bore fruit when Kolkata Police registered a suo-moto FIR on Saturday to nab the culprits involved in the incident.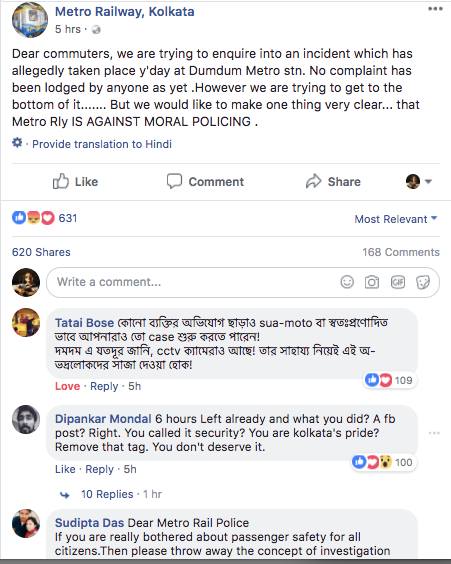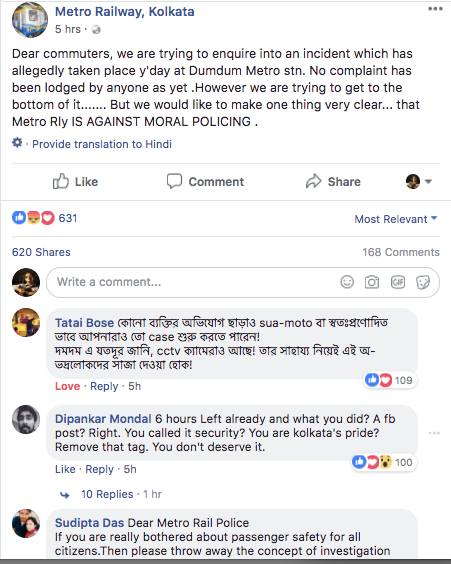 Victim blaming: MJ Chaitali with a different narrative
Meanwhile, MJ Chaitali of Big FM came up with a video, narrating the "actual story" on the incident and ridiculed the public protest of embracing each other by bringing in an analogy with the Chipko Movement. 
According to her narration, based on the testimony from a nameless acquaintance of hers, the couple was actually performing something more than hugging and kissing (she called it rangraliyan), which is offensive and hence their being beaten up by a mob is justified.
However, after receiving backlash from the comments on her Facebook page, she removed the video and stated that it was never her intention to hurt (or misguide?) people.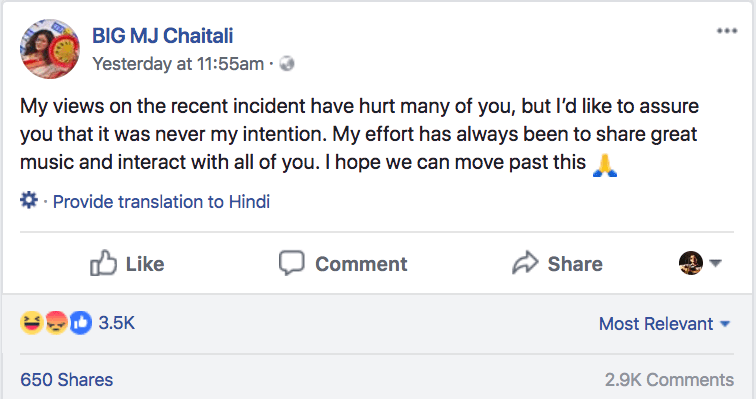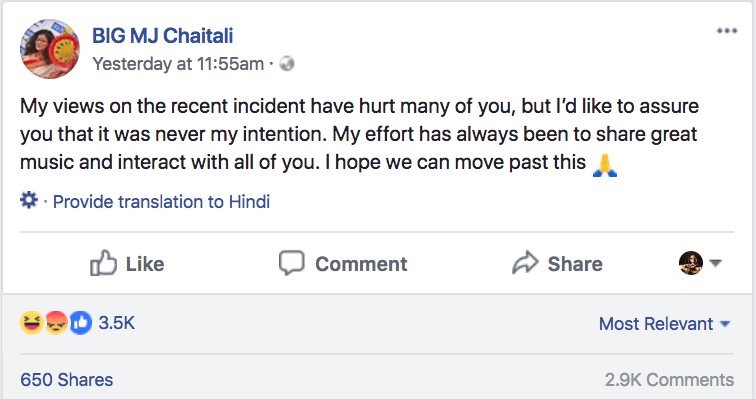 Online trolling and mishandling of protesters by the police
After Monday's incident, Facebook users started harassing random men in virtual places without any evidence. When MJ Chaitali's video started getting viral, a good proportion of netizens turned their focus from slamming innocent elderly men and trolling MJ Chaitali. Murky memes overflowed newsfeeds, which begs the question: are not these trolls equally problematic as the attackers in Monday's incident?
Also Read: Why Is Everyone So Afraid of Girl-Boy Friendships?
On the other side, the protests at the Metro were not welcomed by the police and one of the protesters got molested by a middle-aged man, who managed to escape in the presence of the crowd and police. This certainly shows how crimes continue to happen by abandoning safety and fundamental rights.
Laws of the land: PDA and obscenity
The way MJ Chaitali puts it, "Amader bhai bujhte hobey nijder limitation-ta" (We have to understand our limitation), perhaps is the fundamental thought to each and every case of moral policing. Now, who will set the limit? As a citizen of a democratic nation, everyone has the right to do anything peacefully without disturbing others.
The Indian Constitution safeguards its citizens' Right to Freedom under Article 19 of Fundamental Rights. Then why should there be an upper hand in controlling a citizen's activity? Though Section 294 of the IPC prohibits people from obscene acts in public places, the word "obscenity" lacks a clear definition.
In 2009, the Delhi High Court stayed a case lodged against a young married couple who were booked by Dwarka police for allegedly kissing in public. Justice Muralidhar had stated that, "It is inconceivable how, even if one were to take what is stated in the FIR to be true, an expression of love by a young married couple would attract offence of obscenity and trigger the coercive process of law".
Despite this ambiguity surrounding the word "obscenity", a question naturally arises following the incident: does any "respected" older citizen have the right to beat anyone up for "being too close" in public? For any functional civilisation, the answer must be NO! 
Rethinking our cultural atmosphere
The incident and its aftermath raise a big question regarding freedom of expression and its constitutional security in India. Moral policing happens in the form of harassing couples in the name of women's protection by the anti-Romeo squad, beating couples on Valentine's day, and beating women in a pub, which can be connected to a political organisation's ideology.
St Thomas Central School in Thiruvananthapuram suspended a boy and a girl from school after the boy hugged the girl to congratulate her for her performance in a school festival. The school authority labelled the hugging as a sexual act that damaged the school's reputation. Though the Child Rights Commission recommended the school to take the students back, after being challenged at the Kerala High Court, the court upheld the order of suspension.
We can also reflect on the raids by Mumbai police and slapping couples in hotels. In many hotels in India, unmarried couples are not entertained. The "moral policing" alert can be found in many reviews of Indian hotels.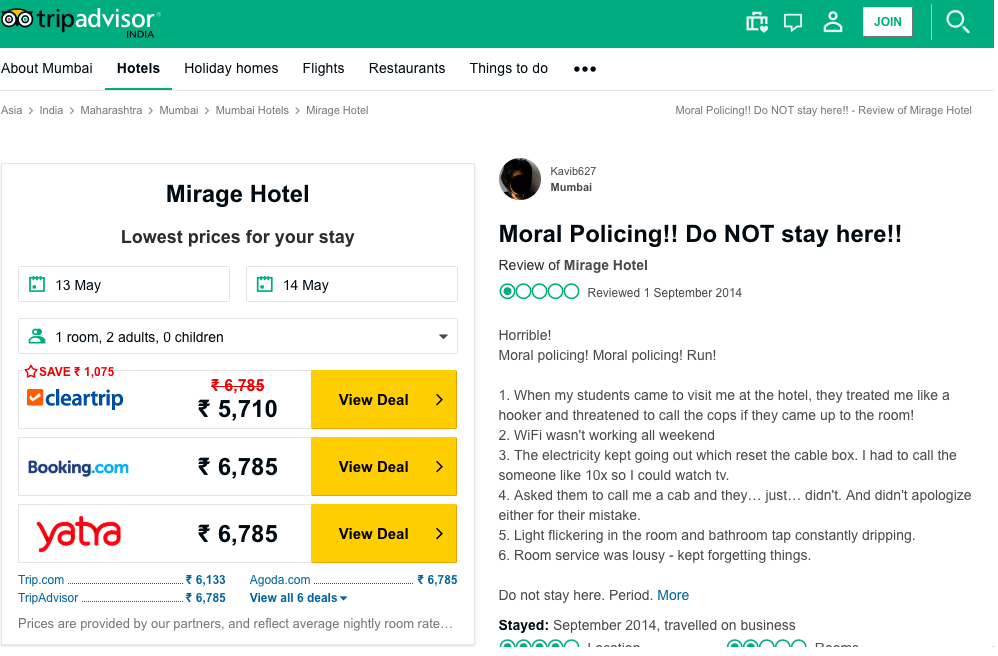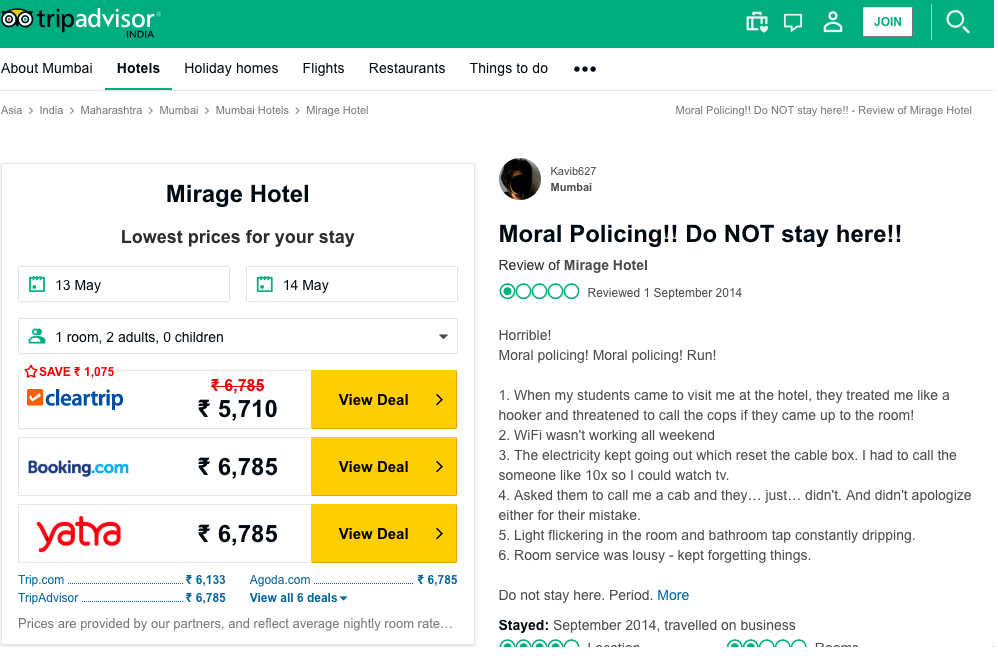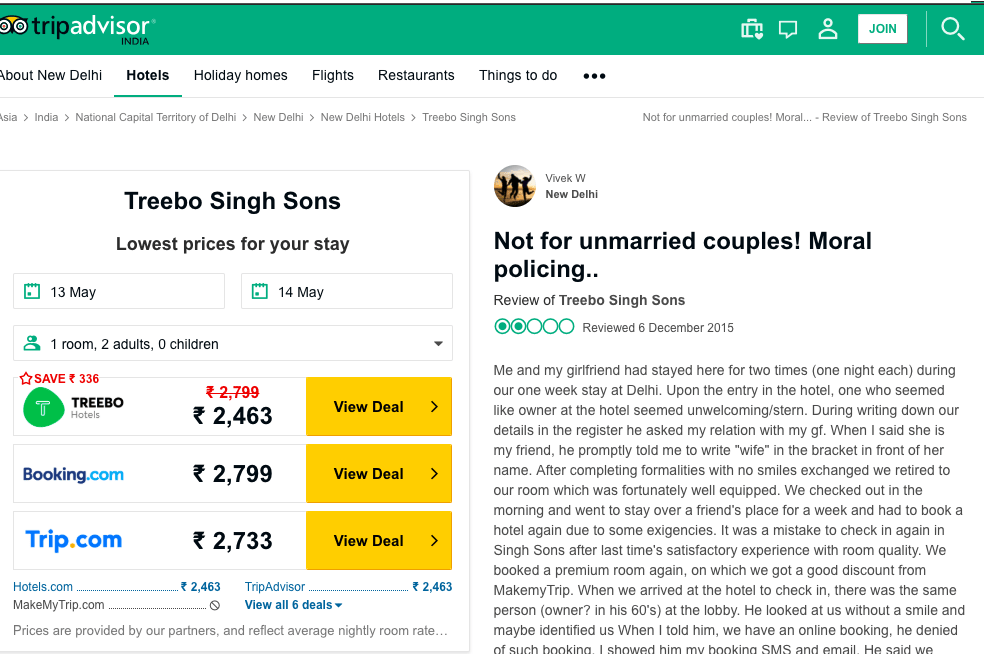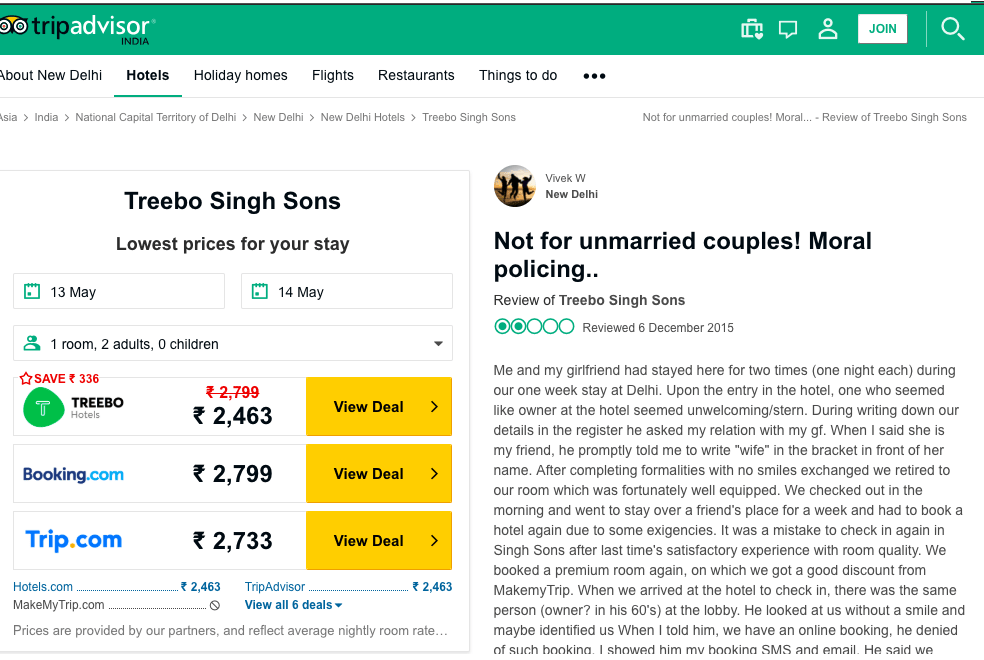 This certainly reflects the patriarchal mindset in the garb of Indian culture. If such a culture instils fear, revokes the freedom of expression, right to love, right to express love or affection and the right to live peacefully, don't we need to change it? It's high time we challenge patriarchy-backed regressive parts of culture and let it evolve.
Also Read: University Of Hyderabad At It Again: Moral Policing And Suspension Of 10 Students
---
Debopriya Roy is a post-graduate student of Journalism & Mass-Communication at Jadavpur University, a photographer by avocation and an amateur content writer (mostly in Bengali) and obviously a feminist! Sge can be followed on Facebook and Twitter. 
Himadri Barman co-authored this piece and helped with his insights and editing. 
Featured Image Credit: Dailyhunt