Everyone has this one moment that comes to their mind when they think of a celebrity or a politician, or anyone they admire for that matter. My first memory of Karunanidhi is a peculiar one. I wouldn't say I didn't know about him till then but rather that I didn't pay attention to his political career till that day. I remember being a young girl travelling in a train when I noticed a transgender woman asking for money from many of the passengers. I realised she was different from the others and the others were treating her very differently indeed. When I asked my mother who she was, she answered "a thirunangai".
The word seemed strange to me. Strange, because I've been speaking Tamil, my mother tongue, for so many years yet I had never heard this word used before. When we got back home, I started asking my dad about it and he told me that thirunangai is used to refer to a transgender woman. I fell in love with that word because it had the idea of respect inherent in it. Thiru is a respect marker in Tamil and nangai is the word for a lady or a woman. So the word Thirunangai literally translates to 'respectable woman'. How beautiful does that sound! So on reading further about the word, I got to know that it was Dr. M. Karunanidhi or Dr. Kalaignar as he is fondly called by his followers, who coined this term. This one particular incident left a strong mark in the mind of the child I was.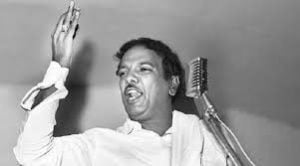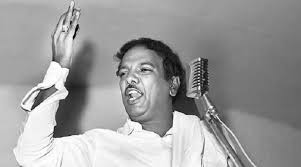 Since then, I have been following Karunanidhi's political career whenever I could. Fortunately for me, my dad was working on his PhD thesis which focused on the reforms and measures of Tamil Nadu government for a certain period of time. It was then I became aware of Karunanidhi and his ideology. As I read more and more about him, I realised that he was a feminist at heart and truly worked hard for the welfare of the minorities, unlike many politicians who simply just claim to do so. As I read about him, I also came to realise that he was a voracious reader, a prolific writer and a prodigious activist.
Karunanidhi vehemently opposed all hegemonies and struggled hard to break the strangles of brahminical caste politics.
Karunanidhi began his career at a very young age of 14 by joining the Dravidar Kazhagam which was led by Periyar E. V. Ramasamy. At an age of 14, he denounced religion and called himself an atheist and he remained to be so till his last breath. Ever since he joined the party, he had been politically active. He became the leader of the youth wing of the party and spearheaded several movements as its head. It was one such movement that caught the attention of Tamils.
The incident took place in a small village named Kallakudi where the Dalmia cement factory had been set up. The village's name was changed into Dalmiapuram though the villagers opposed the move. Being a part of the protesters opposing this move, the young activist Karunanidhi put his head down on a railway track and refused to move until the name was changed back to Kallakudi. This particular incident changed the minds of people and Karunanidhi became a common name in every household in Tamil Nadu.
Also read: Annai Meenambal Sivaraj: The Tamil Dalit Woman Leader | #IndianWomenInHistory
Karunanidhi was a true leader in every way. He stood for the minorities and he believed in equal rights for women just like his guru, Periyar. Karunanidhi vehemently opposed all hegemonies and struggled hard to break the strangles of Brahminical caste politics. Soon after the demise of his Gurus Periyar and Annadurai, Karunanidhi became the flag bearer of the Dravidian movement. He fought against Hindi imposition and the Brahminical notions that were imposed on Tamils. He befriended members of all religions and read all their religious texts, something that was often criticised by religious outfits.
It was Karunanidhi who changed the lives of many minority groups by establishing as many as 30 welfare boards. He set up welfare boards for transgender people, for tribals, for fishermen, for people with disabilities, for scheduled castes, for denotified communities, for artists – the list goes on. Tamil Nadu was the first ever state in India to issue identity cards to transgender people and Karunanidhi was the person to put forth the idea of including 'transgender' as the third gender officially. The visionary in him had always been supportive of women and minority genders.
He allotted funds for pregnant women and widows and encouraged widow remarriages across the state.
He introduced self-help groups for women. He introduced 30% for women in State Government jobs and 33% reservation for women in local elections. He supported self-respect marriages where families didn't have to mortgage or sell their houses and jewellery to get their daughters married, as proposed by Periyar. He ensured that women could claim equal property rights. He allotted funds for pregnant women and widows and encouraged widow remarriages across the state. These movements definitely changed the lives of thousands of women all over the state.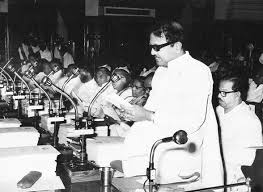 No one understood the violence of caste as much as this leader. He struggled to defeat caste hegemony with several reforms. He revised the list of Backward Category and Most Backward Category in Tamil Nadu and brought in reservation for MBCs, SCs and STs in all government jobs. He also allotted 3% reservation for the Arunthathiyars within the Scheduled Castes, in spite of facing a lot of opposition against it.
he believed that everyone must have access to education. He set up many universities across Tamil Nadu.
Karunanidhi never forgot that agriculture was the backbone of the country. He provided free electricity to farmers and ensured the availability of electricity to all the villages that were located in the furthest corners of the state. He laid concrete roads in villages, ensuring transport and connectivity across Tamil Nadu.
Being a man with very little education, he never failed to emphasise the need for education. Following the footsteps of Kamarajar, he believed that everyone must have access to education. He set up many universities across Tamil Nadu. It was under his governance that the Tamil Nadu Veterinary and Animal Sciences University was set up, the first one of its kind in Asia. He also set up the Anna Centenary Library, which is the biggest library in South Asia, which has a built-in high tech section for readers who are visually challenged.
Although Karunanidhi is known as a politician, it would be unfair to talk about him without mentioning how multifaceted his career was. While acting as a chief of the Dravida Munnetra Kazhagam (DMK) party, he still continued to write scripts and screenplays for movies. It was his dialogues that established Sivaji Ganesan as a popular figure in Tamil film industry. No one can ever forget the famous line "Odinen odinen vazhkayin ellai varai odinen" (I ran and ran till the bounds of life) in the movie Parasakthi. One can sense the pain and fright of the young man in that scene through the brilliant and powerful dialogues uttered by him. It is that court scene that comes to one's mind whenever anyone mentions Sivaji Ganesan.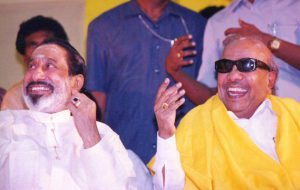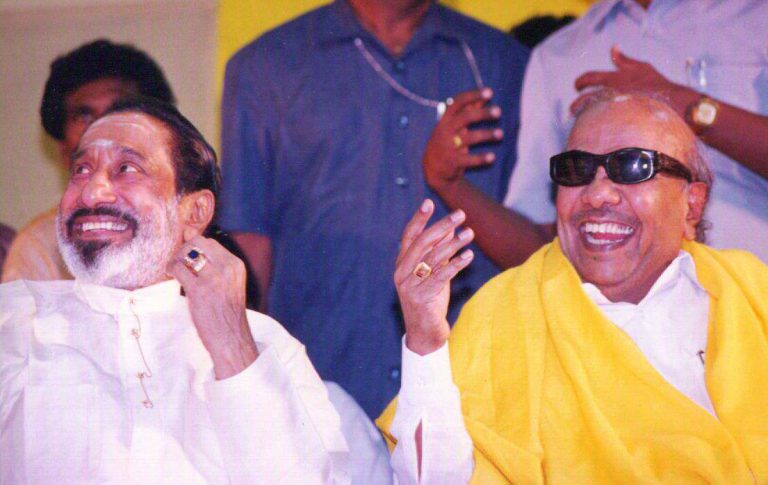 The leftist activist in him was often reflected through his screenplays. The movie Panam (Money) discussed various social issues such as untouchability and self-respect marriages. He actively wrote for movies till 2011. His last stint in film industry was his screenplay for the movie Ponnar Shankar, a movie adaptation of his novel with the same title.
One of the things that made him a distinguished Dravidian politician is how he took his decisions. Although a Marxist and a socialist at heart, he never stopped capitalists from establishing software companies in Tamil Nadu. He foresaw the potential of IT industries booming into the quintessential industry in the 21st century. He encouraged corporate establishments in and around Chennai and in major cities of Tamil Nadu. This decision of Karunanidhi saved the lives of many students who took up professional courses. Chennai became what it is today because of these establishments. He had the knack of balancing himself well as a leftist and a pro-capitalist, a rare quality in a politician.
His biggest flaw was letting his children use his position to their advantage for which he is often criticised.
He very strongly believed that religion must be kept out of politics and taught the world that you do not need God or religion to be an able administrator. He stood by his ideologies and never ceased to surprise or impress people. Karunanidhi refused to take orders if they did not seem moral. Even in the Emergency under the leadership of Indira Gandhi, he never yielded. When the Prime Minister had ordered him to arrest Kamarajar, the former Chief Minister of Tamil Nadu, Karunanidhi refused to do so and stood by his words all the while knowing that it might affect his position as the Chief Minister of Tamil Nadu. He didn't budge even when Mrs. Gandhi eventually dissolved his government later. Karunanidhi knew his ground, and was humble enough to say no when he was given a chance of being the Prime Ministerial candidate, an honour that many politicians would fight for these days.
I would be a hypocrite if I made it sound like he was flawless. Like every other human being, like every politician, he did come with his own set of imperfections. His biggest flaw was letting his children use his position to their advantage for which he is often criticised. Yet, I adore him for his achievements, because as a millennial, I am yet to come across a leader as strong, a leader as resilient or a leader gritty enough to face every challenge that came his way.
Also read: How Jayalalithaa Combatted the Sexism in Tamil Nadu Politics
Tamil Nadu owes a lot to this relentless leader. If you are from a lower class and are educated or if your parents have a respectable job, if you work for an IT company and still stay in Tamil Nadu, if you know how to address a transgender person without disrespecting them, if you have had access to electricity living in a far-off village in Tamil Nadu, if women are treated respectfully after re-marriage, if you see a non-Brahmin inside the sanctum sanctorum of a temple, if you as a daughter, can ask for a share in your father's wealth just as rightfully as your brother can, if you can proudly call Tamil a classical language, thank this man. This man who fought for all your rights.