"লড়াই, লড়াই, লড়াই চাই/

লড়াই করে বাঁচতে চাই"

Let us fight for our rights and live our life.
You do not get to hear such slogans on the streets of my city very often. You do not get to see the entire city street getting decked up to celebrate something which millions have longed for years. You do not get to encounter thousands of smiling faces walking down the streets unanimously to be a part of the celebration in my city everyday.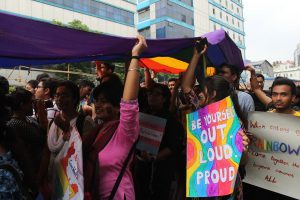 16th September, 2018, will remain memorable and remarkable day for the 'City of Joy', Kolkata. While the historical verdict of the Supreme Court on 6th September, 2018, embellished the sky with the seven colours of rainbow, only ten days later, the City of Joy witnessed rainbow getting painted in hundreds of happy faces.
I had an astonishing experience when I attended the 16th Kolkata Rainbow Pride Walk on 10th December, 2017. It gave me goosebumps seeing how 'love' can be celebrated in all its forms. Things which I took back with me from the walk on that day were hope, belief, and joy. For me on that day my city turned into haven, which I did not know of before, where every identity gets celebrated for what it is.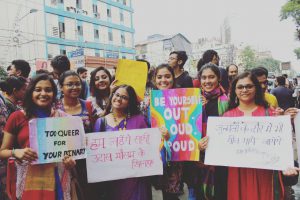 Nine months later, I was walking down the street again with rainbow flag in my hand and this time with a bigger smile on my face because the most inhuman provision of Article 377 has been struck down. AS I participated in Kolkata's queer walk, I was delighted that my city did not disappoint me.
Also read: My Pride 2018: Queer Event Organised By The Students Of Kolkata
Each and every member of West Bengal Forum For Gender And Sexual Minorities, who have conducted this queer walk, Down With Fascism and made such a day possible should be accredited. The route for the queer walk was from Jatin Das Park metro station to Ranu Chaya Manch.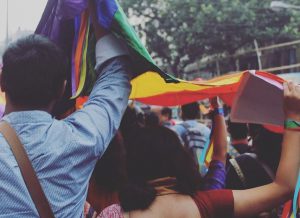 To be able to hold the 'pride' flag high and this time shouting out even louder and cheering, "ভালোবাসার জয় হয়েছে" (Love has won) overwhelmed each one of us with enormous sense of empowerment. The dull streets of the city of joy on Sunday was celebrating love and happiness in its own ways. It was in the form of dancing, in the form of slogans, in the form of music. Everyone in the street was not only in their colourful best but also in high spirits. The scorching heat could neither dull the enthusiasm nor the spirit of celebration. Every poster narrated the story of protest, victory, love, and accomplishment. A lot of cameras flashed here and there with the only aim to capture all the extraordinary moments of celebration.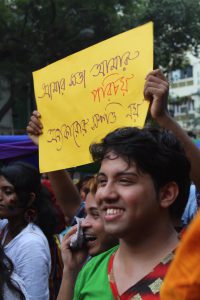 The queer walk ended with extra ordinary dance performances. A stage was set up in Ronu Chaya Manch which got lighted by sensational performances. The music chosen for one such performance said it all, "Pyaar Kia to Darna Kya" (Why Should We Fear to Love?)
There was not a single moment throughout the journey of the queer walk where my face was tired of smiling. The queer walk of 16th September, 2018, implied love can beat the heat of the afternoon and also in the longer run can topple fascism.
While returning from the walk this time, I took back the feeling of triumph, lots of love, and some hope. I asked myself, if I have ever witnessed desire and politics emerging unvanquished at the same time?
I told myself, may be that day is not too far away. May be soon various 'unconventional' expressions around us will be able to fight against all forms of discrimination. Maybe soon the patriarchal structures of power will be overthrown from the throne. Maybe soon, the gap between 'us' and 'others' would be bridged and may be the day is not too far when our dream of a world where every identity will be equally celebrated can be attained.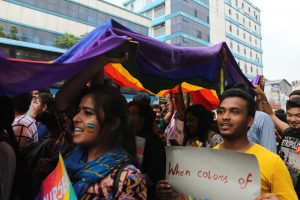 Though now it is still 'maybe', I shall continue to sing myself every time I become pessimistic and start doubting this 'maybe' – আমরা করব জয় নিশ্চই! (We shall overcome someday!)
Also read: A Win, With A Long Road Ahead: The Supreme Court Repeals Section 377
Happy Pride.
---
Photography by Bikshan Banerjee