There is a distinct lack of women in crucial positions, a problem that still persists to this day. So, one can imagine the condition in the 20th century when every profession was largely male-dominated.
Going toe-to-toe and mingling with men could create an upheaval for the 'Indian Culture' according to the conservative society – a notion that hindered women from pursuing higher education and limiting women from to the confines of their home. But there were women who refused to bow down to patriarchy and raised questions against the violation of fundamental rights of women. By demanding what was rightfully theirs, these women defied conventions and realised their dreams.
One such trailblazer was Anna Chandy.
Anna Chandy was India's first female judge and the first woman in the country to become a high court judge. It is also contested that she is most likely the second woman in the world to become a high court judge after USA's Florence Allen who was appointed as a judge in 1922.
Her Struggle To Become A Lawyer
Born in 1905, Anna grew up in Trivandrum (Thiruvananthapuram), Kerala, and belonged to a Syrian Christian family. She was benefited by the matriarchy that was recognised and followed by many communities in Kerala.
Braving through society's and her male colleagues' scornful attitude, Anna became the first woman in Kerala to obtain a law degree.
Braving through society's and her male colleagues' scornful attitude, Anna became the first woman in Kerala to obtain a law degree. She completed her post-graduation in 1926 with distinction from the Government Law College in Trivandrum. She started practising as a barrister in 1929 and specialised in criminal law, earning widespread acclaim for fighting criminal cases.
More than a lawyer
Besides crusading for justice, Anna worked towards the upliftment of women as well. In 1930 she became the founder and editor of Shrimati, a Malayali magazine that served as a platform for the advancement of women's rights. In her periodical, Anna questioned societal norms mired in misogyny that affected everyday women, widow remarriage and women's freedom. She also stressed upon the enormous wage discrimination faced by women who work in farms. For her endeavours towards pushing issues plaguing women to the forefront, she is touted as a 'first generation feminist'.
Foray Into Politics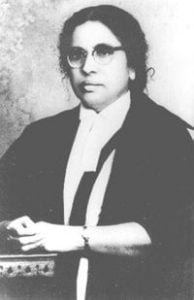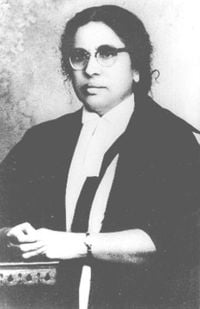 In 1930 she decided to stand in the elections for the representative body of the Travancore state (Shree Mulam Popular Assembly) and was met with hostility. Both her opponents and news publications launched a smear campaign against Chandy accusing her of having personal connections with the Dewan of the state – a discriminatory tactic still used to this day to malign a woman or reduce her credibility. The rumours did the trick and she did not win.
Not one to be bogged down by subjugation, Anna campaigned for the elections again in 1931. By then she was a fairly well known public figure. She won the seat in the assembly for a tenure of 2 years from 1932-34.
Champion of Equal Rights
When a fellow legislator spoke out against giving government jobs to women, Anna gave a befitting reply to this regressive remark in her speech, "From the elaborate petition, it is clear that the plaintiff's immediate demand is to ban all efforts by women to gain employment, on the grounds that they are a bunch of creatures created for the domestic pleasures of men, and that their lives outside the hallowed kitchen-temples will harm familial happiness."
Also read: Justice Indu Malhotra: Seventh Woman Judge Of The Supreme Court
It was due to her unrelenting fight for reservation for women in government jobs that led to the abolishing of the statute that prevented women from working in government jobs. With that, she became one of the first women in the country to fight for women reservation. She was a firm believer of equality between men and women. In 1935 she raised questions against the law exempting women from being given death penalty.
Anna Chandy also became the first woman amongst the commonwealth nations to become a High Court judge.
Anna was a torchbearer for advocating for women's agency to choose for themselves and advanced women's rights to a considerable extent. She contended against the Travancore law which allowed men conjugal rights without taking into consideration the consent of their wives.
Her stance on reproductive rights still reflects the reality of the times we live in. In one of her speeches, Anna was a strong proponent for the bodily autonomy of women. "Many of our sister-Malayalees have property rights, voting rights, employment and honours, financial independence. But how many have control over their own bodies? How many women have been condemned to depths of feelings of inferiority because of the foolish idea that women's body is an instrument for the pleasure of men?"
First female judge
Anna became the first female judge of the country when she was appointed as the munsif (judge) in Travancore by Sir C.P. Ramaswami Iyer, the Dewan of Travancore, in 1937. This revolutionary move put a spotlight on her as her peers waited for her to make a mistake so they can pin it on a woman's inability to make 'logical unbiased decisions'. Chandy understood the gravity of the position she held and with all eyes on her, she admitted to feeling the weight of potential future women lawyers on her shoulders.
In a speech, she recounted what was going through her mind, "I must admit that I was not free from trepidation when I first stepped up to the Bench. However, what was foremost in my mind was a fierce determination to make a success of this experiment. I knew I was a test case… If I faltered or failed, I would not just be damaging my own career, but would be doing a great disservice to the cause of women." Later on, she was promoted to the position of District Judge in 1948.
Setting yet another historical precedent, Anna became the first woman judge in an Indian High Court when she was appointed to the Kerala High Court on 9 February 1959. Not only India's first female judge, but Anna Chandy also became the first woman amongst the commonwealth nations to become a High Court judge.
She held her position until 5 April 1967 and proceeded to work in The Law Commission of India after retirement. Her autobiography titled Atmakatha was published in 1973 and she died at the age of 91 in 1996.
Also read: Dr Muthulakshmi Reddy: Founder Of Adyar Cancer Institute | #IndianWomenInHistory
Anna Chandy's illustrious career raised hopes for the inclusion of women in professional spaces. She raised her voice against the status quo and paved the way for women after her, inspiring them to be lawyers and judges. Her consequential contribution proved to be a stepping stone for the involvement of women in the judiciary.
References
1. Navrang India
2. Live History India
3. Been Inspirer
---
Featured Image Source: Samanya Gyan