Hearing the stories of women and girls from Mumbai communities where abuse and violence are prevalent was mind-blowing — it made me zoom out from what I usually think about as a high schooler, and for once contemplate these real, heavy, heartbreaking issues that girls my age are dealing with every day — and that might not have crossed my mind if I hadn't been able to talk to them in person. It was a privilege to meet these women.
The above is a reflection from Veda Rodewald, a ninth grader at Ascend International School, when she heard from 10 groups of women and children about community-based projects that they have designed to prevent threats to child safety in their neighbourhoods. The women and children came to make presentations at Aangan from Mumbai bastis in Wadala, Bhajiwadi, Govandi, and Raey Road that have high incidences of child sexual abuse, early marriage, and child labour, and are hotspots for trafficking.
Veda and her mother Varsha will be supporting Girl[Solar]Power, a project led by girls in Wadala who plan to bike through their basti once a week holding solar-powered flashlights, to bring light to the corners of their community where there is darkness. N (age 18) from Wadala shares, "Groups of men often lurk in the dark corners near our community's communal toilets, getting high and teasing us, so we feel scared to use the bathroom at night. The toilets for our neighbourhood are about a 20-minute walk from where our houses are — most nights my mom will suggest that I don't eat or drink water in the evening so I won't have to use the bathroom after dark."
Also read: The Silence We Carry: Childhood Sexual Abuse and Mental Health
Rather than being disheartened by this daily reality, N is determined to make sure that any girl in her community can leave her home at any time without fear  –  "If men are in gangs, we'll make a gang too  –  a girl gang!" she jokes. "We'll hop on our bikes, 40 or 50 of us at a time, and we'll ride around with our bright lights shining and show everyone in our community that the right to this space is ours, too."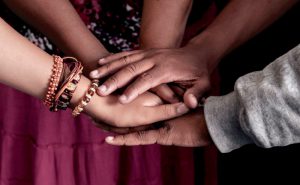 Moved by their presentation, Varsha Rodewald reflected, "Access to sanitation facilities when required is not just a basic need but a human right. We don't want anyone, let alone girls, to be deprived of this for fear of eve-teasing or molestation. If it takes some solar lights and a handful of bicycles for the girls to demonstrate their right to do so, then so be it."
Radhika Chopra felt the same way after hearing the Girl[Solar]Power group speak. "I am so inspired by their endless spirit and determination to push through their challenges and come out winning! Their sincere intentions and 'can-do' attitude are infectious. I am all in!"
Since we've been working on these activities at the community centre Aangan set up, my parents aren't scared to let me leave my house anymore.
In Bhajiwadi, a group of girls is using street theatre performances for their peers to raise awareness about restrictions on girls' rights that they commonly face in their community. K, one of the Aaj Badalenge Kal group members, shares, "A lot of parents don't want girls to leave the house because they have heard what kinds of things happen when girls go outside. But since we've been working on these activities at the community centre Aangan set up and my parents see how confident I've become, they aren't scared to let me leave my house anymore. What I want to do now is bring that level of freedom to the hundreds of my peers whose parents still feel the way mine used to."
After watching a short performance by the group, sister duo Priyankaa and Pooja Vir signed on to support their project. They said, "We were blown away by their grit. Every single project threw a spotlight on the incredible spirit and determination of these young girls and women, refusing to accept a life that 'fate' has supposedly doled out to them."
They also added, "Given our own interest and Priyankaa's experience in the performing arts, Aaj Badalenge Kal struck a very special chord with us. The arts have a transformative, healing power. A power to allow the performer to experience life in a new way. We are confident the performances will push their audiences to challenge their notions about safety, gender inequality, and discrimination, and force them to engage as active citizens in a changing world. We feel lucky to have the opportunity to support such a powerful cause."
In the same neighbourhood, V and A are determined to change the way their male peers act toward girls. "A lot of boys, including ones we hang out with, have no problem with catcalling and verbally harassing the girls in our community as they walk by. We want to remind them that you wouldn't treat your sister or your mom that way, and it's unacceptable to treat girls like that," shares V (age 17).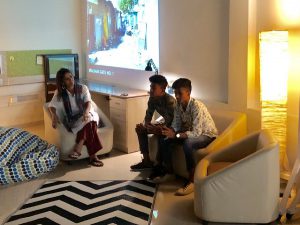 Their project, called Hamare Hero, aims to create short documentary films that depict incidents of eve-teasing that often occur in their community, and invite 100 boys in the community to monthly screenings and facilitated discussions to discuss the issue.
Priya Gaekwar decided she wanted to support this project as soon as she heard the ingenuity and passion with which the boys spoke, "Leading by example is a powerful way to create change. For these young teenage boys to not only stand up to their peers but also try to change their way of thinking is a courageous thing. To go against what is the norm in their neighbourhood, they are taking on a big challenge. Using the medium of video documentaries to spread their message and to educate their peer group is one I will definitely be supporting."
Moneisha Gandhi and her daughter Mira Dhall, a sixth grader, are excited to champion Ladki ki Kahani, Ladki ki Zubani, a community newspaper for girls, by girls that will raise awareness about how their community in Govandi can work together to prevent child harm.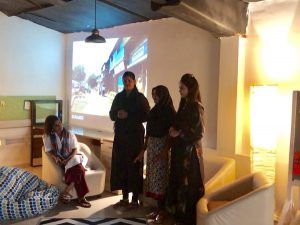 Mira reflected on the presentation, "It opened my eyes to see that the way these girls are living is so different from how I am living… and it made me want to do something about it. I loved their attitude! They were so determined and even with so many obstacles against them — even though they don't have to  –  they are still committed to making a change."
Moneisha reflected, "I want to support the girls from Govandi planning to publish a newspaper. They are so capable and they articulate their vision with such clarity of thought – I feel that they might be onto something that could be successful and game-changing."
She continued, "I also felt that these girls have a good pulse on how to make this newspaper both accessible and interesting to their target audience  –  and their publication would be a great way to disseminate information and influence large numbers of people in their community."
We train our women to recognise when parents in a nearby home are fighting  So we can make sure that the children at home don't have to observe violent incidents.
V, A, and S, three of our women volunteers in Raey Road, plan to start a group called Mothers for Mothers, a safe space for community maternal caretakers to spend time with peers and discuss challenges they face  –  many mothers in the community are single parents, divorced, or mothers of children who are at risk. "These mothers never do anything for themselves. So we want to do things as simple as having a cup of tea together, or celebrating our birthdays," shares V.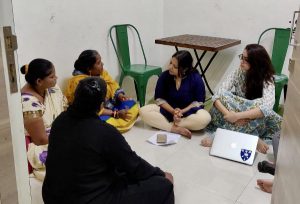 Through these woman-to-woman conversations, the group plans to discuss how to prevent common threats to child safety, and create a support network for one another. A adds, "We also want to disrupt incidents of domestic violence in our neighbourhood. We plan to train our women to recognise when parents in a nearby home are fighting  –  so that at the very least, we can make sure that the children at home don't have to observe incidents of domestic violence between their parents. Four of us will show up and just chat with the parents to try to diffuse the tension at home."
After hearing their presentation, Nayantara Piramal, a high schooler in the audience, reflected, "I was so moved by the depth and meaning behind their idea and the women's passion and love for doing this work." Her mother Reshma Piramal shared, "Linking individual empowerment with peer support makes good sense. Their idea is well thought out and Nayantara and I are excited to get involved."
Also read: 6 Times Desi Women Reclaimed Public Spaces As Their Own
 Veda reflected after the event, "I think it's so important to bring together people who don't usually interact in our society  –  and it dawned on me at this event that it's so easy. There's always this arbitrary divide between genders, religions, cultures, and I just think that helping one another break through that separation makes everything more beautiful."