The Transgender Day of Remembrance (TDoR) is observed all over the world on November 20th every year to memorialise those who have been murdered as a result of transphobia and to draw attention to the continued violence endured by the transgender community. It was started in the United States in 1999 by Gwendolyn Ann Smith, a trans woman, to memorialise the murder of Rita Hester, a black trans woman who was stabbed to death in her own apartment. It has since spread all over the world to highlight the devastating impacts of transphobia and transphobic violence. 
In India too, the transgender population remains one of the most vulnerable populations to violence. This is exacerbated for the trans community on the intersections of caste, class, disability and mental illness. Apart from facing the risk of violence and abuse, many victims of transphobic attacks are insensitively written about by the media, with misgendering and victim-blaming running amok in headlines and the news.
Each day of this week, FII pays tribute to a victim of transphobic violence to memorialise them.
1. Paachu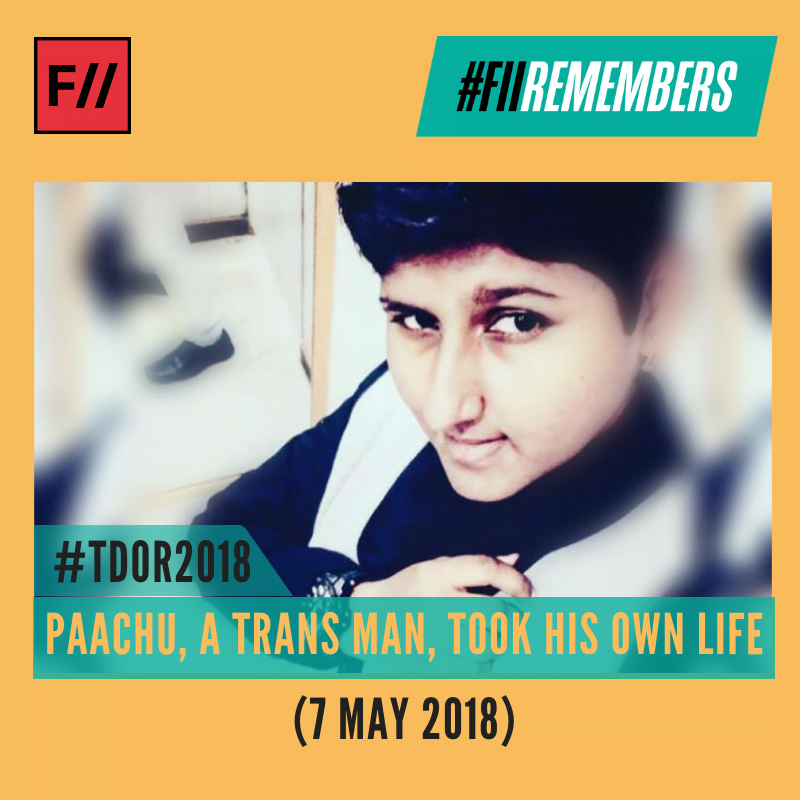 Paachu was a 22 year old trans man. On 7 May 2018, he was driven to suicide due to the ignorance and transphobia he was subjected to by the community and his family. While looking for gender affirming surgery, doctors asked him, an adult man, to get parental consent in order to perform the surgery. Parental consent is not required for adults to undertake gender affirming surgeries. Pachu's parents refused, leading him to jump to death from his hostel room in Trivandrum. This #TDOR2018, #FIIRemembers Pachu.

2. Pravallika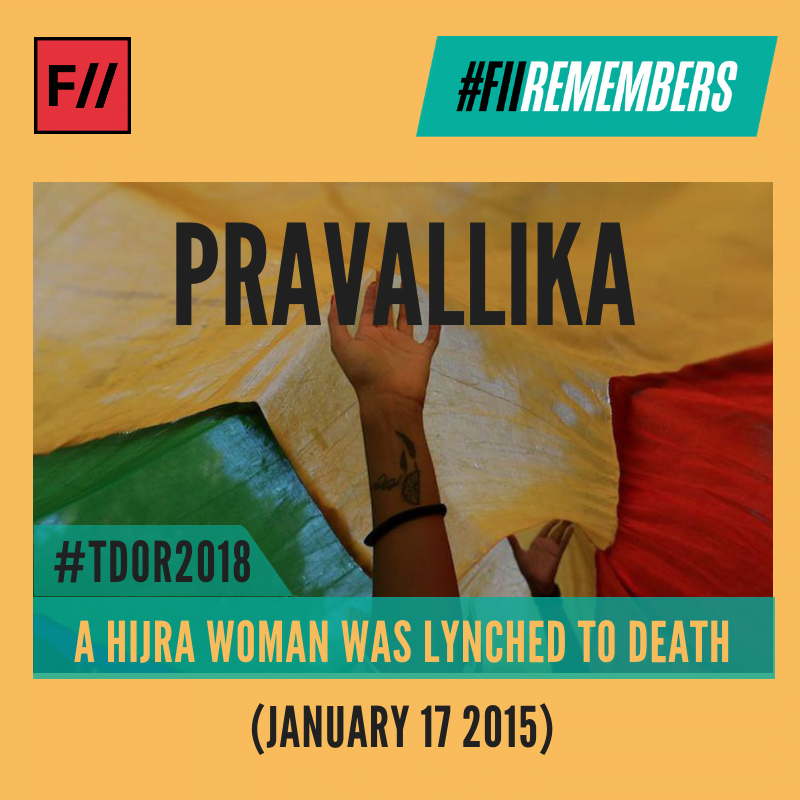 Pravallika was a trans woman who worked as a sex worker in Hyderabad. On January 17 2015, she was brutally lynched to death by a group of four men headed by the notorious Venkat Yadav, while they tried to steal her day's earnings. Venkat Yadav has been known and feared by the trans community for years, as he preys on hijra sex workers and has a verified history of stealing, extorting, assaulting and lynching trans women from the hijra community. Several FIRs against Venkat Yadav went unheeded until the murder of Pravallika. However, he is now again out on bail leading to the demand to #ArrestVenkat by several leading trans rights organisations
3. V Alphonze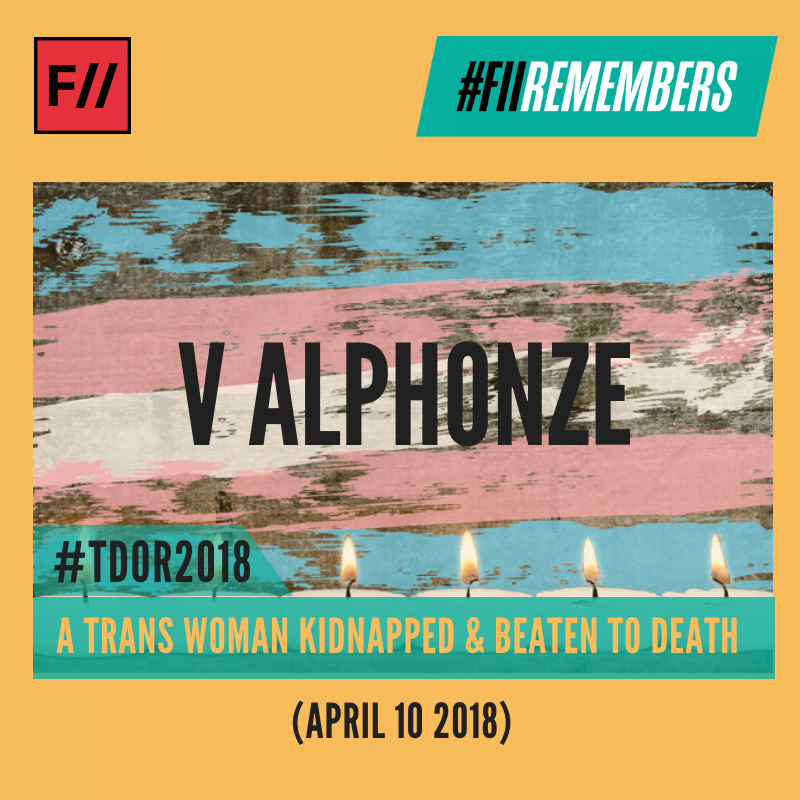 V Alphonze was a trans woman from Madurai. On April 10 2017, Alphonze was on her way to work in the morning when she was accosted by a gang at knifepoint and kidnapped. She was taken to a lodge where she was stabbed to death. The police apprehended the murderers as well as the owner of the lodge.

4. Tara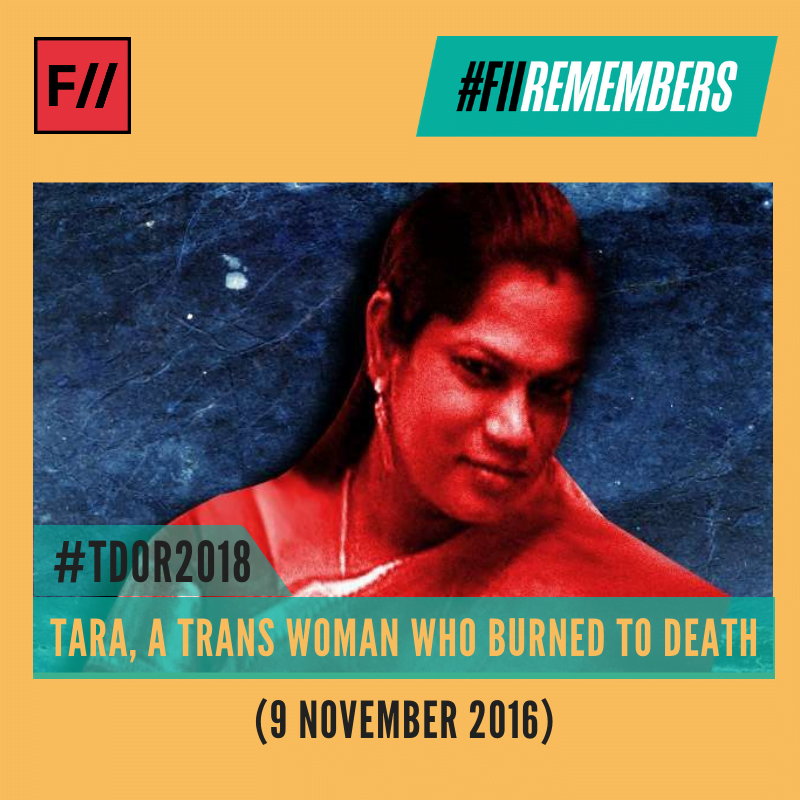 Tara was a trans woman from Chennai who was a social worker, transgender rights activist and a sex worker. On 9 November, Tara was found severely burnt outside a police station, and later succumbed to her injuries and died.
The transgender community blames the police harassment for her death. Earlier that day, a group of policemen stopped Tara outside a local market and accused her of being inebriated and soliciting customers for sex work. They confiscated her mobile phone and vehicle keys and took her to the police station, where the continued to taunt and verbally abuse her.
Videos taken around that time show Tara visibly emotionally distressed at the accusations. She can be heard warning the policemen that she would set herself on fire and that the police would be answerable to the government. The police allegedly responded that she should kill herself. The circumstances around her death remain highly suspicious and transgender rights groups have criticised the lack of transparency by the investigating team in handling this case.

5. Chandraiah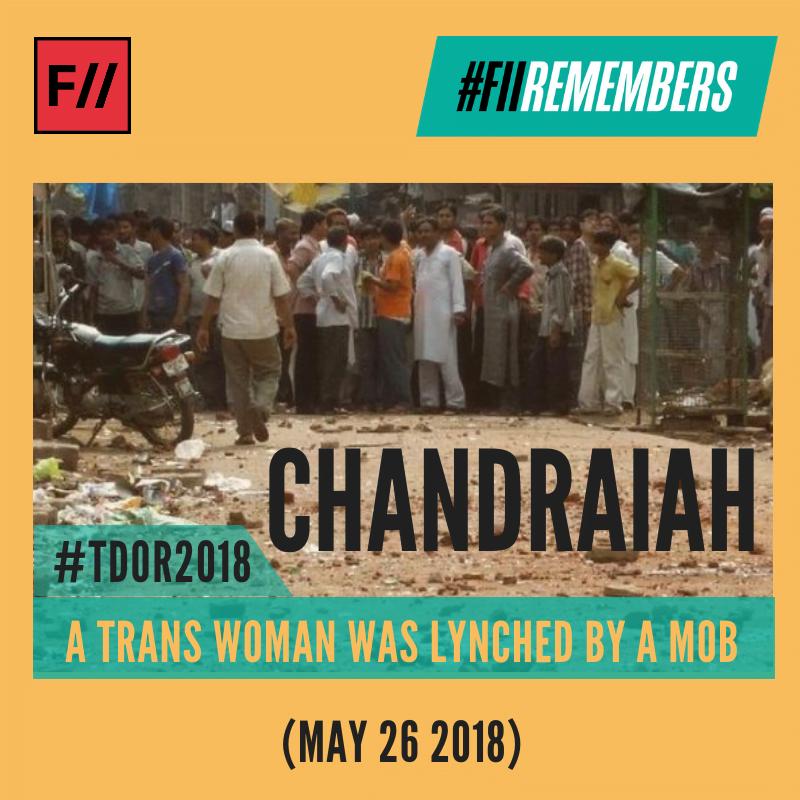 On 26th May 2017, Chandraiah, a 52 year old trans woman and three of her friends, also trans women, were attacked by a mob of 20 people, while over 200 people just stood by and watched. The attack was based on fake Whatsapp forwards that claimed that transgender women in the area were behind a plot to kidnap young children. All four trans women were brutally beaten up, and Chandraiah succumbed to her injuries at Osmania General Hospital in Hyderabad.

These are just five of the thousands of trans people in India who are harassed, assaulted, and attacked by a society that refuses to accord them equal access and opportunities to public life. In this hateful environment of prejudice and violence lie thousands of stories that do not make it to mainstream media – stories that are overlooked, dismissed or actively silenced. This Transgender Day of Remembrance, we memorialise all the lives lost due to transphobic violence.
Apart from remembering those that have passed away, Sampoorna India – a voluntary organisation working for the rights of trans and intersex individuals – is also amplifying the voices of those that have survived. Follow them on Twitter to keep abreast of their updates.
Our brother Selvam from Tamil Nadu builds Sampoorna #TDOR2018 with this powerful narrative.

Thank you @WeAreAPTN for your support for this campaign.

Art: Sabari. pic.twitter.com/BlwxFkLjtO

— Sampoorna (@SampoornaIndia) November 18, 2018
---
Featured Image Credit: Telangana Today, taken from the national protest against the discriminatory Trans Bill 2016.