This article is a part of the #IndianWomenInHistory campaign for Women's History Month to remember the untold legacies of women who shaped India, especially India's various feminist movements. One Indian woman is profiled each day for the whole of March 2019.
---
Shanti Tigga lived an illustrious life, and proved the irrelevance of age, gender and motherhood to physical ability, while scaling hurdles of cultural disadvantage. Though her short-lasting career spiralled into tragedy, under murky circumstances, she distinguished herself with numerous superlatives. Her stature never prevented her overcoming impressive feats in rapid succession, offending numerous male egos and smashing countless icons in the process.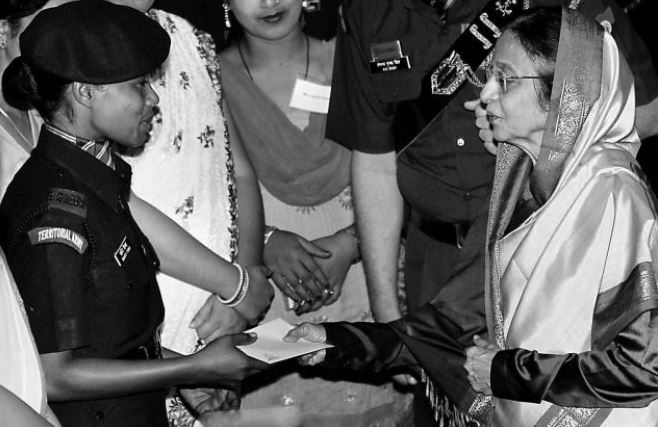 Awe-inspiring, envy-inducing and unyielding to the establishment, Tigga served as a role model to not only to women but any soldier. A marksman-extraordinaire, cadet par excellence and a dutiful serviceman – Tigga is a relic that patriarchal institutions best want forgotten. Her indelible legacy, a discomforting reminder of their exploitative past and a glitch in their ignorantly blissful, narrow worldview.
Early Life
Hailing from a socially, economically, culturally and genderwise underprivileged background, Tigga, a widowed 35 years old rural mother, belonged to a Scheduled Tribe. Having spent her entire early life in the bleakly socially backward rural areas of Jalpaiguri District, West Bengal, she was a victim to early marriage and as the prevalent norm, occupied wholly, as a housewife and a mother.
Applying To The Armed Defense Forces
When her husband passed away, she was granted a Railway job on compensatory grounds. She joined the Indian Railways in 2005. There, in 2010, she learnt of the territorial army of the railways, and unaware of the unprecedence of a female personnel recruit in the army below the rank of an officer, committed towards it. Employed with the Railways as a points-(wo)man, posted at the Chalsa station in West Bengal's Jalpaiguri district, she volunteered for the Territorial Army (TA) in 2013.
A marksman-extraordinaire, cadet par excellence and a dutiful serviceman – Tigga is a relic that patriarchal institutions best want forgotten.

Several of her kin had enlisted in various factions of the defence forces and provided her the requisite motivation. Having applied at the age of 35, and having endured two motherhoods, she prepared hard to clear the test.
Enlistment As A Defence Personnel
Tigga aced the various physical trials at the Recruitment Training Camp. With her overall performance, inclusive of the modules of physical test, drill and firing, Cadet Tigga unanimously adjudged the overall best trainee. Reportedly, her firing instructors were in utter awe of her skills with handling guns.
Also read: 5 Women Warriors We Should Know About | #IndianWomenInHistory
A senior military officer said, "She performed exceedingly well in all the physical tests. She took five seconds less than her male counterparts to complete the 1.5-km run. She completed the 50 metre run in 12 seconds which is rated as excellent."
Her competence wasn't limited to merely athletic or physical. She earned the highest possible distinction in the shooting tests, that of 'marksman', a prestigious and coveted designation indicating one's prowess in precision.
35-year-old sapper Shanti Tigga thus, cleared all her physical and aptitude tests to join the 969 Railway Engineer Regiment of Territorial Army in 2011, garnering overnight national recognition, and earned further repute, and a host of accolades, in due course of time. Further distinction directed towards her was due to her establishing an exemplary work ethic. Diligent, methodical and sincere, Tigga quickly rose to prominence, to appreciation, and to envy. Amassing a fearsome reputation for her uncompromising nature, she was honoured by President Pratibha Patil for her surmounting the extraordinary feats.
Tragic End
She was abducted by unknown perpetrators on the evening of May 9, 2013, and subsequently discovered blindfolded, and tied to a post flanking the railway tracks, the next morning. Tigga, however, said she was not physically harmed by the kidnappers.
Following this, she was admitted into a hospital, with ample security provided. Meanwhile, a probe into the abduction incident was started. On the evening of May 13, 2013, her son raised an alarm when she did not come out of the cabin's toilet for a long time. The door was broken through by the police and railway authorities and her body was found hanging.
She led by example, convincing men and women alike, that there's no threshold that limits the latter.
Tigga had been previously wrongly accused of taking bribe, in a widely publicised affair, and her legal acquittal, after an excruciating and injurious trial, didn't necessarily translate to moral acquittal in public and peer eyes. Her hard-built repute was irreversibly tarnished. Moreover, speculation had it, that this defamation was undertaken systematically, partly fuelled by envious colleagues, rivals and foes. Hence, investigating authorities held that the unjust public disgrace provided ample substantiating motive and compulsion for suicide. Thus, the case was swiftly concluded. The inference was drawn without meting out due consideration and, injury for a crime never committed was arbitrarily assigned as the responsible cause, reflective of the casual attitude of the dismissive authorities.
Her family continually held it to be a conspiratorial murder, and insisted on launching a fresh inquiry into the entire affair. But the dubious preliminary investigation ruled it out, not because its virtue of being a suicide was substantiated but because no evidence suggested otherwise. Subsequent inquiries and grievances of her family were to no avail and met with neglect.
Investigations in wake of it, proved inconclusive, while the family accused authorities of conducting an abnormally rushed and hushed investigation. The postmortem indeed appropriated further inquiry, given the coincidental nature of the mysterious disappearance and alleged suicide.
Legacy
Tigga's identity, memory and recognition don't bear privy to merely being the first female jawaan in the Indian Army. It lies in her creating an identity beyond this distinction's overshadowing presence. She outperformed each of her counterparts and emerged as the very best, regardless of gender. She carved out a name and niche for herself and established herself with her conduct, a headstrong attitude and feistiness. She pioneered the cause of women and overcame a threshold of prejudice that enabled to haul others of her kind through. Her revolutionary presence contributed to the cause of women via both, institution and inspiration.
She led by example, convincing men and women alike, that there's no threshold that limits the latter. She busted the idol of a typical serviceman, in minds of both civilians and personnel, which was popularly visualised, as a burly, brawny, North Indian male, perhaps from a martial race as Jats, Sikhs, or Rajputs.
She burst prejudices towards a number of intersecting identities: social, economic, cultural, racial and ethnic; with each aspect having its own sub-aspects, as being diminutive in stature, being a housewife, a widow, a mother and so on. Shanti Tigga is not exclusively an inspiration to women, she's the soldier-exemplar, for all of us.
Also read: Rani Tarabai – A Formidable Maratha Warrior | #IndianWomenInHistory
It's high time we recall the legacy of this torch-bearer and martyr of the system, using it to light a billion flames, in each of our hearts. Her martyrdom is not one to be mourned with candles but built upon with torches of zeal, solidarity and defiance.
References
1. The Hindu
2. Firstpost
3. The Better India
4. India Today