This article is a part of the #IndianWomenInHistory campaign for Women's History Month to remember the untold legacies of women who shaped India, especially India's various feminist movements. One Indian woman is profiled each day for the whole of March 2019.

---
At a time when it was hard to be taken seriously as a woman in the sciences, Dr Charusita Chakravarty made it her goal to excel in the field of chemistry. As a social crusader, she spoke out against the inhospitable environment for women in scientific arenas and encouraged many to pursue the subject despite the many hardships. She breached the unspoken dichotomy between the arts and sciences through her love for poetry and music, demonstrating that one does not have to restrict their interests to areas they work in.
Early Life And Education
Charusita Chakravarty was born on 5th May 1964 to her parents Sukhamoy and Lalita Chakravarty in Cambridge, Massachusetts, USA. The only child of two leading economists, Chakravarty grew up in a liberal environment that gave her the fire to break boundaries from an early age. She was exposed to a wide variety literature while growing up – so while she had a definitive partiality to science, and chemistry, in particular, she by no means restricted herself and her interests to purely scientific fields. In a day and age when the boundaries between arts and sciences were clearly drawn, she straddled an important intersection between the two, and demonstrated the value of both by simply taking pleasure in what each subject had to offer.
An early achiever, she topped the Delhi Higher Secondary Board before deciding to pursue B. Sc in Chemistry from St. Stephens College, leaving Delhi University as a gold medalist in 1985. She went on to pursue a Natural Science Tripos from Cambridge and graduated in 1987 before settling down to work on her PhD, also in Cambridge, on quantum scattering and spectroscopy under the guidance of David Clary. Charusita then became a Post Doctoral Scholar at the University of California at Santa Barbara, under Professor Horia Metiu. After a brief visit to India, she returned to Cambridge as a Gulbenkian junior research fellow in an independent post-Doctoral position.
In a day and age when the boundaries between the Arts and Sciences were clearly drawn, she straddled an important intersection between the two, and demonstrated the value of both by simply taking pleasure in what each subject had to offer.
Career
After marrying fellow scientist Ram Ramaswamy, Charusita relocated to India in 1994. The IITs were reluctant to give her a job, despite her PhD, because she had not done a Masters. She was then offered a position by IIT Kanpur, in their Chemistry Department. She finally accepted a job from IIT Delhi in their Chemistry Department where rose from an Assistant Professor to Professor in 2006, where she continued to teach there till her death.
Chakravarty was an academic through and through and submitted her research proposal to the Department of Science and Technology in New Delhi soon after joining IIT Delhi. With one referee calling it the best-written proposal he had ever seen, she managed to secure funding easily and carried on with her research even when funding became scarce. Her initial work had to with atomic and molecular clusters and over the course of her career, she became famous for her specialised application of path integral Monte Carlo simulation to unravel quantum mechanical effects in the properties of atomic and molecular clusters.
Her fields of interest also included theoretical chemistry and chemical physics, the structure and dynamics of Liquids, water and hydration, nucleation and self-assembly. International and national journals have published her articles and she was widely known for her single-author papers, published extensively over the course of her career. A few of her famous co-written works include, 'Multiple Time-scale Behaviour of the Hydrogen Bond Network in Water' (2004), 'Estimating the entropy of liquids from atom-atom radial distribution functions: silica, beryllium fluoride and water' (2008), and 'Excess entropy scaling of transport properties in network-forming ionic melts' (2011).
Also read: Nishanti Sudhakar On How Gender Bias Begins At Home | #DesiSTEMinist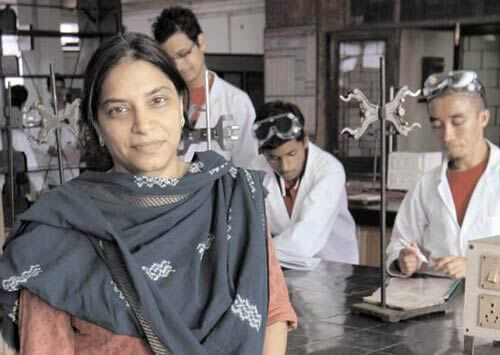 Chakravarty was known for speaking out against the dearth of women in science and openly discussed the double burden females faced. While men in their thirties only had to worry about their career, women had the additional task of balancing family life and their work commitments. She managed to do a stellar job managing both, and became an accomplished academician while embracing motherhood in 2000 when her daughter, Krithi, was born.
Chakravarty was known for speaking out against the dearth of women in science and openly discussed the double burden females faced.
Achievements
Her work received widespread acclaim and she was the recipient of several prizes and honors. Chakravarty's earliest award came in 1996 when she received the Medal for Young Scientists from the Indian National Science Academy (INSA), a leading society for science and technology in India. From 1996 to 2003, she served as a member of the Abdus Salam International Center for Theoretical Physics, Trieste, Italy, an institute dedicated to scientific research and excellence. In 1999 she bagged two awards, the B.M. Birla Science Award and Anil Kumar Bose Memorial Award from the Indian National Science Academy. In 2003, she received the Swarnajayanti Fellowship from the Department of Science and Technology and in 2006 a Fellowship from Indian Academy of Sciences. She also received the prestigious Shanti Swarup Bhatnagar Award in 2009 and was an Associate Member of the Centre for Computational Material Science, Jawaharlal Nehru Centre for Advanced Scientific Research, Bangalore.
Also read: Rupa Bai Furdoonji: World's First Female Anesthetist | #DesiSTEMinist
Death and Legacy
Unfortunately, we lost Dr Chakravarty too early, after a long and valiant fight against cancer. Despite the fact that she was diagnosed in 2013, she kept authoring and publishing articles up till her death, a testament to her indomitable will. She even received a Fellowship in 2015 from INSA, an insight to the brilliant mind she had right till the end. Charusita continued to take classes on days when she well enough and made it a point to make time for her friends and family, despite the side-effects of the treatments and the horrific pain. She passed away in 2016, at the age of fifty-one.
While we lost her too soon, she displayed a kind of genius that is hard to forget. Her work made her a brilliant academic and exemplary role model that prompted numerous women to cross the threshold and enter laboratories.
Her legacy lives on and her lasting impact on the scientific community is best elucidated by a Margaret Mead poem read at her funeral.
To the living, I am gone
To the sorrowful, I will never return
To the angry, I was cheated
But to the happy, I am at peace
And to the faithful, I have never left
I cannot be seen, but I can be heard
So as you stand upon a shore, gazing at a beautiful sea- remember me
As you look in awe at a mighty forest and its grand majesty – remember me
As you look upon a flower and admire its simplicity – remember me
Remember me in your heart, your thoughts, and your memories of the times we loved
The times we cried, the times we fought, the times we laughed
For if you always think of me, I will never be gone.
References