This article is a part of our #DalitHistoryMonth campaign. April is celebrated as Dalit History Month in order to recognise and bring to light the contributions of Dalits and acknowledge the systematic oppression and violence that mainstream history has conveniently overlooked.

---
On 4th July, 2013, Ilavarasan, a Dalit youth belonging to Scheduled Caste (SC) from Naickenkottai village, was found dead near a railway track behind the Dharmapuri Government Arts College, hardly hours after his wife Divya, a Vanniyar girl belonging to Most Backward Class (MBC) told Madras High court and the media that she would never go back to him and would instead live with her mother.
The speculations doing the rounds were that he had jumped before the Kuala Express that was running from Coimbatore to Mumbai and had suffered a fatal head injury, which caused his death. Ilavarasan's parents and relatives, however, strongly denied that it could be a suicide and claimed that he was, in fact, murdered and thrown on the railway track by the dominant Vanniyar caste group. It was strongly suspected to have been a foul play and the death presumed to have happened because of caste enmity between two groups – the hegemonic Vanniyar community and subaltern Dalit.  
On 8th October 2012, Divya, a student pursuing a nursing course eloped with Ilavarasan, a third-year college student and eventually got married in a temple at Salem.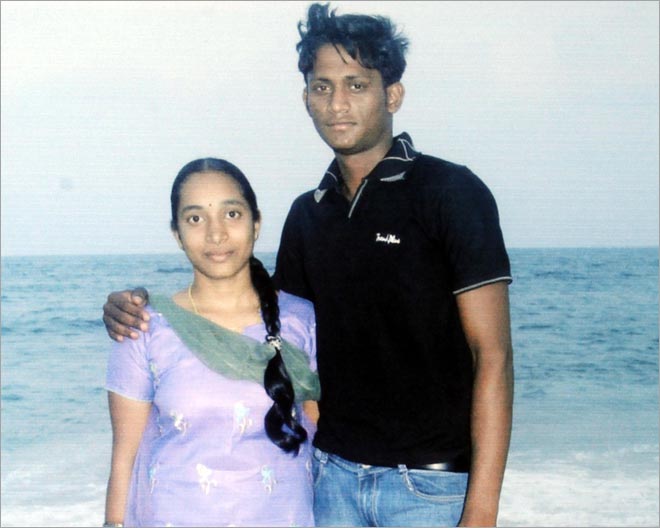 On 4th November 2012, Vanniyars held a meeting in Divya's Village, Sellankotai, ordering Divya to return to her family which she refused right away. Consequently, Divya's father Nagarajan committed suicide allegedly on pressure from his caste men who deplored his daughter's love and subsequent marriage to a Dalit man which was unacceptable to the community and to the society. His death eventually led to widespread violence and riots.
On 7th November 2012, a caste mob of Vanniyars numbering 1500 stormed through Natham, Kondampatti, and Anna Nagar Dalit colonies of Dharmapuri district and destroyed, looted, and burnt down over 200 houses. The four hours of rampage led to a large scale turmoil and the state police remained feckless despite being aware of the dire consequences. It was alleged that police force was more or less casteist – like any other government machinery – and was indirectly supporting the dominant Vanniyars.
a caste mob of Vanniyars numbering 1500 stormed through Natham, Kondampatti and Anna Nagar Dalit colonies of Dharmapuri district and destroyed, looted, and burnt down over 200 houses.
There were speculations that the political party Paataali Makkal Katchi (PMK) have had a hand in this riot, but PMK leader Dr. Ramadoss has denied these allegations. However, the media reports and visuals have clearly provided proof that suggested the involvement of PMK in this caste violence. But PMK leaders and cadres came out with a different explanation that this marriage was forced on Divya by Ilavarasan and that his family members had cheated the 'gullible' Vanniyar girl. Apparently employing this narrative as a tool, the PMK cadres supported by Vanniayar Sangam, the parent caste outfit headed by a vociferous Kaduvetti Guru an ex-MLA of PMK, instigated the Vanniar youth, making them believe that the marriages between a Dalit and a non-Dalit were the channels to extort money from the upper caste and that their caste honour was at stake. Through this provoking posture, Vanniyar and Dalit people were made to attack each other.
In 2012, PMK party MLA, Kaaduvetti Guru, instigated enmity through a fiery speech at a Vanniyar youth meeting held in Mamallapuram by candidly insisting that the men from other community intending to marry a Vanniyar girl should be killed, which sent shock waves across the state.
It has been nearly six years down the line and not a single person has been punished for the criminal act of setting fire to the properties of Dalits, though 92 men were arrested. There are apparently no details of the progression of the arson case except that the government has given Rs. 7.35 crore as compensation to those affected. As for Ilavarasan's case, it has been closed as police stated that it was a suicide despite the allegations by Dalit parties and NGOs that it was a clear case of murder.
Also read: Activist Gowsalya's Remarriage: Why Deviant Women Are Always At Fault
There wasn't any suicide note to be found and his parents claimed that he had informed them of his plan to head to Chittoor, Andhra Pradesh for work. He was said to have had withdrawn Rs. 9000 using his father's ATM in the morning before his death. Rajinikanth, Ilavarasan's lawyer, also informed the media that the railways have reported that there had been no accident in Dharmapuri, on July 4 2013. These allegations raise doubts regarding the conditions that brought about his death. The lack of proper enquiry shows that state machinery including police and revenue officials were not on Dalits' side and therefore justice was not done to Dalits.
The arrest of Dalit youngsters also took place under the allegations that these youngsters were involved in Naxalism, as the village Naickenkottai in Dharmapuri district is famous in Tamil Nadu known for its Naxal movements in the early years of 1980. Appu and Balan were from the Marxist and Leninist groups and they were the big influence in rendering equality social justice and casteless village atmosphere thereby nurturing cordial relationship among everyone in the village of Naickenkottai and its surroundings. Communal harmony has prolonged due to their inevitable presence. As Naxalism collapsed, the strong opposition towards casteism and communal harmony did too. Whereby, the ugly face of casteism took root deeply.
not a single person has been punished for the criminal act of setting fire to the properties of Dalits, though 92 men were arrested.
The caste identities replaced the solidarity amongst them, which was the reason behind the tragic end of Divya and Ilavarsan's love. Appu, Balan and other activists' absence opened the gates to the person like Kaaduvetti Guru and it was evident that politics got intertwined with caste. Kaaduvetti Guru eventually used political campaigning to promote casteism at the cost of communal harmony and brotherhood among common people.  This undoubtedly reminds us of castes' significant role in determining the political situation.
The stark reality of casteism is that it ravages the rights of the individual as well as common people by posing a serious threat and that has continued till date. present. It is clearly evident through the very recent caste violence that happened at Ponparappi, a village in Ariyalur district falling under Chidhambaram parliament constituency, during voting for parliament elections that held on 18th April 2019.
Around 115 Dalit houses were ransacked and 25 houses were completely destroyed by the caste mob of 120 of Vanniyar community. Many Dalit women, children and aged people were attacked. The cause of this attack by the Vanniyars was that the Dalits were casting their votes to the political party Viduthalai Chiruthaikal Katchi (VCK), a Dalit party which opposed PMK. It was reportedly said that the Dalits were subjected to verbal abuse and violence was inflicted upon them only because they had cast their vote to a party of their liking.
Also read: From Shankar To Pranay: Why Does Caste Extremism Continue To Haunt Our Nation?
This attack shows how caste strives to muffle the voice of marginalised people even today. The fact that men from all age groups, from a small boy to an old man, had been involved in this caste violence is sickening and poses a serious question – where are we heading as a civilised society? This leaves us with the choice to either take a stand against and resist these oppressive caste structures or remain dismissive of menacing future and live in convenient denial.
References
1. The Hindu
2. Daily pioneer
3. Firstpost
4. Savukku Twitter (Tamil)
5. Youtube
6. Rediff News
---
Featured Image Source: Counter Currents