Brunei, located on the north coast of the island of Borneo in Southeast Asia, is a small but resource-rich, sovereign country. Brunei has the second-highest Human Development Index among the Southeast Asian nations and is classified as a "developed country". It follows an absolute monarchy; where the Sultan of Brunei is both head of state and head of government. This makes Sultan Hassanal Bolkiah, who has reigned since 1967, exercise absolute powers and full executive authority.
Context
In October 2013, Sultan Hassanal Bolkiah announced his intention to impose Penal Code from the Sharia law on the country's Muslims, which make up roughly two-thirds of the country's population. It was planned to be imposed in three phases and although there were protests at every phase, the loudest ones were when the third phase was implemented to its full extent in April this year. Hassanal said the Penal Code should be regarded as a form of "special guidance" from God and would be "part of the great history" of Brunei.
Even before 2014, homosexuality was already punishable in Brunei by a jail term of up to 10 years. The first stage of the Sharia Penal Code included fines or jail for offences such as pregnancy out of wedlock or failing to pray on Fridays. But under the third phase, which also applies to children and non-Muslim foreigners, those found guilty of gay sex can be stoned to death or whipped. Adulterers risk death by stoning too, while thieves face amputation of a right hand on their first offence and a left foot on their second.
Also read: A Handy Guide On How To Report On LGBTQIA+ Issues
"Living in Brunei, we already knew that our sexual identity is taboo and should not be expressed. We already felt belittled before the law came to place," a 23-year-old member of the LGBTQIA+ community told The Diplomat who wanted to be identified only as Kun out of fear of reprisal from the authorities. "You wake up and realise that your neighbours, your family or even that nice old lady that sells prawn fritters by the side of the road doesn't think you're human, or is okay with stoning," another Bruneian gay man, who did not want to be identified, told the BBC.
But under the third phase, which also applies to children and non-Muslim foreigners, those found guilty of gay sex can be stoned to death or whipped.
Experts said it is hard to gauge the level of public backing for sharia law in Brunei, as most citizens would not publicly criticise the sultan. But it is believed to have substantial support among the country's Muslim ethnic Malays, who make up about 70 per cent of the population. Those who speak publicly generally welcome it. However, this says nothing as a report by Freedom House classifies Brunei's media as "not free." Brunei's only television station is state-run. The country's main English-language daily newspaper, the Borneo Bulletin, is controlled by the sultan's family and its journalists often practice self-censorship.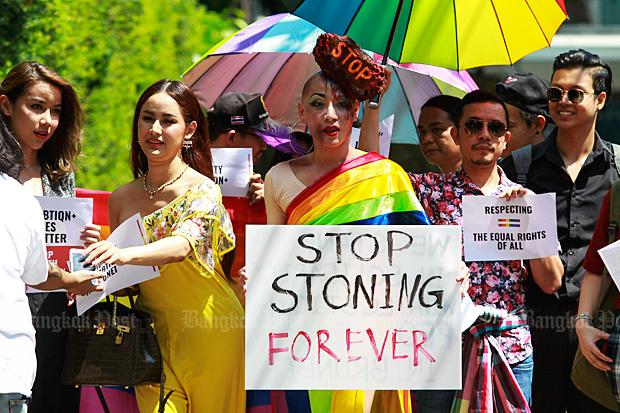 Backlash
The announcement of the third phase resulted in calls for boycotts of numerous companies owned by the Brunei Royal Family, especially the Dorchester Collection, a group of well-known hotels owned by the Sultan in the US and Europe. Various politicians including Former US Vice President Joe Biden, Austrian Chancellor Sebastian Kurz, Penny Mordaunt, UK secretary of state for international development condemned the move. Celebrities like George Clooney, Elton John, and Ellen DeGeneres have voiced opposition to the new laws, and have rallied a boycott of nine hotels in the U.S. and Europe. "Are we really going to help fund the murder of innocent citizens?" Clooney wrote Thursday on Deadline Hollywood. The most powerful of all, and possibly what triggered the Sultan to repeal the stoning law were major financial institutions like World Bank, JP Morgan boycotting his business.
Phil Robertson, the deputy Asia director for Human Rights Watch, called on the Sultan to immediately suspend amputations, stoning, and all other rights-abusing provisions and punishments. "Brunei's new penal code is barbaric to the core, imposing archaic punishments for acts that shouldn't even be crimes," Robertson issued a statement. In protest, a United States national LGBTQIA+ advocacy organisation, the Gill Action Fund, cancelled its reservation to hold a conference of major donors at the Beverly Hills Hotel and demanded a refund of its deposit.
The Sultan's Statement
After widespread boycotts that are sure to have affected Brunei's economy negatively, the worst of the laws, that is, stoning to death was finally repealed. The month-long campaign brought on one of the fastest global victories for LGBTQIA+ activists in recent memory.
The Sultan's office went to the unusual step of releasing his comments in English. In a televised speech on Sunday, Sultan Hassanal said he would extend a moratorium on capital punishment and ratify the UN Convention Against Torture, CNN reported. In his speech, the Sultan said that there had been a number of 'misconceptions' about the laws which he acknowledged may have caused 'apprehension'. "However, we believe that once these have been cleared, the merit of the law will be evident," he said. Despite this announcement, the Sultan claims to stand by the Penal Code overall. According to him, "Both the common law and the Shariah law aim to ensure peace and harmony of the country. They are also crucial in protecting the morality and decency of the public as well as respecting the privacy of individuals."
What really irks about the extravagant Sultan's ploy (Hassanal was the richest man in the world for many years) to cloak himself in Islamic purity by is the blatant hypocrisy it embodies. He has married thrice, divorced twice, most recently from a woman 33 years his junior. Until the 90s, both his brother, Prince Jefri and the Sultan were known for their notorious playboy ways. "The Sultan of Brunei and his brother Prince Jefri were known for their harems, their excesses in terms of purchasing of cars, their sexual exploits," said Bridget Welsh, a Southeast Asia expert and associate professor of political science at John Cabot University. It may be recalled that after naming his luxury yacht Tits and calling the lifeboats Nipple 1 and Nipple 2, Jefri ordered nude statues of himself sporting an erection and engaging a buxom lady in Kama Sutra-like poses. The misogyny and barbarism that they symbolise cannot be farther away from Islam's teachings.
Reading between The Lines
Activists warn that the Sultan's statement isn't a complete victory for LBGTQIA+ people. Homosexuality is still criminalised in the country and women who have sex with other women can still be punished by whipping (40 whips for gay women and 100 lashes for gay men). Similar punishments remain in place for adultery and rape, while women also face jail time for giving birth while unmarried or having an abortion.
Activists warn that the sultan's statement isn't a complete victory for LBGTQIA+ people. Homosexuality is still criminalised in the country and women who have sex with other women can still be punished by whipping.
In response to the Sultan's announcement, Human Rights Campaign Director of Global Partnership, Jean Freedberg, said it was an important step but added the law itself needed to go. "The world has turned its eyes to Brunei in recent months and we urge the countless advocates, activists and organisations who seized this moment to speak out against these human rights abuses to continue to do so."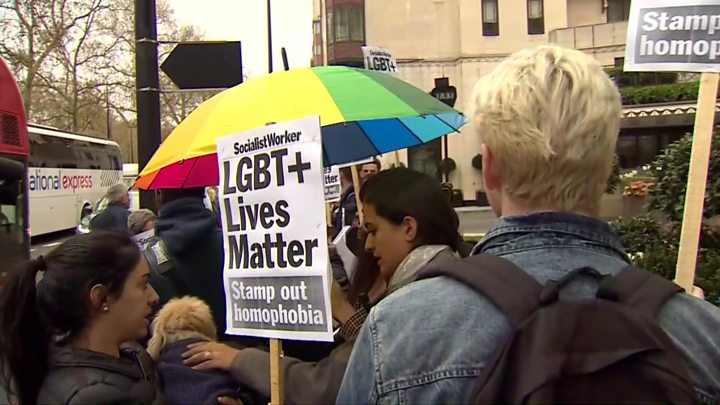 Shahiran Shahrani, a gay man from Brunei seeking asylum in Canada, has said the Sultan of Brunei's U-turn on the death penalty as a punishment for gay sex 'changes nothing'."LGBTQ is still criminalised", Shahrani told Gay Star News on Tuesday. Shahrani warned that the Sultan's speech was not a decree and could be easily reversed by the Sultan or his successor. Most organisations, including George Clooney, are continuing with their boycott until the law is repealed entirely.
Also read: How The Revolution Led By Sudanese Women Took Down The President
Kerstin Steiner, associate professor and acting head of La Trobe University's law school, said Brunei's moratorium on the death penalty is an easy process to reverse. While this is a huge step forward and the unanimous global condemnation was nothing short of revolutionary, the pressure must not die down as the Sultan could start the process of carrying out the executions anytime.
---
Featured Image Source: Sky News