Dubai aims to become wheelchair friendly by 2020 and Wings of Angelz is a major contributor towards this dream. Wings of Angelz, founded in 2014, is a disability awareness group that works with organisations to help construct ramps in public spaces. Based in Dubai, they also work closely with over a hundred organisations in Delhi, Bhopal and Bangalore.
Today, we're in conversation with Shobhika Kalra, the co-founder of Wings of Angelz who took it upon herself to make the world wheelchair accessible, one ramp at a time. She was recently awarded for her community service by H.E.Sheikh Nahyan bin Mubarak Al Nahyan, U.A.E's Minister of Tolerance. She was also awarded the She the Change – Udyami award during the Pravasi Bharatiya Divas 2019 in Kashi, Varanasi. This makes her the youngest Indian in the Middle East to receive this award.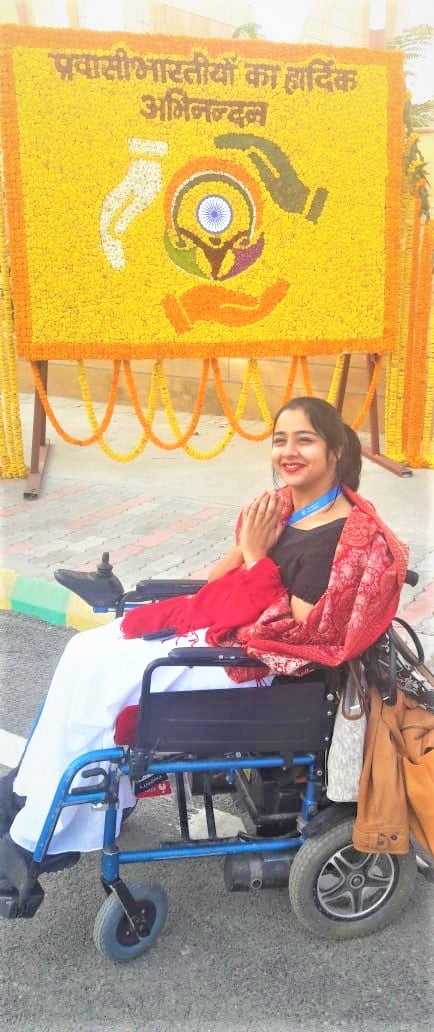 Srishti Kapil: Shobhika, tell me about the formation of Wings of Angelz. What was your thought process throughout?
Shobhika Kalra: When I was a child, I did very well in academics and extracurricular activities. But to everyone's surprise, my ranks suddenly started slipping down and I made the decision to shift to a boarding school in India. Before leaving, my mother wanted me to get a comprehensive health check-up as she noticed an obvious change in my physical movements. She realized that instead of walking straight, I used to meander in a criss-cross and trip more than usual.
After a series of casual to specific tests, I was diagnosed with a rare muscular nervous disorder called Friedrich Ataxia. The nerve fibres in the spinal cord and peripheral nerves degenerate in Friedreich Ataxia. I was the first case to be diagnosed in the UAE with this disorder. Gradually I became completely wheelchair bound. This upset me greatly and I cut contact with friends and went into depression. I didn't step out of my room for two years. During this phase of my life, I put myself into a self-exile. It took a while before I mustered the courage and confidence to face the world. I think it came with gradual self-acceptance and the strong need to contribute to something larger than myself. I resumed my studies and got my Master's degree in psychology. After my disorder, I value my life a lot more. If I could go back in time and talk to the teen me, I would say, "Shobhika, have patience. Everything will work out."
One day, while in India, my sister and I went to the cinema hall. Since there was no access to the wheelchair, I had to be carried by four strangers to my seat. I felt uncomfortable and utterly embarrassed. It was then my sister and I decided to work towards making important public places wheelchair friendly.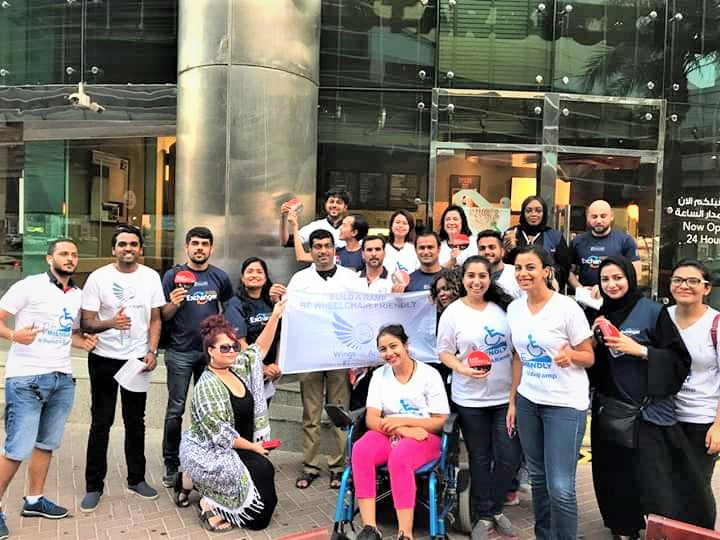 Srishti: What was the initial response to starting a project like this? Can you describe the challenges you faced?
Shobhika: It appeared to be a herculean task. People took my initiative quite casually and thought, "how will she do this while sitting on a wheelchair?" Many also believed that the cause was not as important as I was making it out to be. People appreciated the idea outwardly but did not get involved in it or even offer help initially. I think this happens with most of the new ideas by young people today.
Also read: When Will India Truly Become Accessible For People With Disabilities?
Srishti: Dubai aims to become fully wheelchair friendly by 2020. How much have Wings of Angelz contributed to this dream, considering you've overseen construction of over a 1000 ramps?
Shobhika: It gives me a sense of accomplishment to know that Wings of Angelz has caused a stir in the UAE to take wheelchair accessibility seriously. There exists now a strong momentum toward disability awareness. I am very happy and hopeful that the Government of Dubai will achieve its goal. Wings of Angelz has created remarkable awareness amongst the authorities, entrepreneurs and commuters to work in collaboration towards building more ramps. Our initiative was nominated in the Top 6 for the Arabian Business' Entrepreneur of the Year Award and has been featured in the book Insights and Actions for their contribution to society.
Wings of Angelz is launching an app to help wheelchair users make decisions about the places they want to visit. The places are categorised by subcategories and linked to Google maps to make the experience of a wheelchair-bound person as barrier-free as possible.
Srishti: Are there any upcoming projects we should know about?
Shobhika: Wings of Angelz is launching an app to help wheelchair users make decisions about the places they want to visit. The places are categorised by subcategories and linked to Google maps to make the experience of a wheelchair-bound person as barrier-free as possible. The app will also help with the following:
Make the process of recording information easier and convenient for the volunteers involved. The app will not just focus on identifying accessible entrance but will also include more holistic accessibility views such as accessible cashiers, bathrooms, hallways, and fire safety.
The app will gratify volunteers through scores for each step they complete to make the place accessible. It will also run a scoreboard to declare volunteers of the week and such based on these scores.
Additionally, it will make the information available to organisations for self-improvement. As the app will be connected to Google Maps, anyone can volunteer with Wings of Angelz and it will be of help to wheelchair users around the world.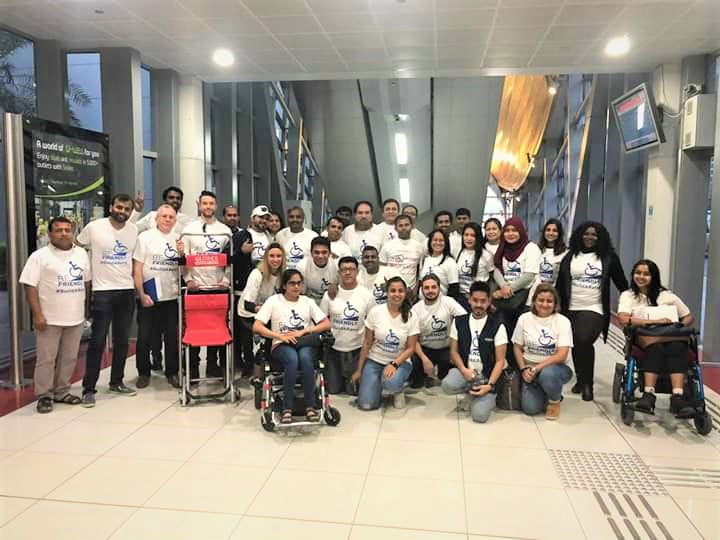 Srishti: Do you or your team always visit the sites for ramp construction? How involved are you in the process?
Shobhika: Yes, of course. We visit the site for ramp construction to know that a ramp is required. Then, we take the contact details of the manager in charge and then we follow up till the ramp comes about. It is a fairly simple process of ensuring ramps are built, and it can make life a lot simpler for a lot of people. I am completely and actively involved in the whole process of getting the ramps built.
Srishti: Apart from wheelchair accessibility, what other provisions can venues make in order to be more disability friendly?
Shobhika: A lot can be done to be more disabled-friendly like having accessible cashiers, bathrooms, hallways, fire safety for people with mobility issues. Even, having subtitles on any screens for people with hearing impairments and such things help.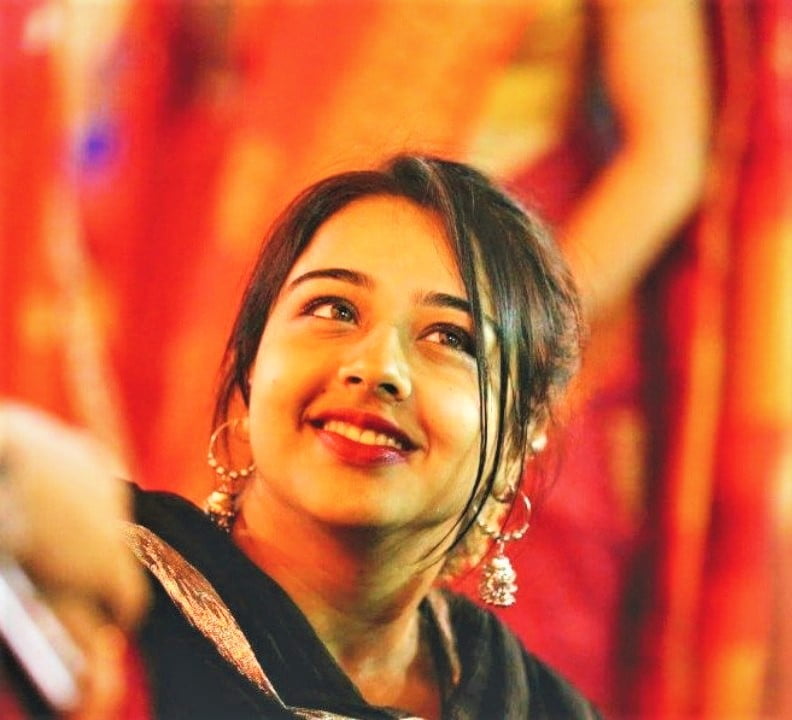 Srishti You also run a beauty blog. What does beauty mean to you?
Shobika: After I was diagnosed with Friedrich Ataxia, I stopped meeting people and confined myself to a room. It was too much to handle for me. I even stopped meeting guests who came home. I needed time to be on my own and re-evaluate my life and redefine my purpose. I started reading extensively on food and natural remedies like Ayurveda, Yoga, natural therapies, and many more. I make my own natural beauty products. I believe in what John Keats said 'A thing of beauty is a joy forever'. I strive to make people look and feel beautiful about themselves. All of us are born beautiful, we just need to express it.
I strive to make people look and feel beautiful about themselves. All of us are born beautiful, we just need to express it.
Srishti: Wings of Angelz is run by you and your sister, Ruchika. Have you ever not been taken seriously in professional spaces because of your gender?
Shobhika: My elder sister, Ruchika and I are extremely strong women. Our mother has been a great inspiration for us. She is a founder of the first institute for the children of special needs. Both my parents have brought us up equally beyond any gender bias. I have always said that disability is not something that can stop people. Similarly, gender is also not something that has held back my sister and me.
Also read: Dear Prime Minister, When Will Our Trains Become Accessible For Wheelchair Users?
---
FII thanks Shobhika for doing the interview. To volunteer for the cause, you can get in touch with Wings of Angelz through their Facebook, Twitter or Instagram account or send them an email at contact.wingsofangelz@gmail.com.
Featured Image Source: Mangalorean