The 17th Lok Sabha elections of India have given us 78 women MPs, the highest in our nation's history!
"It is only with Modi that women representation has increased", is the claim made by many BJP supporters and others. But can this increase in representation really be considered a step towards gender equality? Who are the different women who have been elected and what have been their past stance on different social issues? Can their politics be considered feminist? What about the elected women who represent parties which are openly misogynist? While there are many Bahujan women who have made history by getting elected this year, there are also some women, especially from the right-wing cadre, whose selection has been criticised by many.
Let us try to analyse women representation in the 2019 elections by looking at the data available for the different female candidates who won from their respective constituencies.
Women Representation Over The Past Years
Out of a total of 8040 contesting candidates, 717 were women. This means that women represented only 9% of the total candidates. And out of the 542 elected candidates, 78 are women. That is only 14.36% of parliament.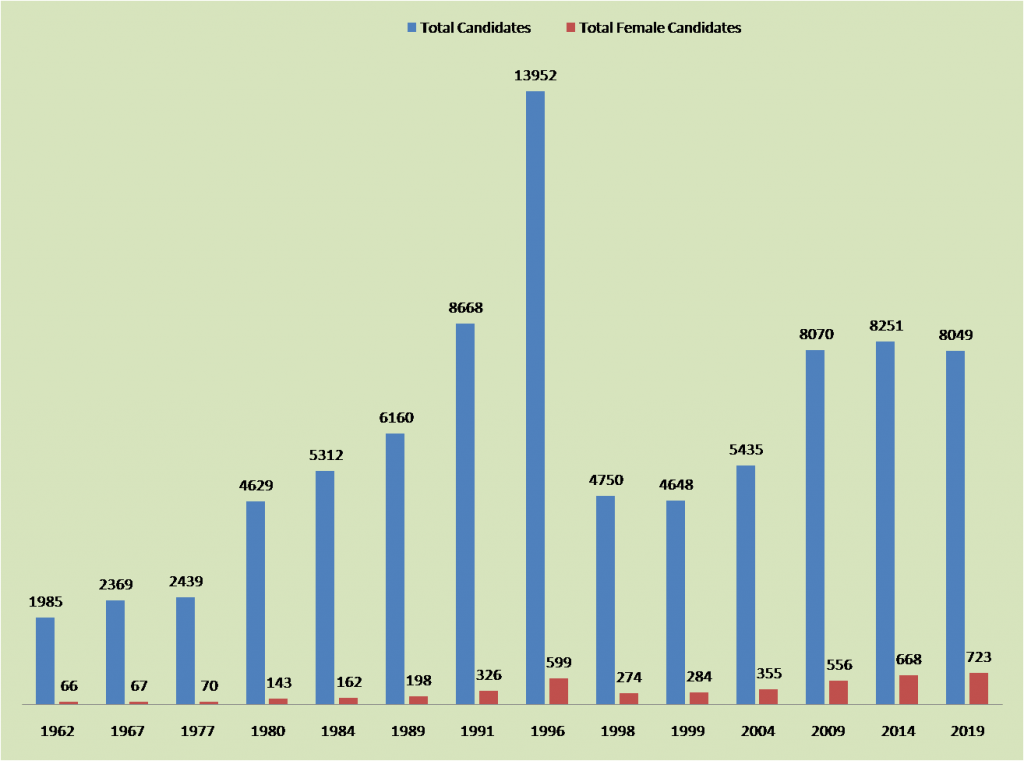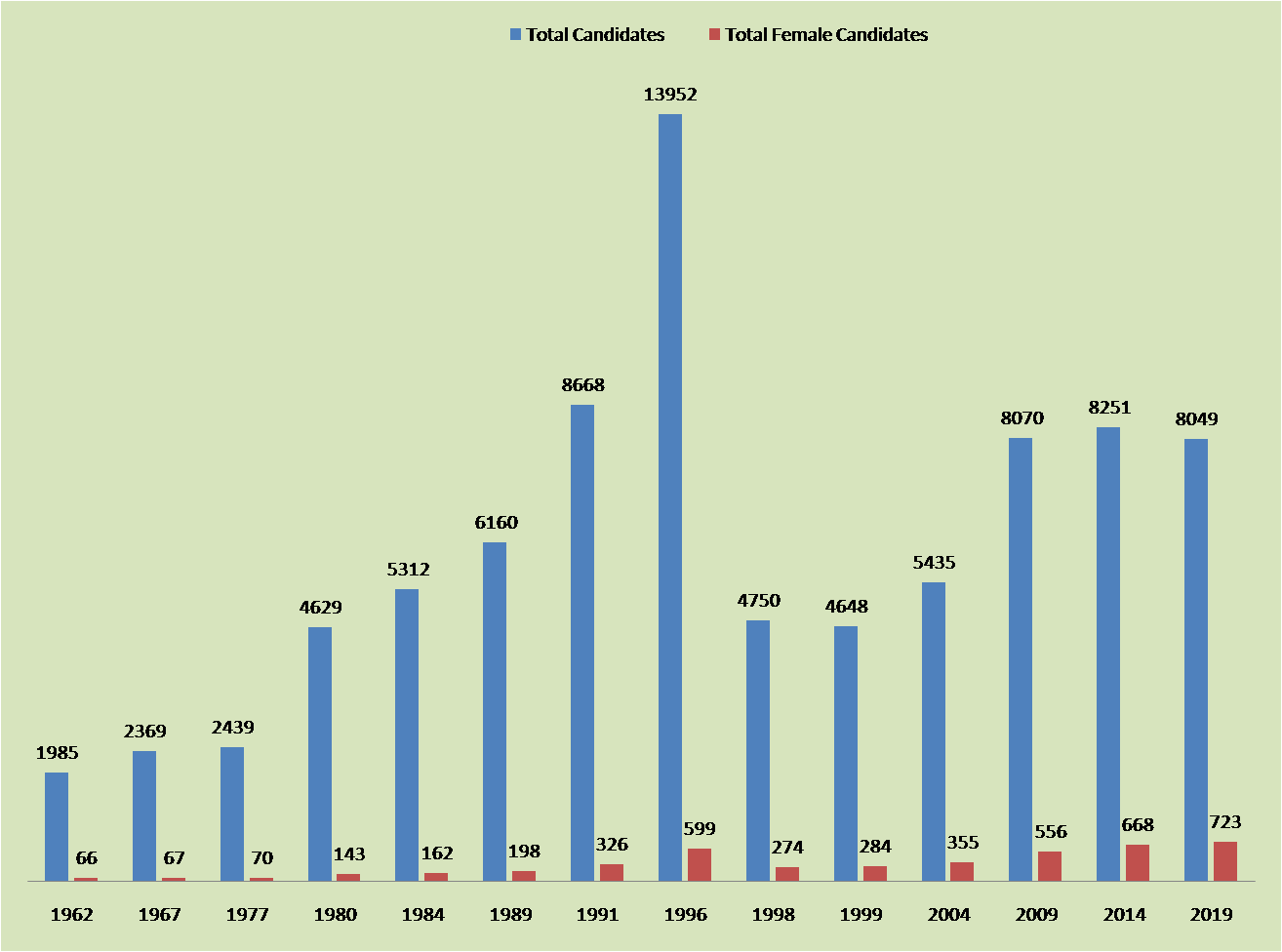 Even though this is very little in terms of the total percentage, it is still better than all the previous years. If we compare the representation of women from the first Lok Sabha elections in 1952 to the current in 2019 we see a clear rise. Even though the proportion of women MPs minimal when compared with men, the trends do show an upward rise in the number of women contesting and winning each year.
The average age of the elected women is 43 years, with 23 women in their 40s. The youngest woman MP is the 25-year-old, Chandrani Murmu and the eldest is the 74-year-old Preneet Kaur. In term of education, 76% of the women MPs are graduates, while 17 have studied only till class 12th. 8 of the winning women candidates have been actresses in the past. These include Kirron Kher, Sumalatha Ambareesh, Smriti Irani, Hema Malini, Nusrat Jahan Ruhi, Satabdi Roy, Mimi Chakraborty, and Locket Chatterjee.
State Wise Women Representation in 2019
The highest number of women candidates was fielded from Uttar Pradesh at 104. Uttar Pradesh also elected the most number of women, 11, along with West Bengal.
In terms of proportion, 33% or 7 out of 23 MPs in Odisha are now women. This is the highest in the history of India.
The representation of women in 5 states has increased from 2014. These include Odisha (9.5% in 2014 and 33.3% in 2019), Gujarat (15.4% in 2014 and 23% in 2019), Maharashtra (10.4% in 2014 and 16.7% in 2019), Andhra Pradesh (8% in 2014 and 16% in 2019), and Jharkhand (0% in 2014 and 14.3% in 2019).
Who are the different women who have been elected and what have been their past stance on different social issues? Can their politics be considered feminist?
On the other, hand several states have elected fewer women MPs in 2019 as compared to 2014. These include West Bengal (28.6% in 2014 and 26.2% in 2019), Uttar Pradesh (16% in 2014 and 14% in 2019), Tamil Nadu (10.3% in 2014 and 7.7% in 2019), Madhya Pradesh (17% in 2014 and 14% in 2019), and Assam (14.2% in 2014 and 7.1% in 2019).
Many states and union territories will not have a single woman MP in 2019. This includes a total of 8 states – Arunachal Pradesh, Goa, Himachal Pradesh, Jammu and Kashmir, Manipur, Mizoram, Nagaland, and Sikkim, and 5 union territories – Andaman and Nicobar, Dadar and Nagar Haveli, Daman and Diu, Lakshadweep, Puducherry.
In addition to this, many states and union territories will have only 1 woman MP in 2019. This includes Assam, Haryana, Kerala, Telangana, Uttrakhand, Tripura, and Meghalaya.
Out of the 13 seats in Union Territories only 2 have been won by women. Delhi, like last year, has elected only 1 woman.
Party Wise Women Representation in 2019
Mamata Banerjee's All India Trinamool Congress fielded the highest percentage of women candidates at 41%. The second in the same was Naveen Patnaik's Biju Janta Dal with 33%.
Also read: A Critique Of The BJP Government Through A Feminist Lens
In terms of number, Congress fielded the maximum female candidates; a total of 54. This was followed by BJP, with just one less, at 53. Out of the 303 seats that the BJP secured, 41 have been bagged by women. This made BJP the party with the highest number of elected women candidates. On the other hand, only one woman candidate from Congress, Sonia Gandhi, was elected. In addition to this, as many as 222 women contested the polls independently but only 2 of them won.
Women Candidates Involved in Controversies in 2019
When the results were declared, the fact that this parliament will have the most number of women till date was celebrated by many. But amongst these women, there are also some whose comments and actions during the 2019 elections brought them into the negative limelight and made many question the election results. Many feminists and others didn't support the coming to power of these women. Let us have a quick look at some of these women to understand this reaction.
Pragya Singh Thakur. The victory of this BJP candidate, from the Bhopal constituency, remains one of the most controversial. Pragya has been accused of and arrested for involvement in the Malegaon blast, in which 6 people were killed and over 100 were injured. After her release, she was also criticised for saying that former Mumbai ATS chief Hemant Karkare died because she had cursed him during her jail term. During her campaign, she had acknowledged being a part of the Babri Masjid demolition at Ayodhya in 1992 and for the same, the Election Commission had directed the police to file an FIR against her. She was also temporarily banned for 72 hours from campaigning by the EC for her hateful remarks.
Menaka Gandhi. During her campaigning, this BJP candidate from the Sultanpur constituency of Uttar Pradesh was criticised for making several controversial statements against the Muslim community. One such incident happened in a gathering at Sultanpur when she threatened a group of Muslims to vote for her in the 2019 general elections in order to receive her help when she would be voted to power.
Sanghmitra Maurya. This BJP candidate, from the Badaun constituency in UP, was seen asking people to resort to fake voting if the actual voters were unable to cast their votes. "Fake voting happens everywhere, if you get a chance take advantage of the situation," she said. Maurya had also made headlines earlier with her claim that she would become a goon if anyone tried to bully her people.
Also read: Which Parties Fell Short Of The Election Code Of Conduct? A List Of MCC Violations This Elections
Women MPs Who Made History By Getting Elected
In addition to these women who have been involved in several controversies during the 2019 elections, there are many whose victory comes as a source for celebration. The victory of these women can be seen as historical landmarks. These women have battled the many challenges that a casteist and patriarchal society like ours have continuously thrown at them and have successfully made a position for themselves in the legislature. I have tried to list the names and achievements of some of these women here.
With her victory from the Alathur constituency, Ramya Haridas has become the second Dalit woman MP from Kerala ever. Ramya is also the sole woman MP to be elected from Kerala in this election. She represented the Congress-led United Democratic Front and defeated CPI's PK Biju by a margin of more than 158968 votes. Under the Ekta Parishad, Ramya actively raised the demands and rights of the Adivasi community. She was the National Coordinator of the Youth Congress and won the Nehru Yuva Kendra award for the best public worker in 2007.
Chandrani Murmu, a 25-year-old, engineering graduate has become the youngest MP in the history of India. Representing the Biju Janata Dal and belonging from the Keonjhar tribe, Chandrani has been elected from the Keonjhar constituency of Odisha. She defeated a two-time BJP MP, Ananta Nayak with a margin of 66203 votes. She has been supported by the youth, women, and tribals of her region, and she wishes to represent their voices at the centre.
Chandrani Murmu, a 25-year-old, engineering graduate has become the youngest MP in the history of India.
Winning from the Araku constituency, Goddeti Madhavi will be the youngest MP from Andhra Pradesh. At 1.4 lakhs, she had the least declared assets amongst all the winning MPs in the 17th Lok Sabha elections. Goddeti defeated a six-time MP, Kishore Chandra Deo, by a margin of 224098 votes. She belongs to the Konda Dora scheduled tribe community.
Maloth Kavitha, a 38-year-old BSc graduate is the first tribal woman to win from the Mahabubabad constituency of Telangana. She is also the sole woman to bag a seat from this state in this election. Maloth represented the TRS and defeated the Congress candidate Porika Balram Naik by a margin of over 160000 votes.
Pramila Bisoi, is a 70-year-old, class 2 drop out, who has won from the Aska constituency of Odisha. An advocate of Mission Shakti, the women's SHG movement of Odisha, she has constantly advocated for the education of children and employment of women. She has also undertaken work on sanitation, health, and nutrition. And she has been involved in the development of several sustainable models of agriculture and water conservation. For all this, Bisoi has been awarded the Prakruti Bandhu and the Prakruti Mitra awards by the forest and environment department of the Odisha government. "Nothing will change if we do not work for it, and who but women know how to turn things around?" she says.
Others like the two independent women candidates Navaneet Rana and Sumalatha Ambareesh, and the three women MPs from Tamil Nadu, Thamizhachi, Jothimani and Kanimozhi are also inspiring figures of this election.
Needs to Make Women Representation More Inclusive
Yes, it is a matter of pride that this government will have the highest number of women MPs. But it is also important to acknowledge their politics. It is important to ask who these women are and how helpful is their politics to the marginalised communities. It is absolutely necessary to have more women in the cabinet, but what is more needed is to make this representation more intersectional.
Also read: Meet The 12 Dalit, Bahujan, and Trans Women Braving The 2019 Lok Sabha Elections
Women and other marginalised communities are making a difference in private and public spheres. They are making a difference politically. For centuries, the social politics of our country has been led by women, especially from the marginalised communities, in many ways, whether it be against casteism, for LGBTQIA+ rights, or for environment sustainability. All of this goes on to say that people-oriented democracy can thrive only when the marginalised are given their due spaces.
References
1. Women Candidates for 17th Loksabha (2019) by PoliticalShakti
2. Election Results 2019 by NDTV
3. Full Statistical Reports by the Election Commission
4. Who Will Represent Us for the Next Five Years- an analysis by The Wire