Posted by Mayank Chawla and Ayesha Khan
Cleaning up her desk and pushing the books inside her school bag, Doli Jatav rushes out of her school as the bell rings at 1pm. Her next stop is Johri Rifle Association where she practises shotgun after her school hours every day. Her daily routine starts from eight in the morning from her school ending at four in the evening at the rifle association.
Amidst the lush green farmlands of Johri village, stands an old fortress-like structured, which is the rifle academy. The only shooting academy in the Baghpat district, Johri Rifle Association is affiliated to Sports Authority of India. Currently, the association has eighty percent of girls enrolled with it.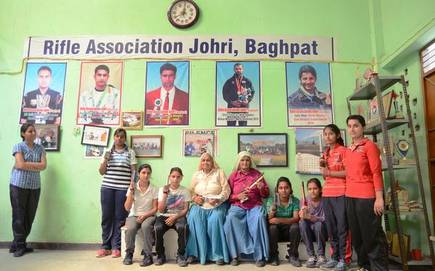 With hanging bricks along the slender wrists of little girls, they try to stabilize the vibration of their hands before they could start with their shooting practice. Inside the long corridor stand many girls with shotguns aiming at the bull's eye paper. With one eye closed and a stiff body posture, they shoot with confidence and accuracy.
Currently, the association has eighty percent of girls enrolled with it.
The inception of the rifle association is accredited to Rajpal Singh who was the dope control officer for the Indian team during the Asian Games, and turned into a full-time coach by the end of the decade. "Initially it was very difficult to get the children here to shoot. When the academy opened up in 1998, we only had 2 girls practising here", says Singh. In the 1980s, the village was infamous for its gun culture and Singh thought of channelizing this culture into picking up guns for sports. During the initial years, it was difficult to convince parents to send not only their daughters but even their sons for shooting as they thought that Singh was building some kind of army for himself.
Also read: Women in Public Spaces: Do Public Spaces Only Belong To Men?
Today the association has mostly girls on its roll sheet. Doli Jatav, a 10-year-old, shooter has been associated with the academy for more than 4 years now. It was her mother who took her to Singh and asked for her admission. Today, she has won 34 medals on the state level and has even been to BSF camps for training the jawans. She is also the brand ambassador for Swachch Bharat Abhiyaan for the Baghpat District. Talking about her role model, she likes the fan following and shooting techniques of Varsha Pratap Tomar who is one of the former students of the academy.
In the 1980s, the village was infamous for its gun culture and Singh thought of channelizing this culture into picking up guns for sports.
Varsha Pratap Tomar represents India internationally in trap shooting and practices at Dr. Karni Singh range in Faridabad. "My father used to walk with me to the shooting academy in Johri. People used to raise the question, as to where are you taking her, will you make her Jhansi ki Rani?" She further adds that whenever someone wants to challenge the stereotypical societal norms by doing something good, people will always raise questions. A sportsperson should thus be a person who starts from the point where ordinary people leave.
Neetu Sheoran Singh, another former student of the rifle association, is a coach with sports authority of India and coaches at Johri Rifle association herself. "A lot has changed since Varsha and I left the academy. During Varsha's time, Dr. Rajpal had to convince people about the benefits of getting a job after learning to shoot. Children used to convince their parents and wanted to join the academy at that time. While at Doli's time, parents understood the game being career oriented and they brought their children for admission." The academy has also helped in boosting the confidence of the girls while they wander around any public space of the village.
Also read: 6 Times Desi Women Reclaimed Public Spaces As Their Own
"In our villages, there have been instances where we find girls beating up boys for a cause. Even I have beaten up a boy at my school who was constantly teasing me after getting scolded from our teacher," says Doli. Shooting has given them an opportunity to earn certain respect in the public hemisphere explains Sheoran. Shooting has been responsible for creating an inclusive environment for the women of the village. "When a lafander (loitering boy) sees us, he is cautious of passing comments as we might revert back," says Sheoran.
---
Ayesha and Mayank are freelance journalists who are interested in storytelling through textual and visual medium. They are jointly working on a documentary project on girls picking up guns in Johri village as a sport. They mostly cover gender stories and society stories have worked with media houses like The Wire and Quint as features intern. You can follow Ayesha and Mayank on Instagram.
Featured Image Source: Bangkok Post