In today's time when face to face interactions have been replaced by virtual, anonymous interactions, an initiative called Know Your Neighbour in Kolkata is trying to promote the need to be conscious and aware of those with whom we share this world. In the times of communal polarization, the campaign called Know Your Neighbour is setting a benchmark in displaying that despite differences we need to learn to love and respect each other for the sake of humanity, for the sake of peaceful living.
The Know Your Neighbour campaign was set in motion in 2016 during the Holy month of Ramzaan, following incidents of communal violence in West Bengal. Know Your Neighbour is actually a social experiment of the association SNAP (Social Network for Assistance of People), which was formed in April 2008 under West Bengal Societies Registration Act XXVI of 1961 to provide required services to all minorities in West Bengal and to arrest divisions and propagate harmony in society. The main aim of the Know Your Neighbour campaign is to bring communities together, increase harmony while reducing prejudices through dialogue, discussion and participation in each other's activities.
The Know Your Neighbour team believes and is right in doing so that today inter-community discussions are virtually absent and it is only through communication that the biases and mutual distrust can be alleviated. The spatial reorganisation of the cities post-partition that has pushed the minorities to the particular forgotten locations, and the Indo-Pakistani War of 1971 and the subsequent birth of Bangladesh which further displaced and pushed the minorities to these spaces, are the main reasons for illiteracy, poverty and unemployment of the minorities. These factors when put together have only led to further ghettoization of the minorities. The drifts between communities are a result of this post-partition trauma, amplified and intensified by the polarising media activities. It is this polarization that Know Your Neighbour seeks to minimize.
The main aim of the Know Your Neighbour campaign is to bring communities together, increase harmony while reducing prejudices through dialogue, discussion and participation in each other's activities.
The campaign tries to initiate dialogues between different communities, and acquaint them with each other's history and culture by organising certain events. Some of the events that they have organised are described below—
Dosti Ki Iftari
Dosti ki iftaari is an annual event organised by the team to allow people of different communities to know what ramzan is all about, why people fast, and how the fast is broken at a specific time. In the Dosti Ki Iftari which was organised on 26th May this year in Khidirpur, over a hundred participated to show their commitment to the ideals of peace and accord propagated by the team. This year it was organised in collaboration with Khidderpore unit for Social and Welfare Activities and Right Track NGO.
They all broke the fast together and shared the delicacies served like Haleem, Biryani, etc. There were a number of speakers emphasizing on the need to strengthen bonds and narrow gaps between communities. In the event, certain problems that the Muslims are facing in India today were also highlighted like their difficulty in finding houses in the city, etc. On similar lines, Dosti Ka Utsav was also organised in 2017 as a part of Durga Puja celebrations.
Breakfast with Bakarkhani
The rare event was organised in January, 2019 in collaboration with Khiderpore unit of Social and Welfare activities, Right Track and Association SNAP because of the need to do away with the divisions and hatred that have been created along the lines of food preferences. In the event, breakfast delicacies like nehari, paya, dalpuri and bakarkhani that Muslims eat during winter, were shared and their histories were discussed with the aim of mitigating taboos related to food. It was a way of fostering love and respect for diverse food and cultures.
Shaam-e-Azaadi
Shaam-e-Azaadi was held on the 7th of April, 2019 to commemorate Begum Hazrat Mahal of Awadh on her 140th death anniversary at the Sibtainabad Imambara built by her husband Nawab Wajid Ali Shah. It was a collaboration of Know Your Neighbour and Manzilat, founded by the great granddaughter of the two. It was a way of remembering the queen's heroic role in the 1857 uprising and how she brought together people of different faith, class, caste, gender, etc together for the fight and how she ended up in exile in Kathmandu. There were also discussions around how certain categories of people are forgotten in history and how it is a conscious, political act.
Unifest: Celebrating Children's Day and Diversity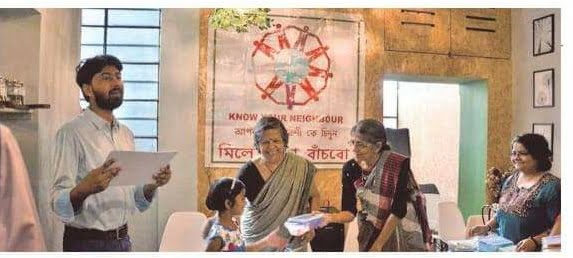 This program was one of a kind because it gave an opportunity to children from diverse backgrounds to come together. Recounting of different stories, presentation of art and sharing of home-made food was on the agenda for the day. From Rabindrasangeet to a Turkish song called 'aglama karanfil', celebrating unity, were sung at the event. Later, a drawing competition was held on the theme of diversity. The event tried to highlight to the children the importance of team work, and the need to respect diverse individuals and preferences.
Crossing the Threshold: A Walk through Zakaria Street
This walk through Zakaria Street, one of the oldest localities of Kolkata which comes to life as a food street during Ramzaan, was organised in collaboration with the Political Science department of Presidency University, Kolkata. The main aim of the walk was to highlight its diverse and inclusive past and present. The Nakhoda Masjid which is the largest mosque in East India was also visited. The group was also taken to Musafirkhana, Salim Manzil, the oldest Urdu library, the oldest Imambaras and other important sites in the area. There were discussions about freedom fighters of the area, Muharram rituals in the Imambaras, the celebration of Durga Puja in those very lanes, etc. They have also organised similar walks in other minority areas like Chinatown, Metiaburuz, etc.
Also read: No, We Can't Stop Communalizing Asifa Bano's Rape. Here's Why.
There are other events that were organised by the team like the one day trip to Chandannagar where different historical sites were visited like the B.Ed College, the French Cemetery, the tomb of Radhanath Sikdar, Lal Dighi, etc. The team also attended the book fair later in the day and arranged a panel discussion on 'Representation of Minorities in the Media.'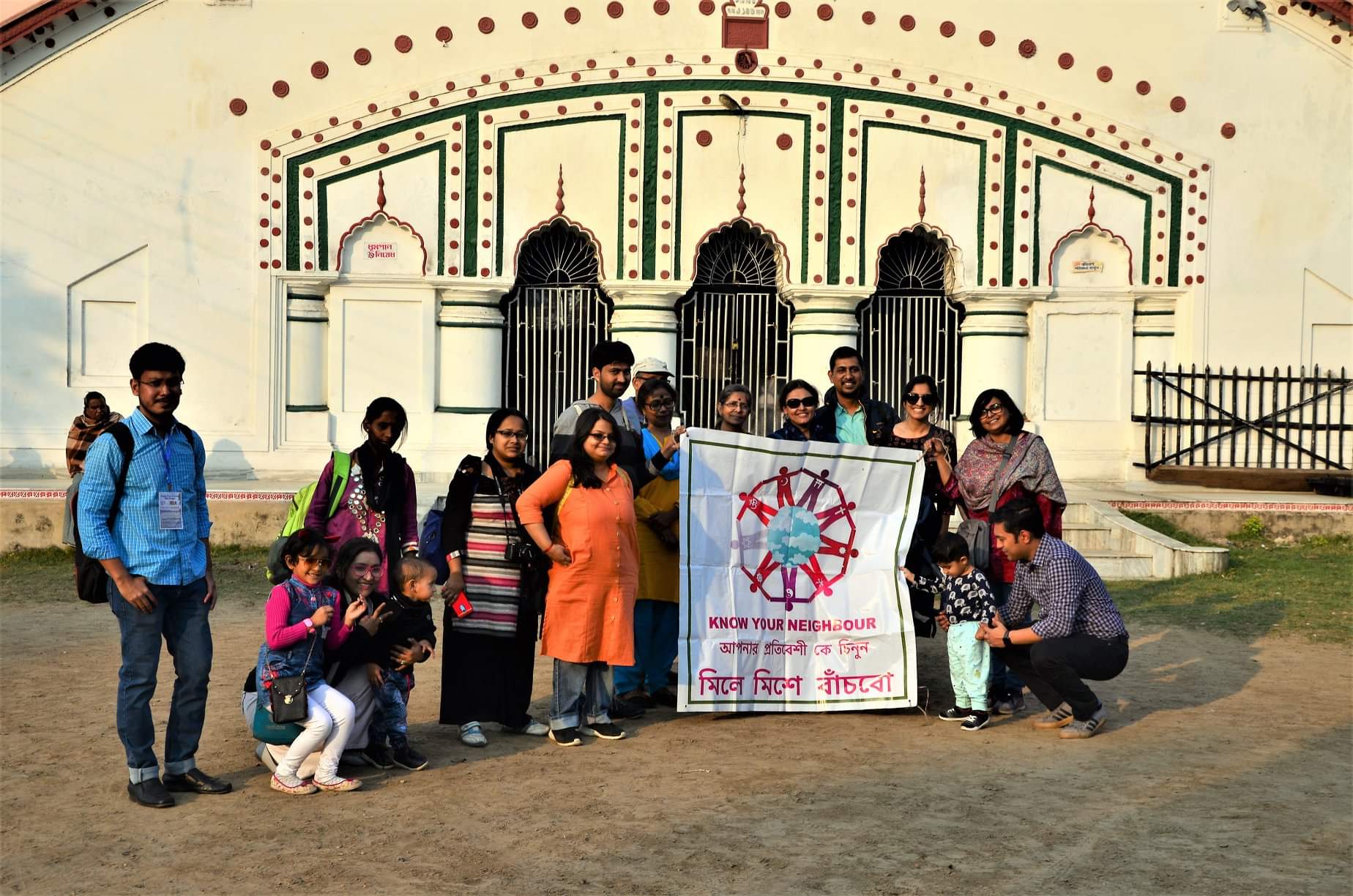 In the times when communal passions are being fanned continuously, Know Your Neighbour is a powerful, essential and momentous campaign trying to narrow gaps between communities through initiatives at the grassroots level.
The Know Your Neighbour campaign wants to engage students, knowing how important their participation is to keep these traditions, cultures and histories alive. In light of this, they had also visited St. Xavier's College (Kolkata), where they gave a brief outline of the aims of their social experiment, shared their experiences while encouraging the students and faculty to bring forth their observations and experiences of stereotyping.
Sabir Ahamed, Md. Reyaz, Md. Anwar, Madhuri katti, Moahana Mitra, Afreen Zaman, Sudarshana Chakravarty, Dr. Epsita Halder and Azhar Haque are the current active volunteers of Know Your Neighbour. Madhuri Katti highlighted that as a woman it was never difficult for her to take up this work because she feels that "people connect more easily if there are women of diverse communities standing together to share different stories, experiences." She feels that she represents the voice of the marginalised and from this position she is able to bring a different perspective in the events. Volunteering with Know Your Neighbour has allowed her to be inspired and enriched by all the stories and experiences shared in various events.
The response that the team is receiving "has been phenomenal", said Katti. The number of participants has been increasing year after year she pointed out and it shows how people are willing to learn and bond with one another. If it were not for the narrow sectarian goals of particular institutions like media, politics, etc communal discord would not be a reality. In the future, this initiative plans to organise more neighbourhood walks, and increase interaction with local community members in collaboration with Jadavpur University and Presidency University. They want to continue uncovering the rich history and heritage of Kolkata in order to inspire communities to come together and help one another in overcoming prejudices and breaking stereotypes.
Also read: How the Citizenship (Amendment) Bill 2016 Spreads Communal Hatred And Xenophobia
In the times when communal passions are being fanned continuously, Know Your Neighbour is a powerful, essential and momentous campaign trying to narrow gaps between communities through initiatives at the grassroots level. They draw attention to the fact that the very ordinary, mundane and everyday activities of our lives are indeed not so ordinary and can be used to create divisions among ourselves but recognizing, tolerating and respecting these differences can help downplaying their effects. Their commitment to peace, harmony, love and respect deserves much attention and sets an example for the rest of the society.
---
Featured Image Source: Twitter