"How dare you?" 16-year old Greta Thunberg thundered at world leaders at the UN Climate Summit in New York earlier this week. "This is all wrong," she said as she began her speech, "I shouldn't be up here. I should be back in school on the other side of the ocean. Yet you all come to us young people for hope. How dare you!" Greta Thunberg's rage at the world leaders' silence on the increasing threat of climate crisis at the Climate Summit soon went viral, with people sharing clips of her speech on social media and lauding Thunberg for her powerful words.
In the past year alone, Thunberg has spearheaded a global movement against climate change. A recent example of which could be the September 20 Global Climate Strikes, which took place all over the world and saw millions of young people demanding immediate climate action from their governments. But how did Greta become a symbol for young people all over the world as they take to the streets to demand climate justice? How did a teenager become one of the most influential environmentalists of our time? Let's have a look.
Who Is Greta Thunberg?
Greta Thunberg was born on 3 January 2003 in Stockholm, Sweden. She was 8 years old when she first heard about climate change and couldn't help but be perplexed that so little was being done about it. In the Vice documentary called "Make the Word Greta Again", Greta shared how she had first found out about climate change and its impact, "I first started learning about climate change when I was maybe eight, in school, when my teacher showed us pictures of plastic in the ocean and starving polar bears and extreme weather events. Those pictures were stuck in my head, I couldn't stop thinking about them. When I was maybe 11, I became depressed. I stopped eating and I stopped talking and I stopped going to school."
Greta Thunberg's rage at the world leaders' silence on the increasing threat of climate crisis at the Climate Summit soon went viral, with people sharing clips of her speech on social media and lauding Thunberg for her powerful words.
Daughter of the famous opera singer Malena Ernman and Swedish author Svante Thunberg, Greta pulled herself out of depression and started learning more about the global climate crisis. She didn't back away from confronting her own family. "Greta forced us to change our lives," her father Svante told the Guardian. "I didn't have a clue about the climate. We started looking into it, reading all the books – she has read them too." Her mother even gave up her international career because of the environmental impact of aviation. Greta has Asperger's syndrome, which she considers not a disability but a gift which helped her understand just how grave the problem of climate change is.
How It All Started
Inspired by the Parkland students' "March For Our Lives" in the US, Greta decided to skip school and sit outside the Swedish Parliament every day for three weeks in late 2018. She sat with a sign that said, "school strike for the climate" and demanded that the Swedish government reduce its carbon emissions. Many would argue that Sweden already does a lot to minimize the harmful effects of climate change, but according to reports, May 2018 and July 2018 were the hottest months of May and July ever recorded in Sweden's history. Sweden also experienced a historic breakout of wildfires across the country in 2018. After Greta posted the pictures of her strike on her social media accounts, it gained the attention of local media, which then led to international media reporting about Greta's unique activism.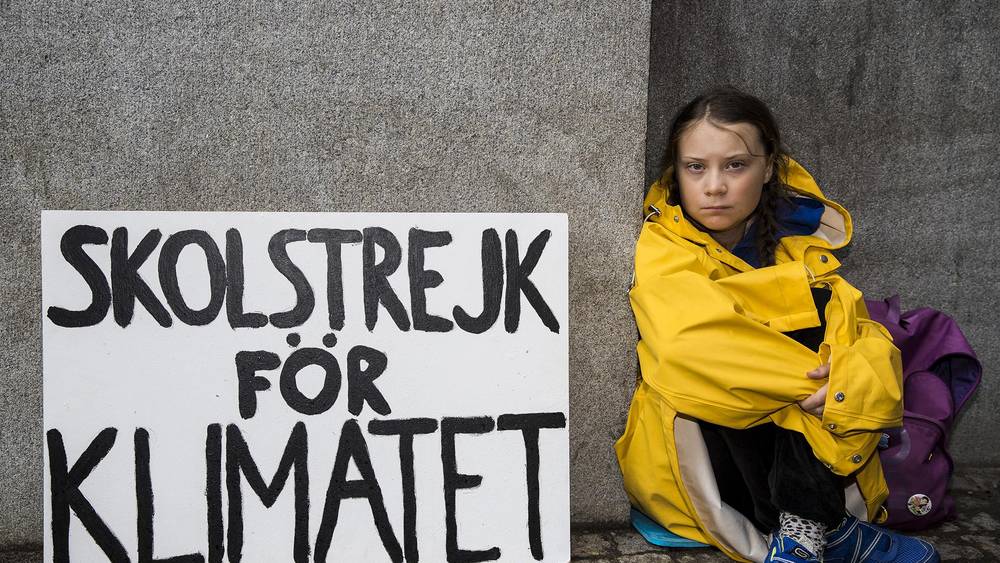 The Greta Thunberg Effect
AFTER GRETA POSTED THE PICTURES OF HER STRIKE ON HER SOCIAL MEDIA ACCOUNTS, IT GAINED THE ATTENTION OF LOCAL MEDIA, WHICH THEN LED TO INTERNATIONAL MEDIA REPORTING ABOUT GRETA'S UNIQUE ACTIVISM.
From demonstrating in front of the Swedish Parliament alone to leading a global movement against climate change, Thunberg has had a significant effect on not just people's attitude towards climate change, but also on global politics. Greta Thunberg has been a keynote speaker at many climate and political conferences, but one of her most notable appearances might have been at the World Economic Forum at Davos, Switzerland.
Also read: "There's No Earth B!": On The Global Climate Strike In Delhi
Taking a jab at the delegates that had arrived at the gathering in private planes, Greta said, "Some people, some companies, some decision makers in particular have known exactly what priceless values they have been sacrificing to continue making unimaginable amounts of money. I think many of you here today belong to that group of people." She wasn't too happy with the empty reassurances either. "I don't want you to be hopeful. I want you to panic. I want you to feel the fear I feel every day. And then I want you to act. I want you to act as you would in a crisis. I want you to act as if the house was on fire – because it is."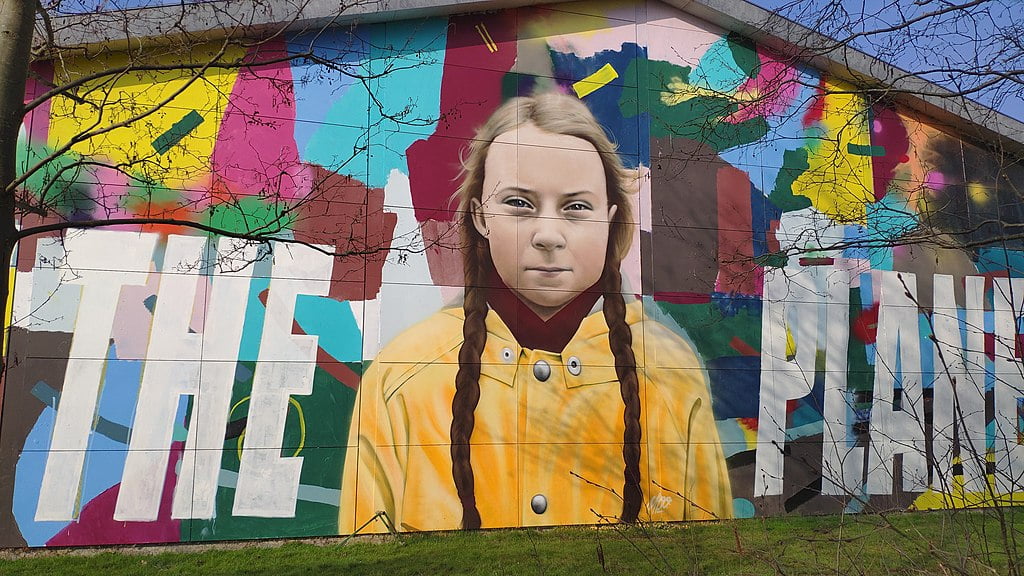 After Davos, Greta's activism started gaining even more traction worldwide. In March 2019, she was nominated for the 2019 Nobel Peace Prize. A collection of her speeches was turned into a book by Penguin Publishing House called "No One is Too Small to Make a Difference" in May 2019. Jody Thomas, a Bristol-based artist, painted a 50-foot-high mural of Greta on a wall in Bristol, England later that same month. Both Britain's secretary for the environment Michael Gove and Labour politician Ed Miliband have praised Thunberg. Not just this, but Green parties saw their votes almost doubling in the May 2019 European elections.
The Swedish Railways too reported a month later that there was an 8 per cent increase in the number of Swedes who chose travelling by train over flying. The secretary-general of the Organization of the Petroleum Exporting Countries (OPEC), Mohammed Barkindo, even said that climate change activists such as Thunberg are "perhaps the greatest threat to our industry going forward." One also can't deny that Thunberg's brand of activism has pushed climate change as one of the most significant agenda in global politics. Thunberg also inspired several global youth climate movements. Groups like Fridays For Future are being actively led by young people worldwide. The September 20 Global Climate Strikes and the overwhelming participation of young people in them only served as an example of the huge impact of Thunberg's activism.
The Way Forward
What Greta Thunberg has done and managed to achieve is nothing short of spectacular, but we mustn't forget that the true heroes of the fight against climate change and the Earth's original environmentalists have always been Indigenous People- and they, sadly, haven't been given enough recognition.
Several Indigenous activists have been fighting major corporations, corrupt governments, and anti-environmental laws for centuries now. It is the Indigenous women who are leading the protests against Brazilian President Jair Bolsonaro's policies. They are not just fighting for their rights but also proactively leading the movement to save the Amazon rainforest. It was the young Indigenous women in Standing Rock that led protestors to victory against the Dakota Acess Pipeline and it was again the Indigenous women who spearheaded the protests in Mauna Kea in Hawaii. Here at home, it is Indigenous activists like Sokalo Gond and Prakash Bhoir, who are not as much awarded as they are threatened to be put in jail for their relentless environmental activism.
Also read: Save The Amazon: Indigenous Women In Brazil Protest Against Bolsonaro
While we celebrate Greta and her activism, let us also not forget that we are all indebted to Indigenous people for their fight for the environment. As young people lead the discourse around climate change and demand climate justice, they should also keep in mind those who have been denied the same justice for centuries and stand in solidarity alongside Indigenous people, because the only way forward in this fight against the climate crisis that threatens us all should be intersectional.
---
Featured Image Source: Wikimedia Commons