Laxmmi Bomb is an upcoming Indian Hindi-language comedy-horror film that features Akshay Kumar, Kiara Advani, Misogyny, Trans-negativity and much more. In the movie, the protagonist character, played by Akshay Kumar, is a person who has been possessed by the ghost of a trans person. The trailer looks like an attempt to cook Bollywood's age-old recipe of comedy-horror hotchpotch with a handful of poor jokes and massy songs. But this is not just limited to Laxmmi Bomb. The problem is deep-rooted and deserves serious attention. Bollywood's irresponsible behaviour impacts the lives of queer-trans people. So, here's is a list of all that's wrong with Laxmmi Bomb and Bollywood's representation of queer-trans people.
1. Akshay Kumar Commodifying Marginalised Issues
Be it Mission Mangal, Padman, Toilet-Ek Prem Katha – Akshay Kumar is known to hijack stories of women empowerment. He takes up space and becomes the savior/hero in the film that ideally should have upheld the lived realities of women and their struggles. Now in Laxmmi Bomb, his portrayal of a transfeminine person isn't only inauthentic but looks caricatured, reduced to only a careless and insensitive act of transness of the character; nothing beyond that. With Laxmmi Bomb he crosses that extra line by hijacking the trans-expression and identities of trans people.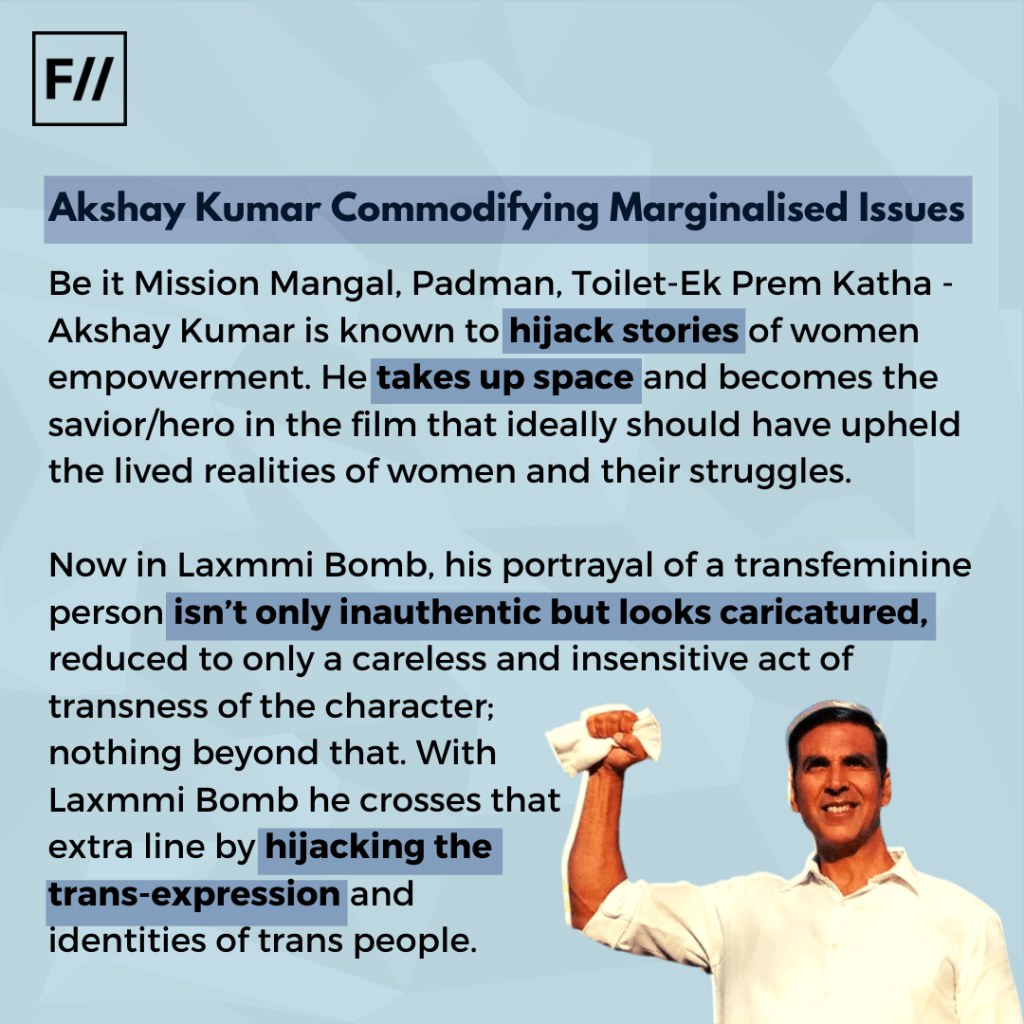 Also read: Laxmmi Bomb's Trailer Features Akshay Kumar, Kiara Advani, Trans Negativity, Misogyny And Much More
2. Reinforcing Stereotypes
The film reinforces the stereotypes that the way trans people appear is funny. It is informing the audience that violence, frivolity and fear is the response when you see trans people. Many cis people view trans people as a homogenous group, so their ideas of trans people is often limited to what they see in the media. But this doesn't stay limited to the screen, it has a direct effect on the real lives of trans people, their mental health, their safety, rejection in family, lack of employment and acceptance as whole individuals.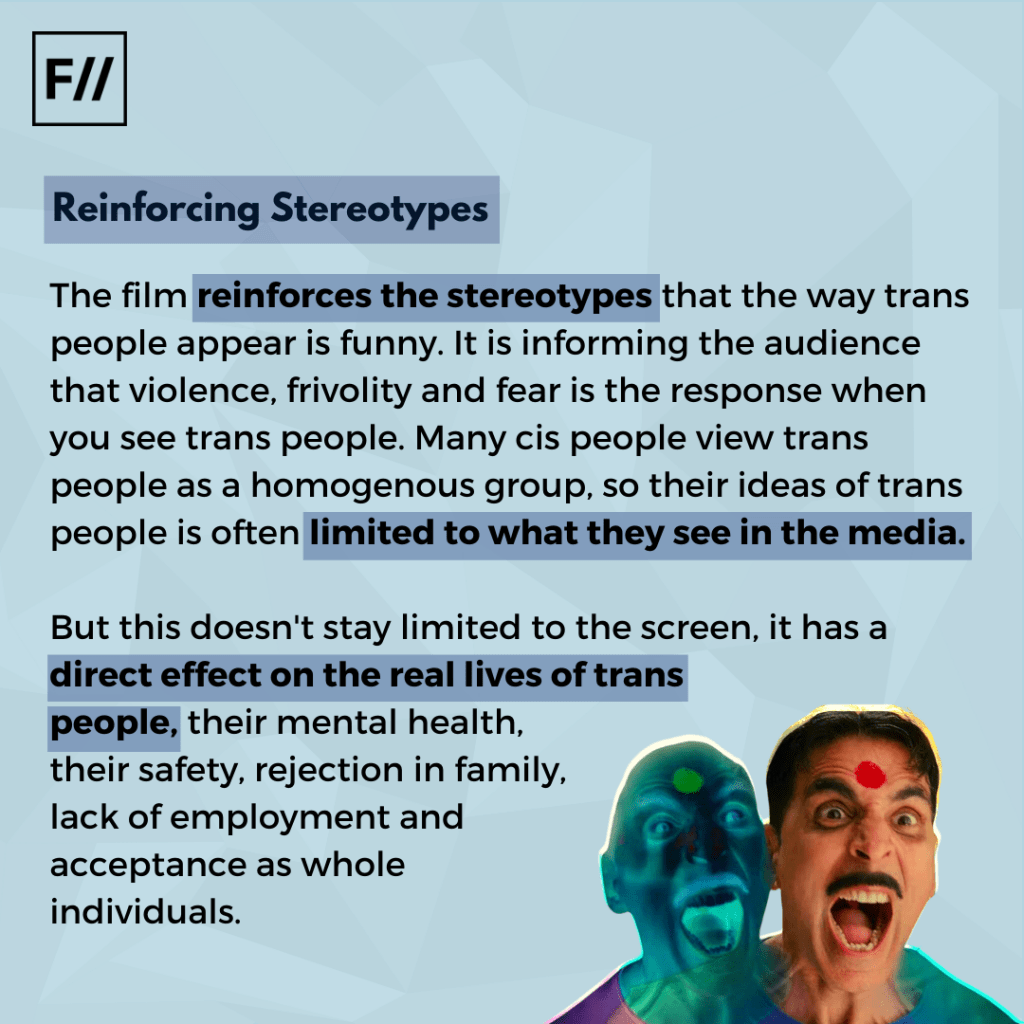 3. Casting Cis-People for Trans Roles
When a cis actor plays the role of a trans person, the whole conversation all of a sudden becomes about the cis actor. And we don't get to discuss enough about the trans character, which would have not been the case if trans people were cast. That way the conversation sticks to trans people, their abilities, their struggle and their success and their life. For cis actors, it is merely a challenging role or another character for them with the hope of being acknowledged as a critically acclaimed actor or being drooled by the 'woke' fans or a mere 'experiment.'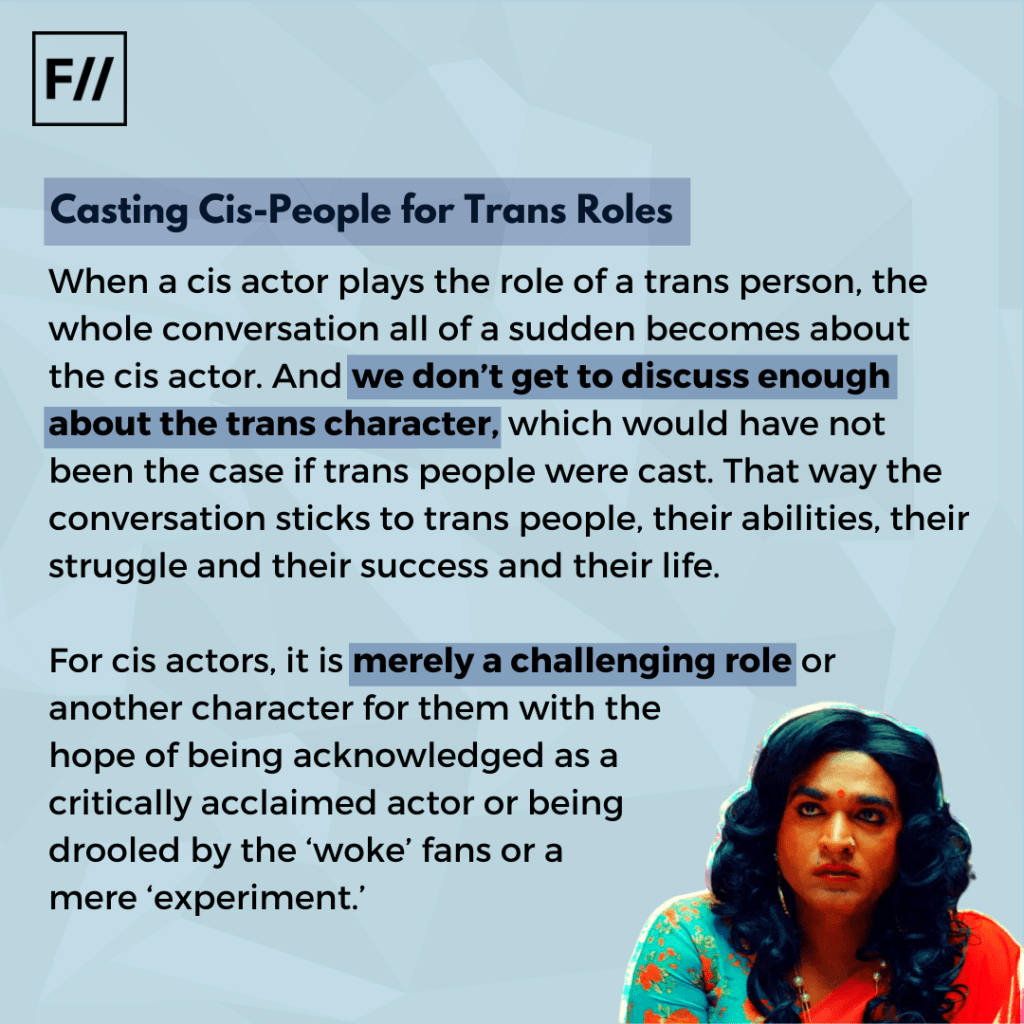 Also read: Laxmmi Bomb: When Bollywood Tries Too Hard (And Fails) To Be 'Woke'
4. Looking at Trans People From the Cis-Gaze
Problematic portrayal of queer-trans people in mainstream media is common. As many such movies are written, directed and acted by cis-hetero people. They look at the marginalised communities from the cis-hetero gaze, and can't let go of their preconceived perceptions of gender and sexuality. They can only treat trans characters with frivolity and humour. Even honest attempts of portraying queer-trans characters, often fall prey to sensationalising the lives of queer-trans people. Their storyline mostly ends with death, violence, separation, rejection, etc.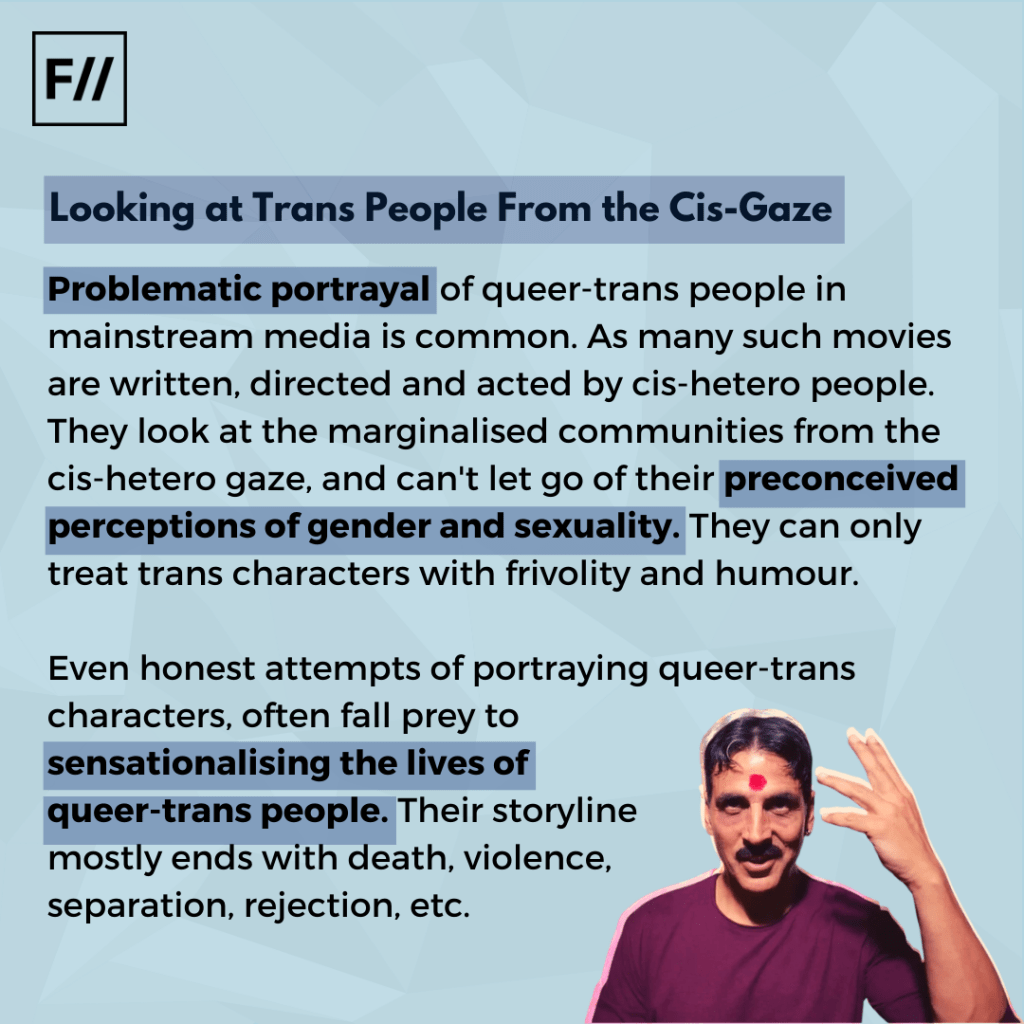 The content and concept of this poster series is based on Sudipta Das' article 'Laxmmi Bomb's Trailer Features Akshay Kumar, Kiara Advani, Trans Negativity, Misogyny And Much More'.
---