By Deepanwita Gita Niyogi
There is a nip in the air. The clucking of hens, the clanging of pots and pans, and the delicious aroma of chaur bhaja, a traditional rice and roasted chicken dish, keep the senses alive. Resplendent in a red saree, Dasmi Nag arranges the logs to maximise the heat in her chulha (an earthen stove).  
Belonging to the Dhurwa indigenous community, Dasmi lives in Gudiya village of Bastar, a district known for its vibrant tribal life and Maoist insurgency, in Chhattisgarh State of Central India. In her mid-40s, Dasmi travels down memory lane to a time when, as a young bride, her in-laws would chastise her if the food was served late.
"Can you imagine the rush to prepare pej (rice and ragi porridge) and lunch for the entire family when everyone is hungry? It all depended on water availability. On most days, I had to go to a nearby stream located a km away for clean drinking water. The hand pump came much later, in 2012-13," she says, remembering how her legs had felt weak and her neck and shoulders had ached due to the weight of the water pots on her head. In the winter, when darkness descends early, the women would band together for courage, carrying mashals (a long pole with a fire burning at one end) through the dense forest teeming with wildlife.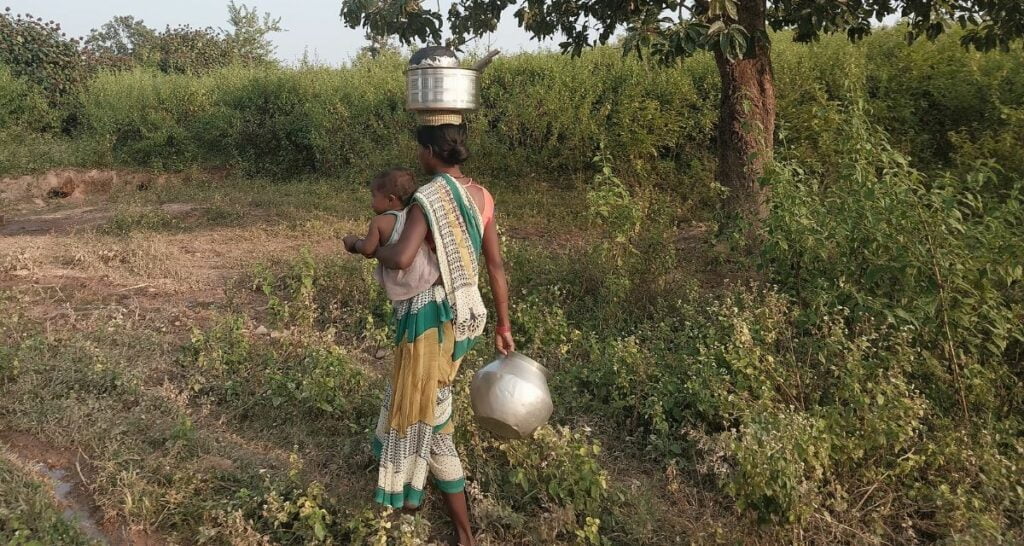 Dasmi got a tap connection at home sometime back under the Jal Jeevan Mission (JJM) run by the Ministry of Jal Shakti. The programme is aimed at connecting every rural household in India with a tap water connection by 2024, covering 19.35 crore rural families. At the time of its launch, 3.23 crore families had access to tap water. As on December 12, 2022, the numbers have increased to 10.72 crores. Bastar district has seen 30.24% coverage with 49,554 out of the 1.63 lakh households having tap water connections.
Also Read: Community-led Water Governance Initiative Works Wonders In Southern Odisha
Touching lives
In areas where electricity grids are absent, the use of solar power under JJM helped bring tap water to rural households. The Chhattisgarh State Renewable Energy Development Agency (CREDA) and Public Health Engineering Department (PHED) have been working together to set up these solar water structures.
Under the project, one horsepower (HP) solar submersible pump costing Rs 90,000 is installed and a structure, either nine or 12 metres high with a capacity to hold two 5,000-litre water tanks, is built. The whole set-up is powered by four solar panels of 300 watts each.
Also Read: "The Conflict In Bastar Has Brought Women To The Forefront" – In Conversation With Isha Khandelwal Of Jagdalpur Legal Aid Group
PHED Executive Engineer SP Mandavi told 101Reporters that solar energy in water connection arrived in 2010-11. Under the Chhattisgarh government's Nal Jal Yojana, solar was used in some instances and a common stand post was erected for water collection. The JJM added individual tap connections to that.
CREDA Executive Engineer Damrudhar Sidar says the use of solar power in JJM has accelerated its penetration and efficiency. "Earlier, structures of four-and-a-half metres to six metres in height were built under the Nal Jal Yojana. With the JJM, the structure's height was increased for better gravity, so that water could reach the tail end to serve 25 to 30 households in a hamlet."
Sidar says the CREDA is working only in areas having grid connectivity issues and those proposed by the PHED, which funds the structure construction. "Many gram panchayats (village councils) often failed to pay electricity bills, ultimately leading to disconnection." Individual connections have reduced the burden of fetching water from long distances. For years, Rukna Yadav from Bamnaras had fetched water from a chua (surface water source in fields). "I had to boil the water to use it. In the monsoon, it got dirty. I do not have to toil much now, as the nearest water stand post located just 50 m from my house started functioning four months ago."
Before the JJM, many women in Bamnaras village depended on either the hand pump or a perennial chua. "Most of us had to spend at least 15 to 30 minutes each time bringing water. The manually operated hand pump made the hands ache. So many vessels, big and small, had to be filled two to three times," says Rambati Nag.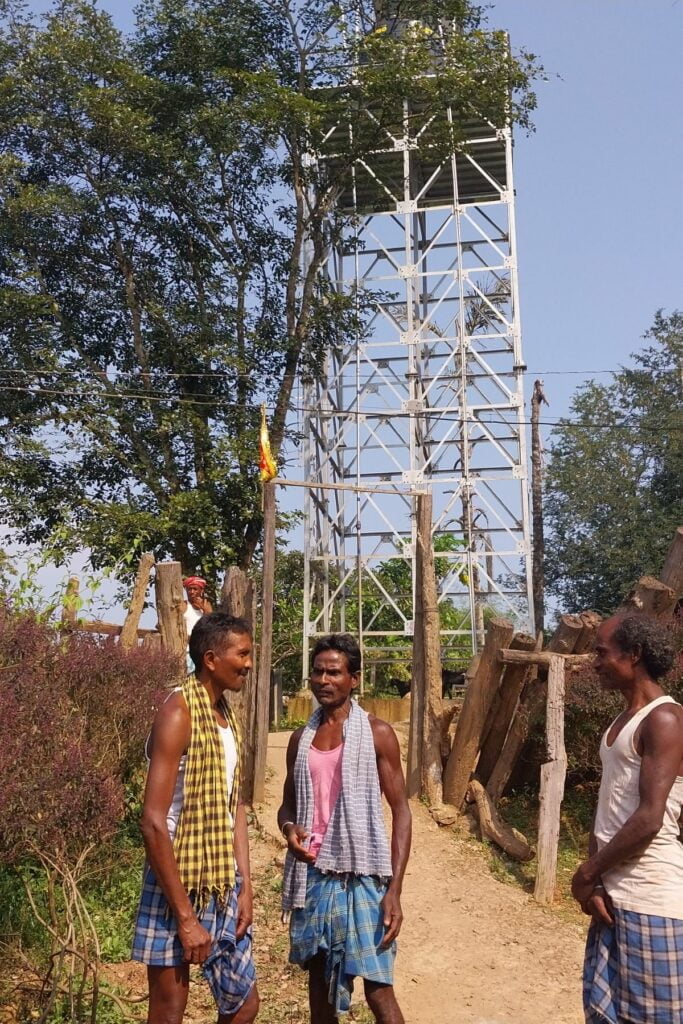 Jitri Nag (50), who used to spend about an hour daily fetching water from the stream, adds that she finds time to tend to her kitchen garden after getting the tap connection. Standing by and translating, Baliram Nag, nods. A Dhurwa community member and CREDA technician, he intimately knows how the lives of women have changed since improved water connectivity.
Besides home connection, there are common stand posts where women can collect water. In a few places, the individual taps are yet to yield water as connections have not been possible.
For Bamnaras resident Tara Nag, a mother of four, the common stand post is a stone's throw away and she takes just 10 minutes to fill up her vessels each time. There is no tap in her house, which is at a higher elevation.
Though many have benefitted from the JJM, it is a long-drawn process in interior villages. First site surveys are carried out, followed by foundation work, erection of structures and installation of dual water tanks on top.
Overcoming problems
Noting how Tusail village has aquifers located deeper than in other places, CREDA Sub-engineer Kamlesh Kumar says some areas of Bastar have this issue. In such cases, the solar capacity could be enhanced using high-power pumps. Water can also be lifted from surface sources, but requires purification at a treatment plant. However, the JJM does not provide for that facility.
CREDA Superintending Engineer SK Shukla tells 101Reporters that site selection posed problems as workers mostly refused to come to Bastar for work. Against 1080 work orders for solar pump systems under the JJM in Bastar division (encompassing seven districts), work has been completed in 883 of them. In the Bastar district alone, there are work orders to solarise 199 out of the 614 water structures; 164 have been completed.
In the whole of Chhattisgarh, 4,534 solar pump systems have been installed against the 5,010 work orders. For the financial year 2022-23 (April-March), the total budget allocation for Bastar district till November this year under JJM stands at Rs 28 crore.
Also Read: Water Supply Remains A Pipe Dream For Women Of Jharkhand's Jharia
On the progress made in Bastar so far, District Collector Chandan Kumar tells 101Reporters that people, especially women, were appreciative as the JJM scheme saved both their time and energy. "By December next year, all households will be covered," he predicts.
However, issues like improper functioning of taps or yielding water in lesser quantities are cropping up. In Kanakurushpal, all 75 households have tap water connections. Mangla Kashyap, a beneficiary, now gets ample time to spend with her children. "But some women still queue up at the hand pump as taps are not functioning properly or the water flow is lean," she says.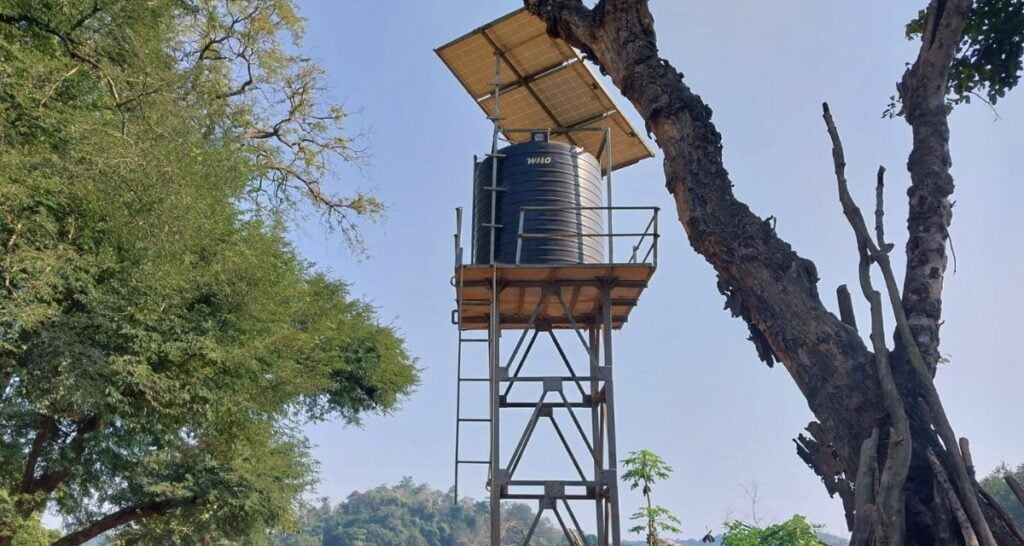 In the Irpa village of Bastanar, a region dominated by memorial pillars erected in honour of the dead, most residents belong to the indigenous Maria community. Here, a solar system has been set up in Pujaripara hamlet.
The residents point out that cloud cover during monsoon slows down the supply. "During monsoon, we have to depend on the chua as the solar system charges only slowly. Nevertheless, solar adoption has made life easier for women. They can now devote more time to fuelwood collection," says Sudru Poyam, a paddy farmer, who says the community has to clean the twin tanks every month.
Back at Gudiya, Dasmi's neighbour Deoli Nag insists on proper maintenance. "What if some glitch happens and water does not come? The technical people live far away. In case of a problem, we should not be left without water, for say a fortnight."
When Pramila Maurya came to Nayapara hamlet of Raikot village after her marriage in 2007, she had to deal with the absence of power and tap water for years. "As the hand pump yielded iron-contaminated water, all women in my family went to the talab (pond). Individual tap connections started only in June this year."
Now, life is more comfortable for Maurya, the wife of a government school teacher. "I spend time watching TV serials and talking to my devranis (sisters-in-law) under the shade of a tamarind tree. We pass time comfortably with no tension over water availability."
"Earlier going to the talab entailed putting the children to sleep, but they invariably woke up, sometimes before we even started… When the village got electricity, I insisted on a personal borewell. However, the power bill ran quite high. Now I intend to use it for watering my vegetables in winter."
As November is the month of paddy harvest, work has been stalled in some areas. According to contractor SR Markandi, people are not at home all day long. "But we have to consult them on matters like pipe-laying and stand post erection, all of which are getting delayed."
---
Deepanwita Gita Niyogi is a Bastar-based freelance journalist and a member of 101Reporters, a pan-India network of grassroots reporters. This story is supported by Internews' Earth Journalism Network.