The Great Indian Kitchen (2021) (TGIK), Ammu (2022), and Darlings (2022), are three movies that put women and their experiences at the centre of their plot. The last two movies deal with domestic abuse, while TGIK emphasises how women in marital homes are plagued by the burden of housework. All three have received a great deal of attention from viewers and critics, and have sparked numerous discussions around sexism, patriarchy, and gender politics.
I was struck by how much space food takes up in both the narrative and the visual environment of all these movies. Food is loaded with flavour, both literally and symbolically. Foods like kulfi, omelette, mutton, egg, and fish curry, biryani, chai, coffee, dosa, sambar, chutney, puttu, chana, idiyappam, popcorn, and others are used as metaphors to discuss various subjects and emotions. In these movies, the kitchen as well as the act of cooking, eating, serving, and cleaning are integral to the story, the juxtaposition of images and framing of scenes. 
Food and the contours of domesticity
In differing degrees, all three movies deal with women's position and status within patriarchal norms, and food serves as a forceful symbol for keeping women inside the boundaries of the "domestic." When Ammu's title character (played by Aishwarya Lekshmi) asks her husband Ravi (played by Naveen Chandra) for permission to see a movie, he refuses, because there won't be anyone to prepare food for him. Thus, the wives' domesticity is framed by their obligation to prepare meals.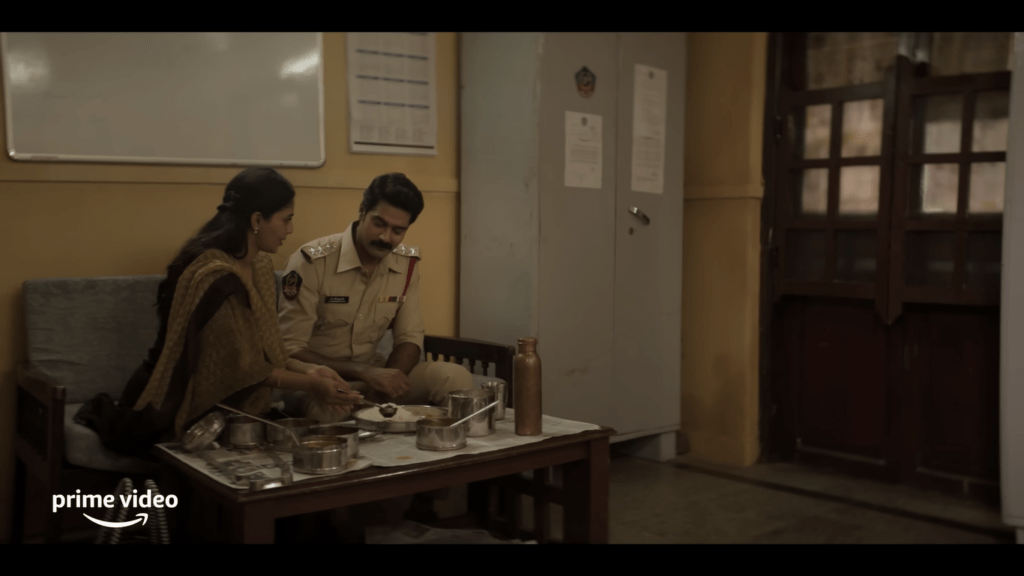 In Darlings, Vijay Varma's character Hamza, who is enjoying dinner, bites into a kankad (stone). He looks accusingly at Badru as she fails to uphold her duties as a decent wife and serve him a perfectly prepared meal. As a sign of her subordination, Badru (played by Alia Bhatt) offers her palm for him to spit into. The second time he comes across a kankad, he stands up, grabs her neck, and starts beating her. A wife who cannot serve delicious meals is a bad wife who is not doing her duties and must be "set right," which is the basis for this outburst of wrath and violence.
Badru and Ammu (played by Aishwarya Lekshmi) continue to prepare and serve food to Hamza and Ravi despite their violence. Ammu does this without showing any annoyance, but Badru expresses her irritation by ignoring Hamza's attempts to humour her and apologise.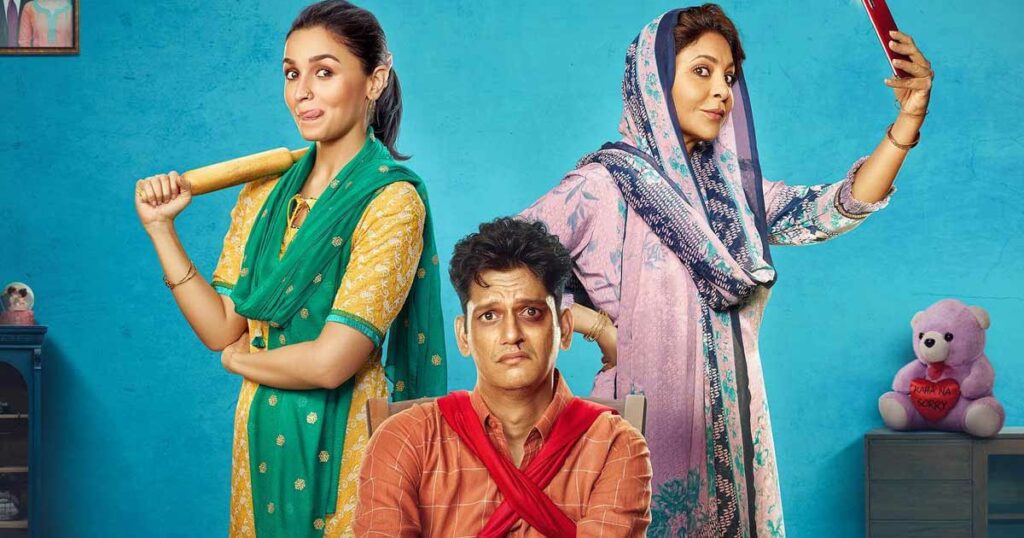 Popular culture frequently depicts cooking as a way to express love; in a similar vein, Ammu one day decides to prepare and give her husband a lovely lunch at his workplace, despite his earlier communication that he is fine with getting lunch from a restaurant close to his office. The next day she gets an angry phone call from her husband telling her that it is past one and that he is waiting for his lunch. She looks confused as she had just cooked for him once as an act of love. Little did she know that she was bound by a contract based on Ravi's sense of entitlement. She is reminded of her duty towards her husband — of feeding and serving him meals punctually.
When she ultimately reaches his office, he refuses to eat and questions her sternly. She innocently accepts that she did not know she had to bring him lunch today. He angrily gets up and goes back to his desk, refusing her "charity". Therefore, cooking and serving are more than just physical acts — they also involve sentiment, emotion, and dedication. Serving your husband must come naturally to you, not as a result of his requests. A good woman must recognise her husband's requirements and prevent any room for complaints. He refuses to eat despite Ammu's pleading, insisting that he will take care of himself now and apologises for troubling her. Ammu sits next to the uneaten meal — a marker of her failure.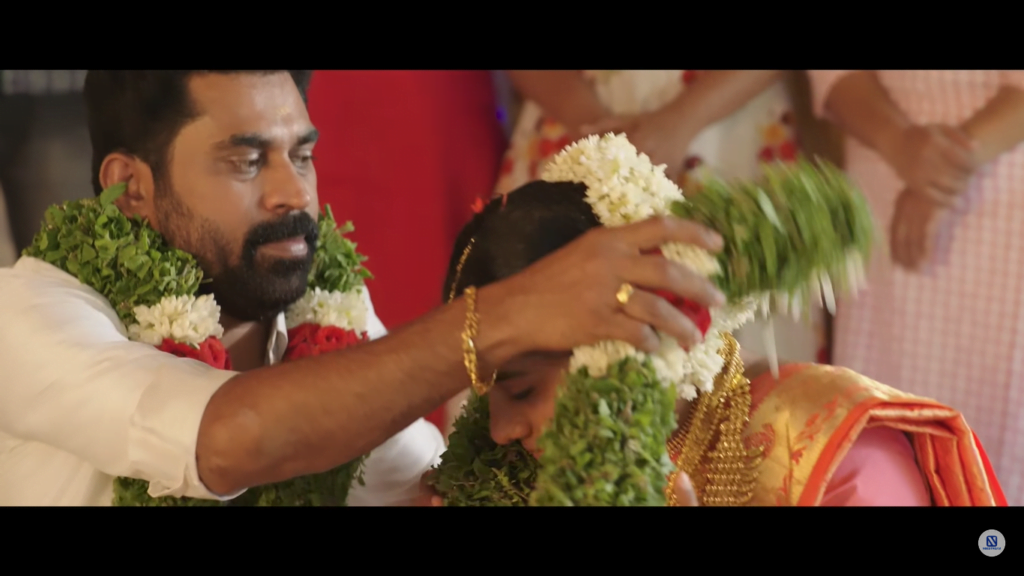 In TGIK On his first day back to work after their wedding, the husband (played by Suraj Venjaramoodu) calls his wife (played by Nimisha Sajayan), hinting at a packed lunch by saying he could not enjoy lunch as he had to dine out today.
Despite being physically outside the domestic sphere when Ammu brings and serves the packed lunch to Ravi, she nonetheless carries her domesticity with her. Similarly in TGIK when the mother-in-law (played by Ajitha V.M.) is packing her suitcase to go stay with her pregnant daughter — she includes masalas and an appam pan. This can be contrasted with the dabbas in Darlings which convey agency.
Also read: What Has The Feminist Movement Got To Do With Food?
As business partners, mother (played by Shefali Shah) and daughter prepare and pack dishes like biryani. Food empowers people when it is not constrained by household norms, and the very repressive symbol becomes emancipatory. This is comparable to Usha in TGIK, who is hired to cook while the wife is menstruating and hence considered "impure" to do so. Usha says that she uses the money she makes from domestic work to pay for her children's education.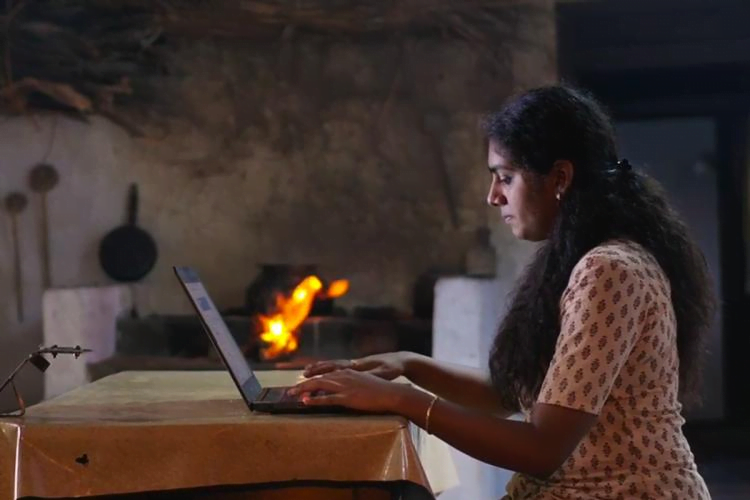 Domesticity is also communicated via cinematic juxtaposition in TGIK, which starts by showing Nimisha dancing — we see her happy face and dancing hands juxtaposed to close-ups of a woman's hands cooking and serving an exquisite spread. In contrast to the emotive and expressive qualities that are visible during self-expression, responsibility brings about a fragmented sense of self. The frying of pappad during Nimisha and Suraj's wedding is another moment that jumps out since the very next frame is of the bridal garland he wraps around her neck, creating a graphic match. He appears to be figuratively securing her to the kitchen.
Men's food-related preferences 
Men's preferences about food, the process of preparation, and serving are apparent in the three films. Be it Hamza's grimacing with annoyance and disapproval every time Badru drops something, Ravi's preference to eat sitting on the couch instead of the dining table, or the men in TGIK who want hand-ground chutney, and rice cooked on the fire stove instead of the pressure cooker on the burner. The method and even the utensil are dictated by the men of the household. These preferences and mandates are premised on the "taste" and ideals of the men, and not on the convenience or desires of the women who cook.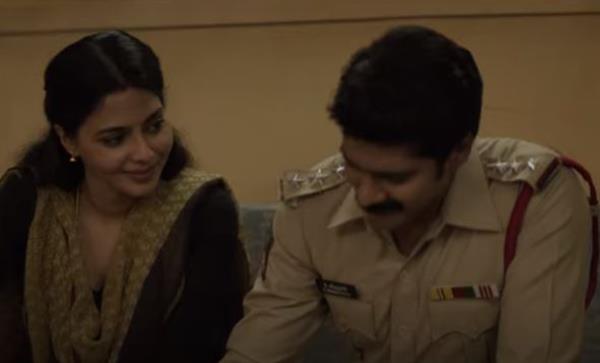 While men have innumerable food preferences, there is apathy toward their wives in this domain. When Ammu confronts Ravi asking if he knows what time she has lunch every day, or what she eats in a day, he angrily drives away leaving her behind to walk home. Since chapati is the traditional evening meal in the household, the husband in TGIK firmly but playfully refuses to eat leftover rice for dinner. When Nimisha contacts her mother to voice her displeasure at this, the mother explains that this is just how things are; men enjoy freshly prepared meals, and women eat leftover rice. In this regard, there is no reciprocity — women are expected to take care of men's culinary needs and to accommodate all of their preferences, but men are unconcerned with women.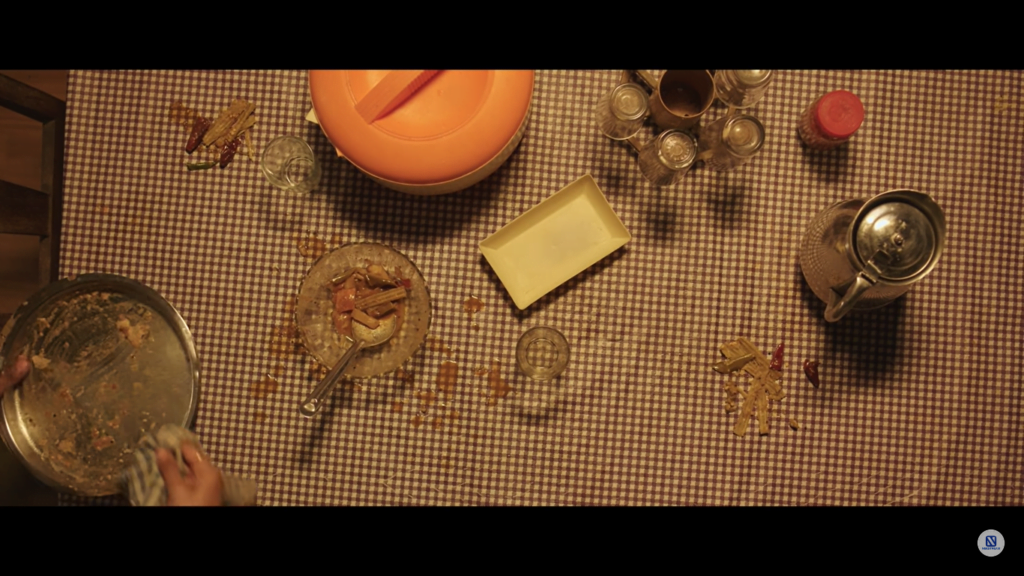 In TGIK, the men leave the table utterly filthy after eating, with their soiled dishes and leftover food all over the place. The wife humorously remarks that the husband does appear to have table manners when they go out to dinner one day and he properly disposes the waste in a separate dish. He sharply reacts by saying that things in his house will happen according to his convenience — pointing out that there is nothing wrong with the way he disposes off waste at home.
Men are allowed to point out flaws in her food preparation, but she cannot point out any flaws. The acts of leaving waste on the table, of leaving the cup of tea for the wife to wash, are not innocent gestures, but are displays that show women their place and responsibilities. They communicate that while men eat, women are supposed to take care of the before and after too. 
Accessing affect through food
There are also moments in the film where temperaments, emotions and sentiments are expressed through the framing of food and its allied activities. Badru expresses her irritation at Hamza being late for a date by looking at him in anger and throwing away her half-eaten kulfi. In TGIK Nimisha says that the tapioca biryani is making her lethargic, communicating a lack of sexual consent via food, which is, however, ignored by her husband. 
Also read: FII Interviews: Dr. Sylvia Karpagam Tackling Institutional Discrimination From Within The System
When Badru cooks a plan to reform Hamza, the mutton curry, sprinkled with optimism as well as medicine is supposed to rid Hamza of his drinking problem. However, things do not go as planned, and Hamza finds out. After he beats her, she is shown throwing away the curry — and this gesture becomes a gesture of defeat. Disappointment at the situation is transferred onto the curry. When Ammu breaks down while sharing information about her abusive husband, the water she's drinking overflows, as do her tears and emotions.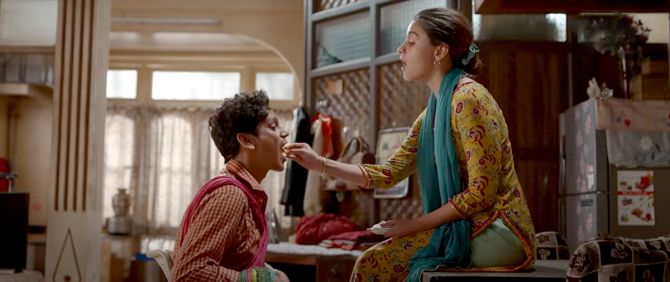 Kitchen tools are also potent mediums of expression. The mother-in-law's repetitive action of making chutney on the grinding stone is a metaphor for the daily grind of domestic duty. The close-up of hands moving in a circular manner to make dosa, subtly signal the inescapable cycle of domesticity and drudgery that women are trapped in.   
In Ammu, Ravi uses utensils to threaten his wife. After a disagreement, he slams his plate of food on the wall next to her in anger. What he really intended to do to her is indicated by the food and cutlery. Later in the movie, he even heats a ladle to threaten Ammu and extract the truth.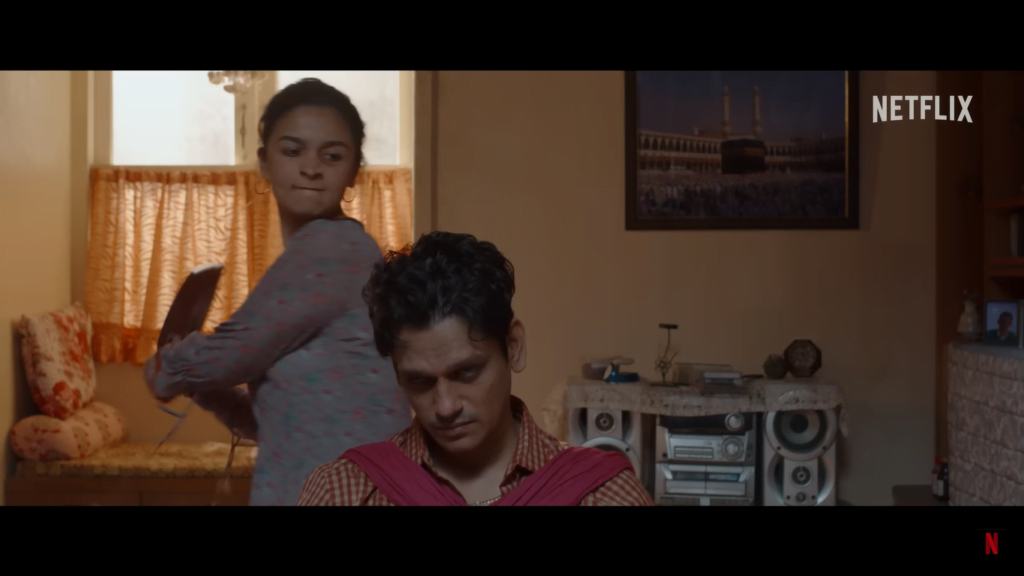 When Badru's optimism fades, and her frustration reaches its boiling point, she takes it out by smashing the plate on which she had served Hamza breakfast and then proceeds to break some more. Anger is being expressed in the kitchen, the epicentre of her domestic oppression– smashing her own obedience and compliance. When Badru exacts revenge on her husband later in the movie, she sometimes uses a pan to knock him unconscious, transforming symbols of domesticity into those of retribution.
Whenever the wife in TGIK sees the dirty table, and throws the waste or dirty water, her face expresses utter disgust. This disdain communicates her emotions towards her life as well and evinces the same emotions in the audience — those watching can feel and almost smell the filth. But this is not the case with the other women, like her mother-in-law and her father-in-law's sister. They do their work with a certain matter-of-factness and, even serve with a smile. It is perhaps a sign of surrender and acceptance of their position — something Nimisha never internalises. 
Additionally, there are scenes of commensality that convey intimate moments, such as Badru and her mother enjoying a meal in the latter's home– while watching a cooking show. Or when Ammu meets a beggar at the train station, and they share a meal of biryani, it is very different from the way she eats with her husband. She confides in the beggar while she has to make a decision about her future. There is no superior or inferior, and their shared act of eating together leads to bonding. When she decides to stay with her husband, the beggar crumples the newspaper in which it was served and laments that he did not expect it to go this way. He clarifies that he means the biryani.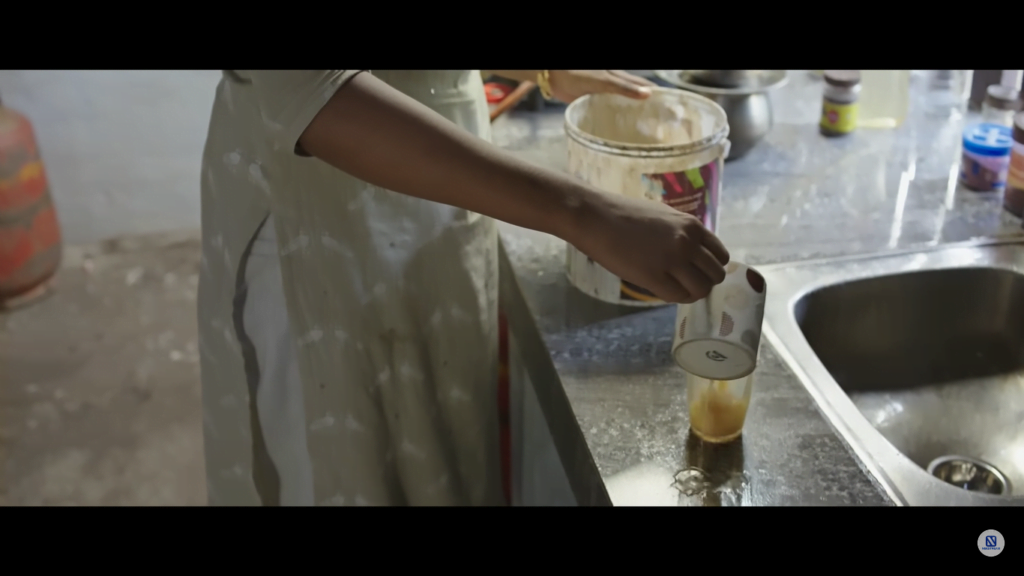 In TGIK, "aspiration" is depicted in a scene where Nimisha is shown applying for a job while sitting in the kitchen with her laptop. The blurry rice pot in the backdrop represents her past — the life she wants to leave behind — and she is sitting in the foreground, moving towards her future.
Retribution and assertion of selfhood 
Towards the end of the film, when Nimisha is asked to bring tea, since she is absolutely sick of her life at her marital home, she fills the glasses with the wastewater collecting under the leaking sink. When the men of the household come in to confront and strike her in anger, she throws the wastewater on their faces. Before they can process what has happened, she locks them inside the kitchen– just as they had done to her by exercising symbolic violence. It is the ultimate revenge, and she walks out of the house, and her marriage. 
Also read: FII Interviews: TheBigFatBao On Documenting How Our Caste & Gender Determine The Food We Eat
Over coffee at the dining table, Ravi confronts Ammu about her scheme to defame him. The two faces are alternately shown as the camera revolves around the table. She starts by adding sugar to her coffee and pushing the box in his direction. She asks out of the blue if the sugar in his coffee is adequate, as he is still threatening her and refusing to give in or back down. When he suspects foul play, he finds out that there is a listening device in the sugar box. She uses food to get back to him, using it to assert her newly discovered strength and confidence.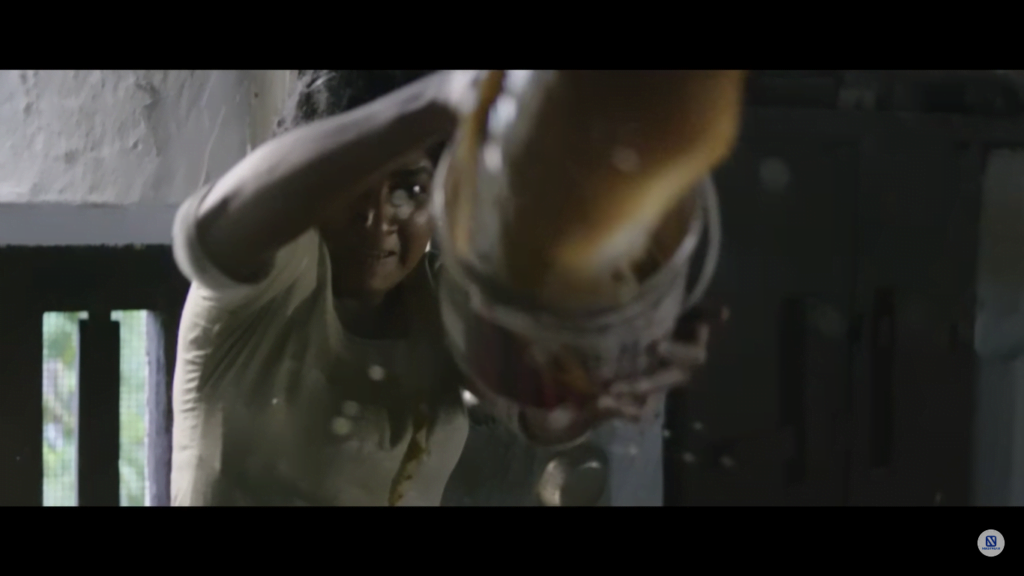 Both Darlings' and Ammu's final scenes end with references to food. Badru is watching a movie alone in the theatre, something her husband thought she would never be able to do. She carries out this action while casually munching on popcorn, which comes to represent her newly discovered autonomy, individualism, and self-respect.
In Ammu in the last scene, her friend asks her what her next course of action will be, she says that she is hungry and wants to eat at the hotel near the market which has pretty lights because she has always wanted to go there. Her resolve to listen to her needs and fulfil her desires is translated through this small scene of wanting to eat in the place of her choice.
Reading these movies via the lens of food helps peel back many layers that deepen dialogues by venturing beyond just the purview of the narrative. Discussions about the representation of gender roles and hierarchies are strengthened and complemented by this point of view. Understanding how food is framed within social and cinematic contexts reveals the rich symbolism these movies contain.
---