The Annual Financial Statement in Article 12 under the constitution of India, or as we know it, the Union Budget or the Annual Budget, is presented on the first day of February every year, in order to prepare for the next financial year starting in April. This year some significant changes were made in the budget allocation for the ministry of minority affairs. The budget allocation for 2023- 2024 was reduced by 38 percent from the financial year 2022- 2023. The schemes and programmes under the Ministry of Minority Affairs have been allotted Rs. 44 crores this year, making a drastic jump from Rs. 365 crores last year.
In the last financial year, budget estimation for the Ministry of Minority Affairs was given Rs. 5020.50 crores which on revision was cut down to Rs.2612.66 crore. This year the budget estimate given to the Ministry of Minority Affairs is itself Rs.3097 crore. Several scholarships, research funding, and minority upliftment programs have been taken off funding as a result of the severe cut down in the Minority budget allocation of this year. The total budget allocation for educational upliftment for minorities was Rs.2515 crore last year, which has been reduced to Rs.1689 crore this year.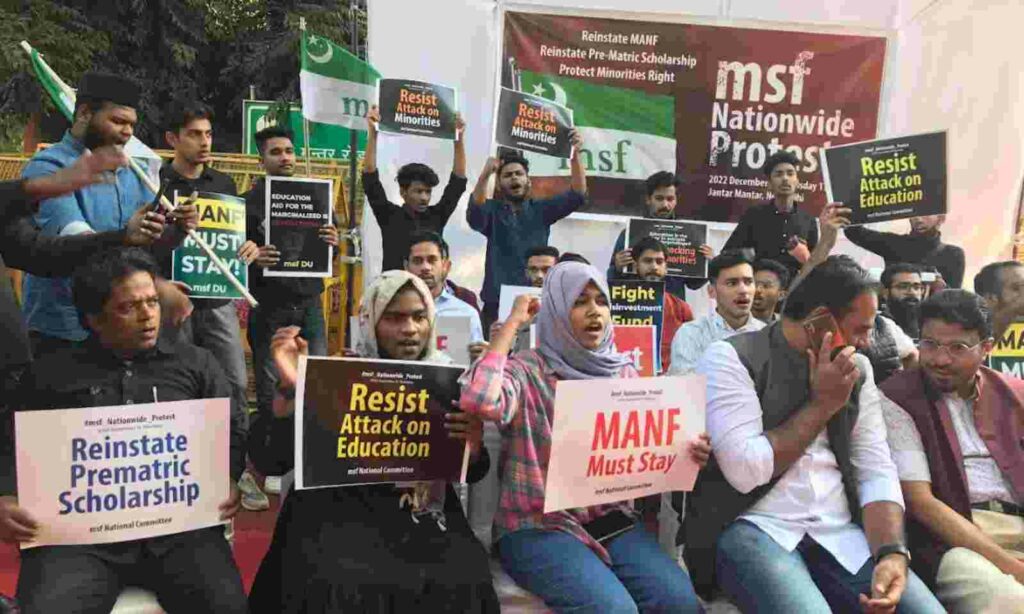 This cutdown heavily impacts the educational sector as several scholarships have been slashed in terms of funding. The pre-metric scholarship for minorities this year has been estimated at Rs.900 crore for the 2023-2024 financial year. Last year it was estimated at Rs.1425 crore which was revised at Rs. 433 crores. On a brighter note, the post-metric scholarship has been increased to Rs. 1065 crore in the 2023-2024 financial year, while it was allotted at Rs. 515 crores.
Financial aid and support schemes for minority students clearing preliminary tests for UPSC, SSC, and public service commission exams which help them pursue further in their studies got no funding this financial year while it was allotted Rs. 8 crores last year. Similar free coaching programs for minorities got a severe cut down in funding, from an allocation of 79 crores to 30 crores this year, amounting to a reduction of 60 percent.
Also read: Padho Pardesh Discontinued: What Does That Mean For Minorities?
In the 2022- 2023 year, Educational Schemes for Madrasas and Minority were allotted 160 crores while this year, it is only 10 crores, making a swift 93 percent cut down. Vocational training programmes like Nai Manzil, and USTAD got a mere budget of 10 lakhs altogether while it was 235 crore and 7 crore respectively last financial year. The research scheme's budget allocation for minorities has been almost halved, from 41 crores last year to 20 crores this year.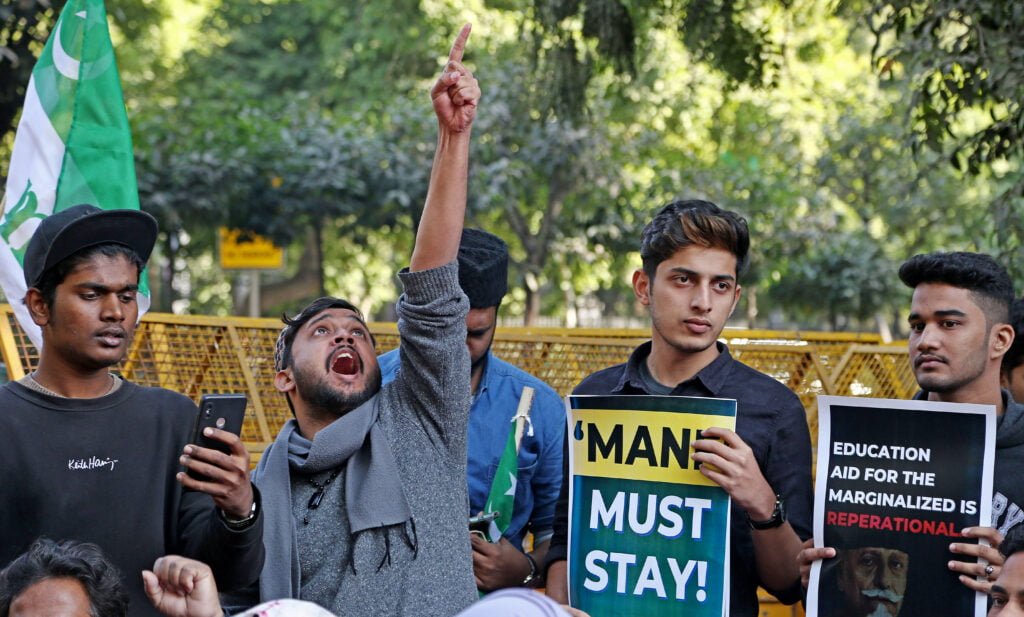 Overall funding for skill development schemes and programmes has suffered a major setback- with a total allotment of Rs. 64.40 crores this year from a previous allotment of 491 crores last financial year.
Funding for minority studies, research, skill development, public welfare, and publicity monitoring has been cut down by almost 50 percent in the new budget allocation. Meanwhile, a new scheme, Prime Minister-Viasat ka Samvardhan (PM Vikas) has been introduced under the wing of the Ministry for Minority Affairs' budget allocation. A total of Rs 540 crore has been allotted under the name.
Jawad A. Khan, from the Centre for Budget and Governance Accountability, has said that Pradhan Mantri Jan Vikas Karyakram has been allotted Rs 600 crore this year while it was funded at Rs 1650 crore only last year. It is a central government-sponsored scheme, previously known as Multi-Sectoral Development Programme (MsDP), which was introduced in 2008, and was reorganised and restructured in June 2013. On PMJVK, Jawad A Khan commented, "The objective of the Scheme is to develop socio-economic infrastructure and basic amenities in the identified Minority Concentration Areas for improving the quality of life of the people in these areas and reduce imbalances as compared to the national average."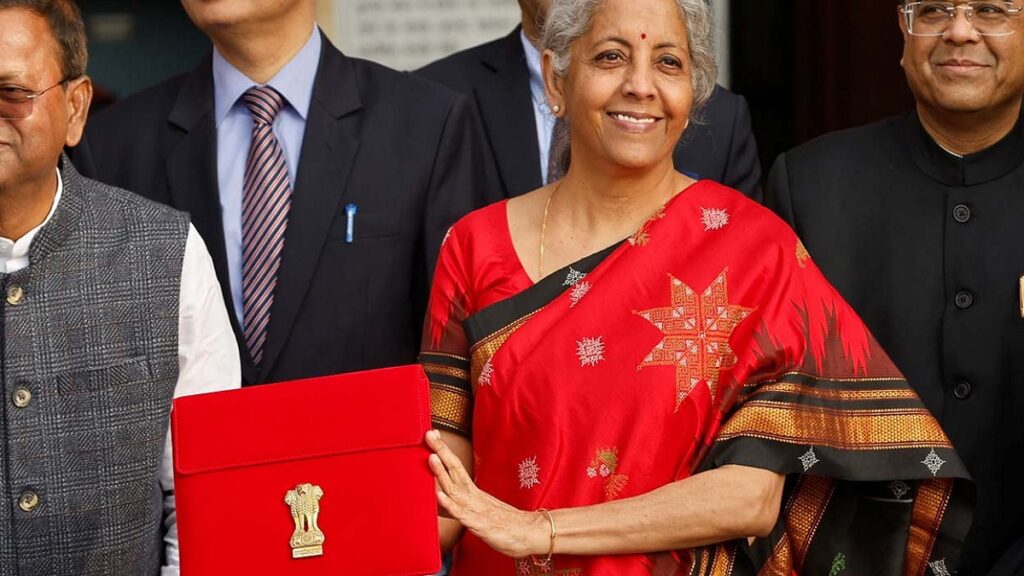 In the last few years, defunding educational and research programmes, especially those that concern minority groups in our country has been becoming a trend. While the introduction and inclusion of several well-meaning schemes may show potential in making and effecting real, grassroots-level changes in minority communities, it is the funding that foretells how effective they are going to be. PMJVK, due to the severe cut down in its funding, is not going to be able to cover the larger geographical area that it aims to cover, and will not be able to achieve the desired impact due to difficulty in implementation through money crunch.
Also read: A Look At Minorities Through the Sentiment Called 'Bharat'
India as a nation is home to a large number of minority communities whose upliftment is crucial for the country to move forward. In cutting down funds in this area, several minority groups will be isolated and sidelined from accessing and benefitting the state-sponsored government schemes that exist for their upliftment.
---