Globally, March is observed as Women's History Month, and March 8 is commemorated as International Women's Day. These significant events serve as a timely reminder of the contributions made by women in a wide range of fields, including STEM, architecture, art, literature, Etc. Indian women have made significant contributions to the nation's development by shaping the sociopolitical, economic, legal, and political landscape of the nation.
As history tends to ignore women's participation, struggles, and narratives, it is crucial to document women in India's history to reaffirm and reinstate their positions as leaders, reformers, and creators as well as to highlight the challenges women have faced in history to get to where they are today.
It is also crucial to employ an intersectional approach to women's history, as women of different castes, genders, and religions have found less resonance and remembrance throughout history.
Women and their histories have been documented and disseminated through the lens of privileged heterosexual cisgender men, as well as through the lens of power structures from patriarchy, and institutionalised religions, to other dominant institutions. As a result, we have a strange and myopic history replete with the male gaze and power gaze.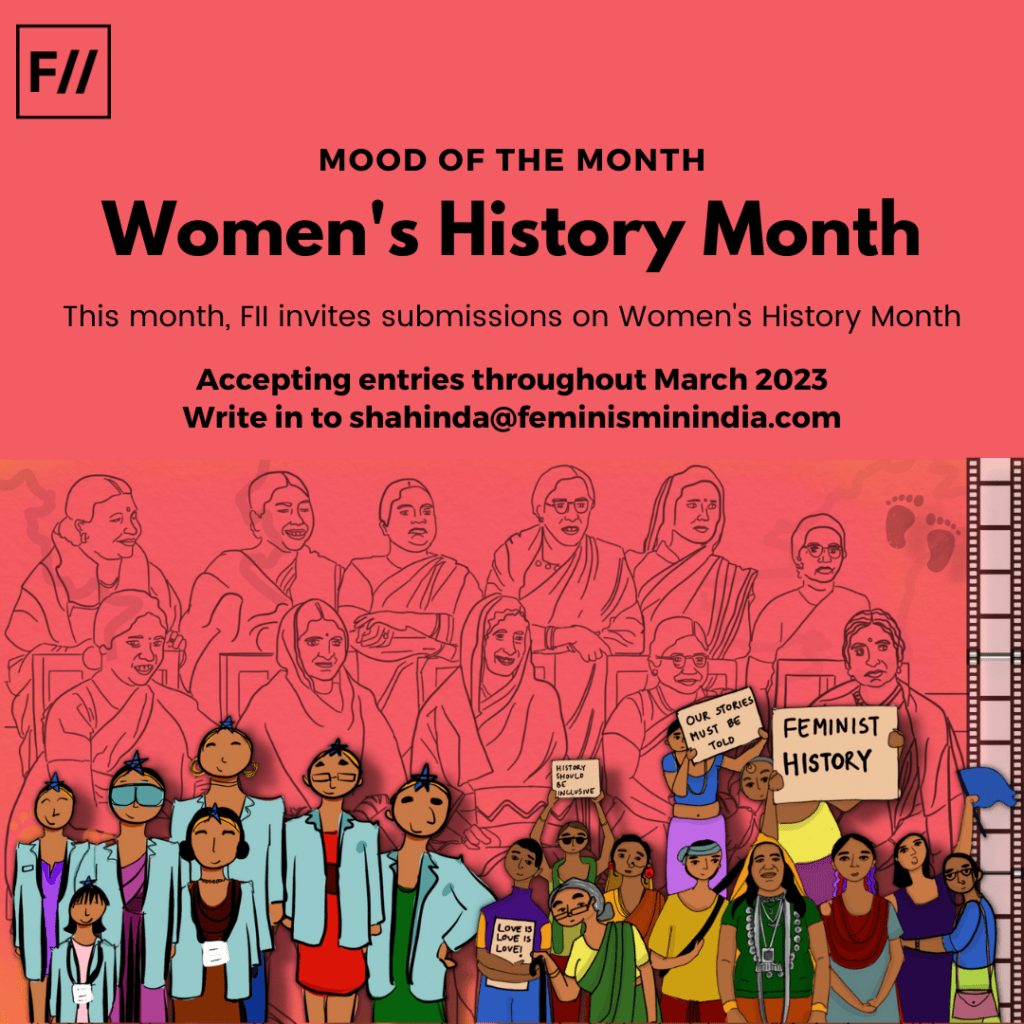 It is critical to change, reclaim, and rebuild historical narratives about women through an intersectional lens that takes caste, class, religion, and gender into account.
Furthermore, because women's histories have received less attention in historical accounts, documents, and narratives, these histories have remained in oral and story forms in our culture and society. Many women in India who fought and started leadership and feminist movements have gone undocumented. They are still unknown today.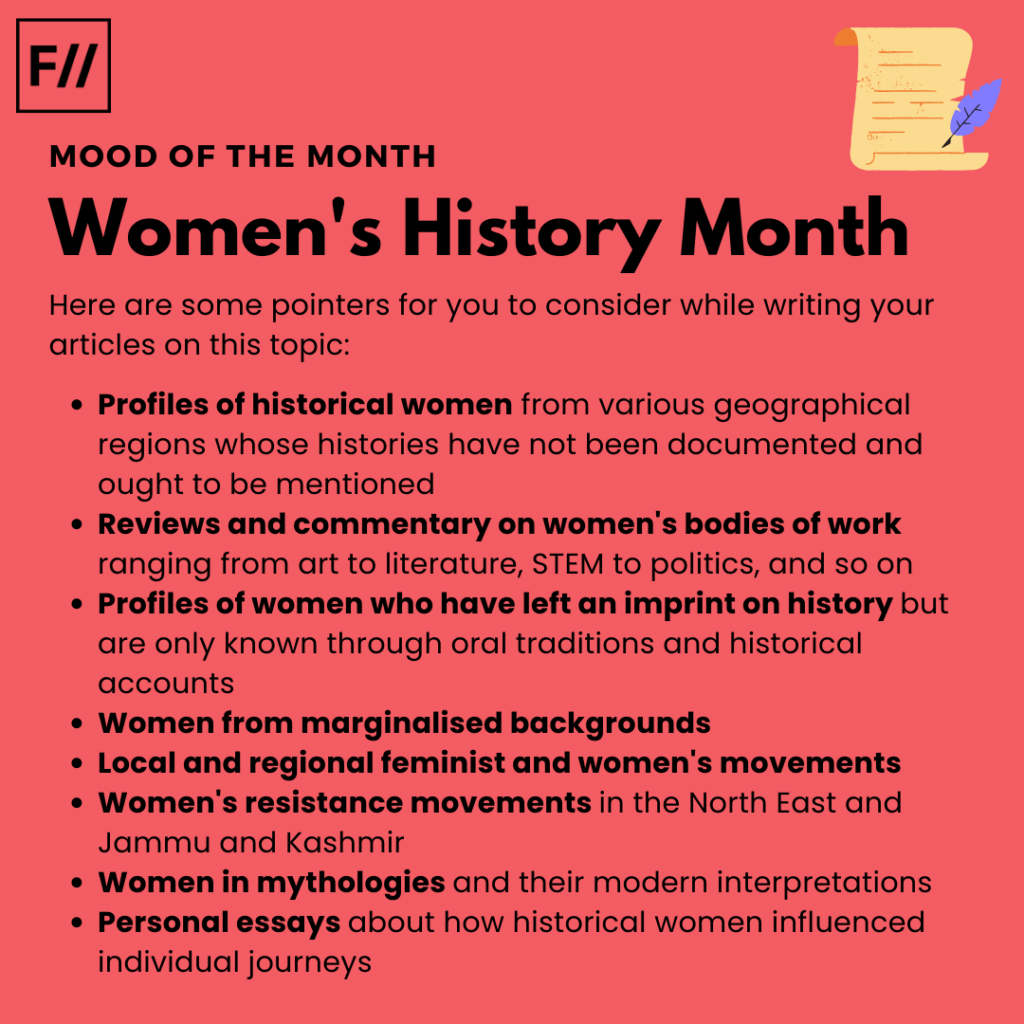 In this context, we at Feminism In India invite submissions on Women's History Month throughout March 2023. Here are some pointers for you to consider while writing your articles on this topic:
Profiles of historical women from various geographical regions whose histories have not been documented, and ought to be mentioned.
Reviews and commentary on women's bodies of work ranging from art to literature, STEM to politics, and so on.
Profiles of women, who left an imprint on history but are only known through oral traditions and historical accounts.
Women from marginalised backgrounds: Dalits, Adivasis, religious minorities and Disabled women and their contributions
Local and regional feminist and women's movements, that have not been documented.
The need for an intersectional perspective on women's history
Women's resistance movements in the North East and Jammu and Kashmir
Women in mythologies and their modern interpretations, especially intersectional feminist interpolations
Personal essays about how historical women influenced individual journeys.
Women's representation in contemporary history from pop culture to literature and cinema.
This list is not exhaustive and you may feel free to write on topics within the theme that we may have missed out on here.
Please refer to our submission guidelines before you send us your entries. You may email your submissions to shahinda@feminisminindia.com
We look forward to your drafts and hope you enjoy writing them!
---
Featured Illustration: Ritika Banerjee for Feminism In India