Internet shutdowns can be imposed on various grounds. Silencing critics and crumbling dissent are the most well-known motivations. Prevention of cheating during school examinations is perhaps the least pernicious reason for which shutdowns have been imposed in countries such as Algeria, Bangladesh, Ethiopia, India, Iran, Iraq, Jordan, Mauritania, Sudan, and Syria. This may appear sensible, but one only needs to ask millions of people in Algeria whose work and livelihoods suffered to know that shutdowns, even when they are wielded to prevent cheating, are always bad: in 2020 alone, shutdowns occasioned the loss of $388 million in Algeria.
With few exceptions, most shutdowns have a pattern. The script is familiar: every time the government fears its authority can get challenged, shutdowns are introduced to manipulate information flow, weaponise censorship, and curb any form of organised protest. In 2021, shutdowns in Eastern Europe and Central Asia triggered an escalation in censorship, with Russia being the only country to block access to communication platforms. The brand of shutdowns in the Middle East and North Africa in the same year was dissent suppression. In Palestine and Yemen, shutdowns were followed by intensification in military activity. Nigeria was the only African country in which one shutdown departed from political manipulation as it attempted to tackle banditry.
And then there's India. Of the 129 internet shutdowns recorded across seven countries in Asia Pacific, India precipitated at least 106 incidents. Titled 'The Return of Digital Authoritarianism,' the Access Now report states that there were at least 106 cases of disruption in 2021, suggesting that there may have been other shutdowns that went unreported or undetected in personal accounts and news reports. But India hasn't only topped in the Asia Pacific region, with at least 106 shutdowns, it seems to have emerged as the all-rounder after having defeated all other competitors.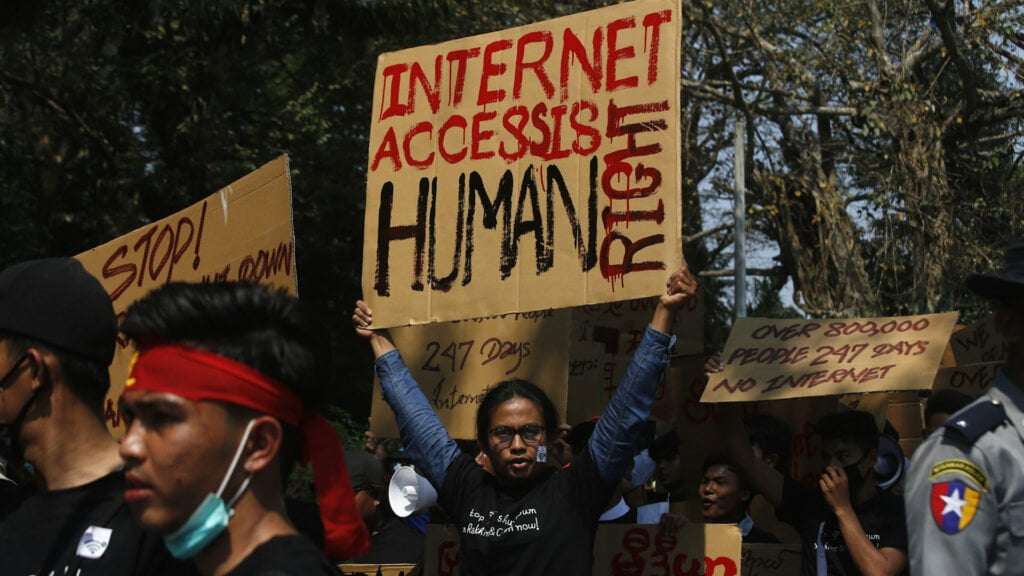 Among the earliest shutdowns of 2021 were the ones imposed by the government to suppress farmers' protests against the Indian Parliament's passage of three farm laws in 2020. Restraint on dissent accompanied obstruction of press reporting and invited international attention. This practice of shutdown imposition does not exist in a political vacuum. Which circumstances merit a shutdown and which don't according to the state's vantage point reveals the extent to which state action is coloured by communal biases. What else can explain the concurrence of the supposed necessity of "counter-terrorism" in the wake of perceived threats in Muslim-majority Kashmir and an overwhelming neglect of actual violence committed by Hindu right-wing groups such as Vishwa Hindu Parishad, the organisation responsible for spearheading the Babri Masjid demolition in 1992?
Also Read: Internet Shutdowns: Is Dissent A Threat To The Government?
In Jammu and Kashmir, a 551-day shutdown, from 5th August 2019 till 5th February 2021, was among the four longest internet shutdowns of 2021. Expectedly, the government didn't stop there. Intermittent shutdowns compromising connectivity were still imposed and the figure totalled 85 by the end of the year. Many Indians falsely assume that military regimentation in Kashmir must be legitimate because it is legal and has the court's approval. That's why internet bans are justified as "necessary" measures of the state's "counter-terrorism" strategy.
The ground reality of infrastructures of state violence uncovers how fragile such defensive assertions of "counter-terrorism" are. In a webinar series titled, 'Rethinking Crime and Punishment in India,' Kashmiri lawyer Mirza Saaib Bég discussed the state and implications of shutdowns after the de-operationalisation of Article 370 in 2019. After a strict ban on the Internet in the six months following the abrogation, the government permitted Kashmiris access to 300 websites, excluding social media but including platforms such as Netflix and Amazon Prime, even as people used a barely functional 2G connection.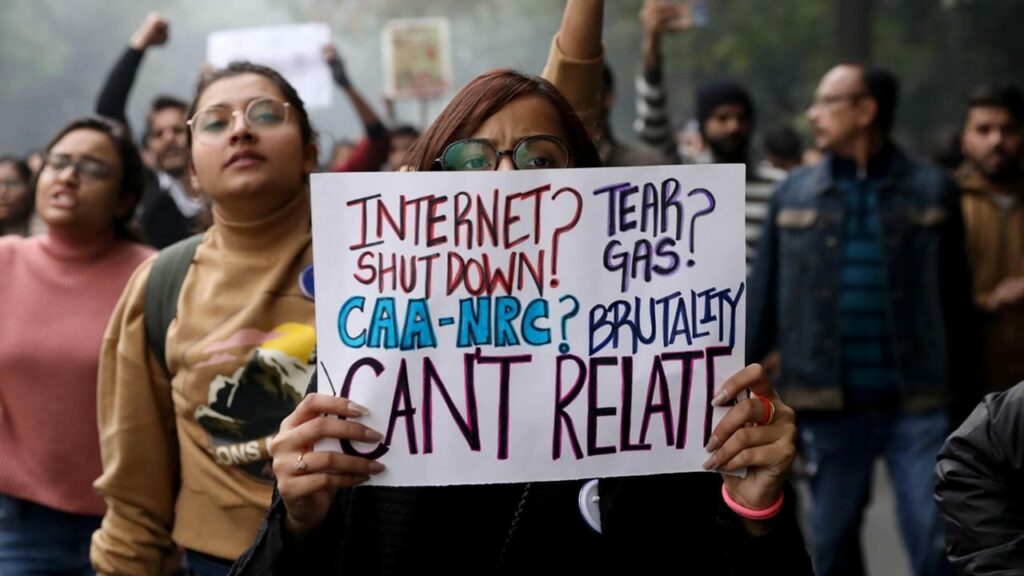 Bég notes that the notorious Unlawful Activities (Prevention) Act (UAPA) was disproportionately used against anyone who accessed social media using VPN. The police forces didn't have to justify arrest under UAPA anymore because mere access to social media was pronounced unlawful. Imagine uploading a post on mental well-being on Instagram and getting charged with one of the most widely abused laws in the Indian judicial system that seeks to control 'unlawful activities.'
The proliferation of such shutdowns in Kashmir has further invisibilised human rights violations in the region. Javaid Ahmad Parray, a Kashmiri youth, was, for instance, booked under Public Safety Act (PSA) in August 2019 for instigating stone pelting and mobilising the populace of his district to protest the abrogation of Article 370. Forced confession, a common practice in Kashmir, was deployed to obtain his name. Rupsa Dey points out that such arbitrary arrests and their subjection to violence can create enormous emotional and economic challenges for men in rural Kashmir, as many of them are unable to return to work owing to physical as well as psychological trauma.
Also Read: The Lie About Digital India And The Truth About Internet Shutdowns
Because shutdowns limit information flow, the likelihood of the documentation of state atrocities becomes limited, at best. Parray's arbitrary detention is one of many cases that together paint a picture of continued injustice. Many stories routinely go unreported. Sometimes, the bodies of those tortured under custody are compromised, too. As of 2021, Kashmir, where the systematic use of enforced disappearances continues despite public protests, has seen 33 custodial deaths in the past five years. This number has been acknowledged by India's Ministry of Home Affairs. Think about the actual number of deaths under police custody, many of which would have been conveniently undocumented during shutdowns, thanks to the state's monopoly on data flow.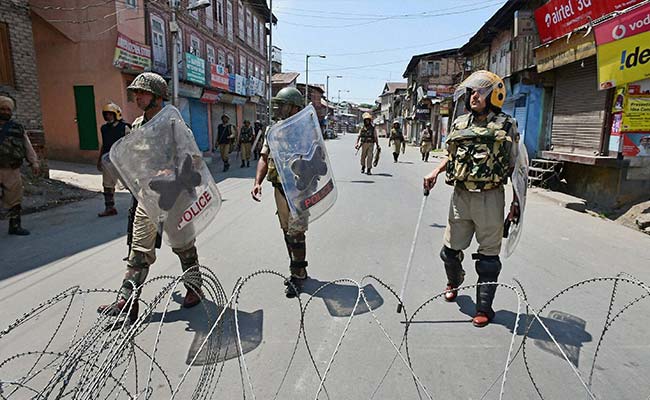 Last year, when India overtook the UK to become the fifth-largest economy in the world, proud citizens of the country stood up to applaud. To date, there are loud celebrations of India's growing significance in global geopolitics. Indian-origin CEOs leading global companies further advance this narrative of progress in the popular imagination. What remains missing are valences of everyday violence against minorities and persisting brutality in Kashmir.
Let us not forget that the fifth-largest economy in the world continues to remain the country that imposes the most internet shutdowns. India has topped this shame list for the fifth successive year.
---