Under the umbrella of the Samyukta Kisan Morcha (SKM), various farmers' organisations held a Kisan Mahapanchayat at the Ramlila Maidan, Delhi, sending out a clear signal that the farmers' unity remains intact and expressed their resentment over the betrayal by the government.
Thousands of farmers from the Northern states of Punjab, Haryana, Rajasthan, Uttar Pradesh, Uttarakhand, and Bihar participated and pressed on the fulfilment of demands again in front of the government claiming that they have been betrayed and none of the promises have been filled even almost a year after the farmers called off their indefinite strike in Delhi against three farming laws of the union government.
Also Read: How Farmers Continue To Stand Their Ground Despite Facing Atrocities By The State
The farmers are enraged over the non-implementation of measures to ensure a guaranteed Minimum Support Price (MSP). The farmers also demanded revoking of the Electricity Amendment Act, discarding cases registered by the central and state police for protests on highways and railway tracks, and compensation to the families of farmers who died at protest sites on the borders of Delhi during "Kisan Andolan" and also demanded a loan waiver from the banks.
They were also demanding a pension of Rs 10,000 for farmers for social security.
Apart from the fulfilment of their pending demands to which the government had agreed, the farmers are gearing up against corporate control over agriculture.
The farmers' leader says farmers are facing many problems in terms of finance and are compelled to leave agricultural activities.
"We are demanding a guarantee on MSP and opposing forceful land acquisitions. It is been a long that we are raising our voices, but our voices are going to deaf ears only. Because of this, we are suffering and facing hardships in our lives. There is no proper law for farmers which can be beneficial to us instead of that there are such laws that are meant to add more to our miseries," Jitendra Singh, a 65-year-old farmer from Punjab, tells FII.
Also Read: Women & The Farmers' Protests: Intersectional Politics & Dissent
"Our families are suffering because we do not have enough money to meet our ends and feed our children anymore. Our livelihood is depending on agricultural activities only and without money, where I will go and feed my children," Singh adds.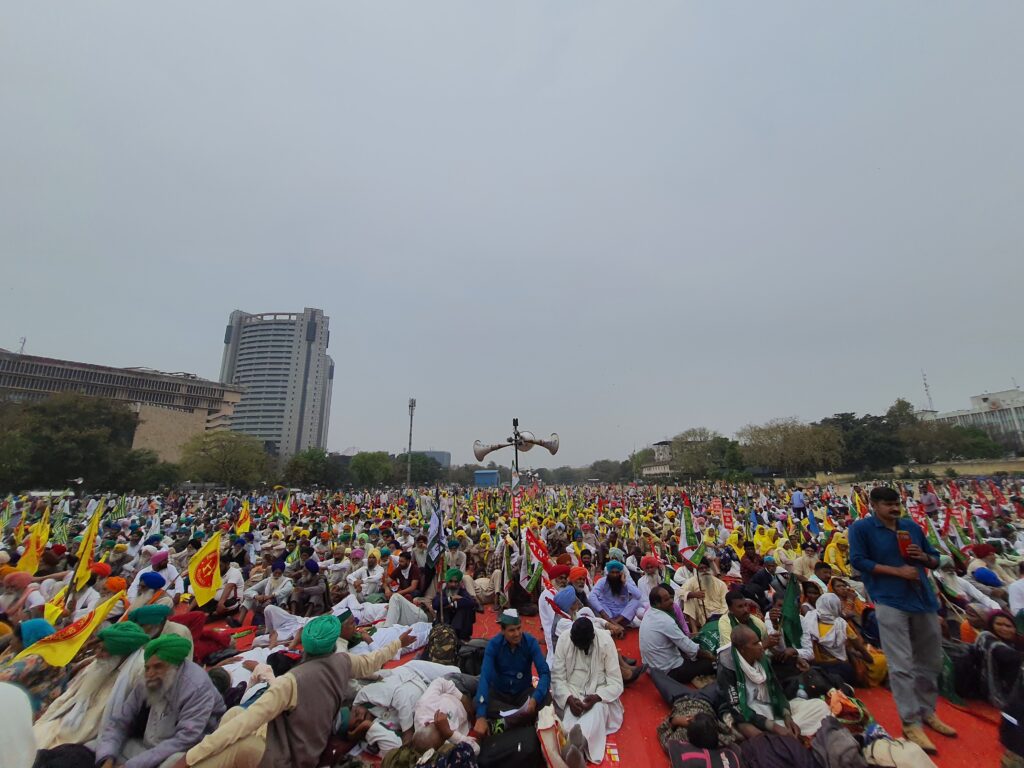 The farmers claimed that they have been deceived by the government which keeps on saying that their demands would be fulfilled but no such thing has happened till now.
"The government wants to give our lands to the corporate firms which is unacceptable. For us, our land is everything and we are dependent on it for our livelihood. All benefits are given to the richer, what about the poor who die every day after seeing themselves in losses and tears in the eyes of their family members", says, Mahipal Sodhi, a 58-year-old farmer from Punjab.
"We are only demanding our basic rights here and want to secure the future of our children so that they do not have to visit pillars to posts for survival and end up doing something wrong. Some farmers have died of suicide after they couldn't see what they were going through", Sodhi adds.
"We are facing problems due to the negligence of the government towards the farmers across the country. The government should increase the price rates of farming products according to inflation and support us financially. The government has to consider us as we feed the whole country. If we will stop cultivating then who will be responsible for the damage", Sodhi adds further.
Another farmer from Uttarakhand, Brijesh Rawat told FII, "Due to the climatic changes, we are facing a water crisis at our place which has directly or indirectly damaged our agricultural land and production. The government is not looking at that. Every time, our crops are damaged due to various reasons, who will compensate us for that when the government is not hearing us".
Also Read: What It Truly Means To Be A Woman Farmer In Punjab?
"I have sold my land at low costs as I couldn't sustain the losses and right now I am in debt. Also, we are demanding a loan waiver by the commercial or corporate banks because they are attaching our properties against the loans which are unaffordable to many farmers", says Rawat.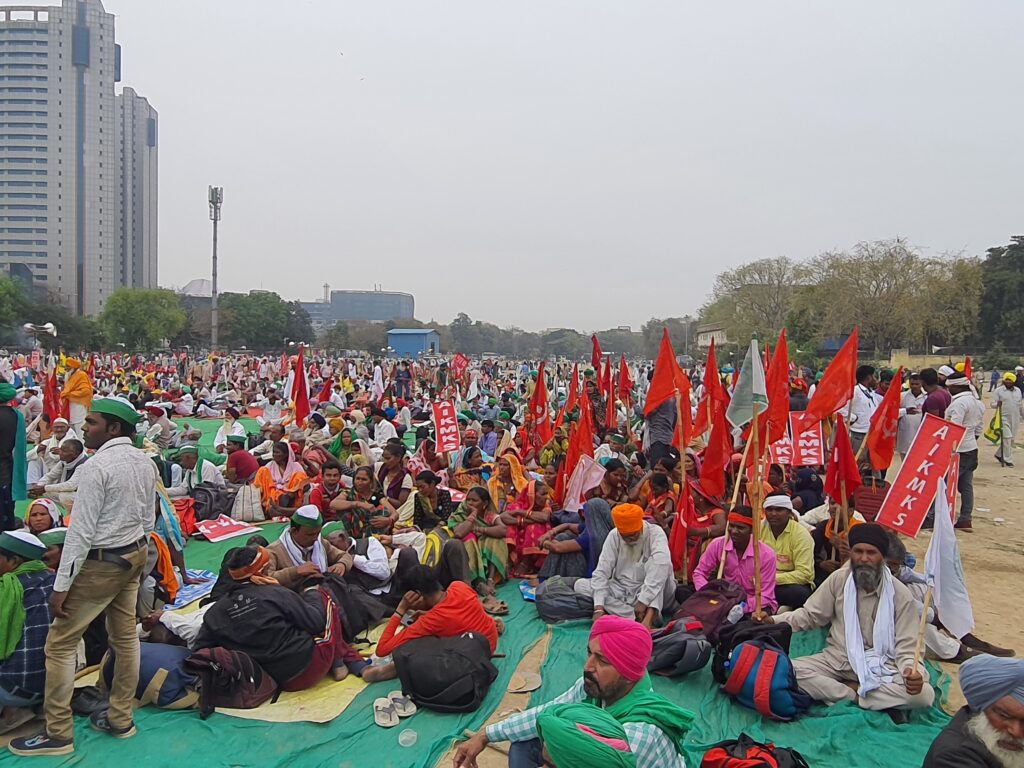 Rawat adds further, "The current government is corrupted and is only looking for their benefits but do not think about the citizens and are fooling the public with fake promises. At the time of elections, they will promise a lot of things but once they win, they are nowhere and we are pushed to walls each time".
"I have come here to ask the government what are we guilty of just because we are farmers. Why are all the schemes against us? Our income comes from farming and when we are not able to buy farming products due to the price hikes by the government, then how we will feed our family if there will be no money in our hands," Mahima Kumari, an elderly woman farmer from Haryana tells FII.
"What hope will we have when our voice is not heard and our demands are always ignored by the government? And what have they done to help us?" asks Kumari.
Also Read: How Are The Recent Farmers' Protests In India A Feminist Issue?
"Due to all these issues we are going through currently, it is not easy to feed our children, manage our finances and pay the school fees of our children. It is very distressing to see that we are not able to feed our children, we only know how we are surviving and facing everything. We only want our demands to be fulfilled so that we can live at ease," says Maheshwari Devi, a 36-year-old woman farmer from Bihar.
The farmers were also demanding the discard of cases against the protesting farmers during the Kisan Andolan and were asking for compensation for the killings of their kin during the same.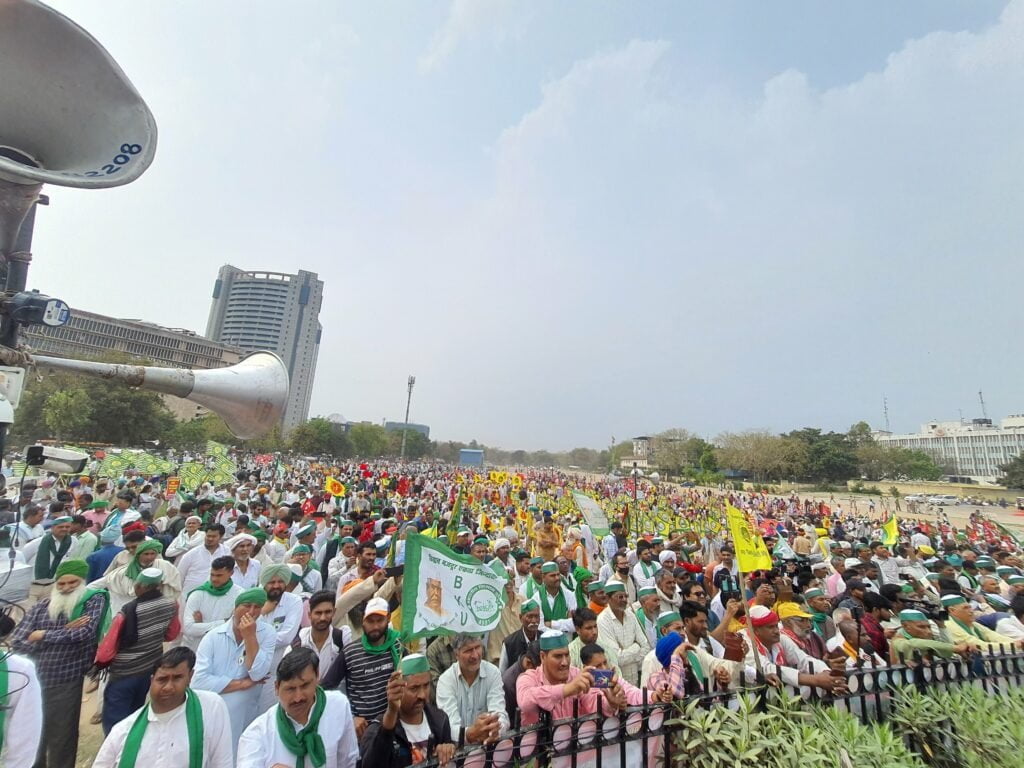 "I have seen many farmers in distress and going through various issues and visiting courts so that they can get rid of the cases they have been framed under. These lawyers also ask for hefty amounts and paying them is beyond our dreams and not possible when we have no penny in our pockets. Even mills are exploiting us and we are unable to understand where to go and whom to ask for help. Finances are most important to anyone because that is how one can sustain, for that we farmers are demanding pensions at a particular age because we invest everything in farming and do not save anything for later and it is for social security", says Jagpal Singh, a farmer from Haryana.
Also Read: Farmers' Protests: The Past And Present Of Peasant Movements In India
However, the speakers while addressing the larger gathering announced that it will hold state-level conventions and criticised the government and accused them of selling off the farm sector, agricultural land, forests and natural resources to corporate profiteers.
Meanwhile, the farmers said that if the government does not pay heed to their demands, they will launch another massive protest which will be bigger than the protest against the farm laws.
---