When art can amuse, it can also turn itself into a lone wolf challenging the unbearable. Well, this reflection can be caught in the women's historical needlework, all over India, casting light on the powerful wave of resistance it brought while giving a facelift to women's independence and identity. 
The skill of stitching had been regarded as a feminine business of artistry, a narration of gentle delicacy, tamed descriptions and petite beauty that went around a woman's wrist perfectly. Tracing the gender roles & societal expectations in earlier times, the world marked embroidery as a give-and-take between femininity.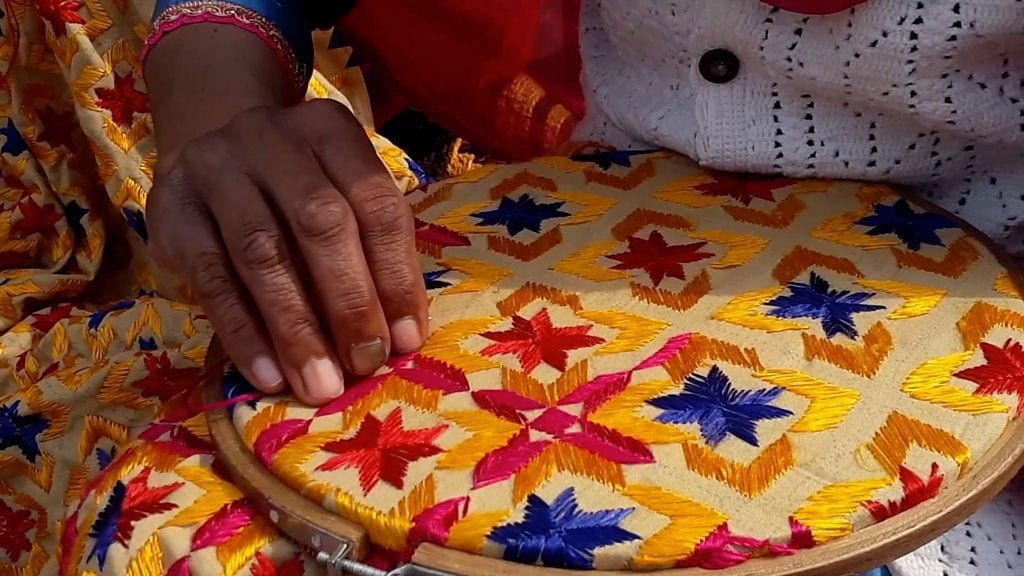 But history revealed that women had turned the tables and proved that they could make a weapon out of whatever they got their hands on. That needle, alike a pen, could also be mightier than a sword. 
When contemplating the Phulkari style of Punjab, the flower-work embroidery interwoven with petals, vines, and glorious colours, the imagery of contentment seemed to reside in its bright patterns. Until those patterns blurred into a border that cut through the heart of the Punjab region in the year 1947, causing large-scale turbulence, displacement and violence. At that time, this pleasing pastime became a form of protection. 
Women of Punjab turned to embroidery to let out their emotional pain. Their tapestry artworks documented the scenes of rage, trains filled with refugees, forced migration, the homes left behind and the human cost of partition. In the aftermath, families were separated and scattered, women were abused and abducted, and poverty was eating up the nation.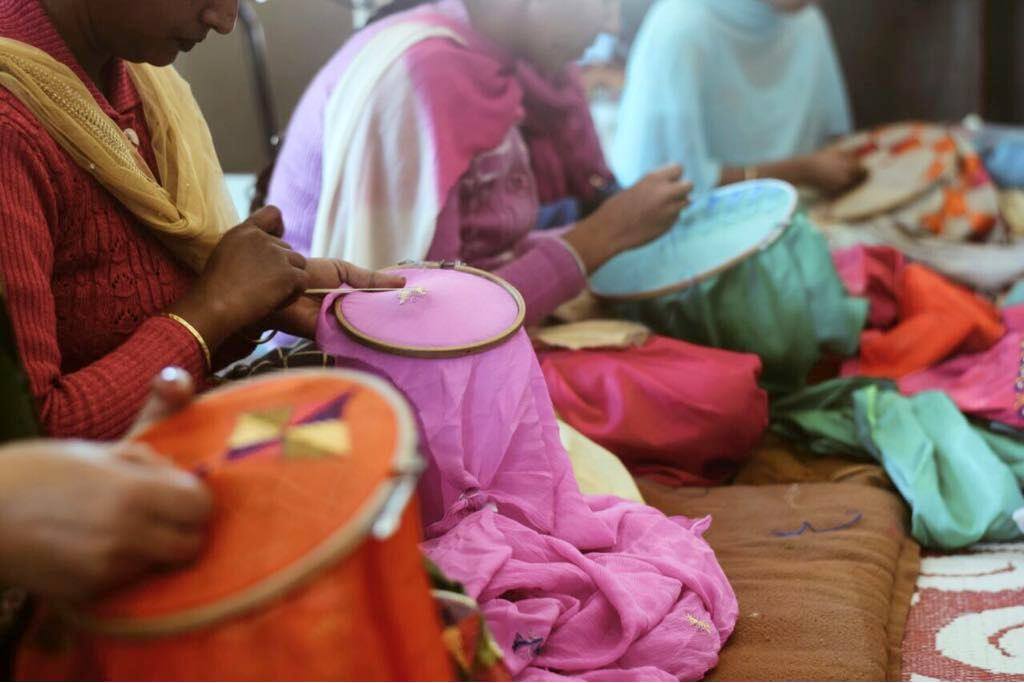 So several women traded their intricate and time-consuming thread work and made a living out of their embroidery, which not only saved their lives but also shielded their pride and identity. 
"Just like Makki di roti, and sarso da saag are the identity of Punjab. 'Phulkari' is the pride of Punjab", said Dayawanti, a Punjabi Phulkari artist, in one of the YouTube videos of Esty Success. Her high-spirited words illustrated that this historically important art would always remain a reflection of women's courage and happiness to be their own saviour and creator of a dignified life. 
Embroidery claiming space for women's voices and feelings 
Walking down the lane of authenticity and individuality, women's embroidery work also somersaulted with patriarchal narratives like child marriage, the purdah system, and dowry. The arresting imagery in their needlework delicately mirrored those issues and so the "women's work" as they said, transformed into an act of awareness among the people about the ongoing adversities. 
In retrospect, the Kashmir Valley had been carrying resistance and protest in its belly for a long time. During the political disturbance, internet shutdown and curfews, Kashida assisted women to communicate and combat the situation. 
Dating back centuries, this traditional Kashmiri embroidery, with a Persian influence and motifs inspired by the geographical beauty of the region, had been passed down to generations by royal patronage. Due to the imperial touch in Kashida art, it was mostly done by younger men. But during turmoil, women took it as a tool of self-expression, and empowerment while grabbing male-dominated jobs.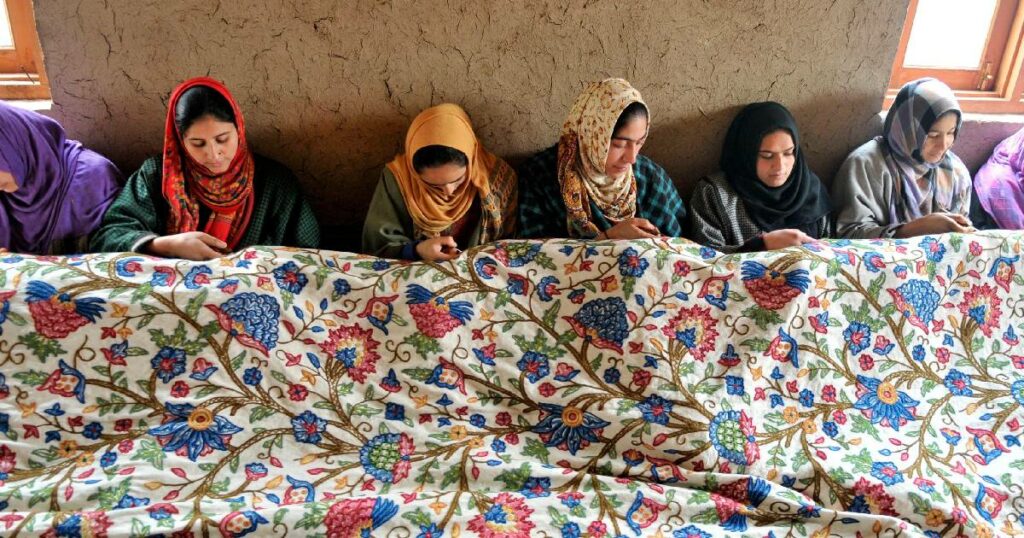 It served as a testament to the creative resilience of Kashmiri women by taking over space for their thoughts and voices. A little time with embroidery also relieved them from reality and gained a few moments of sanity and tranquillity. 
Even the Meghwal women, known for their contribution to the embroidery and textile industry, wielded their needles to create Kashidakari, which were sold to merchants and empowered women in an economic sense. They were no longer solely dependent on their husbands and eventually entered the mainstream voice, breaking down gender roles and patriarchal structures. 
Also Read: A Needle With A Point: Singhleton Is Stitching Stories Of Dissent
More than floral motifs and geometric patterns, embroidery had become secret storytelling for women. They showered moments of their lives and experiences, thoughts and beliefs over a plain view that kept floating from one generation to another. Every woman's art had a hidden and unique story behind it as they were a portrayal of her feelings as well as personal memories. 
Women with needles safeguarded lives and culture 
The cruellest thing in the world always happened when a human mind believed it had the power to dominate other humans. Then and there, humanity was tortured and slit through deeply. The British Colonial Rule in India attempted to be this lethal. 
During the British Raj, the government dominated Indian Textiles, oppressed the handloom weavers with an iron fist and imposed high taxes on commodities, which also proved to be an uphill battle for Bengal. Poverty and hunger robustly made their appearance from underway. But Bengal's Kantha embroidery was the light at the tunnel's end. 
A centuries-old tradition, practised by Bengali women of all rural classes, became the means of survival. They used old saris and dhotis to create beautiful Kantha blankets, which they would then sell in local markets for income generation. Moreover, people couldn't afford to buy expensive woollen clothes, so their embroidered quilts kept them warm on unforgiving cold nights.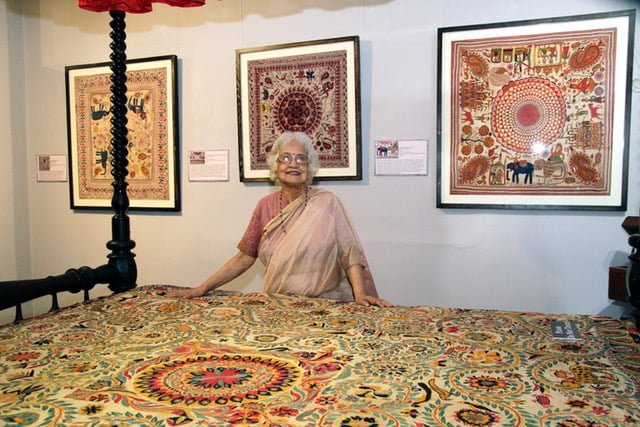 Kantha embroidery also evolved as a symbol of sturdy opposition against the colonial regime, during the Swadeshi movement. It made people self-reliant and boycott British goods to promote Indian products. 
The after-effects of partition diminished the culture of Kantha, as division made people move to Bangladesh and other neighbouring countries, and everything turned upside down. After years, a woman revived life in the almost-killed tradition. She was Pratima Devi, a prominent Bengali artist, who empowered rural women by teaching them the craft of Kantha, and at the same time, bringing the years-old culture back to life. 
Also Read: Kantha: Women Embroidering Stories Of Bengal Across Borders
Also, in times of violence and war, embroidery accompanied women, as they navigated through the unendurable. In the wake of the Gujarat 2002 riots, the women survivors in Kutch channelised their anguish into artistry. The destruction of homes and businesses, scenes of rage, deaths and displacement, all reduced to fabric, frame and fibres.
The contemporary world and the folk art by women 
History always remains in the making. It is we who must preserve it. So, the world chose to preserve the art because that pleased it, the women are lost. That's why it's important to talk about them in the modern realm, to keep them alive and their names preserved. 
Interestingly, one can find several embroidery works of women from history flooding the internet and aesthetic of Pinterest, but with a tag of anonymity. The marginalisation and ignorance ate up the women's identity and her creative expressions. Shirley Chisholm said it right, "Tremendous amounts of talent are lost to our society just because that talent wears a skirt". In India's case, just because that talent wears bangles.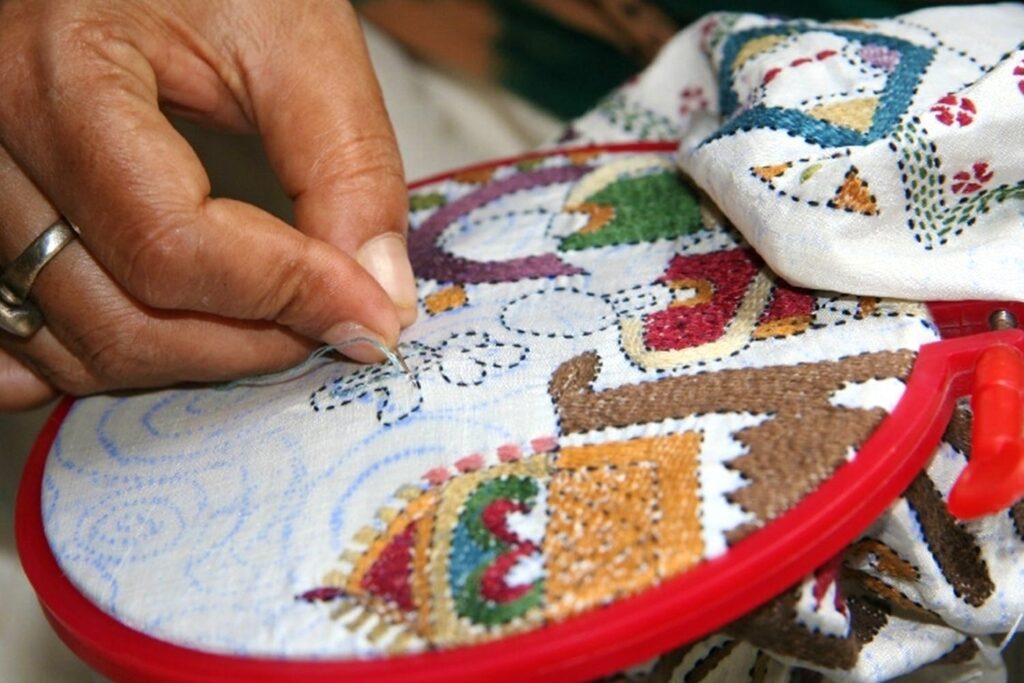 Women found their grammar and meaning in the liberating act of weaving and between all the hustle and bustle for freedom, behind the curtains, among all the weapons, somewhere needles also helped them from tearing apart. 
My mother used to delve into embroidery as her pastime to create personalised bedsheets that are still preserved and used at our home. Whenever I touch them, I'm reminded, I'm tracing history.
---
References:
1. Book Review: 'Phulkari From Punjab' Traces Every Thread of Punjab's Embroidery: The Wire
2. "Kantha" Forms and Transformations: International Insititute for Asian Studies
3. Quilt (Kantha) Art Of Bengal: Uni Of Chicago Library