Nazar Sajjad Hyder was a nationalist Urdu poet and one of the pioneering voices to raise Muslim women's issues. She was one of the first prominent Muslim women to protest against the "Purdah" (veil) system. She is also the mother of Quratulain Hyder who was an outstanding & influential name in Urdu literature.
She was born in 1892 as Nazar Zehra in an elite Shia family in the town of Sialkot, Punjab (now in Pakistan). Her mother was Mustafai Begum and her father was Sayyid Muhammad Nazar-ul Baqar who worked in the military. She lost her mother at the age of 16 and since then her aunt Murtazai Begum took care of her and her two siblings Sarvat Ara and Mustafa Baqar.
Nazar's family was an advocate for women's education notably her father who always encouraged her to read and write. Thus, she was given an education at home and also started writing at a very young age.
Nazar Sajjad Hyder's early years
Nazar Sajjad Hyder's family believed in the cause for women's education and were closely associated with Sayyid Mumtaz Ali, editor of the Urdu women's journal 'Tahzib-e Niswan.'
Her paternal aunt Akbari Begum was also a novelist who in her work Godar ka Lal (The Ruby in Rags), published in 1907 emphasised women's education.
Influenced by such intellect within the family Nazar started writing in the journal 'Tahzib-e- Niswan' (Lahore) and 'Ismat' (Delhi) in her early years using the pseudonym Bint Nazar-ul Baqar (Daughter of Nazar-ul Baqar) in acknowledgement of her father. Her contributions became so frequent that she was soon known as tahzibi behan.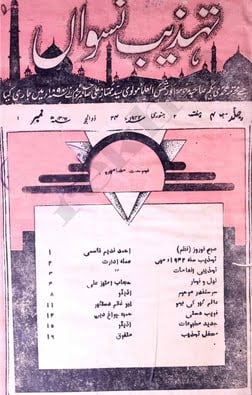 She too like her family advocated for women's education in her earlier works through these magazines. In 1909, Sayyid Mumtaz Ali started Phool (Flower), a journal for children, and being impressed with Nazar's writings he appointed her to be its editor.
Contributions to muslim women's education
In 1912 she married Syed Sajjad Hyder Yaldram an Urdu short story writer, born in Bijnor Uttar Pradesh. He was employed in the colonial and was educated at Aligarh College. He was a supporter of Syed Ahmad Khan and the ideas associated with the Aligarh movement and also frequently wrote in the Urdu literary magazines, 'Ma'aruf' and 'Maghzan.'
It is after her marriage to him that Bint Nazar-ul Baqar acquired the name Nazar Sajjad Hyder.
Post her marriage they had shifted to the town of Dehradun. This is when she started to work proactively for the cause of women's education. She noticed that education for Hindu girls was in common practice and there were some high-standard English medium missionary schools but Muslim women were deprived of it. This was because she writes that the Shariff Muslims who followed Purdah did not like to educate women. Even the progressive educated women seem to show no interest in conversations around the cause of educating Muslim girls.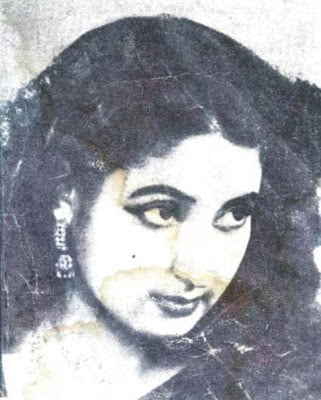 She writes, "The educated women of some households were very progressive but usually there wasn't enough conversation about women's education within the Muslims of this status group. There were several schools for Hindu girls and education was common among them but Muslim girls were completely deprived. There were some high-standard English-medium and missionary schools but Sharif (decent) Muslims who followed purdah did not like to educate their girls there. I thought that some arrangement ought to be made for the education of Muslim girls here."
She, therefore, started to connect with some like-minded women and started to advocate for forwarding the cause of educating Muslim girls and began her efforts to set up a school for Muslim girls in Dehradun. She has been instrumental in opening up several schools for Muslim girls in United Provinces and Uttar Pradesh. She assisted the founders of the Muslim Girls' College in Aligarh, Sheikh and Begum Abdullah, and provided administrative support for Karamat Hussain Muslim Girls' College in Lucknow. She was well aware of the fact that she belonged to a privileged section of the Muslim society of her times and hence utilised her privilege in an influential manner to raise the issues of Muslim women. It is because of her strong influence that many Muslim families in North India started sending their daughters to schools and Universities.
Writings and socio-political activities
Her first novel, Khairu'n-Nisa Begam, was published in Lahore when she was only 14 years old. She went on to write many such novels that reflected upon the issues of the state of Muslim women, Muslim arranged marriages and Indian society. Some of her notable works are Ah-e Mazluman, Jaanbaz, Surayya, Najma and Mazhab aur Ishq. 
She was among the first pioneering voices who were involved in formulating the idea of the All-India Muslim Ladies Conference. She was vocal in resisting the traditional and orthodox norms that governed the lives of Muslim women and saw them as a major hindrance to their empowerment. The Purdah system according to her was a way to restrict women in the domestic sphere and subjugate their agency to Muslim men.
Also Read: Mehrunnisa Dalwai: An Unsung Muslim Activist | #IndianWomenInHistory
Following this, she strongly opposed the Purdah, modified the design of the traditional burqa and ghagra, and she came out of purdah in 1923 when she joined the struggle for independence and inspired many other Muslim women to follow the same. She opposed Bigamy and asked Muslim families to not marry their daughters to bigamous men.
She was actively involved in the Indian Freedom struggle and participated in the Non-Cooperation movement. She not only boycotted English cloth but also wore homespun khadi discarding the purdah during the non-cooperation movement.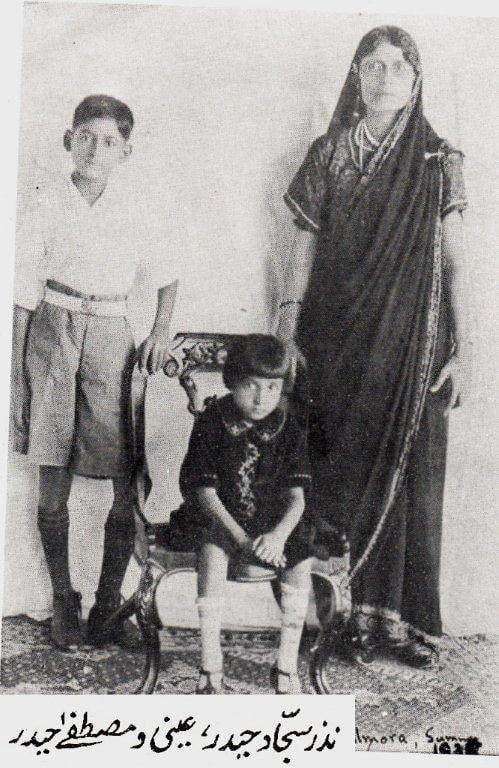 Thus, at a time when Muslim women were not only denied agency but also basic education, Nazar Sajjad Hyder was a strong voice which challenged the dominant norms of the traditional Muslim society, and the orthodoxy of the religion. She not just championed the cause of Muslim women's education but also was strongly vocal about women's oppression through forced marriages opposed bigamy and discarded the purdah system to inspire other Muslim women to educate, liberate and lead an emancipated life. Her works and memoirs have inspired the earliest Muslim Feminist writers and poets in India, her daughter Qurratulain Hyder being one of them. 
Relevance in contemporary times
Not just Muslim women but Nazar's writings, personality and life can be seen as an inspiration to many women in India whose choices are restricted either by tradition or religion or social structures. The contributions of women like her can prove to be a very prominent and diverse intervention to the larger feminist movement in the country. Her extraordinary works in advocating for women's education can prove to be instrumental in inspiring many women of today's generation to break the barriers of traditional social structures and find a way towards emancipation through education.
Her work has contributed immensely to inspiring a generation of early Muslim feminist writers in India and has enriched Urdu literature through its diverse themes and unique appeal.
However today most of her works are out of print which is unfortunate as she was one of the greatest Urdu novelists of her time and her works covered diverse themes and were considered to be emotional and sentimental. Throughout her lifetime her works were published in instalments in various women's journals and magazines and were avidly read.
Her initial works can be accessed through a few extracts from her memoirs which talk about her marriage and early works at setting up education schools the Muslim girls in North India. In 2007 her daughter Qurratulain Hyder published a collection of her writings and named it Guzashta Barson ki Baraf (The Snow of Past Years).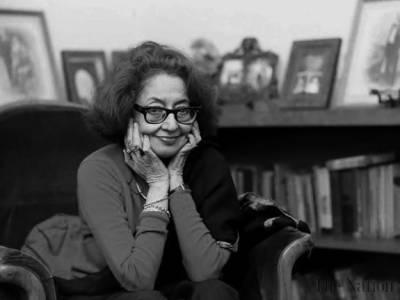 Despite having contributed immensely to the fields of Education, Literature and Social reforms Nazar Sajjad Hyder's name has been missing not just from the mainstream media but also from academics. Very few studies have focussed on her legacy and socio-political contributions. 
Also Read: Qurratulain Hyder: Urdu Novelist And Writer | #IndianWomenInHistory
Thus, there is a need to write and read more about such female figures who have contributed immensely to the larger feminist cause in the nation. Despite her works not being well documented she has imprinted her legacy on the minds of the early Muslim feminist scholars of India and inspired a generation of Urdu novelists to carry forward the cause of social reforms and Education to empower women.
---