Trigger Warning: This article mentions sexual abuse and sexual exploitation.
Climate change is not only a natural calamity, it is more of a complex phenomenon which has become one of the serious threats faced by the entire humanity at large. The question of who is more vulnerable to the risks associated with climate change and to what extent is determined by one's socio-economic status. Pre-existing inequalities in terms of gender, class, caste, and race further intensify and exacerbate the impacts of climate change.
The poor are most adversely affected because of their greater dependence on natural resources for their sustenance. Since women constitute the majority of the poor and are engaged in climate-sensitive areas like agriculture, water, fuel and fodder collection for their livelihood so they are more vulnerable to the effects of climate change.
Bina Agarwal argues that along with class, there is also a gender dimension of environmental decline where women and female children are most adversely affected. The human relationship with nature can be understood as rooted in their material reality. Since there is gender, class, caste and race-based division of labour and distribution of property and power, this pattern structure people's relationships with nature and so structure the effects of environmental change or degradation on people and their responses to it.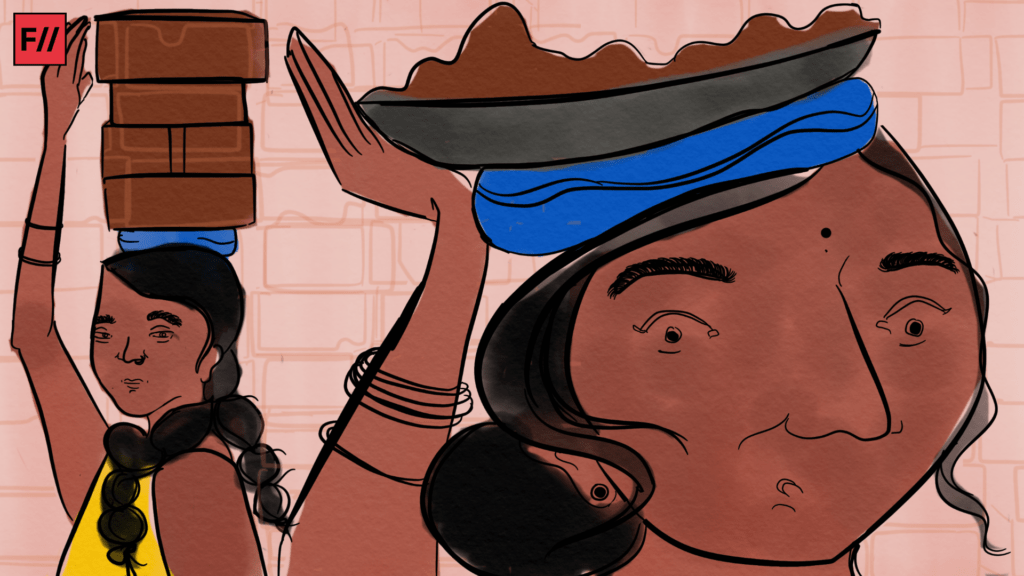 Poor households in rural areas are particularly vulnerable as they are highly dependent on natural resources for their livelihood. Gendered roles make women more vulnerable as they are assigned the responsibility of managing water, food and fuel in the households and dominate subsistence farming and caregiving. These activities are more prone to feel the effects of environmental degradation and rising global temperatures. Also, when coupled with persistent gender inequalities in terms of unequal access to resources, lower participation in decision-making bodies, and limited mobility places women at a higher disadvantage against climate change.
Why women are disproportionately affected?
A study conducted by the International Food Policy Research Institute in 2015 concluded that women are more likely to suffer from the impacts of climate change than men at the time of reduced water availability, declined agricultural productivity and livestock problems.
Pre-existing gender-based division of labour still exists, where women in poor rural households perform the task of gathering and fetching resources from the rivers, wells, and forests for their livelihood. According to the India Human Development Survey-2, women spend twice the amount of time collecting water per day compared to men. Increased distance covered by women consumes more energy, and time and thus hinders their capacity to invest time in income-generating activities.
Gender differences in the distribution of subsistence resources such as food and health care place women in a position where they are disproportionately affected by climate-related changes. In view of unfavourable weather conditions, it is the women who sacrifice their meals or eat less at the time of food shortages due to gender biases that persist in the intra-household distribution of resources.
Gender-based inequalities in accessing the most critical productive resource- agricultural land, production technologies and financial resources, and disadvantaged positions in the labour market restrict the ability of women in mitigating any climate-related crisis or to diversify their income options during the time of calamity. As per the Census (2011), nearly 65% of female constitutes the major workforce in India's agriculture work, while only 13.87% of the landholdings are owned by them. These realities not only affect women's economic agency but also limit their productivity.
Experiences from India
In India, the impact of climate change is becoming more and more evident every year with frequent droughts, erratic monsoons, intensifying heat waves, weather-related calamities and so on.
A recent report issued by the World Metrological Organization of the United Nations said "There is two-third chances that at least one of the next five years (2023-2027) and the five-year period as a whole, will be warmest on record. A warming El Nino is expected to develop in the coming time and this will combine with human-induced climate change to push global temperatures soaring. This will have far-reaching repercussions for health, food security, water management and the environment".
A gendered lens to assess the impact of climate change highlights the stories of the selective vulnerability of women to climate change. In some places, water scarcity due to dried water resources in hot summers led to an increase in women's exploitation. The social practice of Water Wives in rural Maharashtra is a case in point. Polygamy is seen as the only solution to water scarcity in Denganmal village of western Maharashtra. Due to dried water resources in the hot summers, it takes almost 12 hours to complete the journey leaving no time for household chores. Given this situation, men started to marry more than one wife just to make sure that their households have enough drinking water.
Abandonment, poverty, and sexual exploitation also include the price that women have to pay for the climate crisis. In comparison to their male counterparts, women have limited ability to overcome climate shocks. In a conversation held on How climate change plays out in the lives of Indian women, two women experts reveals that men usually migrate to other parts of the country for non-farm work, while women are left alone to bear the burden of calamity. With crop destruction or delayed remittances, women end up eating less, engaging in low-paid work, and borrowing from moneylenders.
In some cases, men desert their families in search of better employment, deserted women are left to fend for themselves, their children and their elderly parents in addition to managing domestic and farm work. The recent report of Climate Action Network South Asia concluded that climate-induced displacement and migration in India resulted in at least 12-14 additional working hours for women that includes farmland work and household chores.
These situations also lead to increased young girls' drop-out rates, cases of sexual abuse and early marriages etc. In some cases, men start a new family with their second wife at the place of migration. Destitute women are left prey to economic and sexual exploitation.
Thus, for an effective solution to climate change, it is essential to recognise and acknowledge the gender dimension of climate change and to be addressed in the policy framework. Unfortunately, differentiated impacts and gendered vulnerabilities are inadequately addressed in most of the climate plans and policies.
For instance, National Action Plan on Climate Change explicitly recognizes differentiated and gendered vulnerability but it does not ensure efficient solutions in its approach to reducing vulnerability. An assessment of Heat Action Plans of Indian States done by the Centre for Policy Research shows that heat management solutions tend to focus on gender-targeted interventions such as special care for vulnerable groups- children, disabled, women and elderly but do not address or acknowledge the unequal structures which generate differential vulnerability.
Women should be at the heart of climate solutions
Those who are most affected- women, girls and marginalised communities must be involved in the design and implementation of climate actions to ensure effective and equitable climate solutions. Women's voices also need to be included in decision-making procedures because their unique knowledge and experience of living in harmony with nature are critical to effective climate action.
Women are not only the victims of climate change, they also play a major role in adaptation and mitigation strategies. Women farmers are playing an important role in the conservation of agrobiodiversity. Equator Initiative Award was won by a woman from Orissa in 2003 for protecting local races of paddy and getting farmers in Koraput to shift to natural farming methods. In Africa, women's collective effort Solar Sisters is trying to create solar grids to gain energy efficiency.
A positive correlation has been found between women's participation in legislative bodies and efficiency in environmental safeguards. A 2019 study found that higher women's representation in national parliaments is directly proportional to the adoption of more stringent climate policies and resulting in lower emissions.
Furthermore, the participation of women in natural resource management at the local level is also associated with better conservation outcomes. Bina Agarwal in her study of Gender and Forest conservation found that a high proportion of women in the principal decision-making body leads to better forest conservation outcomes. The positive correlation between women's participation and efficient environmental policies also held true in the case of the workplace. It is found that women's leadership is associated with increased transparency around climate impacts.
Higher participation of women in corporate boards leads to the disclosure of information related to carbon emissions. Unfortunately, women's voices are poorly incorporated and they continue to face several constraints and barriers that restrict their participation in the decision-making process.
For effective and equitable climate action plans, we need to find gender transformative solutions that can go beyond merely targeting women and address gender-based inequalities and unequal structures which produce gendered vulnerability. Investing energies in achieving gender equality and empowering all women and girls (SDG 5) is key to the fight against climate change.
---