In Saas, Bahu aur Flamingo, Homi Adajania presents a captivating mix of characters brimming with diverse nature, flavour and edginess. The overall experience of the series reflects an effort of an exhilarating, uproarious and exciting experience. The representation of the matriarch through the show has been meticulous, flamboyant and extraordinarily poignant in its approach. 
In the series, Savitri reigns most of the narration as the drug lord in the Haveli located in the fictional region of Rann Pradesh. Together, this powerful quartet comprising her daughters-in-law, Kajal (Angira Dhar) and Bijlee (Isha Talvar), along with her daughter Shanta (Radhika Madan), commands a formidable force.
Armed with cutting-edge satellite phones, influential connections, and an extraordinary knack for outwitting their foes, including the unyielding Monk (Deepak Dobriyal) and his devoted henchmen, as well as the relentless pursuit of determined police officer Prashun (Jimit Trivedi). Simply put, they reign and run supremacy dominating all across the landscape. The common trace of unique choice in building characters by filmmaker Homi Adajania is unsurprising.
One of the filmmakers is not afraid to bring multiple flavours in the character blowing excellent taste throughout the film. He also addresses how choices and individualism decides how we contribute to shaping our future irrespective of gender.
That also brings in the dusted argument is that all? In a multi-cultured and diversity-rich country like India, do our identities also contribute to allowing us to decide what we want and how we want it? That's a discussion less talked about. Our choices have their connotation with our identity, with little to more effect.
Saas, Bahu aur Flamingo offers a humorous yet heated storyline
The introduction of Flamingo as a character brings a light-hearted and humorous touch to the overall storyline. Flamingo serves as a source of comedic relief, providing a contrasting personality to the more serious conflicts between the saas and bahu. This combination of drama and comedy aims to create a well-rounded and entertaining experience for the audience.
The writing of Saas, Bahu aur Flamingo offers a rich and intricate narrative that gradually unfolds with each episode, drawing viewers deeper into the captivating world of the fort where the story is set. What initially appears in the trailer and the first episode is merely the surface, and numerous layers are waiting to be explored.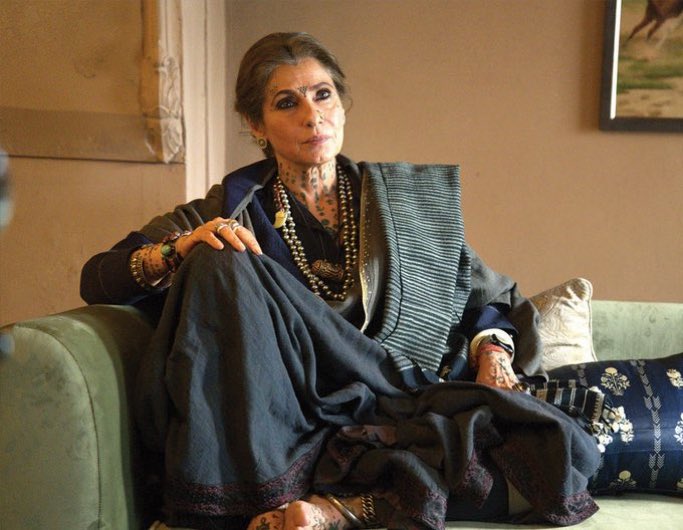 Saas, Bahu aur Flamingo delves into the anger that fuels these women dressed in black, but Homi Adajania, the creator, takes an unexpected approach to navigate this anger. As the series progresses, it not only explains the world and establishes its foundation but also challenges viewers by pushing them off a metaphorical cliff to comprehend the underlying factors that led to the creation of this universe.
Rather than resorting to a conventional revolt against men, the women in the show come together with a different purpose. They aim to dismantle the very egos that oppress, exploit, and silence them. However, the aim overall of the show was also to understand the societal concerns of patriarchy, the impact and the unspoken issues faced by the oppressed gender due to patriarchy in society.
Patriarchal unawareness leads to more disbalance in gender participation
The unaware part of patriarchy for the dominating gender is one of the most underestimated talks. Most of the time, patriarchy is not acknowledged. How many times have there been discussions around equality and equity where men occupy most spaces because representatives are mostly men? The diluted part of women not having enough resources to travel is not considered a loophole of patriarchy but their lack of interest. 
Saas, Bahu aur Flamingo powerfully projected those emotions throughout. By demonstrating their ability to take charge and run the show, they seek to undermine the patriarchal power structures that perpetuate inequality.
In this way, Saas, Bahu aur Flamingo offers a thought-provoking exploration of gender dynamics and power struggles. It highlights the strength and resilience of women who, instead of seeking revenge, seek to challenge and redefine societal norms. The show presents a nuanced and empowering perspective that goes beyond the surface-level expectations often associated with its genre.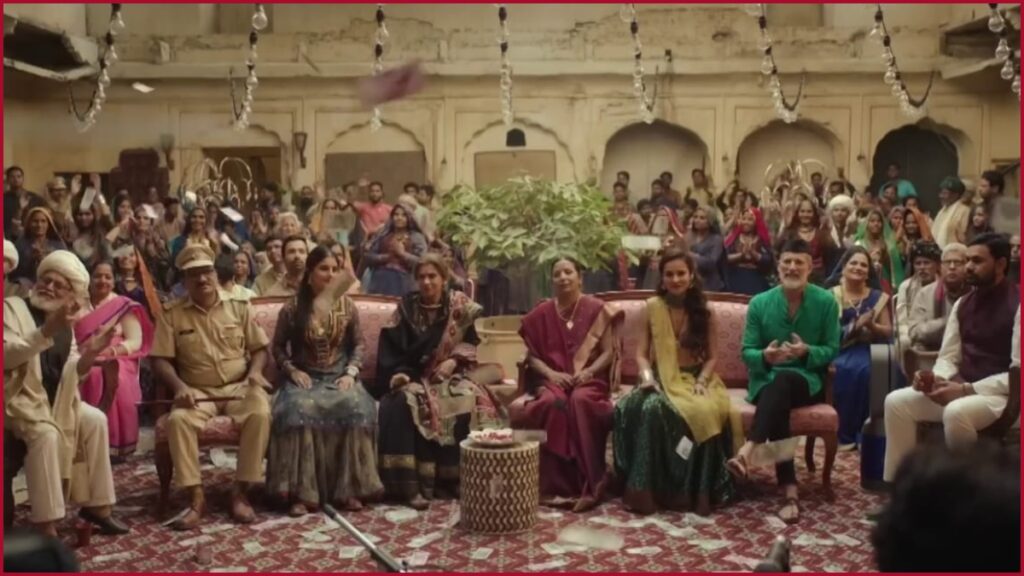 Most of the shows that attempt to clear the air by addressing social concerns like misogyny, sexism and unequal participation land up in the same sea of confusion. The same story of somehow leaving the control of the driver's seat in a men's hand only dilutes the whole objective and purpose of raising the concern in the first place.
The concept of not allowing men to take the driver's seat in Saas, Bahu aur Flamingo is commendable and adds an intriguing layer to the narrative. It is a powerful establishment in itself where the agencies are being kept protected for the one who needs and deserves. 
More or less at times, it is not enough to raise the concerns, an additional answer to the concerns is equal responsibility. 
Visuals enhance the idea of women as rulers of the world
The visuals further enhance this idea by consistently portraying women as the ruler of this world, emphasising their strength and agency. When their loved ones are at risk, they exhibit a brutal determination to protect them. Their bond is formed through shared trauma rather than blood ties, allowing for the exploration of their desires and suppressed aspirations.
Saas, Bahu aur Flamingo, softly takes us into understanding the importance of finding a safe space, finding a home, feeling secure and how that overall feeling of safety can lead to amazing junctures. 
The visual structure of the fort was put with a lot of thought and strongly complimented the diaspora of the entire show. The fort itself was a story spoken in its form of design, and atmosphere and the music only added to the existing aestheticism.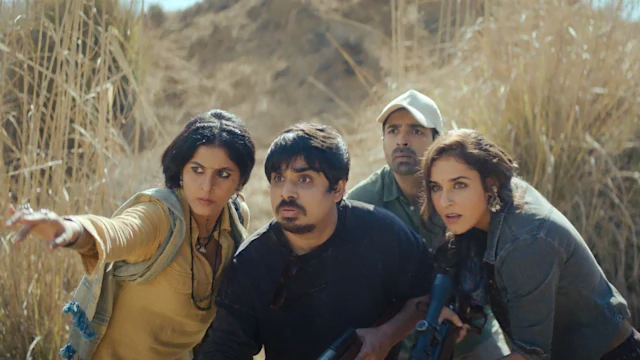 What is truly noteworthy is how Homi Adajania and the team managed to present Saas, Bahu aur Flamingo as a borderline comedy show, parodying traditional family soap operas, while simultaneously delving into deeper themes and narratives. 
Dimple Kapadia, who has previously explored similar territory in films like Kalpana Lajmi's 1993 Rudali, brings her distinctive style to the show. With her adorned tattoos, traditional attire such as ghagras and odhni, and adorned with heavy silver jewellery, Kapadia's character exudes a powerful presence.
In some moments, her performance may remind viewers of Shabana Azmi's portrayal in Godmother, particularly when Kapadia displays a similar assertiveness by hoisting a leg on a chair. However, what sets Kapadia apart now is her evolution as an actress. She has grown into her attractive face, radiating a captivating sensuality that adds to her on-screen presence. With effortless command of the room and the situations she faces, Kapadia's character becomes captivating. Before the audience could sense that, they would simply grow affection for the character.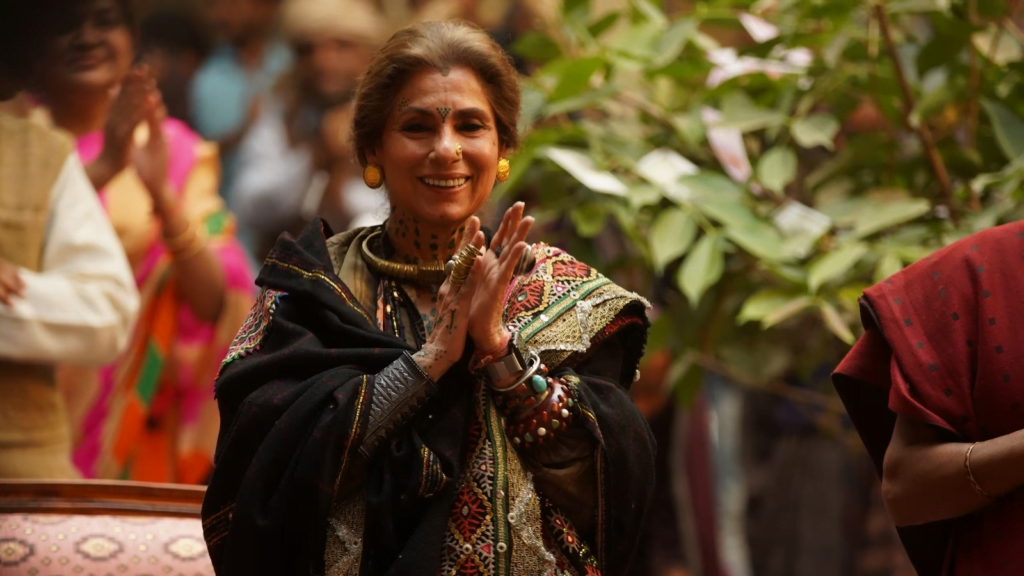 Ashish Verma's Harish is a stand-out too, as he bashes his drug-addled brain into shape; Jimit Trivedi leaves an impact. Deepak Dobriyal is not as menacing as he looks, and every time he comes on, there is a distinct dip in energy. But it doesn't matter too much, because the men are meant to play second fiddle. 
Saas, Bahu aur Flamingo is clear where its sympathies lie, with the towering 'saas' and foxy 'bahus,' and the close female associates who help run this Pablo Escobar-type enterprise.
The series comes to a perfect sequel worthy-halt, and I can't wait to find out who the real 'waaris' is, in this dodgy family business: Savitri could teach 'Succession's' Logan Roy a thing or two, in the way she is always on top.
Saas, Bahu aur Flamingo sneaks beyond entertainment
Saas, Bahu aur Flamingo goes beyond mere entertainment and uses its comedic elements to provide a satirical commentary on the genre it belongs to, exploring profound ideas along the way.
As is the case with any television show, the reception of Saas, Bahu aur Flamingo can vary among viewers. Many people enjoy the melodramatic plotlines, intricate relationships, and captivating performances by the cast. The show has built a loyal fan base who appreciate its engaging storytelling and relatability to the Indian cultural context.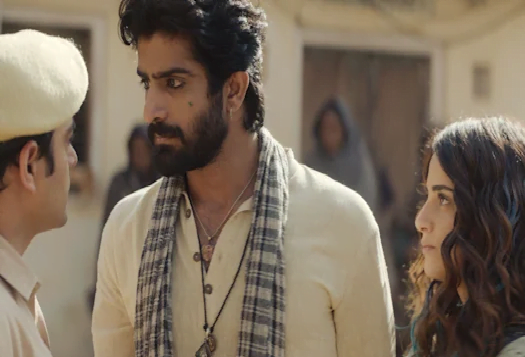 However, it's worth noting that some viewers may find the show formulaic or repetitive, as soap operas often follow certain narrative patterns and rely on stereotypes. 
These viewers may prefer more innovative or unconventional storytelling approaches.
Ultimately, the reception of Saas, Bahu aur Flamingo depends on individual preferences and tastes when it comes to television dramas.
---