In Kashmir Valley, an inspiring tale of empowerment is quietly unfolding. Amidst the towering mountains and serene lakes, there exists a group of trailblazing women who have shattered stereotypes and embarked on a path less travelled. A group of female copper workers in Kashmir, have defied societal norms and are reshaping the traditionally male-dominated craft with their determination and skill.
In a remarkable transformation of gender roles, a group of courageous women in the Balapora Wathoora area of Budgam district is challenging societal norms by delving into the realm of copper craft, a traditionally male-dominated field. Breaking barriers and carving their path to empowerment, these women have found a passion for creativity and are mastering the intricate art of copper craft at a training centre supported by the government's Handicrafts and Handlooms department.
For numerous women in underprivileged communities, finding stable employment and generating income has been a constant struggle. However, the emergence of copper art as a viable livelihood option has presented a transformative opportunity.
Through training programs, workshops, and grassroots initiatives, women are learning the art of working with copper, acquiring valuable skills that open doors to income generation and financial independence.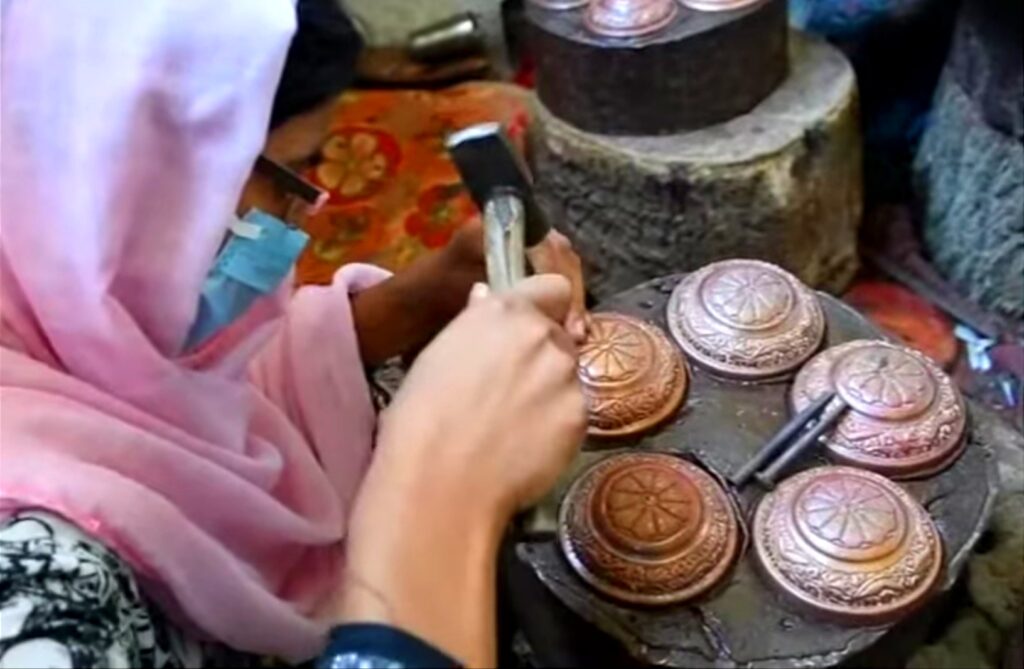 Tehmeena Manzoor, one of the trainees, shared her journey with Feminism In India. She said that "Born and raised in Budgam, my fascination with the intricate art of copperwork was kindled in my early childhood. I would watch my father, who was a renowned copper artisan, as he meticulously crafted intricate designs, transforming sheets of copper into awe-inspiring pieces of art. Despite my keen interest, I faced numerous hurdles in pursuing my passion, as the profession was traditionally considered to be a male domain."
While the journey of women in the copper art industry is inspiring, it is not without challenges. Access to raw materials, market opportunities, and business support are crucial aspects that need attention. Organisations and initiatives are working to address these barriers by providing training, facilitating access to resources, and connecting artisans with potential buyers. By building robust networks and collaborations, these women are forging a path towards sustainable livelihoods.
"The initial stages of training were laden with challenges, as we struggled to comprehend the intricate craft forms. However, with unwavering determination, I and my peers have triumphed over obstacles and mastered designs such as the exquisite Badam and Chinar," Tehmeena added.  
Eager to expand their repertoire, these aspiring artisans remain optimistic about their ability to acquire more skills in the days to come.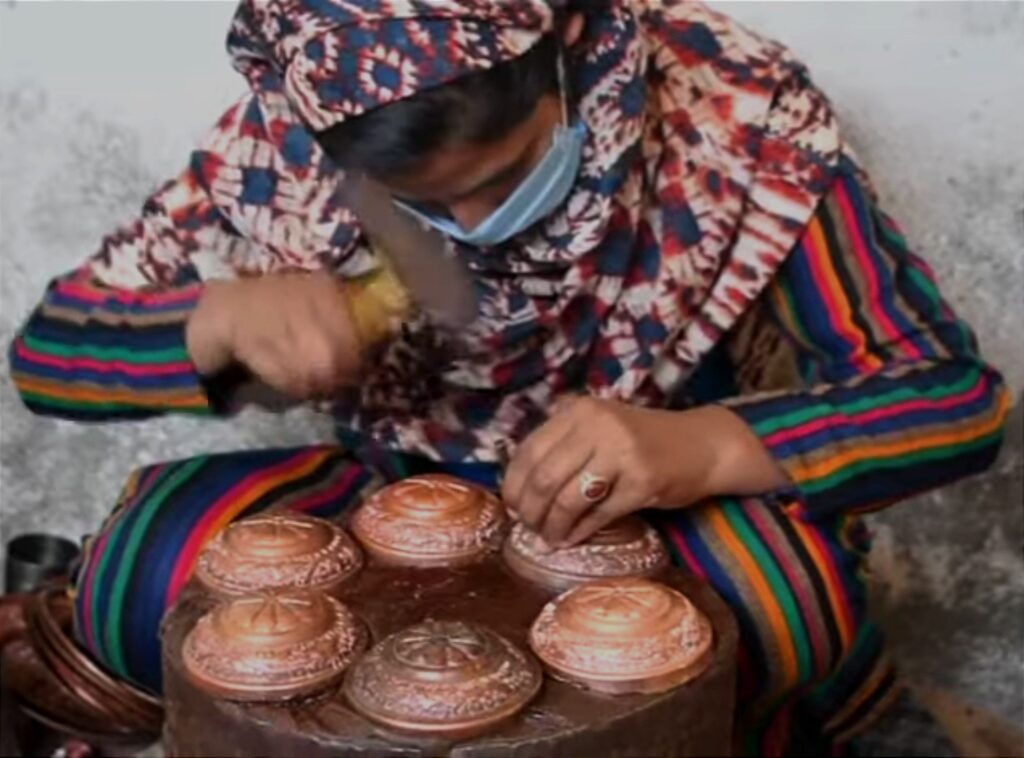 Driven by the desire to break free from dependence and chart their destinies, several members of this resolute group have already begun producing copper utensils adorned with unique designs. Their efforts, fuelled by passion and an entrepreneurial spirit, have provided them with a source of livelihood.
By fostering the growth of copper art as a local industry, these women contribute to the cultural preservation of their heritage. They often draw inspiration from traditional designs and motifs, infusing their artwork with a sense of identity and pride. Additionally, as their businesses flourish, they employ and train other women, creating a ripple effect of empowerment and economic growth.
"The Kandkari design we have learned is intricate, but it imparts a regal aesthetic to the utensils we create," shared a few women from the group, beaming with pride.
Mukhtar Ahmad, a dedicated trainer at the government-backed centre, expressed his satisfaction with the progress made by the trainees. He said that "the centre is currently facilitating training for around two dozen women, ensuring their skill development and economic independence."
"We envision a future where these trained craftswomen can not only sustain themselves but also become mentors, imparting their knowledge to others," Mukhtar added, emphasising the long-term impact of this initiative.
In addition to the invaluable training provided, the government extends its support by granting the trainees a monthly stipend of Rs 1000, enabling them to focus on their craft without financial burden.
With their newfound expertise, these women are poised to make a lasting impact, both within their community and beyond, as they establish themselves as skilled artisans and beacons of inspiration for future generations.
Over the past year, the government training centre has been nurturing approximately 20 women, equipping them with the skills required to excel in copper craft, including the revered Kandkari technique. This unprecedented initiative aims to enable women to become financially self-sufficient, transcending their traditional roles within the community.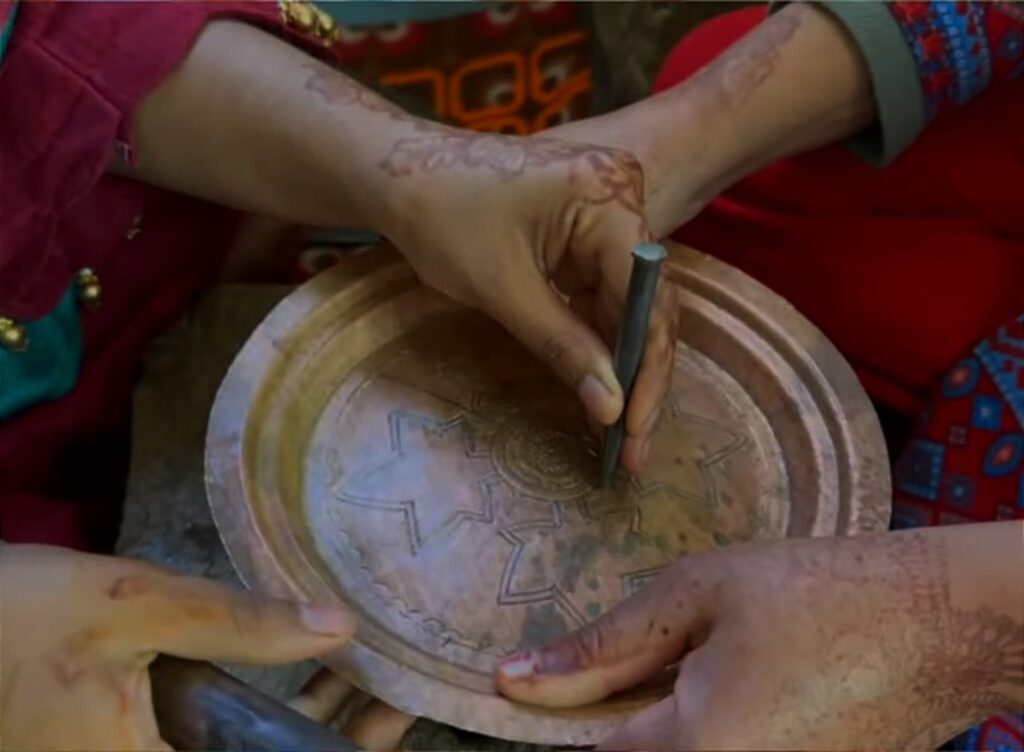 "As the female copper workers continue to shine, their success has kindled a spark of inspiration in the hearts of young girls across Kashmir. Encouraged by the achievements of these trailblazers, more and more girls are expressing interest in pursuing the art of copperwork. This newfound enthusiasm is gradually eroding gender stereotypes and opening up avenues for future generations to explore their passions without limitations," Mukhtar added further.
Today, the female copper workers of Budgam stand tall, their creations showcasing not their artistic flair but also their unwavering spirit. From ornate vases and intricately designed jewellery to magnificent sculptures, their work of art serves as testaments to their perseverance and creativity.
Beyond their artistic endeavours, these women have become catalysts for change in their community. Their very presence challenges long-standing gender norms and inspires young girls to dream beyond societal limitations. By pursuing their passions with unyielding dedication, they have proven that equality knows no boundaries. 
As Budgam embraces the growing recognition of its female copper workers, the town is witnessing a cultural shift. Women are increasingly being acknowledged for their contributions to this ancient craft, and their talents are celebrated alongside their male counterparts.
"In the heart of Budgam, the sound of hammers reverberates, not as a symbol of oppression, but as a resounding anthem of empowerment. The female copper workers of Budgam have paved the way for a future where gender equality and artistic excellence intertwine, forever changing the narrative of this ancient craft and inspiring generations to come," said Mukhtar.
---